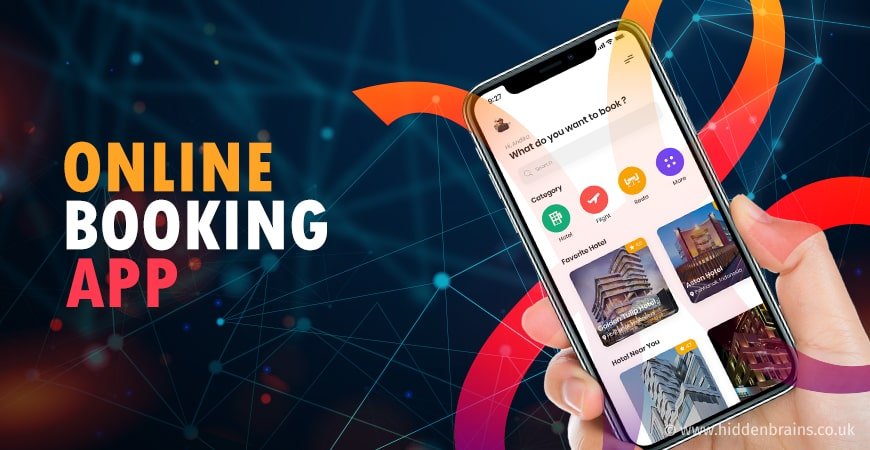 Rising Demand to Build Online Booking App
Digitization is the need of the hour. Consumers have become used to availing all types of services instantly through online booking app. Smartphones and mobile apps have made users self-dependent by empowering them to book tickets on their own. In this post we have described detail of the Booking app development and online booking app cost.
The unprecedented rise in demand to build online booking app can be gauged from following statistics:
79% of the people

named mobile as an area of huge interest in a survey of 183 European travel industry executives
Online travel booking through app secures 4

th

place with 24% of interest among travel executives.
Travelers use smartphones more than tablets to book hotels. Following chart shows more travelers around the world book hotel stays on mobile apps.
As per the rule of economics, the high demand from consumers is correspondingly met by online hotel booking system development companies that build different types of apps for unique needs.
Reasons for Rising Demand of Online Booking App
There is an app for every task – be it booking a cab to reach workplace, booking a movie ticket for the weekend or booking of flight tickets for your holidays. This concept of online booking is much appreciated by users for following reasons:
No external dependency such as contacting an agent to book air, bus or train tickets

Transparency of ticket costs and its availability

Easy accessibility and flexibility – convenience of booking tickets round the clock

App promotional offers, discounts and cashbacks that reduce the total cost of ticket
Related Post: Types of On Demand Apps
Growth of Online Booking App Industry
Several booking agencies such as travel companies, cinemas, airlines and bus agencies are looking forward to build a mobile app. This is an effective medium for agencies to serve customers in better way by giving them complete rights to make their own bookings as per their feasibility and convenience.
Building an online appointment booking app is advantageous, but it comes at a cost. This makes it necessary for companies to evaluate how money is needed to invest in building an online booking app and how much ROI can be expected from it.
Cost of building an online booking system app isn't a fixed amount. It varies depending factors such as for what purpose consumers would use the app, what features are to be incorporated and overall complexity of developing the app.
Some of the online booking sectors covered by private as well as government companies through building of apps are as mentioned below:
Top Online Booking Sectors 
App to Book Movie Tickets
Those days are gone when you have to stand in a queue to get your online movie tickets. And you don't have to face the anxiety of not getting the tickets. Now, with Android and iOS booking apps, users can book their movie tickets with few simple clicks on their smartphone. It is the best way to book online movie tickets without any hassle. Along with this, an online booking app offers to book tickets from anytime and anywhere.
Flight Ticket Booking App
With demanding flight booking app development, turn your travel dairies into levarshing moments that make your trips memorable. Book your flight tickets with an online flight ticketing app, by simply downloading from Apple and Google Play Store. Online flight ticket booking app offers several features to the travellers
Features of Flight Ticket booking App
Sort flights by their prices 

Multiple Filter options 

Know the total duration of flight 

Easy online payments 

Receive notification related to flight details

Attract travellers with different offers and discount strategies. 
Health and Beauty Appointment Booking App
Book your on demand health and saloon services in  advance. Streamline your management process with your smartphones.  Apart from this, for saloon owners with this module, they can target a wider audience and increase their revenue.
Why Saloons should launch their saloon appointment booking app?
Salon app helps to simplify the day to day management process 

Schedule appointments according to the day and time 

Easy online payment system 

Get feedbacks by review and rating process

Send and create  personalized offers
Doctor Appointment Booking App
Doctor appointment app has turned as a boon for the patients and doctors both. It helps in the management process and saves time as well as cost of the human resources. 
Major Features of Online Doctor Appointment App
For hospitals and clinics, it is important to launch their own Telemedicine app with essential functionalities. The online booking app cost varies from different functionalities. Here are the major and advanced features that you should integrate in your online doctor booking application.
Online Consultations
The best benefit of the online doctor booking system is it offers an opportunity to the patients to book their services in simple steps. With traditional doctor consultations, patients have to visit the doctors at their doorsteps. But with an online booking system, patients can have the consultations virtually from anywhere in the world. However, the online consultation opens several opportunities for patients and doctors to connect with them as it helps to save a huge amount of time and exclude all the geographical regions. Undoubtedly, the process turned faster and simpler. Now, patients don't have to take the load to travel from one destination to another.
E-Prescriptions
Now, this feature has turned as a boon for the healthcare industry. To understand the prescription and avoid getting the risk of wrong medicine e-prescription is a good solution. So to overcome this challenge, online prescriptions are really helpful as it excludes all the possibilities of misunderstanding. With online prescriptions, patients can also know about their medications and what medicines they are opting for and in future, if by chance they get the wrong dose, then they can quickly figure out the error.
Smart Search
With smart search, patients can find their doctors easily on different filters such as names, qualifications, experience, location, and many more. However, it helps to search doctors easily and faster. Apart from this, smart search saves time and users can save search filters for future requirements. They can also search with the alphabetical order, as they will search with the spelling and get the details. It is the easiest way to search.
Easy Payment
In this fast pace of the world, no one prefers to opt for the complex payment process. People prefer to opt for the hassle free online and secure payment. Now, while booking the doctor appointment, patients can immediately pay the bill securely with E-wallets or other third platforms, which they prefer to opt for.
Video Conferencing
As like other social networking apps, with online doctor appointment apps patients can have video calls with their doctors. However, this feature allows them to have a face to face conversation with each other from any part of the world. This will allow them to have a virtual meeting and help them to connect.
Live Chat
Doctor appointment app live feature helps to boost the conversation among patients and doctors. If patients and doctors, don't prefer to have video calls, so they can sort their queries out live chat also. It is really a beneficial feature and improves communication. The small conversation regarding medicine or diet can be conducted on live chat easily.
Related Post: How Mobility Solutions have transformed the Healthcare industry

Booking of Hotel Rooms Through Mobile App
Hotel booking apps add value to the tourism industry. Now, travellers can plan their virtual trips and easily execute in their real lives. With Hotel booking app, they are allowed to have virtual tours of the hotel and book their rooms as per their choice. They can book their rooms along with this, with app customers can give more details or opt for other services to turn their stay relaxed and avoid stress. 
It offers them to have a look at several other options. They can preview some other opportunities also
Restaurant Table Booking App
Offer an extraordinary dine out experience to your customers, by booking their tables in their favorite restaurants in advance. Users can easily find their preferable destination and book the table according to ambiance. Apart from this, to save time, they can also order the food in advance, so they don't have to wait too long. Restaurant table booking apps help to add charm to the moments making them memorable. 
What's the Total Cost to Build Online Booking App?
Let's discuss about the major concern that comes in the way of developing online booking app, i.e. its cost and overall budget. We shall talk about the online booking app cost of developing such booking app through different perspectives and use case scenarios:
Basic Apps
Mobile apps that are informative in nature, simple to implement and do not possess much features or functionalities come under the category of basic apps. 
However, online booking app do not fall under this category as they require integration with other platforms via APIs as well as strong database.
Database
This is a level up app category that enables users to search, sort and get results from a large data set. These apps require contacting another website or online web service to fetch data as per the user query. 
This range may or may not cover the cost of developing online booking app as per the desired functionality and complexity.
Features of Online Booking App
For online booking app to make it worth your business's time and investment, it must make your life, the life of your team, and the lives of your customers easier. The features that should make your app success is being easy to operate and intuitive. Booking or appointment scheduler should allow effortlessly creation of a database of customers, gather contact information, as well as provide with information on upcoming events and special offers.
1. Email Automation
Presently, entire communication used to be in an official way and E-mail is considered as the most official way to communicate with the customers. Now, to book, cancel, arrival every update used to be updated on the email. To send a particular email for every process such as booking confirmation and payment request and more is a time-consuming process. 
Customers have also opted for the mail to enquire about the issues and it is essential that they should get the response immediately. Email automation has turned as the smartest feature. We build online booking App
in such a way that it helps to manage the business timings and send the response to the senders to the own and immediately. Along with this, it automatically sends the upgradations of the service.
2. Third-Party Integration 
Now, applications should be integrated with the trusted and popular partners to bring transparency and trust among users. It is essential to integrate the platform with social media and payment gateway including Facebook, Twitter, and Paypal respectively. Third-party integration features help in marketing as well as financial purposes and it helps to handle business in an easy way. 
3. Real-Time Bookings 
Those days are gone when customers used to call or mail to the service providers. Now, mobile app development has totally transformed the way of providing the services. Users can book the service with only minimal simple clicks on the mobile application. Customers can book as per their time and in their budget without any hassle. On an immediate basis, if they required the service and the slot is vacant, so they can opt for it also. 
4. Chatbot Integration 
Chatbots are related to Artificial intelligence, offer instant and smart replies to the users and sort their queries out. It helps to simplify guest interaction with smart answers, which saves the time, cost, and efforts of the organizations. Chatbots acts as a human and have the ability to offer service for 24*7.
5. Intelligent Travel Assistant
With rapid growth in Artificial intelligence, Chatbots are playing a critical role in shaping the customer experience. Chatbots help travelers with different facets such booking reservations, navigating the travel website, and learning about the train stations. Chatbots offer the ability provide details such as destination, nearest airport, and dates to search for flights, it also gives ideas on the hotels from your nearest airport. In fact, travel bots provide services such as entire trip management, customer experience, food delivery, ride hailing, and more.
6. Smart Search
Search option in a database is one of the finest features that can make life of a traveller comfortable. Advance search features includes providing suggestions based on search history and nearest available options as well.
7. Visual Media Integration in Online Booking App
For a much better appeal to whatever it is that your target appointments are visual enhancements work better than everything else. Visual data targets user into temptation and leads them into making a better-suited decision for themselves.
7. Multi-Language & Global Currencies Support
We are living in the era of globalization. There are no geographic boundaries and success depends on targeting not just the local audience and local market. Online booking app has to target audience across the globe. It is important that online booking app provides inbuilt support for multiple languages and currencies. Multi-language & global currencies support increases popularity among globetrotters. This function offers support to users who often encounter problems travelling in foreign land.
8. Automated Communication
Seamless communication with users is pivotal for the success of online booking app. Any online booking app should not only automatically send users a confirmation email regarding their ticket booking, but it should allow an easy way to integrate the appointment to calendar. Online booking app should send across notifications related to changes in schedules and reminders as well. After all, unexpected events happen and all of your messages include a link that allows your clients to either cancel or change bookings.
9. Simplified Management System
A simple and easy to manage dashboard allows business owner or relevant stakeholder in customer bookings in a centralized dashboard or calendar. As a result, you can get a comprehensive view of upcoming events/bookings and reschedule, cancel or re-assign bookings.
10. Multiple Payment Options
This advance feature lets users can make payments seamlessly though a number of channels with different options such as credit and debit cards, PayPal and various other third-party apps. The ease of payment determines the usability of the apps to a significant extent.
11. Dynamic Pricing
Changes in prices due to peak season or increase in demand is a regular feature. Dynamic pricing is an important feature offering variable rates based on demand and supply. This feature offers travel operator to quickly react to changing market values maximizing revenue and occupancy rates. It is important to provide feature in app that leverages special occasions and provide value-added services to the customer.
Several book apps are using Artificial Intelligence for revenue management and dynamic pricing will be everywhere in applications. It is imperative that small to medium providers incorporate change to shift away from the traditional fixed rate to high and low season rates models.
12. Rise of 360 Photos
360 photos, immersive videos, and virtual tours will play an important role in online booking applications such as hotels.
13. Feedback and Reviews 
Offer a chance to your customers to provide feedback on the particular service. It will help you to know about your service with rating and review and with the feedback, you can improve your services and can also share the client testimonials with other customers. It will help to gain the trust of other customers and they will be able to trust the service. Feedbacks will turn the high chances to grab the services. 
Additional Features
Recommendation Engine
Instant Messaging
Car/taxi Hailing
Trip Planners
Ratings & Reviews
Booking Restrictions
Analytics Dashboard
Google Map Integration
Real-time calendar
Advanced search
Instant cancellation
Shared tickets
Admin Panel
Login: Admin credentials to log into the app's admin section.
Manage Users: Effective management of user list by removing and adding new users, as well as view active users can also be added in this feature.
Managing Events: View, manage, and edit all the listed events and categorize based on language, venue, time, and format.
Booking Manager: The events listed can be managed by the admin with keyword searches, filtered the events by dates, category, view bookings, etc.
Booking Details: After booking the manager, the admin sends the details with timings to the customers.
Confirmation Process: At a particular time, Admin confirms the service status with the customer and manager both by sending the SMS or notification.
Manage Payment: Admin manages the payment system, the dashboard collects the payment from the customer via a mobile wallet or third-party integration and distributes it accordingly with the various partners and store in the saving. 
Estimated Cost to Build Online Booking App
In order to get proper estimation on cost, let's take a sneak peek into expected features of such apps:
Enable user to log in with Apple or Google account and even social media accounts

Cheek real time availability of seats

Compare prices of tickets prior to booking

Allow for advance booking

Integration of secured payment gateway for easy and fast transfers

Generation of booking confirmation mail and sending it automatically to user's registered email address and phone number
For further clarification on exact budget for developing online booking app, it is recommended to request for a free quote from leading mobile app development company.
Choosing the Right Online Booking App Development Partner
Hidden Brains is a Top mobile app development company that has established feat in building online booking app. Being a house to talented pool of resources, this company offers one stop solutions to your app requirements.
To know about this company's previous work, its working methodology, engagement models and pricing for different projects, contact them by requesting for a free instant quote.