Gas Station Solutions in The UK
Hidden Brains introduces a smarter way to manage your convenience store and the operations of fueling stations. Our innovative gas station solutions are creatively designed to replace traditional paper-based processes with advanced digital platforms to streamline your workflow and make data-driven decisions based on historical trends.
With the ability to connect multiple locations, Hidden Brains UK Smart Gas Station solution provides a comprehensive view of all station activities, from fuel dispenser management to monitoring fuel tank parameters and shift operations for efficient staff management.
Our intelligent dashboard enables remote monitoring of each gas station activity and easy inventory tracking, providing peace of mind whether you're out of town or occupied elsewhere.
Hidden Brains' smart system is the perfect solution to enhance the quality and efficacy of your gas station business, as it offers powerful features that are easy to use and simple to integrate. To meet the future needs of fueling stations, it's time to upgrade the existing business model to Hidden Brains' Smart Gas Station Solution today and experience the difference!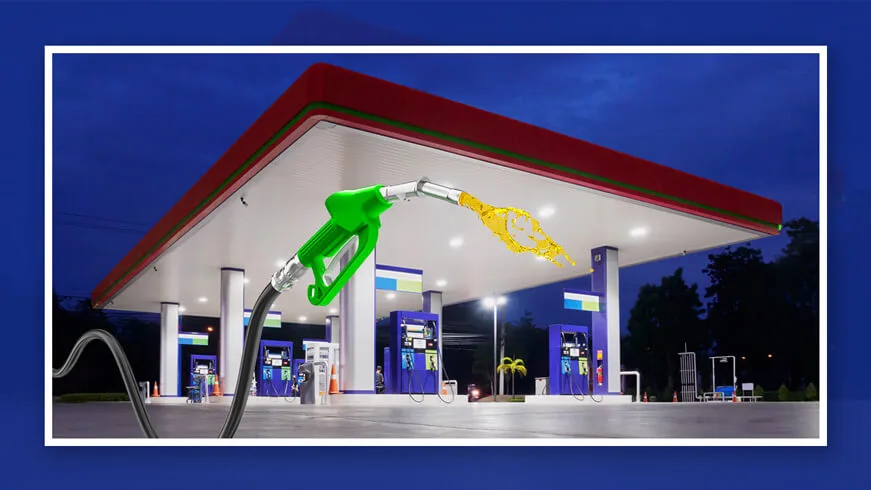 KEY FEATURES OF
Smart Gas Solutions
Hidden Brains' smart gas solutions provide real-time overviews of fuel station operations, including inventories, equipment status, and vehicle location.
Auto Dispensing
Our smart gas station solution offers the option for customers to pump their own gas and eliminates the need for an attendant to do so.
Reconciliation
With easily accessible information on a single panel, our gasoline station software offers a quick, automatic, and accurate approach to reconciling at the end of each day.
Smart Reporting
Avail immediate and comprehensive reporting on your workflows, including data on sales, employee productivity, operational expenses (opex), and inventory availability.
Centralized System
Our reliable centralized system allows for the monitoring of all gasoline station activities and the management of shift operations for the tightest possible control over personnel.
Smart Alerts
Get real-time updates on employees, downtime, sales data, low stock levels, and inventory levels with our smart gas station solution in the UK.
Employee Management
Station managers can use our system to examine the staff members currently on duty, manage shifts and hours, check attendance, and track performance to allocate pumps to particular attendants.
Auto Sync Cloud Architecture
Our solution provides the possibility to store data in the cloud, giving owners and other stakeholders access to data through a web-based interface at any time and from any location.
Offline Support
Changes made while in offline mode are synced with the data repository using our Offline Sync feature available in the smart gas solution.
Smart Gas Station: Overall Business Process
The Hidden Brains Smart Station system combines the capabilities of all related business processes, including asset management and service, automatic ATG reading, POS and inventory management, and gives actionable data that is accessible from anywhere.
KEY BENEFITS OF
Smart Gas Solutions In The UK
Streamlined Operations
Users, pump locations, and management practices are all managed overall with the goal of streamlining gasoline station operations to boost operational effectiveness.
Optimized Resources
With the aid of our cutting-edge gas station management system, you may better and more effectively manage your resources, which will benefit your company.
Reduce OPEX
The optimized processes offered by Hidden Brains' smart gas solutions boost savings, improve efficacy, and lower total operational expenses.
Paperless Concept
It offers a set of features that boost accuracy by getting rid of paper and manual operations. Using our system, you can automate approval processes and traditional working procedures.
Realtime Data
Inventory, poor stock,, and gasoline station downtime will all be easily tracked by advanced data analytics. This will increase your productivity while also saving you time and money.
Liquid and Goods Inventory
Get insight into liquid and goods inventories with simple views that provide dashboards for a clearer picture of overall stock levels.
ATG Integration
The gasoline station system from Hidden Brains UK combines with automatic tank gauging sensors to provide precise information about temperature, fuel, water levels, and inventory as a whole.
POS Management
Efficient point-of-sale administration allows for seamless maintenance and adjustment of the various products, including both fuel and non-fuel items, that are found at filling stations.
Panoramic View of Connected Infrastructure
With the help of Hidden Brains Smart Station, different corporate infrastructures may be connected and enabled to build a secure ecosystem.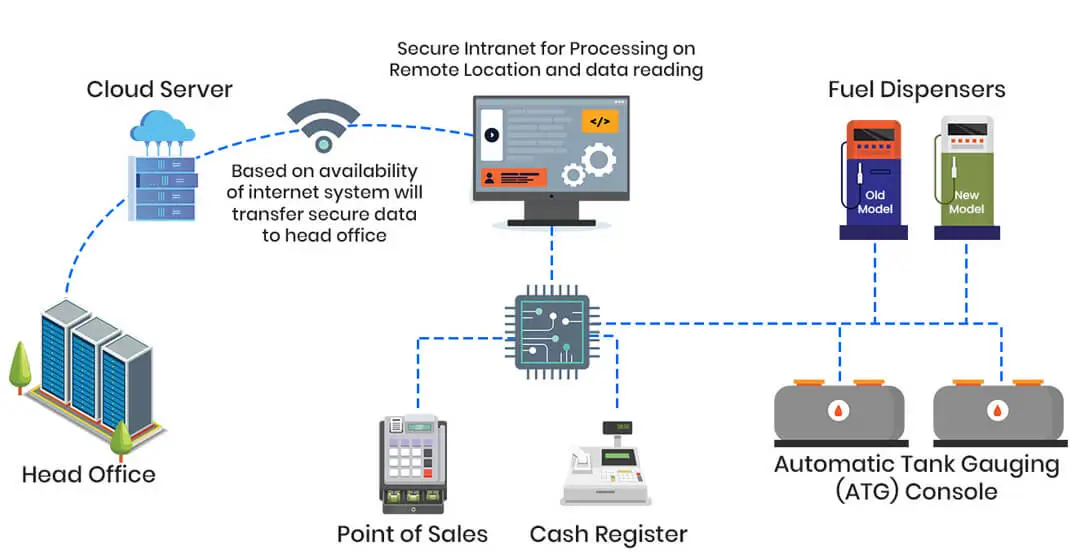 Platforms & Integrations
Providing consistent experiences and addressing the unique needs of each and every platform.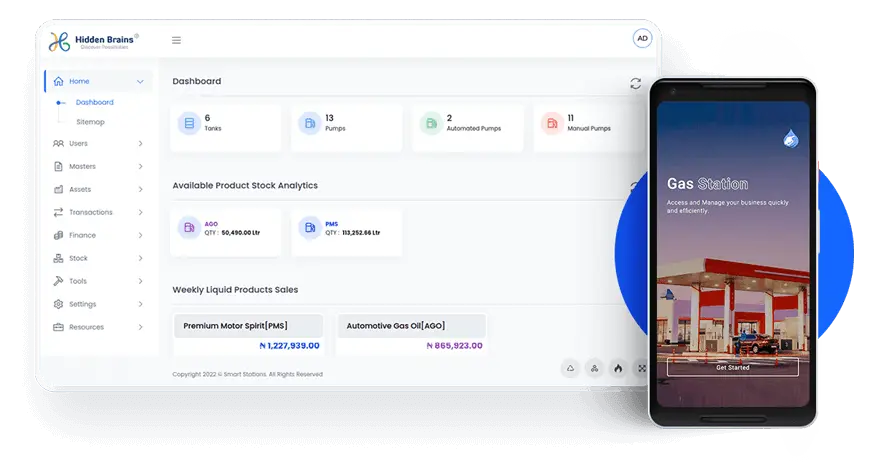 Technology Platforms
Providing consistent experiences and addressing the unique needs of each and every platform.
Guide
Here are some of the common queries related to Web application development.
FAQ's
Curiosity has it's own reason for existing, by questioning anything we arrive at the greater solutions.
Why is Hidden Brains Considered the Best Platform To Create Smart Gas Station Solution In the UK?
Hidden Brains is a technology solutions provider that offers a range of services, including mobile app development, web development, and software development. They have worked on projects for various industries, including healthcare, finance, and retail.
In terms of creating a smart gas station solution, Hidden Brains could potentially offer a range of services, including developing software to manage and monitor fuel levels, creating mobile apps for customers to pay for fuel and access loyalty programs, and implementing IoT solutions to track fuel usage and optimize operations.
How Many Locations Can I Monitor With Hidden Brains' Smart Gas Solution?
You can monitor as many locations as possible with Hidden Brains Smart Solution.
However, typically, the number of locations that can be monitored would depend on the infrastructure and architecture of the solution. If the solution is designed with a scalable and distributed architecture, it should be possible to monitor a large number of locations simultaneously.
It's important to discuss your specific needs and requirements with the Hidden Brains team to determine how many locations are possible to track with our solution.
How Much Do Hidden Brains UK Cost To Build a Smart Gas Station Solution?
The cost of building a smart gas station solution would depend on various factors such as the scope of the project, the features and functionalities required, the technology stack used, and the resources required.
So depending upon such factors the average software development cost ranges between $10,000 to $15,000+.
Guide
Here is a guide to help you with the common questions related to mobile application development.