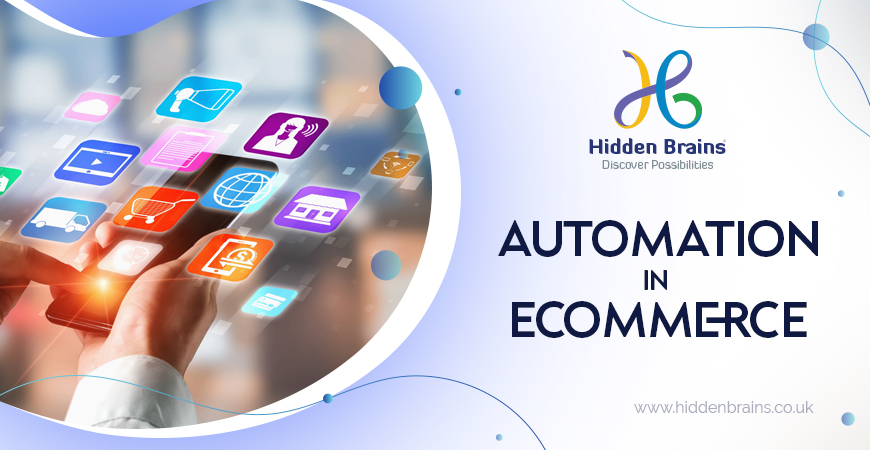 If you're an ecommerce business owner, you know that automation can save you a lot of time and hassle when it comes to the business side of things. Ecommerce has changed the way people shop, but it's still an industry that has room to grow and evolve. It's not just about making it easier for customers to find what they want and check out quickly; it's also about improving their overall shopping experience by making products available when and where they need them.
One way to do this is through automation in eCommerce, which helps you optimize your inventory based on the buyer's needs and location, as well as giving you enough time to restock if something sells out quickly. Automation in ecommerce doesn't just make it easier to manage your inventory, shipping, and finances; it also helps cut down on errors and improve your business's overall efficiency in ways that are hard to ignore.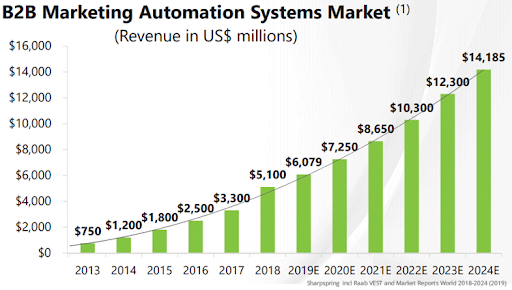 Source: Emailmonday
For most of us, the idea of automating ecommerce seems like an impossible dream. We wonder what we'd ever do with our time once we had all this extra free time to run our ecommerce business on autopilot, but as it turns out, there are plenty of benefits to be gained by automating your online sales strategy.
In this article, we'll discuss 10 benefits you can't afford to ignore when it comes to automation in ecommerce!
What is Automation in ecommerce?
Automation in ecommerce refers to creating software that is capable of handling, in an automated fashion, repetitive tasks that occur on a website. There are several types of automation involved in ecommerce activities, such as provisioning and pricing. However, one major aspect of any business is accounting and finance.
Accounting involves many tasks that may be automated with an application designed for ecommerce businesses called ERP. ERP or Enterprise Resource Planning is an application designed to manage financial resources and automate various business functions such as procurement, sales management, human resource management and supply chain management etc., which enables a company or organization of any size operate more efficiently and cost effectively.
Call us today for a FREE no-obligation quote.
Benefits of Automation in eCommerce & Retail Industry:
Automation in ecommerce is often viewed as something of a luxury, but it's actually a necessity for most businesses. Automated systems drive repeat customers by offering immediate access to information about past orders and preferences. It also helps ensure faster order fulfillment and relieves customer service representatives from answering repetitive questions about address or payment details; customers have 24/7 access to their information in an online database, so there's no need for constant repetition. Here are 10 benefits of automation that you should be aware of when considering your options.
1) Automation in eCommerce Speed up your Workflow
Whether it's a shopping cart, an API, or even just multiple websites and mobile apps, automation reduces repetitive tasks. With automation your team members will be able to focus on what matters most–selling products. Automation also helps to streamline your workflow, enabling you to do more with less time.
Instead of wasting time filling out tedious order forms by hand and tracking down shipping information manually each time a new purchase is made—automate it! If all orders are sent electronically through your back-end then even your employees don't have to worry about that boring stuff anymore because they can focus on things like packing orders (hand-packing is cool) and shipping them out.
For example, imagine that every time a customer places an order on your website, an email is sent out to notify your fulfillment center. If you have an employee at each stage of your process – from order placement, to shipping and delivery – it might take a day or more for them to respond.
However, if you automate those processes using software created by a web development company in the UK, everything happens within just seconds; automated emails are sent out as soon as customers place orders; alerts are generated when orders have been fulfilled; products are automatically packaged and sent out; automatic tracking numbers update for customers so they know when their products will arrive. Because everything is handled automatically, any delays or mistakes will be caught immediately.
2) Automation in eCommerce Increases Productivity
While there are many ways to increase productivity, automation is by far one of your best options. One of the main advantages of automation is that it streamlines your workflow, which increases productivity. Through automation, tasks are performed without human intervention and continue until they are told to stop.
Efficiently performing tasks on a large scale is a clear benefit of using automation. The general boost in productivity is just one of many reasons ecommerce companies should consider implementing automated solutions into their business models.
If your organization is like most, your sales reps use a lot of their time on tedious tasks like placing orders, responding to customer questions and entering products into inventory. Automating these repetitive tasks not only saves time, but it frees up your employees for more valuable tasks—like selling more products.
Plus, an automated workflow gives everyone access to updated product information and prices at all times. When your employees aren't doing busywork and data is consistent across departments, productivity improves .
3) E-Commerce Automation Saves Time
Automation is a godsend for busy merchants and shop owners who don't have time to invest into manually sending, categorizing and uploading product listings. E-Commerce Automation saves time by centralizing all of your inventory updates into one place, and running multiple operations at once. And it keeps everything on schedule by ensuring that new listings go live at their designated times, every time.
Because we know from experience that keeping pace with shifting trends is important – but having a life isn't. That's why many mobile app development companies use artificial intelligence technology to create software that can handle routine tasks like price updates, so you have more free time (and energy) to focus on making your business better, day-by-day.
4) Increase consistency
When automation is incorporated into your marketing and sales process, consistency is one of its greatest benefits. Without getting into technical details, when an automated system sends out an email or a notification through a chat tool like Intercom, it will always be exactly the same—including any images used.
Consistency across multiple channels (email, social media, etc.) not only builds trust with your audience but also increases their responsiveness by providing consistent interactions across platforms. For example, using automation tools will ensure that every person who follows your brand on Facebook will have their notifications updated at a specific time every day—even if it's just once a week!
5) Improve Customer Service
Automated customer service through live chat or email allows customers instant help and a way to resolve their issues while they are shopping on your site. It provides them with an opportunity to self-serve, rather than calling or emailing and allowing them to find solutions quickly.
This improved service can improve customer satisfaction and loyalty, making it easier for them to refer their friends. They'll also be able to spend more time shopping once they feel confident they'll receive fast assistance if needed. You'll also save money by reducing overhead costs; automating portions of your customer service process will eliminate needs for a full staff and cut down on costly call center fees.
6) E-Commerce Automation Increases Worker Engagement
Employee engagement is one of the most important factors contributing to a company's success, and an engaged employee is more likely to work harder, have higher levels of productivity, and be loyal.
The same way that automation has made other tasks easier for workers, E-Commerce Automation enables store owners to focus on what really matters – fulfilling orders, providing high-quality customer service and bringing in new clients. As such, E-Commerce Automation allows for a dramatic increase in worker engagement.
Automation improves efficiency in every part of a business, but it also makes employees' jobs easier and more enjoyable. Because automation reduces repetitive tasks and manual work, employees have more time to focus on growing their skills, deepening their relationships with customers, and analyzing data. Even workers who don't directly interact with customers are more engaged because they have less downtime due to decreased manual labor. The result is an improved workforce—and an increased bottom line for your business!
Call Us Today for Automation in your eCommerce Business.
7) E-Commerce Automation Helps Customer Satisfaction
Automation is one of those things that can be good or bad, depending on how you use it. If your store's automation works well, customers might not even notice it — which means you've done your job well. A well-implemented automated solution helps speed up processes and gives customers a convenient shopping experience.
Today's customers expect a pleasant online shopping experience, which means that every aspect of your online store should be well-designed, easy-to-use and effective at reducing your customer's friction and enhancing their satisfaction.
For example, if a shopper is looking for a specific product (T-shirts, size M), they'll want to find it quickly. The more quickly they find what they're looking for, the happier they'll be—and ultimately more likely to make another purchase from your site. Ecommerce automation helps make your entire shopping experience easier and faster for shoppers so that you get better conversions.
8) Automation in eCommerce Increases Conversion Rates
One of key advantages of automation is an increase in conversion rates. This is due to a more consistent customer experience across all customer touchpoints. If one part of your business has implemented new forms of automation, it's likely that customers will notice and feel more comfortable dealing with automated processes elsewhere on your site or app.
For example, if your website checkout process doesn't require entering any financial details, like credit card or bank account information, you can reduce abandonment rates by providing a faster and less stressful shopping experience. And improving customer satisfaction scores will naturally lead to better conversion rates too as customers who have had positive experiences with your company are likely to return again and tell their friends about it too!
9) Automation in eCommerce Saves Money on Labor Costs
Automating certain parts of your business can save you money on labor costs and allow for more flexibility. If, for example, your employees are handling tasks that could be done by software or a machine, look into automating those processes. For example, if one of your employee's responsibilities is sending out emails and promotions but he tends to use an expensive marketing service instead of using tools included with your email provider (the ones that came free with your account), start investigating ways to automate some of your email activities.
10) Automation in eCommerce Expands your capabilities without Increasing Team Size
Automation allows you to offer your customers more opportunities to buy and removes friction from your customer's journey. Whether it's an easy way for them to find out about a product or a simple way for them to check out, automation is one of many things that will grow your business without increasing team size.
As an online retailer, automated tools help your business expand capabilities without increasing team size. More importantly, it lets your team take on higher value roles and responsibilities. For example, when a customer has a question, that inquiry doesn't need to be routed to an employee who will then create a support ticket; instead, there's a FAQ module that routes all questions through one channel. That way, employees are freed up from answering simple questions (and thus less likely to give out incorrect information), while still offering their customers helpful answers.
11) Easier Onboarding With E-Commerce Automation
For a high-growth business like yours, time is a precious resource and your ability to onboard new clients and get them up and running quickly should be one of your top priorities. The sooner they're ready to start their campaigns, coupons, product updates, etc., after all, the sooner they'll start spending money with you. That's why automated e-commerce features are so valuable — they automate processes that would otherwise require significant human labor. This means that you have more time to focus on other essential parts of your business such as sales funnels or CRM integration — all while reducing customer support costs by putting less pressure on existing employees.
12) Simpler Deliveries With E-Commerce Automation
E-commerce automation makes shipping simple. When orders are placed, companies are able to package items and ship them out within a short amount of time. The efficiency increases as customers enjoy lower costs on shipping, as well as faster deliveries with less human effort required.
In some cases, products are automatically shipped out when they're sold if they're part of an automated storage system. Shoppers may also be able to purchase items without leaving their homes or offices through automation software that provides digital checkouts via a computer or mobile device.
When a business automates its e-commerce processes, it means that every step of an order's journey is managed automatically. An automated process makes it easier for staff and customers alike because they don't have to worry about anything except when their packages will arrive. Businesses benefit from automation through simpler deliveries, more efficient payment processing, reduced costs, and improved customer service.
Conclusion
Automation software provides ecommerce entrepreneurs with an immediate return on investment. Automated systems deliver time-saving benefits, enabling busy ecommerce managers to delegate and focus on higher-level tasks. While automation may sound expensive up front, it's a valuable investment that quickly pays for itself. Add automation software to your ecommerce toolkit for more streamlined efficiency! And finally, get automation software developed from a reputable ecommerce website development company in the UK and run a test on your store's traffic before going live.
Explore Our Blog with One Click: Automation in eCommerce: Top benefits you can't afford to ignore
Related Blog: The Ultimate Pre-launch Checklist for eCommerce Website
Do Not Forget To Visit Our Robust and Secure Services:
Mobile App Development Company in The UK | iOS App Development Company In the UK | Android App Development Company in the UK | Web Application Development Agency in the UK | PHP Development Company in the UK | ASP.NET Development Company in the UK | Hire Developers in the UK | Hire Best iPhone App Developers in the UK | Hire Android App Developers | Hire Web Developer in the UK | Hire PHP Developers In The UK | Hire ASP.NET Developers in the UK