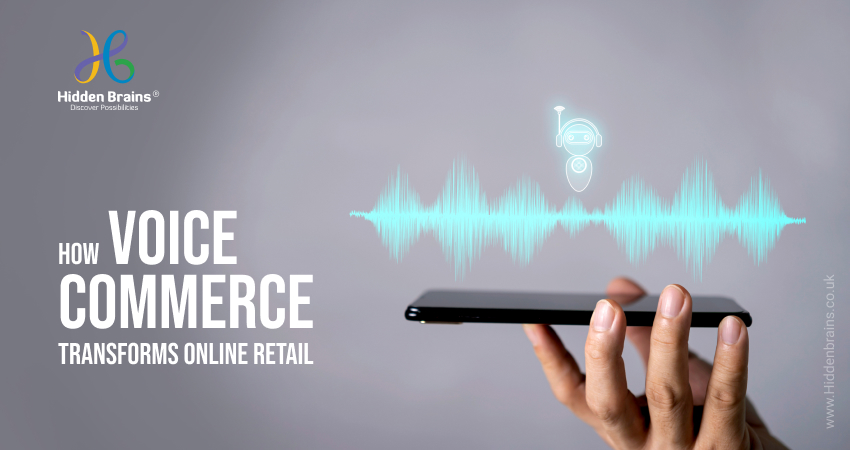 Wondering why voice commerce is becoming the next big thing in online retail business?
With 50% of all online searches being voice searches in 2022 and expected to make 19.4 billion USD by 2023, it is true that voice commerce is rapidly transforming the landscape of online commerce.
Surprise to know how voice search has become a common practice among consumers.
Just take a moment and remember what did you do when you want to go grocery shopping.
Hey Alexa, can you order the grocery?
Or still, browsing a number of websites to select the grocery product and manually make a payment?
Of course, if you have a voice assistant device, then you will use voice search to process an order…
And guess what, 72% of consumers have used voice search using digital assistants like Amazon's Alexa, Apple's Siri, and Microsoft's Cortana.
In addition, over 45 million consumers in the US have used voice technology during their online shopping experiences and are projected to generate a revenue of 5 billion US dollars. And these numbers are swiftly growing!
If you are into the retail business and still using a traditional business approach, then now is the time to look for retail IT solutions. Here's what you need to know about voice commerce and how it is replacing traditional online retail businesses…
Call us today for a FREE no-obligation quote.
Let's get into the details of these points for better understanding…
What is Voice Commerce?
Voice commerce, also known as vocal commerce, is the use of voice-enabled technology and digital assistants to purchase products or services online. Voice commerce is a relatively new concept in e-commerce, but it's quickly becoming popular thanks to the rise of digital assistants like Amazon Alexa, Google Assistant, and Apple's Siri.
Voice commerce enables customers to make purchases using their voice instead of typing or tapping on a device. For example, customers can ask Alexa to order something from Amazon, ask Google Assistant to book a restaurant reservation or tell Siri to buy movie tickets.
Voice commerce has the potential to revolutionize how consumers interact with retailers, allowing for a seamless shopping experience that takes just a few seconds to complete. It also has the potential to provide customers with more personalized experiences by responding to their individual needs and interests.
Finally, voice commerce eliminates the need for customers to search through numerous online stores to find what they need, making it easier and faster than ever before to shop online.
Why Does Voice Commerce Becoming a New Hue For E-commerce Industry?
Voice commerce is quickly becoming a new hue in the e-commerce industry. This trend is powered by the rise of digital assistants and hands-free devices such as Amazon Echo, Google Home, and Apple HomePod, which have seen rapid adoption over the past few years.
Instead of just trusting our words, here are the market statistics of Voice commerce that you need to consider before you get straight into the process of hiring an eCommerce website development company in the UK. So here are a few market statistics about voice commerce and its future.
Understanding the Stats and Facts of the Voice Commerce Market
Recent statistics from eMarketer show that US consumers are projected to spend $40 billion through voice-activated devices such as Amazon's Alexa and Google Home in 2022.
The report says that Google Assistance has around 1 billion users, 500 million of whom are active users every month.
Call us today for Voice Commerce solutions.
The Rise of Voice Commerce and Its Market Share
Apart from these statistics, voice commerce offers significant benefits to retailers. Let's learn it!
The convenience of voice shopping has made it easier than ever for shoppers to find what they need without having to manually browse hundreds of product pages on an e-commerce website.
By leveraging voice technology, retailers can offer their customers an interactive shopping experience and build customer loyalty.
Voice commerce can help reduce the cost of customer acquisition and enable targeted marketing campaigns by utilizing customer data and machine learning algorithms.
Overall, voice commerce is rapidly transforming the online retail landscape and provides a wide range of benefits for both shoppers and retailers. By leveraging the power of digital assistants, hands-free devices, and machine learning algorithms, retailers can provide their customers with a seamless and personalized shopping experience.
With the right approach, voice commerce can become an integral part of any retailer's e-commerce strategy. But to successfully implement voice commerce in the retail business, you need to first understand how voice commerce work…
Good to Read: Benefits of AI in Ecommerce Solutions
How Does Voice Commerce Work?
Voice commerce is the use of voice-activated technology to purchase goods and services online. It is a type of e-commerce that uses artificial intelligence (AI) and natural language processing (NLP) technology to enable customers to interact with online stores and products using voice commands. Voice commerce is driven by digital assistants, such as Amazon Alexa, Google Assistant, Apple Siri, and Microsoft Cortana.
The Workflow of Voice Recognition in the Ecommerce Industry
Voice commerce is becoming increasingly popular with consumers as it offers them a more natural way to interact with retailers. It requires no typing or clicking and is convenient for people who have trouble navigating complicated websites or who prefer not to use their hands to shop. Customers can ask questions about products, search for items, add items to their cart, and make payments – all without having to type in any information.
Voice commerce also offers retailers an advantage over traditional online shopping. By leveraging AI and NLP technology, retailers can offer personalized experiences that are tailored to each customer's needs.
With voice commerce, retailers can create a conversational experience that makes shopping more intuitive and efficient.
As a result, customers can find what they're looking for faster, resulting in higher sales and better customer satisfaction.
Also Read: Automation in ecommerce: Top benefits you can't afford to ignore
How Does Voice Commerce Different From Traditional Online Shopping?
Voice Commerce Vs traditional online shopping – which one should you choose in 2023?
Voice commerce, also known as vocal commerce, is a growing trend that is transforming the way people shop online. While traditional online shopping relies on the use of a computer or mobile device to make purchases, voice commerce enables shoppers to purchase items simply by speaking. Through digital assistants such as Amazon Alexa, Google Assistant, and Apple's Siri, shoppers can place orders for items without ever needing to open a browser or type in a web address.
Digital Assistant to Purchase Items: Voice commerce provides a more natural, conversational way of interacting with technology. Traditional online shopping requires shoppers to search through products and manually add items to their cart. For this, you can choose to hire an eCommerce website development company in the UK. With voice shopping, shoppers can make purchases just by asking a digital assistant to purchase the item they need. This eliminates the need to spend time searching through products and adds convenience to the shopping experience.
Enhanced Customer Satisfaction: Voice commerce also enables shoppers to get instant feedback. Traditional online shopping requires shoppers to wait for a response after submitting an order or requesting more information. With voice commerce, shoppers receive immediate feedback from their digital assistant when placing an order or asking a question. This provides customers with an enhanced level of engagement and convenience.
All-in-all it is fair enough to say that Voice commerce is quickly gaining popularity due to its ease of use and the fact that it eliminates the need for manual labor. It has become increasingly popular with consumers who are looking for a more convenient and efficient way to shop.
Voice commerce provides shoppers with the ability to shop without having to go through the tedious process of searching for products and adding them to their cart. As more retailers adopt voice commerce solutions, it is likely that this trend will continue to grow.
Looking for Emerging Technology Services? Contact Us!
How Does Voice Commerce Add Value to Your Business in 2023?
The invention of voice commerce has shaken the eCommerce industry but added great value to retail businesses in 2023.
Since the Covid-19 pandemic, the shopping habits of customers have drastically changed, therefore, it's now the time to recognize the benefits of Voice commerce for online retailers.
If you are looking for the best retail IT solutions for your business, then you should know how voice commerce adds value to your retail business in 2023.
Call us today for a FREE no-obligation quote.
Let's check out the benefits of using voice recognition for retail businesses…
Top Benefits of Using Voice Commerce For Online Retail Business
Voice commerce is transforming the way people shop online. With the rise of digital assistants and the increasing popularity of hands-free devices, voice shopping is becoming more mainstream.
While there are still some challenges associated with voice shopping, retailers can benefit significantly from implementing voice commerce technology into their eCommerce operations.
Are you searching for the best mobile app development company in the UK? Contact us!
Here are some of the top benefits of using voice commerce for online retail business:
Convenience: The biggest advantage of voice commerce is its convenience. Customers don't have to physically visit a store to make a purchase; they can simply speak their commands to their digital assistant and make a purchase with just a few words. This makes shopping much easier and faster, as customers can shop on the go, without ever having to leave the comfort of their own homes.
Increased Engagement: Voice commerce technology can help retailers engage with customers more effectively. Through voice-activated applications, retailers can provide customers with personalized experiences and increase customer engagement. By making it easier for customers to shop, retailers can increase customer loyalty and gain repeat customers.
Enhanced User Experience: Voice commerce also enhances the user experience. With voice-enabled applications, customers can shop without having to manually enter data or scroll through endless pages. They can simply ask questions and get answers quickly, making the whole shopping process easier and more efficient.
Improved Visibility: Voice search also helps to improve visibility for retailers. When customers use voice search, they are more likely to find the retailer's website or product listings, giving them more exposure to potential customers.
Enhanced Security: Finally, voice commerce also provides enhanced security for retailers. As customers are not required to enter any payment information when making purchases through a digital assistant, they can rest assured that their personal data is secure.
As you can see, there are numerous benefits of using voice commerce for online retail businesses. From enhanced user experience and increased engagement to improved visibility and enhanced security, voice commerce technology offers a multitude of advantages that can help retailers grow their business and increase profits.
Top Ways of Using Voice Commerce In Retail Business in 2023
Voice commerce is becoming an increasingly popular way for eCommerce businesses to reach their customers. As technology advances, so too do the opportunities for retailers to use it to create unique and engaging customer experiences.
Here are some of the top ways that eCommerce brands are using voice commerce to their advantage:
1. Increasing Conversions: By giving customers the ability to interact with their store through voice commands, eCommerce businesses can drive higher conversions by making it easier and faster for customers to purchase items. This can be achieved through features such as providing a shopping list that customers can add to and remove from with simple voice commands.
2. Personalizing Shopping Experiences: Through voice commerce, eCommerce businesses can provide personalized shopping experiences tailored to each customer. This can be done through product recommendations based on past purchases and preferences, as well as by providing customers with product information, promotions, and more.
3. Connecting Customers with Store Associates: With voice commerce, eCommerce businesses can connect their customers with store associates to answer questions, provide product recommendations, and offer advice on any issue related to the customer's shopping experience. This helps to foster stronger relationships between the store and its customers, which can lead to increased loyalty and sales.
4. Providing Automated Checkout: By allowing customers to use voice commands to complete their checkout process, eCommerce businesses can reduce checkout times and streamline the process for customers. This helps to increase customer satisfaction, as well as speed up the checkout process and improve efficiency.
These are just a few of the ways that eCommerce businesses are using voice commerce to provide a better shopping experience for their customers. As the technology continues to evolve and become more widely available, it will be interesting to see what other possibilities come out of it in the future.
Popular Brands That Are Using Voice Commerce Successfully
Voice commerce is quickly becoming a popular way for customers to shop online, and many of the biggest brands are now taking advantage of this technology.
Ecommerce Industry: Amazon
Amazon has been at the forefront of the voice revolution since introducing its Echo device, allowing customers to purchase items simply by speaking commands. Many other major brands have followed suit, with Walmart, Target, and Home Depot all launching their own voice assistant products.
Large companies are embracing voice commerce, and smaller stores are jumping on board too. Starbucks recently unveiled its voice-activated app that lets customers order their coffee with a simple voice command.
Automotive Industry: SYNC
Another industry leading the charge toward voice commerce is the automotive sector. Ford recently launched SYNC, an infotainment system that allows drivers to control their vehicle's climate and audio systems using voice commands. Other automakers, such as BMW and Audi, are also offering similar features in their vehicles.
Hospitality Industry: Marriott
Voice commerce is also becoming increasingly popular in the hospitality industry. Marriott Hotels now allows customers to order room service using Amazon's Alexa voice assistant. Customers can also book their stays using the platform, which provides convenience for travelers who want to save time when booking rooms.
Overall, voice commerce is becoming a popular way for customers to shop, and many of the biggest brands are embracing this trend. By offering customers a more convenient way to shop, these companies are setting themselves up for success in the years to come.
Conclusion: How Do Hidden Brains UK Can Help You Get Ready for Voice Commerce in 2023?
Voice commerce is quickly becoming a popular way for retailers to reach their customers, and the future looks promising. With voice commerce set to increase in popularity over the next few years, it's important for retailers to start preparing now.
At Hidden Brains UK, we understand the importance of getting ready for voice commerce in 2023. We can help you to develop a comprehensive strategy to ensure that you're taking advantage of the new technologies available and maximizing your profits. Our experienced developers have the skills and expertise to create powerful, custom-made solutions that will help you to get ahead of the competition.
We can help you to integrate voice commerce technology into your existing systems so that customers can interact with your brand seamlessly through voice commands. We can also help you to design solutions that take advantage of natural language processing, ensuring your customers receive accurate responses to their queries. Additionally, our team can provide guidance and advice on how to keep up with the latest trends in voice commerce and how to make sure your brand stands out from the competition.
By working with Hidden Brains UK, you can be sure that you're taking advantage of all the opportunities that come with voice commerce. Contact us today to find out more about how we can help you get ready for voice commerce in 2023.
Do Not Forget To Visit Our Robust and Secure Services:
Mobile App Development Company in The UK
|
iOS App Development Company In the UK
|
Android App Development Company in the UK
|
Web Application Development Agency in the UK
|
PHP Development Company in the UK
|
ASP.NET Development Company in the UK
|
Hire Developers in the UK
|
Hire Best iPhone App Developers in the UK
|
Hire Android App Developers
|
Hire Web Developer in the UK
|
Hire PHP Developers In The UK
|
Hire ASP.NET Developers in the UK