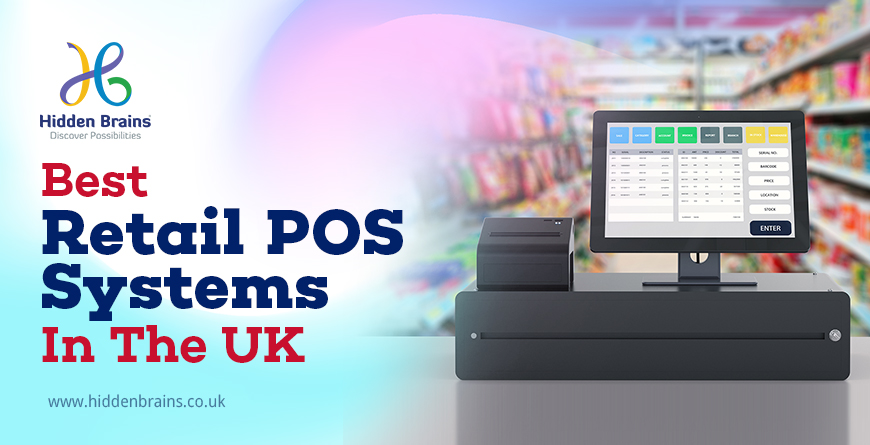 Point of Sale (POS) is an essential agenda for marketers because consumers tend to make purchasing decisions on high-margin products or services at these strategic locations. The advantages of the POS system include better customer service, easier team management, increased sales, and much more. Explore the best retail POS system in the UK for your business.
The best POS systems for retailers are easy to use, have good inventory management features and generate reports to give insight into your business performance. They can come with loyalty, marketing features, and online and curbside pickup sales capabilities.
Retail point of service (POS) systems empower retail staff to deliver outstanding service levels and increase their customers by earning their loyalty in an Omnichannel World. POS systems, which means establishing a single view of the inventory, customer, and order so that retailers can deliver the end-to-end experience customers expect. POS helps you to increase the functionality of your business in many ways.
Being a retailer, it's crucial to have a point of sale (POS) system that can handle a high number of sales and make your life easier by focusing on the essential aspects of running your business.
While in today's time, many POS systems provide similar offerings, the cost price of the POS system, their features, and the work procedure of that system differ.
Do you wish to develop a fully functional and loaded POS system for your retail business?
The 6 best Retail POS systems in the UK: A deep dive
1. Lightspeed Detail:
Membership plans of Lightspeed
Plan – Lean
Features: One-on-one onboarding, Free training for you and your employees, Dedicated account manager, Lightspeed payments
Plan – Standard
Features: Lean plan capabilities, Lightspeed Accounting, E-commerce platform
Plan – Advanced
Features: Standard plan capabilities, Omnichannel Loyalty for syncing marketing campaigns and customer rewards programs online and in-store, Analytics Core for in-depth reporting.
Lightspeed is considered one of the best POS systems because of its many retail-specific offerings. Lightspeed is an integrated omnichannel solution that brings your brick-and-mortar store and online store together, allowing you to have one central point for customers and inventory and transparent reporting of your business. It is highly secured and will reduce time spent on two separate systems allowing you and your company to focus on your day-to-day tasks. Lightspeed allows retailers to sell directly on Facebook, thereby increasing the social media presence of their stores.
Lightspeed is an omnichannel retail platform and a cloud-based POS system that provides retailers with hardware and software options to run their businesses. Its advanced inventory management features are quintessential especially for those business owners who are looking forward to manage inventory across multiple locations.
Lightspeed Restaurant is a version of Lightspeed POS software and is a perfect option for those who run bars, cafes, or full-service restaurants. This POS offers various helpful features for retailers, golf courses, and restaurants. Its advanced inventory management features stand out. It is one of the best options for retailers to manage inventory across multiple locations.
According to a recent survey, Lightspeed has 51k+ customers in over 100 different countries. In the fiscal year 2022, the company generated revenues of US$548 million with total assets of US$3.62 billion.
2.  Square POS:
Membership plans of Square POS
Plan – Free
Features: Sell in person, online, over the phone, or out in the field; no setup fees or monthly fees; only pay when you make payment
Plan – Plus
Features: Get advanced features designed specifically for restaurants, retailers, pr appointment-based businesses. Upgrade whenever you want and cancel anytime
Plan – Premium
Features: Build a bespoke plan that meets our business needs complexity. Custom processing rates are available as pending eligibility.
Square Point of Sale is retail IT solution developed for mobile software applicable to both iOS and Android devices.
The main capabilities of this POS system include online payment processing, digital receipts, sales reports, eCommerce, online payment processing, email, and SMS marketing campaigns, inventory tracking, insights/analytics, and more. It is one of the best retail POS systems in the UK.
If you run a physical retail store, this combination of software and hardware ensures that you can take payments from customers instantly while updating your inventory simultaneously.
Square is simple and effective, making it one of the best-known mobile point-of-sales systems in the industry. Square POS gives more control over the business back-end, inventory support, employee management, and with payment processing.
Depending on your business's nature and size, you may purchase a comprehensive hardware solution, like Square Register.
Square POS is an Omnichannel Retail platform with a comprehensive management tool for customer profiles, saving important information about each client contact information, tracking their purchasing history, and even securely saving credit card details.
The Square POS system is a straightforward solution for different kinds of businesses. Whether you're a small business owner running a store or a restaurant, there are very few limits to what you can do with the correct square setup. All you need is to decide what kind of POS you want to create.
A recent survey shows Square POS has 210 million buyer profiles and 2 million merchants. The total revenue of Square POS is US$17.661 billion, with a gross payment volume of US$152.8 billion. Till now, Square POS has provided loans to 40K businesses.
3. Zettle:
Features: Full range of sleek and compact hardware, Daily reports on sales and staff performance, Bank deposits made within 1-2 business days
Zettle point of sale gives customers and staff great experiences daily with their scalable and straightforward point of sale. Combine their POS software with either Terminal or Reader to track sales easily, take payments and manage your stock in one place. Zettle is the most accessible POS platform in the retail industry IT solutions.
Zettle lets sellers accept mobile and in-store payments using mobile terminals, iPad checkout stands, and Bluetooth card readers. Zettle app works on android and iOS mobile devices and lets you enter customer, product, and sale details on the fly, apply discounts, track inventory and gift cards, run sales reports, track staff, and more.
Zettle is a retail IT solution that connects to Shopify, BigCommerce, and WooCommerce to sync product data and inventory.
Zettle is an Omnichannel Retail Platform that can automate sales data updates in Xero accounting software to simplify your accounting processes and help minimize errors. Hence it is one of the best and easiest retail POS systems in the UK.
Zettle in-store payments are projected to resume positive growth this year and hit a market value of $5.621 trillion, according to Insider Intelligence forecasts. Zettle's revenue growth hit 29% annually on a constant currency basis.
4. Saledock:
Membership plans of Saledock
Plan – Essential
Features: Intuitive Point of Sale, Real-time inventory management, Advanced analytics, Multi store management, Stock control, Integrated payments, Secure cloud backup, Customer support
Plan – Pro
Features: All Essential plan features, Loyalty scheme, Price list, Xero integration, Invoicing, HubSpot integration
Plan – Unfold
Features: All Pro plan features, Dedicated account manager, Free SSL certificate, Flexible shipping rates, Search engine optimization, Social media integration
Saledock is a retail IT solution and eCommerce solution tailored to Apparel stores, bike stores, sporting goods stores, homeware and furniture stores, mobility stores, garden centers, and pet and aquatic centers.
Saledock is an Omnichannel retail platform that compares multi-store and online sales with easy-to-understand, graph-based reporting. Understand best sellers, colors, and sizes, which brands or suppliers perform better, and get better visibility of profit margins.
Saledock's real-time analytics are designed to help retailers make smarter data-driven decisions and plan confidently. It is one of the most straightforward and secure POS systems in retail Industry Software solutions in the UK. It helps you manage your inventory, products, and customers.
It is designed for UK users. It has 212 users in the UK and has acquired 0.23% market shares in the POS systems category.
5. Tillpoint POS:
Membership plans of Billpoint
Plan – Starter
Features: A/B testing, Accounts payable, Analytics, Budgeting, Calendar management, 3 staff, 1 register, and 1 store
Plan – Advanced
Features: Includes all features, Unlimited staff, 2 registers, 1 store
Plan – Multi-Store
Features: Include all features, Unlimited staff, 2 registers, and unlimited stores
Tillpoint is the multi-award-winning retail IT solution & management platform for retail and restaurants; the system includes over 25 specialized apps allowing you to run all areas of your business from a centralized and cost-effective all-in-one solution.
Tillpoint is an Omnichannel Retail Platform that uses 17 technology products and services, including HTML5, jQuery, and Google Analytics, according to G2 Stack. Tillpoint is actively using 18 technologies for its website, according to BuiltWith. Hence making, Tillpoint POS is one of the most popularly used POS systems in Retail IT solutions.
Tillpoint takes complete control of your business from anywhere, with modules that include point of sale, advanced inventory, full accounting, customer loyalty, reporting, and more. Make running your business organized, efficient and easy because it is used chiefly by retail POS systems in the UK.
Tillpoint has 38 customers in 7 countries. It has a 0.04% market share in the POS Systems category.
6. Shopify:
Membership plans of Shopify
Plan – Basic
Features: Basic reports, 2 staff accounts, Up to 4 inventory locations, Up to 77% shipping discount
Plan – Shopify
Features: Professional reports, 5 staff accounts, Up to 5 inventory locations, Up to 88% shipping discount
Plan – Advanced
Features: Custom report builder, 15 staff accounts, Up to 8 inventory locations, Up to 88% shipping discount
Shopify is a retail IT solution that uses 80 technology products and services, including HTML5, jQuery, and Google Analytics, according to the G2 stack. In the Retail industry IT solution, Shopify is the only POS system actively using 170 technologies for its website, according to BuiltWith.
With Shopify Plus, we have our point-of-sale and eCommerce systems under one umbrella, which serves our ultimate purpose of being an omnichannel retailer and viewing the customers as one customer–no matter where they shop with us.
Shopify is entirely cloud-based and hosted, which means you can access it from any connected compatible device, and we'll handle software and server upgrades and maintenance for you.
Shopify is an Omnichannel Retail Platform that offers its customers powerful upgrades to help them grow their businesses on our platform. Shopify empowers entrepreneurs worldwide to create, connect, and innovate their businesses.
Shopify centralizes entire commerce businesses and offers access to the broadest commerce ecosystem integrations built using a shared technical framework. Shopify is considered one of the best retail POS systems in the UK for small businesses.
Shopify has 765 customers in 42 countries. Shopify ranked 18th in the POS systems category, holding 0.73% of the total market share.
Final Thoughts
The most critical functions that POS systems offer are solutions to manage data transactions and simplify your business operations efficiently. The system should be able to meet your business requirements and handle your workload.
Finally, implement POS solutions that efficiently serve your business with a good customer experience and high performance for delivery.
Frequently Asked Questions (FAQs)
Q1. Why should I use POS System?
Ans: POS system is a software package often packaged with an accompanying compatible hardware package to organize and manage your business. The software links your customer service, inventory, accounting, payroll, and other departments into one program, helping to centralize your administrative tasks. Using POS is more time-saving and efficient than using separate software to manage each area.
Q2. If the server should stop working, would the terminal be able to process a sale?
Ans: When the connection is reestablished, data from the offline transaction is uploaded to memory for use in transaction details and reporting.
Q3. Is it possible to operate the POS software from home?
Ans: Yes, it is possible.
Q4. What makes a sound POS system?
Ans: Ideally, your system should create detailed sales reports with charts and graphs. It should also have an easy-to-comprehend dashboard that provides real-time sales, cash, and inventory data.
Call us today for the best retail POS in the UK
Do Not Forget To Visit Our Robust and Secure Services:
Mobile App Development Company in The UK | iOS App Development Company In the UK | Android App Development Company in the UK | Web Application Development Agency in the UK | PHP Development Company in the UK | ASP.NET Development Company in the UK | Hire Developers in the UK | Hire Best iPhone App Developers in the UK | Hire Android App Developers | Hire Web Developer in the UK | Hire PHP Developers In The UK | Hire ASP.NET Developers in the UK