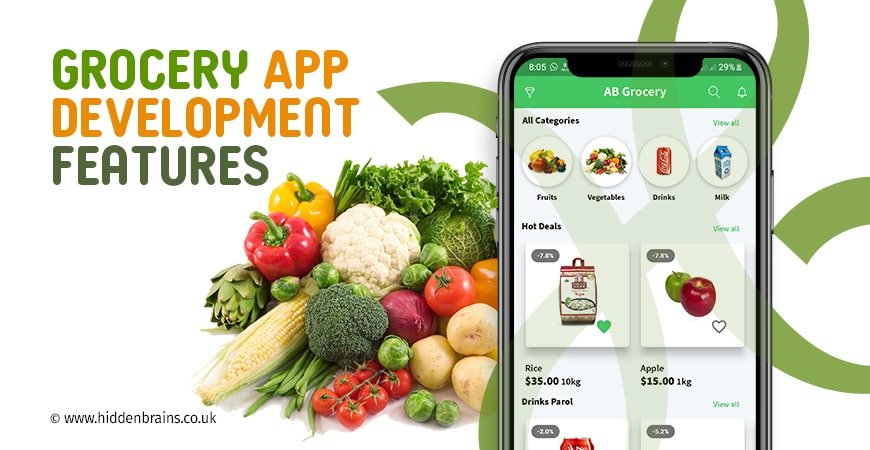 Retail industry is rapidly evolving and offering new ways to their customers with advanced solutions. Now, due to hectic life schedule and mainly, due to COVID 19 pandemic, traditional grocery stores have turned into E-stores. Undoubtedly, grocery apps such as Flip and Grocery Pal have gained immense popularity among users. 
Now, mobile app development services UK offer you an opportunity to grow your grocery business and manage deliveries efficiently.   During this COVID-19 pandemic, people prefer to order their daily household items online and opt for the contactless delivery service. Retailers can offer a seamless shopping experience with advanced mobility solutions based on modern functionalities such as voice enabled shopping list and auto-fill cart from past orders. It helps to engage users and improve  customer experience.  
"According to statista, "The U.S. online grocery market was estimated to generate sales worth of about 28.68 billion U.S. dollars in 2019, with sales forecast to reach 59.5 billion U.S. dollars by 2023."
"According to eMarketer13, one fourth of US consumers are already using some grocery app monthly. Figures are similar in Europe."
With mobile applications users can simply download the app and place their orders. However, the retail industry is in the middle of the paradigm shift, where traditional supermarkets are shifting towards digital platforms and offering convenient, high quality, and intuitive experience to their customers. 
While observing the current scenario, if you are also planning to launch your grocery mobile application, then make sure that you should know all the essential information about the online grocery market. 
There are different types of grocery app development, to run your business smoothly, retailers should know about these grocery app development services. 
Related Post: Role of Mobile App in Retail
Different types of Grocery App 
Grocery Delivery Apps 
These are the most popular types of grocery mobile applications. Retailers can launch their online store with this platform and offer online grocery stores to their customers. With this customers can place online orders and receive home delivery services. These apps can also only target the particular area or region as per the preferences of the online store owner. These types of applications are mainly focused to deliver products to their customers. 
Aggregating apps
These are the most demanding types of applications, as it offers a wide range of options to the customers. It provides an option to the customers to choose any supermarket from the particular list. Customers can choose their online store from the grocery delivery service listing, these types of applications increase  customer satisfaction as they have several options to order their products. With aggregating grocery applications they are not dependent on the particular store and they don't have to browse different delivery applications. 
Market Leaders of Online Grocery Delivery
Key Features of Our On Demand Grocery App Development Solution
Sign up with Social Networking platforms

Alternative Options

Voice Recognition 

 Smart Filter 

Schedule Grocery Delivery

Multiple Payment Options
In order to stay ahead in the market, it is important to offer unique and advanced user experience to your customers. It will help you to engage users and will turn their shopping experience far easier. Presently, there are some advanced features through which you can attract your customers towards your online stores. 
1.

Sign up with Social Networking platforms
Social networking sites including Facebook and Instagram are the most trending platforms and used by millions of users. Through different social media websites, you can attract a huge number of audiences towards your business, which will help you increase your business and boost your sales. 
Offer an opportunity to your customers to sign up directly from social media, instead of following the long sign up process, they should be allowed to directly sign up from the different social networking sites. It will help you make the registration process easier and faster.
2.

Alternative Options
Many times, it could be possible that the particular items could not be available in the online stores.  If it is not available, it is important to provide alternative options to the customers that instead of purchasing those products they can opt for the other options which will fulfill the same requirements. It will help retailers to increase customer experience and improve their relationship with their users for the long term. 
3.
Voice Recognition 
Voice assistance is the most trending feature in mobile applications. It helps to engage customers with your applications and offer effortless service. It turns your application into a powerful platform, and customers don't have to type the product name or browse the applications. With voice recognition, users can simply place the orders with the voice. 
4.

Smart Filter 
By integrating the smart feature into the grocery application, turn the shopping experience into easier, more convenient, and faster. It will help to reach their requirements or niche. By smart feature they can easily search for the products or food items from the grocery listing. This feature will help to exclude endless scrolling and save a huge amount of time and energy. It will attract and give reason to opt for your grocery app development service London  to your customers. 
5. Schedule Grocery Delivery
In this fast paced world, people prefer to opt for the comfortable services. They prefer the grocery mobile applications which are more convenient and user friendly. To meet their demands, "schedule delivery option" works well.  It will provide users the option to  order in advance with this feature as per their preferences users can schedule delivery timings. It will also help you to manage the order in advance and easily deliver the order on time. 
Related Post: On-demand Food Delivery App Development Cost & Features
Conclusion 
Now, online stores are in high demand and for your  business continuity, it is important to launch your online store. If you have also decided to launch your app in the market, hire a proficient mobile app developer, who can help you in the long run and to stay ahead in the market.