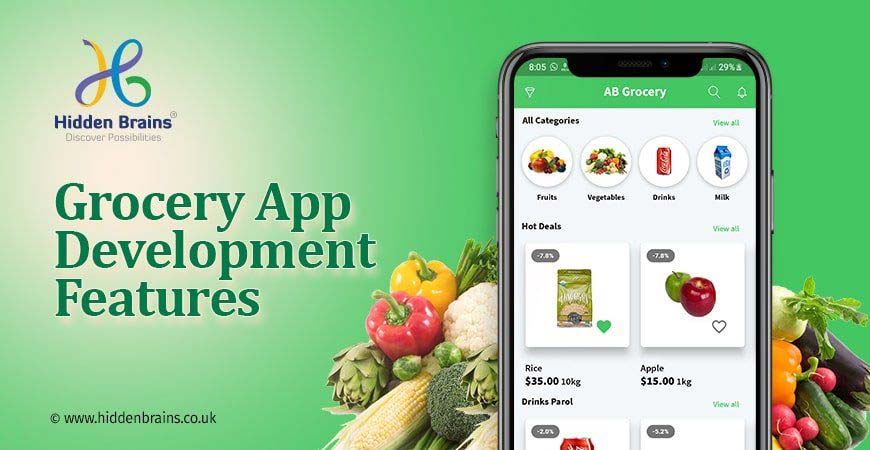 We live in a world that is so fast-paced and most of the time people get so caught up that they prefer doing everything, even completing the daily chores online. Thankfully, with a dramatic growth of internet usage and e-commerce in the last few years, mobile apps are available for every industry including food, clothes, shoes, baby products, and even grocery items. Yes, online grocery delivery is not an exceptional one. Grocery apps are boon for everyone and make the lives of people more luxurious and easy than ever before. By using the grocery delivery apps one can easily have all the things delivered to their home without spending hours at the shopping marts. Due to the hectic life schedule and the covid 19 pandemic, people are becoming more and more dependent on online platforms.
The retail industry is rapidly evolving and offering new ways to their customers with advanced solutions. Due to the hectic life schedule and mainly due to COVID 19 pandemic, traditional grocery stores have turned into E-stores. Undoubtedly, grocery apps such as Flip and Grocery Pal have gained immense popularity among users.
Now, mobile app development services UK offer you an opportunity to grow your grocery business and manage deliveries efficiently.   During this COVID-19 pandemic, people prefer to order their daily household items online and opt for the contactless delivery service. Retailers can offer a seamless shopping experience with advanced mobility solutions based on modern functionalities such as voice-enabled shopping list and auto-fill cart from past orders. It helps to engage users and improve customer experience.  
Call us today for a FREE no-obligation quote.
"According to Statista, "The U.S. online grocery market was estimated to generate sales worth of about 28.68 billion U.S. dollars in 2019, with sales forecast to reach 59.5 billion U.S. dollars by 2023."
"According to eMarketer13, one-fourth of US consumers are already using some grocery app monthly. Figures are similar in Europe."
However, the retail industry is in the middle of a paradigm shift. Traditional supermarkets shift towards digital platforms and offer convenient, high quality, and intuitive experience to their customers.
While observing the current scenario, if you are also planning to launch your grocery mobile application, then make sure that you should know all the essential information about the online grocery market.
There are different types of grocery app development, to run your business smoothly, retailers should know about these grocery app development services.
Related Post: How Much Does it Cost to Create an App in UK?
Different types of Grocery App
Grocery Delivery Apps
These are the most popular types of grocery mobile applications. Retailers can launch their online store with this platform and offer online grocery stores to their customers. With this customers can place online orders and receive home delivery services. These apps can also only target the particular area or region as per the preferences of the online store owner. These types of applications are mainly focused to deliver products to their customers.
Aggregating apps
These are the most demanding types of applications, as it offers a wide range of options to the customers. It provides an option to the customers to choose any supermarket from the particular list. Customers can choose their online store from the grocery delivery service listing, these types of applications increase customer satisfaction as they have several options to order their products. With aggregating grocery applications, they are not dependent on the particular store and they don't have to browse different delivery applications.
Systems for marketplaces
This type of grocery shopping delivery app also turns out to be pretty convenient. This type of app generally works when a marketplace has the delivery staff to get ordered items to the customers' place. Users only have to be informed about what could be delivered to them over a certain period.
Call us today for the best grocerry delivery app development.
Other categories of grocery shopping delivery apps
The top grocery shopping apps successfully manage a broad customer base. This is mainly because these platforms assist with multiple issues. While working on the app delivery system, the following options can be chosen
Price comparison platforms.
Grocery discount software.
Food delivery systems.
Shopping list programs.
Market Leaders of Online Grocery Delivery
Key Features of Our On-Demand Grocery App Development Solution
Sign up with Social Networking platforms

Alternative Options

Voice Recognition

Smart Filter

Schedule Grocery Delivery

Multiple Payment Options
To stay ahead in the market, it is essential to offer your customers a unique and advanced user experience. It will help you to engage users and will turn their shopping experience far easier.
Also read: Bооst Yоur Stаrtuр's Grоwth With 7 Mоbile Aрр Strаtegies
Key Features Grocery App Development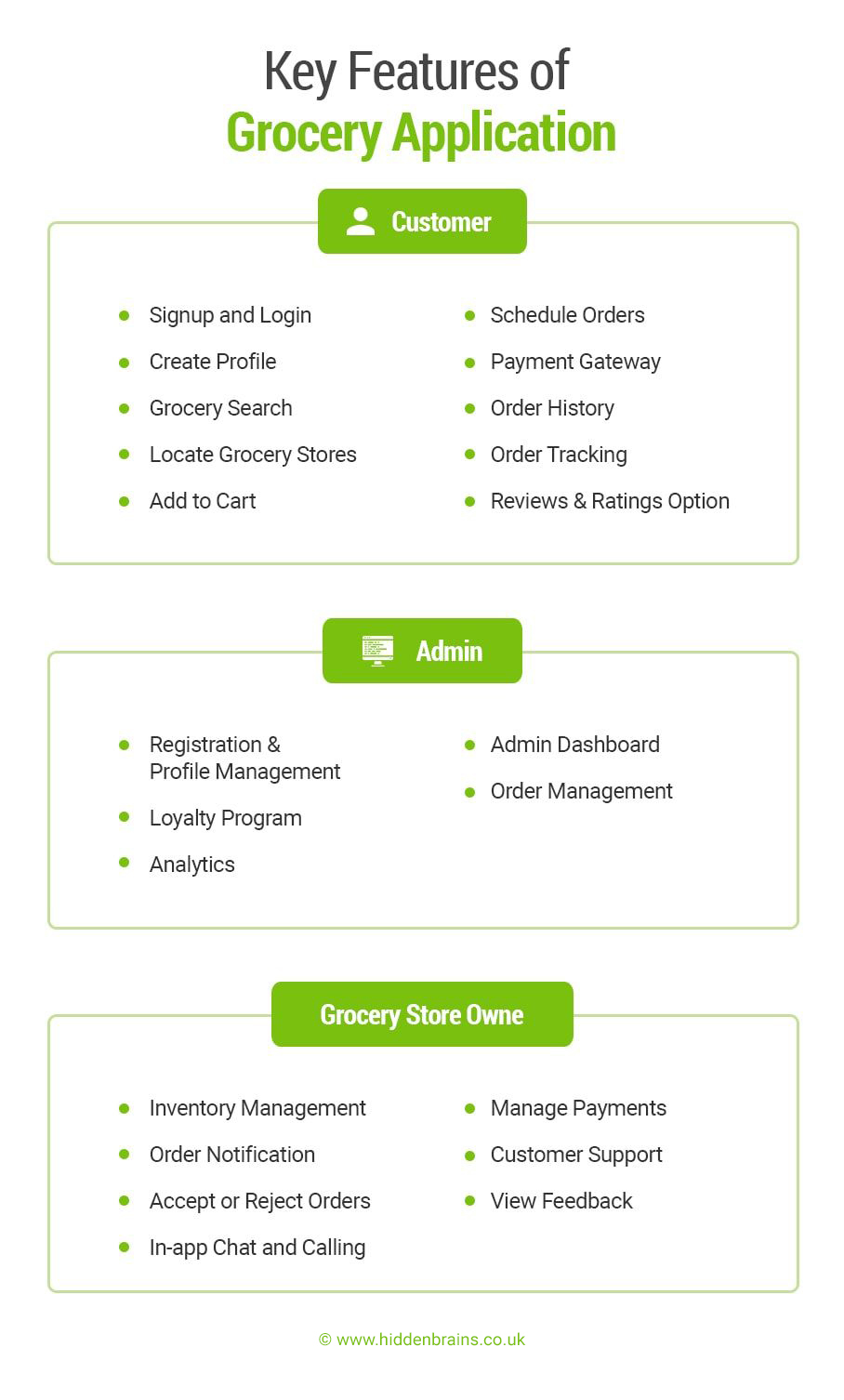 Presently, there are some advanced features through which you can attract your customers towards your online stores.
1. Sign up with Social Networking platforms
Millions of users use social networking sites such as Facebook and Instagram. Through different social media websites, you can attract many audiences towards your business like Grocery Shopping App, which will help you increase your Grocery Shopping business and boost your Grocery Shopping sales.
Offer an opportunity to your customers to sign up directly from social media; instead of following the long sign up process, they should be allowed to sign up now from the different social networking sites. It will help you make the registration process easier and faster. Login and registration is the first step for the user to interact with the app. For seamless registration login with the email account or social credentials will help the user save time.
2. Alternative Options
It could be possible that the particular items could not be available in the online stores. In such cases, it is crucial to provide alternative options to the customers to purchase products. It will help retailers to increase customer experience in the long run.
Unavailability of items reduces customer experience. Thus, most shopping apps offer an alternative option immediately the customer searches for an item that is not available. Such a mechanism helps in the sale of the alternative items that the customers would ignore otherwise and also help in maintaining a high customer satisfaction level.
3. Voice Recognition
Voice assistance is the most trending feature in mobile applications. It helps to engage customers with your applications and offer effortless service. It turns your application into a powerful platform, and customers don't have to type the product name or browse the applications. With voice recognition, users can simply place the orders with the voice.
4. Smart Filter
Integrating the smart feature into the grocery application, turn the shopping experience into easier, more convenient, and faster. It will help to reach their requirements or niche. By smart feature, they can easily search for the products or food items from the grocery listing. This feature will help to exclude endless scrolling and save a huge amount of time and energy. It will attract and give reason to opt for your grocery app development service London to your customers. 
Call us today for a custom grocery shopping app development.
5. Schedule Grocery Delivery
In this fast-paced world, people prefer to opt for comfortable services. They prefer grocery mobile applications which are more convenient and user friendly. To meet their demands, the "schedule delivery option" works well. This feature allows the customers to select a particular time from the calendar to receive orders and deliveries at their convenience.
Such a feature is exceptionally important in the current times. This is because customers are offered greater autonomy through letting them schedule the delivery timings of their ordered items. This feature is beneficial for working individuals as they can schedule the date and time of delivery beyond their work hours, which reduces the chances of missing out on the delivery. Shopping apps must also display the slots already booked and the slots available to the customers to make it a more efficient process.
Related Post: On-demand Food Delivery App Development Cost & Features
6. Product listing
In the grocery application, product listing is fundamental functionality. To offer seamless user experience, it is essential to segregate the grocery items into product categories and subcategories; this processings turn the shopping experience easier and more reliable. Apart from this, the product description helps them get information about the products better.
7. Tracking
This feature keeps the customers aware of their order by tracking details from time to time. With this feature which involves the real-time GPS, the users can track their orders and know the current status of the orders simultaneously.
With this feature, companies can increase their customer satisfaction by using shopping apps. This helps them check the status of their order and receive notifications whenever their order is dispatched and shipped by push notifications or through SMS.
8. Repeat order
It helps users to order quickly. With this feature, users don't have to opt for the long process of searching and adding products to the cart. They can repeat the order, which saves a considerable amount of time for the customers.
9. Recommended Products
This is a popular feature in online shopping applications, and you must have also experienced it. app Developers uk should integrate this feature into the grocery app as it helps to grow the business.
Most shopping apps have introduced this feature to enhance customer satisfaction. The companies track customer behavior and purchase intentions through the implementation of big data. Thus, recommended products help in saving the time and energy of your customers. It also helps in selling the several items that your target customers might ignore otherwise. Recommended products also help in increasing your target customer base as the latter do not have to look for new or complimentary products every time they order an item. Instead, the recommended products help customer make a choice easily and get their required items quite easily.
10. Monthly shopping list reminders
It is a simple way to remind your users about their monthly requirements and help you grab their attention. With the push notification feature, you can easily send the monthly shopping list reminders to your customers.
This option is similar to setting up a recommended list for your target customers. A monthly shopping list is one that comprises items your customers buy every month. Thus, creating a monthly shopping list saves them the time to place the entire order once again. Thus, monthly shopping lists raise customer satisfaction and also help them save considerable time. By setting up a monthly shopping list, you offer your target customers the opportunity to avoid the hassle of ordering the same things by searching for them. Instead, they can simply select the shopping list and place the order through your app.
11. Offer zone
This is a loved feature in online platforms. The offer zone displays all the offers and discount details so that customers can prevail in the offer by selecting the offer or entering the code while purchasing during checkouts.
Offering the customers a separate offer zone keeps the customers excited and attracted to the app.
12. Order management
Providing the customers with the option of order management helps in providing a seamless experience for the customers. This feature lets the customers have a glance at their order history and if there is any inconvenience, they can cancel the order at any time.
Call us today for a FREE no-obligation quote.
13. Rating and feedback
Providing the customers with the option of rating and giving feedback helps in earning the trust of the customers. Having the rating and feedback option in the app contains all the relevant feedback and ratings that are given by the users about their shopping experience. The companies can also work on their services and products depending on the ratings and feedback provided by the customers.
14. Easy To Use Cart
Make it easier to add products to the cart so that the customer doesn't lose interest in shopping and end up wasting their products. Adding an add-to-cart feature not only allows the users to add products to their cart instantly but also extends the shopping experience by allowing them to add more items to their purchase. The customers are indirectly encouraged to browse more products with one-click add-to-cart functionality. The app should also provide all the necessary information needed for the user during the checkout process on the cart screen itself.
15. Search engine
This is another vital feature to implement during grocery delivery app development. People require convenient search and filter options so that they can find specific products or nearby stores. To make it possible, the app can have all the items arranged by titles, location, kind, and preferences. Smart lists allow the customers to find the food they need effortlessly and order the item promptly.
16. Payment
After the order gets placed by the customer, it is the right time to think of payment options. It is necessary to provide the customers with multiple payment options so they can avail the payment option according to their choice. The integration with different dedicated solutions helps in facilitating the users' tasks. The customers can choose what option to go for – debit or credit card, cash upon delivery, Stripe or PayPal.
17. 24/7 support
All the best grocery delivery apps provide round-the-clock assistance to their customers and this is a must-have feature these days. Users might need help while picking up their products. The customers should be provided with the option of interacting with customer service through multiple platforms – email, online chatting, and phone. You can also use the advantage of the chatbox to ensure 24/7 support to the customers.
Conclusion
Now, online stores are in high demand and for your business continuity, it is important to launch your online store. Though there are several ways to make your app interactive and efficient, there is no definite framework or fixed features for shopping apps. The features your app must include depends on you nature of products and services. If you have also decided to launch your app in the market, hire a proficient mobile app developer, who can help you in the long run and stay ahead in the market.
There are several factors that you must remember before developing a shopping app. The most crucial amongst them is to develop a user-friendly and engaging site. Thus, business people must remember to hire app developers who understand your business goals and products well to develop an app accordingly. The easier the app is to use, the greater will be its popularity amongst customers. Thus, it is crucial to take the factors mentioned above into consideration before developing a shopping app.
Do Not Forget To Visit Our Robust and Secure Services:
Mobile App Development Services in The UK | iOS App Development Services In the UK | Android App Development Services in the UK | Web Application Development Services in the UK | PHP Development Services in the UK | ASP.NET Development Services in the UK | Hire Developers in the UK | Hire Best iPhone App Developers in the UK | Hire Android App Developers | Hire Web Developer in the UK | Hire PHP Developers In The UK | Hire ASP.NET Developers in the UK