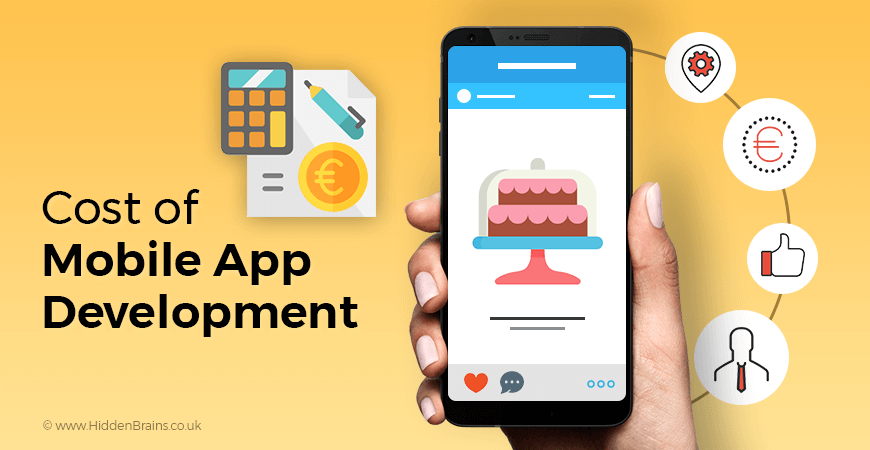 How Much Does it Cost to Create an App?," has been the most common query we have received from prospective customers since long time. Mobile app development, be it iPhone or Android app development is an expensive affair and requires gigantic monetary investment – this is an overstatement. Not all types of mobile apps requires handsome money or budget.
How Much Does it Cost to Create an App?
It is important to understand the cost of mobile application development depends on several factors such as type of mobile app, platform, design to number of pages. For instance, an app requiring no API integration, no back-end or simple-to-implement features such as email subscription, social login, or calendar will not need a mammoth budget. On the other hand, custom features, multi-language support, or real-time updates require more resources in terms of development budget. Every app is unique in itself and the cost estimation is based on the time and effort required to build an app.
Different developer rates and project complexity have a direct impact on the cost of making a mobile application.
The Major Factors That Determine The Cost to Create an App

.
1. Scope, Features and Functionalities of App
What is the core purpose of building a mobile app? The answer to this question would give some sort of clarity on the scope of this project. If businesses are looking forward to a broader scope and returns from app, it has to be extensively developed with lot many functionalities.
However, if the purpose to develop mobile app is to have a mobile presence and create another channel to connect with end users, an app with limited features would also be fine.
As per the recent survey by a leading analysis and research agency GoodFirms, the scope of mobile app in terms features and functionalities is the major factor driving the cost of development.
The discovery phase requires deep understanding of business flow, its goal and overall business purpose. Only when these things are clear to the development team, they can proceed ahead to lay out a plan for an app and decide how simple or complex app would be required to serve the business purpose.
2. Deciding the Platforms and Devices
The platform and type of mobile app also plays an important factor in deciding the cost of development. For example, the total cost of building a native app for a specific platform is different from building a hybrid app that runs on multiple platforms and devices.
App development cost is also dependent on the type of device for which the app is developed. Building app for devices running iOS, Android, Windows, Blackberry or iPad is different, as it requires different sets of integration. Supporting different generations of the same device can also be an additional cost factor that increases the price.
3. Number of Screens in the App
This is yet another important factor determining the cost to create an app. More number of screens require extensive amount of work from designers and UX experts. Further, more screens means higher interlinking of pages through app. This requires adjusting more conditions in order to access any particular in-app page.
Higher number of screens means the development of complex mobile app. Such complicated and complex mobile apps demand more time and effort of designers as well as Mobile app developers.
4. Database
Apps with user-driven content that allow end users to upload photos, videos and submit reviews or comments take more time in development compared to the ones without database. This would again increase the complexity of app to set up a database where user's information would be stored and available for retrieval for future use. The development time and app development cost UK for database driven app would obviously be more than simple ones.
5. Type of App Development Team
Based on the complexity of app development project, it is about time to formulate a core App Development Team team comprising of a project manager, a UI/UX designer, professional developers, and a quality assurance engineer. You can opt for a basic or extended team consisting of a backend developer to develop an API, admin panel designer, iOS or Android developer. 
6. App Features or Elements
Mobile apps often require integration with third party libraries, frameworks, and services. Real-time chats, as well as social media can be accomplished with Facebook, Twitter, LinkedIn and other social network APIs.
Top App developers providing APIs to enable the exchange of data between a mobile application and a database. The backend implements app's business logic.
Identifying the right approach for communication between hardware components such as gyroscopes, accelerometers, NFC, Bluetooth, GPS and software can communicate may determine the pricing.
7. Devices and OS
When it comes to an iOS app, it should ideally be compatible with the latest and the previous versions of iPhone, and support the latest and previous iOS versions. When it comes to the fragmented world of Android, there are several factors such as size of the market share of Android device manufacturer, client's preferences, and the OS you decide to support. Considering the complexity of the Android market, an Android app development cost may exceed the cost of iOS App Development .
8. Post Release Expenses
The total cost of mobile app development does not only include the money spent on actual programming, but also enlists budget required for post release maintenance and updates such as backend server maintenance, cloud hosting, app marketing and promotion.
9. App Type
Having a great mobile app ideas for a product or service is one thing and making it accessible to mobile users is another critical task. After building a thorough business model, you will come across various technology trees on which your mobile app development project will be based upon. Choosing an application for the project will have a major impact on the overall cost to build an app.
Based Upon the Complexity Level, an App Can be Categorized as Follows:
Web App
A web app is a mobile version of a website and not a mobile application. Build on the principles of 'mobile-friendliness', web app uses responsive design for a fluid and smooth user experience across varied screen sizes and operating systems – from tablets to smartphones. However, web app comes with limited features and low performance as compared to native apps
Native App
Large applications provide excellent user experience. Native apps fully optimized to leverage the operating system of a given device like iOS, Android, Windows – Swift or Objective C for iOS platform and Java or Kotlin for Android platform. Built with language native to the operating system, native apps are optimized for high performance for a specific platform. Native apps fall under the expensive side.
Hybrid/Cross-Platform App
Hybird/cross platform run across different OS like iOS, Android, Windows. This approach is best suited to cater to the needs of a large audience across different platforms with the combination of web and native technologies. Development and maintenance cost is low as compared to other approaches but they are not considered best in terms of capabilities because of its limited access to smartphone's hardware. 
10. Legalities & Licenses
The factors which are often overlooked when developing a mobile application are Copyrights, Patents, and Trademarks. Many businesses often overlook the cost pertaining to legal licenses and copyright protection. If the information on your app is vital, it is important to patent it and prevent people profiteering from unique features of your app. 
Whether it is unique content, logo, technical functionality, it is worth protecting your apps. Several mobile app are developed on templates that have to be licensed for the use. 
And to deploy apps on the Android store or the App store of Apple, the license has to be bought. 
The license service is a secure means of controlling access to your applications and to protect it too.
11. Support and Maintenance
Technical support is pivotal for seamless performance of mobile app. Mobile app maintenance involves different aspects such as managing updates, APIs, user profiles and data and even making technical changes based on users feedback. Your mobile app will not be able to do what it was developed for without a proper maintenance strategy. New features will cost you and a significant amount will be spent refining existing features of the app.
This is an on-going process and with every change in technology, new updates are required to make your app frictionless.
Who can develop my app idea?
It is important to understand whether to partner with a mobile app development company  or freelance developers for your project. Hiring a professional company offers you're the much needed reliability as a developer team would work to transform your app idea into reality. You will have access to a pool of skilled resources such as designers, programmers, project managers, QA and more.
On the other hand, hiring freelancers may come across as a cost-effective solution compared to companies. However, there are several problems such as absence of project manager to coordinate the project and achieve milestones. Lack of skills or communication gap can also hamper the development process.