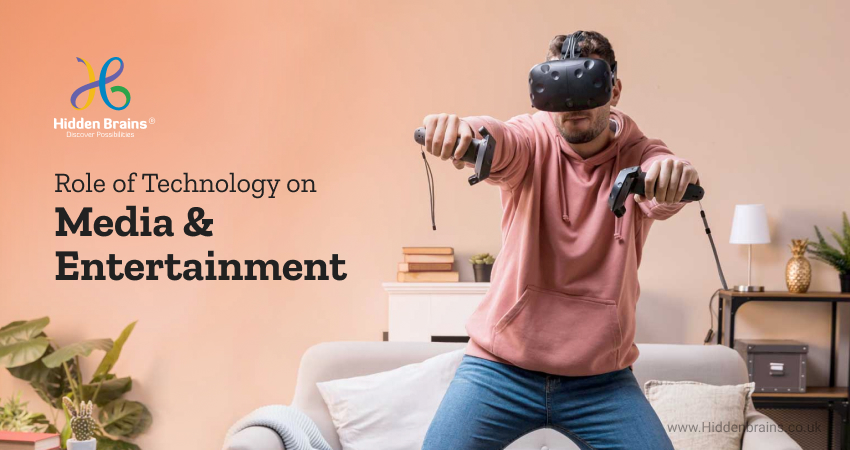 With the great influence of technology on the M&E industry, there is no doubt that customers are leveraging better experiences. But here are the few IT trends that are responsible for transforming the user experience.
If you're also interested in knowing what technologies you can implement in the media and entertainment industry, then look at these top 7 trends that majorly impact Media and Entertainment Industry…
Also Read: How IoT in Real Estate Makes Business More Profitable?
In this blog, let's know how media and entertainments  IT solutions are revolutionizing the both media and entertainment sectors. 
Call us today for a FREE no-obligation quote.
Trends that impact Media and Entertainment
Digital Music Download
In the traditional era, music lovers had to put high efforts to maintain their albums and had to invest high MB for better storage of songs. Now, music lovers don't have to face any hassle. Apart from this, there are several mobile applications and different platforms, which users can easily access to their favourite songs at any time and from anywhere.
5G Wireless Network
5G connectivity is the fifth-generation wireless networking technology and considered as the future of the tech industry. It will help to boost the speed of the internet connection. Along with this, 5G technology  also plays a vital role in many other aspects such as improved quality of video, better mobility experiences, and stronger reliability. 5G turns easier to target audiences and offer them satisfaction services. 
Video Streaming App
Now, video streaming applications have turned as a trend, there are several popular apps that have marked their remarkable success in the market such as Netflix and Amazon Price. Video streaming app offers an easy way to connect with the audience and launch your content with the viewers.
Undoubtedly, video streaming apps have replaced the traditional medium and allows users to watch their favorite episodes at any time and from anywhere. These streaming apps have several features that make them more reliable and advanced.
Features of Video Streaming apps
Live video streaming

– Online video streaming app delivers live video streaming feature to the users.

Real time group chat –

To increase user engagement, users can have live chat with each other and discuss about the program including its story and cast.

Smart Search –

Users can easily search about the particular video or content with the alphabetical order search. It helps to search the videos with few fingertips.
Push notification-

With this push notification feature, users can get the updates about the upcoming episode or programs via pop up.

Live Comments:

Users can comment on the live videos, and share their opinions about ideas with each other.

Comments and discussions:

With comments, users can discuss the particular episodes and content with other viewers.

Live Sessions –

With live sessions, users can connect with their viewers and interact with them in a better way by having one to one interaction with their audience.
Call us today for a FREE no-obligation quote.
3D and Animated based Video Content
With designing tools, content can be enhanced in a better way. It helps to offer next level design to the users. Designers can add value and creativity with 2D and 3D based animations and effects, which helps to connect the audience with them. High resolution images and voice based effects deliver real time experience to the users. To deliver high quality designs in the app like video streaming, you have to hire remote web developers for your project.
Good to Read: What's the Role of IoT in Logistics & Transportation Industry
Augmented Reality
Augmented Reality (AR) is a technology that overlays virtual elements onto the real world, allowing for enhanced visual experiences. It has recently gained traction in the media and entertainment industry, offering new possibilities for content creators and consumers alike.
One of the most popular uses of AR in media and entertainment is with gaming. AR gaming apps let players engage with virtual objects in the real world and interact with them as if they were truly there.
Pokemon Go is a great example of this, with its users exploring the real world to capture virtual monsters and participate in battles. This type of gaming experience has opened up new possibilities and brought augmented reality into the mainstream.
Other potential uses of AR include virtual tours, which are popular among museums and other cultural institutions. Virtual tours allow visitors to explore exhibitions and artifacts through a 3D immersive environment.
Overall, augmented reality is becoming an increasingly important tool in the media and entertainment industry, bringing new levels of interactivity and engagement to the table. With more companies beginning to explore the potential of AR, we're sure to see more exciting developments in this area in the near future.
Virtual Reality
In recent years, Virtual Reality has become a buzzword in media and entertainment industry. The impact of VR on the media and entertainment industry is already being felt, with many companies investing heavily in this technology.
For example, some major movie studios are producing films specifically for virtual reality headsets, allowing users to immerse themselves in the world of their favorite characters. Additionally, VR gaming is becoming increasingly popular, allowing gamers to explore realistic 3D worlds and interact with digital objects.
VR can also be used for educational purposes, such as interactive museum tours and virtual field trips. With this technology, users are able to explore locations and gain knowledge without ever leaving their homes.
VR technology has the potential to revolutionize the media and entertainment industry by providing immersive experiences that would otherwise be impossible to replicate.
The possibilities of VR are vast and can be used to create immersive experiences that can take people to new worlds and inspire new ways of thinking. As VR continues to develop, its impact on the media and entertainment industry will only grow stronger.
AI in Media and Entertainment
AI helps users to deliver high and next generation experience by enhancing real world images, which connects users in a better way. It creates a frictionless and smart environment for the customers. Artificial intelligence offers real experience and an innovative environment, which turns the content more interesting and engaging.
The most effect of AI has been reflected in the gaming industry, players experience the real time environment, with essential effects. Pokémon Go is the best example to witness the success of this technology. In future this technology is going to be an essential part of both the sectors as in the virtual world, it delivers real experience to the users. However, with this strong feelings such as emotion and actions can be presented strongly with the customers.
Even hardware solutions such as Alexa and SIRI have also turned our lives more simpler and smooth. Even by implementing this technology the same content can be used twice by different expressions. However the combination of ML and AI helps to deliver the personalized and transparent.
Cloud Storage
To store data in a secure and transparent way has always been a challenge for every industry. In the same way, for the media and entertainment sectors, to store a huge amount of data can be a big challenge but with cloud they can store the wide data in a secure and transparent way. It results in increasing their capacity and turns them more secure and helps media companies to handle confidential information in a far better way.
Conclusion  
Media and entertainment industry is rapidly growing and with technologies, it offers next generation experience to the users and helps to sort out many challenges of these industries.
FAQ
What Are The Best Features You Can Look For In Media and Entertainment App That Help Enhancing Your Market Reach?
When choosing the right media and entertainment app, it's important to consider the features that will help you reach the widest audience possible. Here is a list of some of the best features to look for in a media and entertainment app: 
Advanced Analytics: A good media and entertainment app should provide advanced analytics that allows you to get insights into how your content is performing. This will enable you to optimize your campaigns and target the right audience more efficiently.
Automated Workflows: Automated workflows allow you to set up and deploy campaigns quickly, saving you time and effort. Automation also ensures that tasks are completed consistently and on time.
Multi-Platform Capability: If you want to reach a large audience, you need to be able to publish your content on multiple platforms. Make sure your media and entertainment app supports all major platforms such as YouTube, Facebook, Twitter, Instagram, Snapchat, etc.
User-Friendly Interface: An intuitive user interface will make it easy for users to navigate your media and entertainment app and quickly find the content they're looking for.
Video Editing Tools: If you want to create compelling videos, look for an app that offers powerful video editing tools like trimming, cropping, adding effects, and inserting text.
Audio Editing Tools: Audio editing tools are essential if you want to make high-quality audio recordings for podcasts or radio shows. Look for an app that offers cutting-edge audio editing tools like noise reduction, EQ, compression, and reverb.
Cloud Storage: The cloud provides unlimited storage capacity, so make sure your media and entertainment app includes cloud storage options that allow users to store and access their content from any device. 
Security Features: Security is a key concern when it comes to media and entertainment apps, so look for an app with robust security features like encryption, secure login credentials, and data privacy measures. 
By considering these features, you can ensure that your media and entertainment app has all the capabilities necessary to help you reach the widest audience possible.
How Much Does It Cost to Build a Media/Entertainment App Like Netflix?
Netflix is a huge app that you can't expect to develop in a month. The average cost to develop any streaming app like Netflix will be between $20,000 to $50,000+ depending upon the app's complexity. Apart, there are a number of factors that influence the cost. So it is always worth booking a free consultation slot with experts before you make any final decision.
What Tech Stack Do You Need To Music App?
When it comes to developing a music app, there are several key components that need to be taken into consideration. While the overall user experience is paramount, the technology stack you choose can make or break your app. Here's a list of the tech stack you need to create a music app:
Mobile Platform: This is the most basic part of the tech stack for any mobile app. It will provide a platform for your app to function and deliver content on a mobile device.
Database: A database is essential for a music app as it allows users to store and retrieve their data quickly and efficiently.
Server: A server is required to store and process all of the user data, such as music files and playlists. 
User Interface: This will determine how your users interact with the app and the overall look and feel of the product.
Backend API: APIs allow you to add new features and interact with third-party services.
Streaming Services: These are necessary for streaming music to users in real time.
Analytics Platform: You'll need an analytics platform in order to track user engagement and behavior, as well as for reporting purposes.
Payment Processing: A payment processing system is required for users to purchase music and subscriptions within the app.
By choosing the right combination of technologies, you can create a robust and reliable music streaming experience for your users. Make sure to consider all of the above components before launching your music app, and you should have no trouble delivering an enjoyable user experience.
What Are The Best Monetizing Strategies For Media and Entertainment Apps?
When it comes to monetizing media and entertainment apps, there are several different strategies you can use. The most popular strategies that have been used by various media apps like Netflix, Hulu, Amazon Prime, and more are mentioned below:
In-app purchases,
Subscription-based models, 
Targeted advertising, 
Sponsorships, 
Each of these strategies can help you generate revenue from your app, but you should choose the one that best suits your audience's needs. Additionally, it's important to consider the time and effort you'll need to put into implementing and maintaining each of these monetization strategies.
Do Not Forget To Visit Our Robust and Secure Services:
Mobile App Development Company in The UK | iOS App Development Company In the UK | Android App Development Company in the UK | Web Application Development Agency in the UK | PHP Development Company in the UK | ASP.NET Development Company in the UK | Hire Developers in the UK | Hire Best iPhone App Developers in the UK | Hire Android App Developers | Hire Web Developer in the UK | Hire PHP Developers In The UK | Hire ASP.NET Developers in the UK