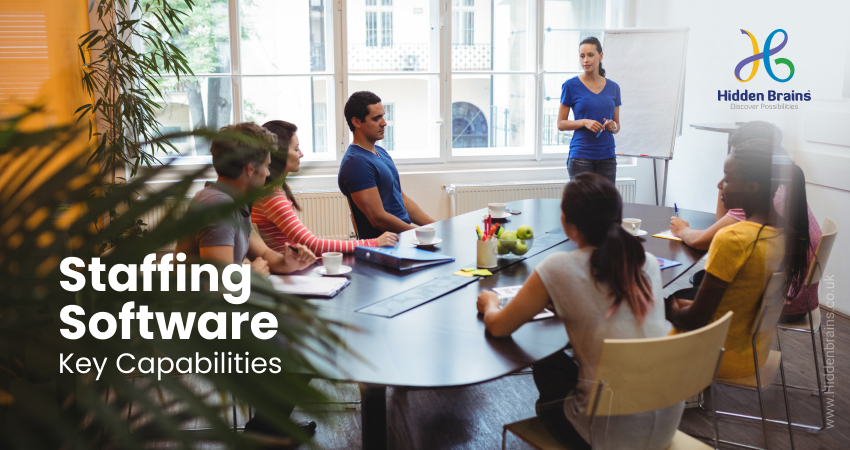 With the increasing adoption of staffing software solutions globally, it is predicted that the market will reach to $772.8 billion by 2029 from $418.3 million in 2022.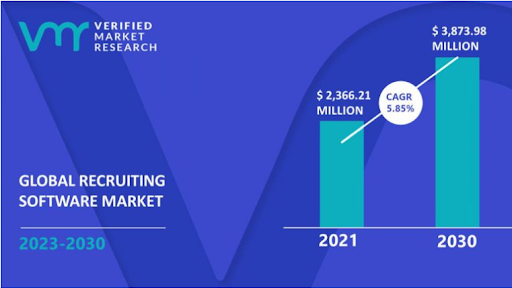 Wondering why there is a sudden shift in the market of staffing software solutions?
In this technology-driven era, where online social media platforms are causing a great impact on every industry, recruitment and staff management procedures are also revolutionized.
That's where the demand for implementing staff management applications is surging and taking the recruitment market to the next level. The prime role of staffing solutions is to assist staffing firms to find resources, recruiting, and tracking the right candidates throughout the recruitment process.
The most significant part capabilities of staffing solutions are to minimize the recruitment time and automate the tasks that HRs handle manually such as job posting, evaluating applicant scores, screening, and more.
So whether you are managing a staffing agency or looking for solutions that help you automate the recruitment process in your organization, it's time to hire developers in the UK. They will help you customize the recruitment software that helps you get the big picture of your workforce.
Call us today for a FREE no-obligation quote.
Before you get straight in the process of hiring developers in the UK, let's discuss each point in detail for better understanding…
What is Staffing Software and Why It Is Booming?
Staffing software is a type of application used by staffing firms and businesses to manage the recruitment and onboarding process. It helps streamline the process of hiring and managing talent, making it easier and more efficient for human resources.
With the help of staffing software, you can easily manage job postings, review resumes, manage applications, track employees, and onboard new hires. It also allows you to track performance metrics and maintain communication with employees.
Now the question is how do they work?
Staffing software is designed to streamline the recruitment process. But how actually it works?
To make these applications work, firstly you need strong technology to avoid downtime and ensure hassle-free processing. So staffing software is based on a variety of tools and processes. This includes
Applicant Tracking Systems (ATS)– That are used to manage job applications;
Candidate Management Systems (CMS) – That help in tracking each candidate's progress through the recruitment process;
Predictive Analytics – It allows employers to predict future trends and make better-informed decisions when it comes to hiring.
At its most basic level, staffing software helps organizations post job listings online. It can also store candidate information in a centralized location, eliminating the need to manually input data. This makes it easier to search for and find qualified applicants quickly.
Good to Read: Custom Software Development Ideas for 2023
Why Do You Need To Implement Staffing Software in 2023?
There is no denying the fact that staffing software can help you replace all those traditional recruitment strategies and automate manual tasks. Here's why you need to develop your own recruitment software in 2023:
Staffing software can track applicants through various stages of the hiring process.
Help in setting up automated workflows that send alerts to recruiters when an application has been received, scheduled for an interview, or moved along in the process.
With the help of staffing software, you can automate background checks and other due diligence tasks such as reference checks.
Get better insights into the recruitment process.
Generate reports and analytics to measure the recruitment process, identify trends and make informed decisions.
With analytics, recruiters can identify the pain areas before they make final decisions.
If you are looking for Enterprise Business Solutions, Contact Us!
Overall, staffing software offers organizations a way to simplify and streamline their recruitment processes. Automating tedious tasks and providing data-driven insights, it can help organizations identify the right candidates faster and more efficiently.
How Can Startups Make $10,000 From Staffing Software?
Knowing that staffing software can help you make money, many of you are curious to get started with your own app. But what type of recruitment application you need to develop is the first question that sprung up in your mind.
Call us today for tailored staffing software requirement.
So let's jump straight to the next section…
What Type of Staffing Software Do You Need?
In today's world, having reliable staffing software has become an important issue for organizations that allow managing the hiring processes. It can save time and money by streamlining recruitment tasks, automating mundane processes, and providing data for analysis and improvement.
But how do you know what type of staffing software you need?
Different organizations have different needs and requirements, therefore, there is no one solution that fits all.
While finding the staffing app, keep in mind that the type of staffing software you need depends on the size and scope of your organization.
For small organizations, it is often sufficient to use a simple system with basic features such as job postings, applicant tracking, and reporting.
Larger organizations may require more complex systems with additional features like applicant screening, onboarding, and performance management.
Before selecting staffing software, you should also consider the type of talent you're trying to acquire. Different types of software are tailored to different industries and skill sets.
Also Read: Costly Mistakes to Avoid while Choosing a Software Development Company
For example, an organization recruiting nurses would need software with specialized features for tracking medical certifications, while an organization recruiting engineers might need a software that tracks software development skills.
In short, the right staffing software depends on the type of organization and the type of talent you are trying to recruit. Knowing these details will help you choose the right software to fit your specific needs.
Hence, depending on the different needs of organizations, here are several types of staffing software on the market that you can choose from.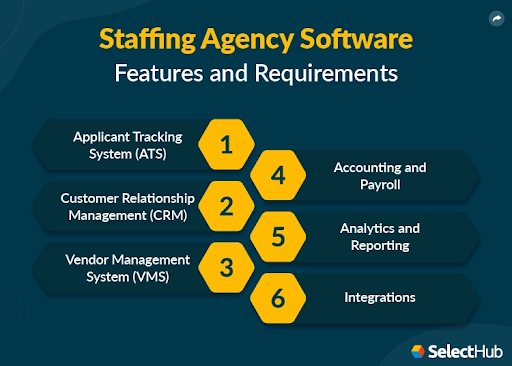 Applicant Tracking Systems (ATS) for tracking job applicants;
Recruitment Process Outsourcing (RPO) software for managing third-party recruiters;
Human Capital Management (HCM) software for managing employee information and payroll;
Background Check Software for verifying applicant information.
Payroll Software to automate the entire payroll process, from calculating wages and taxes to paying employees and issuing year-end reports.
Performance Management software helps organizations monitor and manage employee performance.
Time & Attendance Software helps organizations track employee time and attendance data in real time.
Each of these types of software offers different features and benefits, so it's important to choose one that meets your specific needs.
Finally, before you hire developers in the UK to create staffing software, consider what features you need in your software. Do you need automated job postings? Or advanced analytics for tracking workforce performance?
Whether you are looking for integrated payroll or attendance tracking? Knowing what features you need will help you narrow down your options and make sure that you get the best staffing software for your business.
Hidden Brains UK offers a complete package of Mobile and Web App Development Services. Contact Us!
Implementing staffing software is undoubtedly taken a central stage, but what benefits it brings to your business…?
Call us today for a FREE no-obligation quote.
Key Benefits of Implementing Staffing Software to Your Business
Staffing software provides a streamlined solution for managing a workforce. It can help to improve operational efficiency and accuracy, resulting in cost savings for businesses. By utilizing staffing software, businesses can gain visibility into their workforce, streamline the recruitment process, and quickly track performance metrics.
Here are the key benefits of implementing staffing software in your recruitment agency or business:
Improved Efficiency – Staffing software helps to streamline operations and reduce manual labor, saving time and resources. With automated processes, you can quickly identify positions that need to be filled, find qualified candidates, and quickly move them through the hiring process.
Increased Accuracy – By automating certain parts of the recruitment process, staffing software increases accuracy and eliminates potential errors. This makes sure that each candidate is evaluated accurately and fairly.
Allow Tracking Candidates – Staffing software enables you to keep track of all the applicants who applied for your job openings, as well as their qualifications. This allows you to easily keep up with the progress of each candidate and monitor their success.
Automated Communication Between Candidates and HR – Automated messages help to save time and keep recruiters on track. With pre-set communication templates, recruiters can quickly respond to queries without having to manually type out a response every time.
Reduced Costs on Employee Training– Automating the recruitment process eliminates unnecessary paperwork and reduces overhead costs. Additionally, staffing software can also help you quickly fill vacancies by presenting qualified candidates to employers faster than traditional methods.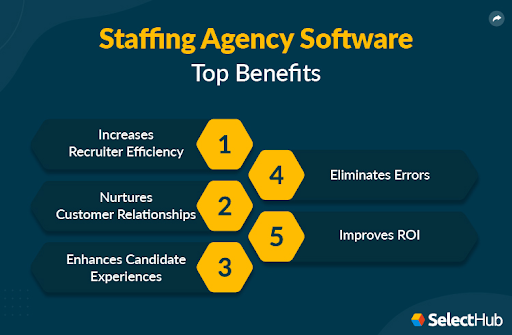 Improved Compliance – By following industry guidelines and adhering to certain regulations, staffing software helps businesses remain compliant with local, state, and federal laws.
Automate the Reporting – With built-in analytics, staffing software makes it easy for employers to generate reports on metrics such as time-to-hire, cost-per-hire, and more. This helps employers to better understand their recruiting efforts and make improvements where necessary.
Ensure Faster Onboarding – Automated onboarding tools help businesses quickly get new hires up to speed without needing to waste time on manual paperwork or training processes.
Increased Engagement – Staffing software helps build relationships with potential candidates by allowing recruiters to interact with them in a more personal way. This helps increase engagement and leads to a better candidate experience overall.
Improved Visibility on Recruitment Process – Finally, staffing software offers employers an improved level of visibility when it comes to their recruitment efforts. By tracking various metrics such as application volume, interview response rate, and cost-per-hire, employers can better gauge their success and make informed decisions regarding their recruitment strategies.
By utilizing staffing software, businesses can gain access to powerful tools that enable them to effectively manage their workforce. It is essential that businesses choose the right software for their needs in order to take advantage of all the benefits it can offer.
But the question is how to choose the best suitable staffing software for your business.
Call us today for cutom staffing software.
10 Pro Tips to Choose Right Staffing Software
The choice of staffing software can either make or break your business, therefore choosing or picking the recruitment application is a sensitive decision. With the right software, however, businesses can increase efficiency and productivity, saving time and money in the long run.
So here we are guiding you through several key factors to consider when selecting staffing software.
Evaluate the Feature set: Look for software that includes comprehensive tools to manage and track your staffing needs, such as payroll, timesheets, and applicant tracking.
Consider User Experience: Ensure the software you choose is easy to use and navigate, allowing staff to quickly become familiar with it and increase efficiency.
Look For Software's Scalability: As your staffing needs grow, look for software that can accommodate this growth. Choose a platform with the ability to integrate new modules as your business expands.
Ensure Secure Access: Data security should be at the top of your priority list when it comes to choosing the right software. Make sure the platform you choose provides strong user authentication and secure data encryption.
Know Your System Compatibility: Check to make sure the software you select is compatible with your existing system, and that it can easily integrate with other applications you may use.
Consider Customer Support: Select a platform that offers round-the-clock customer support, in case any technical issues arise.
Research Reviews and Ratings: Take some time to read reviews from other users to ensure the software meets your needs.
Evaluate the Development Cost: Many staffing software solutions offer various pricing plans, so do your research to determine which best fits your budget.
Understand Deployment Options: Be sure to check whether the software is available as an on-premise or cloud solution, and determine which will work best for your business.
Explore Mobility Options: If you are looking for a mobile-friendly solution, be sure to check whether the software supports smartphones and tablets.
These are just some of the key tips to consider when selecting the right staffing software. With careful consideration and research, businesses can make an informed decision that will save time and money in the long run.
What are the Key Capabilities of Staffing Software?
Staffing software is a powerful tool designed to simplify the recruitment process. By streamlining the process of finding, selecting, and onboarding employees, staffing software can help organizations of all sizes quickly fill open positions with qualified candidates.
The key capabilities of staffing software vary depending on the specific software package, but all packages generally include the following features:
1. A Centralized Job Posting System – This feature allows you to post job openings on popular job boards, as well as on your own website, in order to attract the best candidates for each position.
2. Candidate Search and Screening – This feature enables you to search for and sort through hundreds or thousands of resumes in order to quickly find the most qualified candidates.
3. Interview Scheduling – This capability allows you to easily schedule interviews with potential hires. You can set up automatic reminders and receive notifications when an interview is scheduled.
4. Automated Onboarding – This feature enables you to create employee files, assign tasks, and provide training materials and other onboarding documents. This ensures that all new hires are properly oriented and integrated into your organization.
5. Performance Tracking – This feature enables you to track employee performance over time, which allows you to better measure the success of each hire and identify areas for improvement.
6. Talent Management – This feature allows you to manage your entire talent pipeline, from recruitment to retirement. This helps ensure that your company is always hiring the best talent for each position.
By investing in a comprehensive staffing software package, your organization can benefit from increased efficiency, reduced recruiting costs, and improved candidate quality.
Conclusion: How Do Hidden Brains UK Help you Build Staffing Software App?
Hidden Brains UK is an industry leader in developing custom staffing software applications. You can hire developers in the UK with years of experience in tailoring staffing software space and are dedicated to creating solutions that are tailored to your unique needs.
We work with you to ensure that your application is user-friendly, secure, and meets all the necessary regulatory standards. With our help, you can be confident that you have the right staffing software app for your business.
So whether you are developing a staffing app from a scratch or need to upgrade the existing one and looking for programmers to handle the task, then you can contact us or drop your query below!
FAQs
How Much Does It Cost To Develop a Staffing Software?
The cost of developing staffing software can vary significantly depending on the features and complexity you need. The cost to create staffing software can range from $10,000 to $15,000+ for a single platform. 
To get a better estimate, you need to consider the size and scope of the project, the technology stack used, the timeline, and other related factors. Rest you can book a free consultation slot with our experts to get free estimations.
What are The Top Staffing Solutions That You May Get Inspired By?
Here are the top staffing software apps that you can take reference from, but never tried to make a clone app. Bring something unique to your app to stand aside in the competition.
What Features Do You Need To Integrate In Staffing Software?
Staffing software is a great tool for streamlining your recruitment processes. It can help with everything from candidate management to onboarding and scheduling.
To get the most out of your staffing software, it's important to consider what features you need to integrate. Here are some of the most popular features to look for when selecting staffing software:
1. Automated Job Posting: Automating the job posting process ensures that all postings are up-to-date, consistent, and effective. Look for software that allows you to post to multiple job boards simultaneously.
2. Applicant Tracking System (ATS): A powerful ATS allows you to easily manage and track candidates throughout the hiring process. Features such as customized applicant questions, notes, and ratings help keep your selection process organized.
3. Onboarding Tools: With onboarding tools, you can streamline the onboarding process and ensure that new hires have the information they need in order to start work quickly and efficiently.
4. Scheduling: Scheduling tools make it easy to assign work hours and shift changes. Look for software that offers automated scheduling with reminders and notifications for both managers and employees.
5. Background Check Integration: Many staffing software solutions include the ability to integrate background checks into your application process. This makes it easier to ensure that all hires meet your organization's standards and regulations.
6. Collaboration & Communication Tools: Effective communication is key to any successful recruitment process. Look for software that includes collaboration tools such as discussion boards and messaging systems for recruiters and applicants alike.
7. Reporting & Analytics: Comprehensive reporting and analytics features give you an in-depth look at your recruitment process and help you identify areas of improvement. Look for software that provides detailed data on things like applicant funnel numbers, time-to-hire, and applicant satisfaction ratings.
By considering all of these features, you can be sure to choose a staffing software solution that meets the needs of your organization.
Do Not Forget To Visit Our Robust and Secure Services:
Mobile App Development Company in The UK
|
iOS App Development Company In the UK
|
Android App Development Company in the UK
|
Web Application Development Agency in the UK
|
PHP Development Company in the UK
|
ASP.NET Development Company in the UK
|
Hire Developers in the UK
|
Hire Best iPhone App Developers in the UK
|
Hire Android App Developers
|
Hire Web Developer in the UK
|
Hire PHP Developers In The UK
|
Hire ASP.NET Developers in the UK