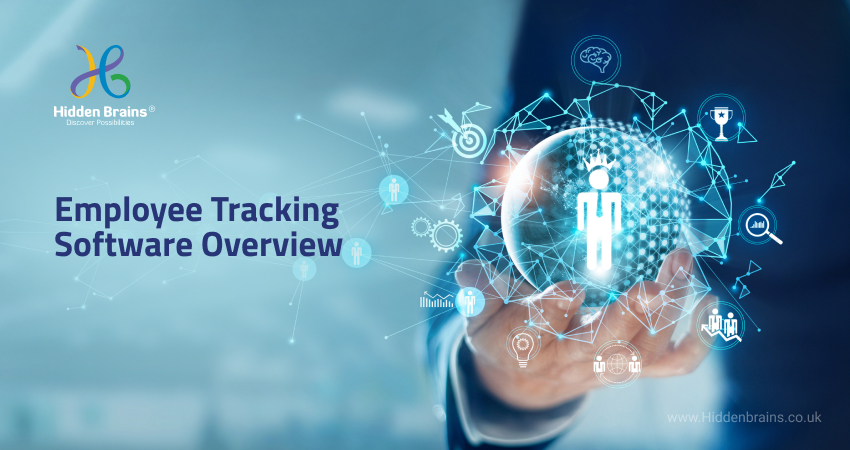 Do you believe that the Covid-19 pandemic has given a sudden rise to the employee monitoring tools market?
Yes, undoubtedly!
But still, you don't have to agree with our statement.
According to the survey report, the Global Employee Monitoring Software Market was valued at 1.12 billion in 2021 and is expected to jump to $2.10 billion by 2030. It is predicted that the market for employee monitoring software will grow at a CAGR of 7.2% during 2021-2030.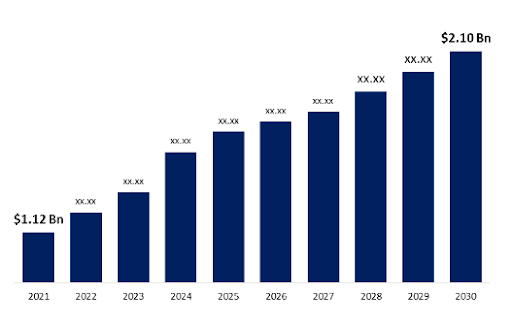 With the severe outbreak of the Covid-19 pandemic, things have drastically changed. By force or by choice, people have to turn to online platforms. That's where working cultures at corporate are reshaping and quickly turning to remote working patterns.
Whether it's a startup, small-medium enterprise, or leading entrepreneur, everyone has to follow the covid-19 social distancing protocols. But there's one certain challenge that all-size organizations are chasing with which switching from a traditional business model to remote work culture is how to track employee performance and increase productivity.
That's where custom employee monitoring tools come into the picture to provide a "Big Picture of your business"
To know more about what exactly it is and why it is important for your business growth in 2023, you need to get into the details of the blog.
What Are Custom Employee Monitoring Software?
Employee monitoring tools are software applications that allow organizations to track, monitor, and analyze the activity of their employees. This can include tracking user activity on computers, mobile devices, or other connected devices. By using these tools, businesses can gain insights into employee productivity, data security, compliance with company policies, and more.
The main goal of employee monitoring is to increase efficiency and productivity by providing real-time data and analytics on the actions of individual employees. By using custom employee monitoring tools, organizations can track everything from keystrokes and mouse clicks to website visits, email conversations, and even physical locations.
With the increasing complexities of modern work cultures, employers need a way to gain visibility into employee activity and keep up with the changing needs of their teams. By leveraging employee monitoring tools, companies can gain a better understanding of their operations and identify potential areas for improvement.
Before you get straight into the process of hiring a software development company in the UK, let's understand why having a custom employee monitoring system is important for your business in 2023.
Call us today for a FREE no-obligation quote.
How Does Custom Employee Monitoring Software Help in Business Growth in 2023?
As businesses become increasingly reliant on technology and online solutions to facilitate operations, it has become essential for them to protect their data and maintain security measures.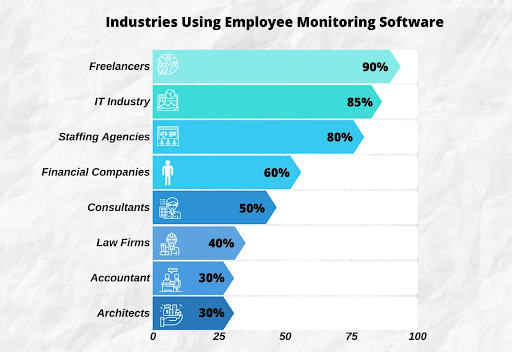 This is where employee monitoring software comes in – it provides businesses with the ability to monitor their employees' activities, ensuring that their company's data remains secure. So let's understand the major reasons why developing a custom employee monitoring tool is important for your business in 2023.
6 Reasons To Have Custom Employee Monitoring Software For Your Business
Here are a few reasons why it is the right time to look for Custom Employee Tracking Software:
> To Maintain Data Security
Data security is paramount in any business, and using employee monitoring software can help ensure that all sensitive information remains safe.
According to the Identity Theft Resource Center, businesses are six times more likely to become victims of data theft compared to individuals.
With an employee monitoring tool in place, companies can set up alerts for any suspicious activity and keep track of who is accessing what information. The software can also help detect potential data breaches early on, allowing companies to take the necessary steps to protect their data before it's too late.
Good to Read: Staffing Software: 7 Capabilities, Benefits, and Pro Tips
> Enhance Employee Productivity
Employee productivity is one of the most pressing concerns for businesses. But how can employee monitoring tools help businesses to boost their productivity?
Studies have shown that employee monitoring can increase productivity by as much as 22%, making it a powerful tool for businesses of any size.
When used correctly, it can provide valuable insights into employees' daily tasks, time management, and other performance-related activities. This can then be used to better understand how best to improve processes and ensure maximum efficiency.
Furthermore, employee monitoring can help identify areas where employees are underperforming and take proactive steps to address the issue, and ensure everyone is performing at their highest level.
Call us today for the best employee monitoring software.
> Reduced Operational Cost
Employee monitoring software can help reduce operational costs by streamlining processes and ensuring that employees are completing their tasks as efficiently and accurately as possible.
Recent studies have shown that businesses using employee monitoring software have seen an average 15% reduction in operational costs.
The software can track employee hours and provide detailed reports to identify areas where time is being wasted or where resources can be better utilized. Additionally, the software can alert supervisors of any non-compliance with company policies or regulations, helping to ensure that processes are followed correctly and costs are kept in check.
> Build Relationship With Employees
Businesses are recognizing the importance of fostering strong relationships with their employees. Creating a positive work environment is essential for a successful business, as it leads to increased employee motivation and job satisfaction.
According to a study conducted by Gallup, companies with highly engaged employees outperform their peers by 147% in earnings per share.
A custom employee monitoring tool can help employers build stronger relationships with their employees by providing insights into their behaviors, activities, and preferences. With this information, employers can create more personalized experiences for their employees and provide them with the support they need to succeed.
Here are the few popular employee monitoring tools that you can refer in this below video.
Furthermore, tracking employee productivity can also be an effective way to identify high performers and reward them for their efforts. Doing so will not only boost morale but also build loyalty and trust between employers and employees.
> Prevent Legal Issues
Businesses are required to comply with numerous data privacy laws and regulations. Employee monitoring software can help ensure that your company is in compliance with these laws by tracking employee activities and data usage.
Studies have shown that over 70% of organizations experienced data breaches due to inadequate employee monitoring processes.
Additionally, having employee monitoring software in place can provide legal protection in the event of any lawsuits or investigations. Using employee monitoring software can significantly reduce this risk and provide legal protection for your business.
Also Read: Custom Software Development Ideas for 2023
> Analyze Workforce
Employee monitoring software can help businesses analyze the performance of their workforce in real time. Businesses can use the software to generate reports and measure productivity, efficiency, and attendance of employees.
This allows them to identify trends in the workforce's performance and adjust their policies accordingly. It also helps to ensure that the company is getting the most out of its resources and that employees are using their time wisely. Additionally, employee monitoring software can provide valuable insights into how different departments are functioning and how they can be improved.
Knowing these benefits, you must be curious to build a custom employee monitoring app for your company. But the most important question is what type of employee monitoring app do you need to develop?
Call us today for a employee mornitoring tool for your business.
What Type of Employee Monitoring Software or Tool Do You Need in 2023?
Different businesses have different needs and requirements, therefore there is no standard employee monitoring tool that fits all. Though by hiring a software development company in the UK you can easily create an employee tracking app, still here we are guiding you on some tips that help you customize the monitoring tool with the best functionalities.
1) A tool that tracks the hours worked by your employees: This type of employee monitoring tool allows you to track the time your employees spend on each task, allowing you to better allocate resources and plan tasks.
2) A tool that records and stores data related to employee activities: With this type of employee monitoring software, you can store data related to employee activities, like emails sent and received, webpages visited, programs used and more.
3) A tool that helps you monitor employee performance: You can use this type of employee monitoring software to monitor the performance of your employees, helping you determine whether or not they're meeting their goals and objectives.
4) A tool that automates HR processes: Automating your HR processes with an employee monitoring tool is a great way to make sure that all employee records are up-to-date and accurate.
5) A tool that allows for remote monitoring: Remote monitoring allows employers to monitor the activities of their employees even when they're not physically present in the office.
6) A tool that helps you identify problem areas: An employee monitoring tool can help you quickly identify any issues that need to be addressed, such as excessive overtime or poor communication between departments.
7) A tool that helps you comply with legal requirements: Employee monitoring tools can also help you comply with any applicable laws or regulations related to employee privacy and data security.
No matter what type of employee monitoring tool you have decided to build for your organization, make sure it has all advanced features and functionalities.
Let's jump on the features and functionalities required to build a successful employee monitoring tool.
Also, check out our comprehensive Enterprise Business Solutions.
Must-Have Features Required to Create Custom Employee Monitoring Software
The choice of features and functionalities is a crucial part of creating employee monitoring tools. The success of any app majorly depends on the features you have integrated into the app. So here the most important features that every employee monitoring tool should have.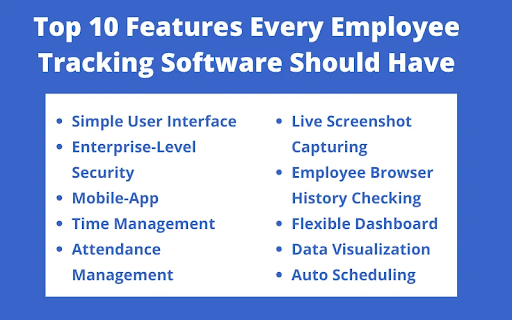 These are the common features that every app should have, but what's makes sense in launching an app with similar features that already offered by existing apps? To make a difference, you need to add some advanced features that provide better insights of the workforce.
Here are the advanced features of developing an employee monitoring app:
Real-time Monitoring – Get real-time access to employee activities and be alerted whenever there is any suspicious behavior.
Customizable Dashboards – Create customizable dashboards to track employee performance and productivity.
Employee Tracking – Track employee time, attendance, location, and access levels.
Screen Capturing – Take screenshots of employee activity as proof of inappropriate actions.
Computer Usage Reporting – Generate reports on computer usage to identify possible unauthorized access or misuse of resources.
Online and Offline Activity Monitoring – Monitor online and offline activities of employees, including emails, chats, and other communication apps.
Keystroke Logging – Log every keystroke made by employees to monitor and track their activity.
Network Access Control – Control user access to specific applications and networks.
Video Surveillance – Monitor employee activity in the workplace with video cameras and record footage for analysis.
GPS Location Tracking – Track employee locations using GPS technology to identify possible unauthorized travel.
Application Blocking – Block or restrict access to specific applications or websites in order to reduce distractions and increase productivity.
Time Tracking – Track employee work hours and total time spent on a task.
Automated Alerts – Receive notifications of important events and activities for better oversight.
Password Management – Set up automated password management and authentication protocols for employees.
Employee Appreciation – Show appreciation to employees through automated rewards and recognition systems.
You can add as many features to the app, but the question is how much does it cost to launch an employee monitoring app in 2023?
Call us today for a FREE no-obligation quote.
How Much Does It Cost to Build Custom Employee Monitoring Software?
When it comes to developing employee monitoring tools, businesses have a few different options and requirements. So different employee monitoring tools are customized as per the requirement of certain businesses. Therefore, there is no standard cost for creating an employee monitoring app.
The most important factor that influences the employee monitoring app development costs is the size and scope of your business. Generally speaking, the larger the business, the more complex the employee monitoring system needs to be, and the higher the cost.
For smaller businesses, investing in basic off-the-shelf employee monitoring tools may be sufficient. These tools are relatively inexpensive and easy to set up, but they won't provide the full range of capabilities needed for more advanced monitoring. Additionally, many off-the-shelf solutions lack the customization options needed to fit the specific needs of your business.
So the cost of developing a basic version of the Employee Monitoring Tool will be ranging from $7,000 to $10,000+ depending on the complexity of the app.
For businesses that require more robust employee monitoring systems, custom software development is typically the best option. The cost of developing a custom employee monitoring tool will depend on a number of factors, including the complexity of the project and the experience of the development team. Generally speaking, custom software projects can cost anywhere from $15,000 to $25,000+.
These are the only cost estimations that have been concluded based on various surveys. So before you make any final decision, make sure you book a free consultation slot with our experts for real cost estimations.
Conclusion: How Do Hidden Brains UK Help in Building Custom Employee Monitoring App Under Budget?
At Hidden Brains UK, we understand the need for a reliable employee monitoring system that can be customized to meet your business needs. We provide a comprehensive solution to build a custom employee monitoring application under budget. Our team of experienced professionals has extensive experience in creating cutting-edge applications using the latest technology.
Our skilled team of app developers offers comprehensive solutions that ensure you get the most out of your employee monitoring system. We strive to provide you with an efficient and cost-effective solution that meets all your needs. Contact us today to learn more about our custom employee monitoring app development services.
FAQs
What Is The Best Way To Monitor Employees Remotely?
The best way to monitor employees remotely is to use a custom employee monitoring tool that can track their online activities. This tool can help employers keep an eye on the performance and productivity of their employees while they are working remotely. It also allows employers to quickly identify any potential security risks or data breaches, as well as track the progress of employees working remotely on specific tasks. With a custom employee monitoring tool, employers can ensure that their remote teams are productive and efficient and that their data is secure.
What Is The Cost of Implementing an Employee Monitoring Tool?
The cost of implementing an employee monitoring tool varies depending on the type of software and the features you need. Generally, the cost is a combination of the initial setup fee, monthly subscription costs, and maintenance fees. 
The initial setup fee covers the cost of installation and configuration, while monthly subscriptions cover the cost of regular usage. Maintenance fees cover things such as technical support, security patches, and other necessary services. Generally speaking, the total cost of implementation will depend on the size of your business and the type of software you need.
What Are The Best Employee Monitoring Tool in 2023?
In today's digital world, employee monitoring tools have become increasingly popular for businesses of all sizes. As employers need to be able to trust their workforce and ensure that their data remains secure, a reliable and robust employee monitoring system is essential.
To help you select the best employee monitoring tool for your business in 2023, it's important to consider features such as data security, productivity-tracking capabilities, communication solutions, legal protections, and brand reputation protection. Some of the top employee monitoring software on the market include Veriato 360, ActivTrak, Teramind, Hubstaff, and Time Doctor.
Do Not Forget To Visit Our Robust and Secure Services:
Mobile App Development Company in The UK
|
iOS App Development Company In the UK
|
Android App Development Company in the UK
|
Web Application Development Agency in the UK
|
PHP Development Company in the UK
|
ASP.NET Development Company in the UK
|
Hire Developers in the UK
|
Hire Best iPhone App Developers in the UK
|
Hire Android App Developers
|
Hire Web Developer in the UK
|
Hire PHP Developers In The UK
|
Hire ASP.NET Developers in the UK
Call us today for a custom employee tracking software.