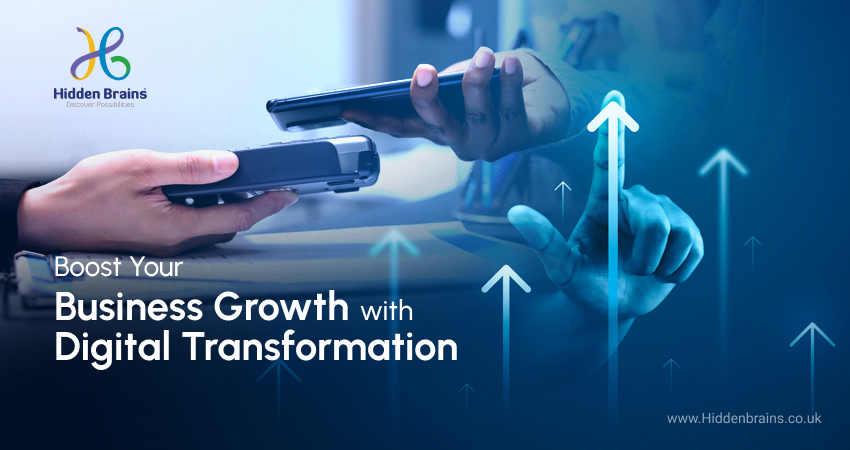 Wondering why the wave of digital transformation is encouraging people to migrate their business model from brick-and-mortar to digital platforms?
With the fact that the global e-commerce market size will jump from $16.6 Trillion in 2022 to $70.9 trillion by 2028, businesses are going crazy to become a part of this thriving industry.
Digital Transformation Is The Business of Tomorrow- learn how it works!
In this digital era, there are many businesses, that are still making efforts to generate profits and trying hard to retain their customers. But, unfortunately, all their efforts are down the drain.
So whether you are a startup or a leading entrepreneur who is looking for ways to take your business to the next level, digital transformation is the key to success.
It's a process that involves leveraging digital technologies to drive meaningful change within your organization, such as improving operational efficiency, customer experience, and more. In this blog post, we'll explore how digital transformation can take your business to the next level and provide you with the tools and resources to get started.
What Is Digital Transformation?
Digital transformation is the integration of digital technology into all areas of a business, resulting in fundamental changes to how businesses operate and deliver value to their customers. It encompasses a wide range of technologies such as artificial intelligence, machine learning, the internet of things, analytics, blockchain, virtual reality, and more.
Digital transformation is often used to improve operational efficiency and enhance customer experiences. By embracing digital transformation, businesses can capitalize on the latest technology to automate processes and make them more agile, efficient, and productive.
For example, cloud-based services allow businesses to quickly access data from anywhere in the world and use predictive analytics to make better decisions faster.
At its core, digital transformation is about using technology to create new opportunities for growth, innovation, and collaboration. By leveraging digital transformation solutions, businesses can break down barriers, reduce costs, and increase revenues. Ultimately, digital transformation helps businesses stay ahead of the competition and keep up with changing consumer demands.
Call us today for a FREE no-obligation quote.
Still, wondering why implementing digital transformation strategies is important for your business?
Let's jump to the next section…
Why Digital Transformation Is Important For Your Business?
Digital transformation is the process of using technology to modernize and improve processes, products, and services in a business. It's becoming increasingly important for businesses to take advantage of digital transformation in order to remain competitive in today's market.
With the changing customer behavior and shopping preferences, it is worth looking for digital transformation in your business. Before you get straight looking for enterprise business solutions, let's have a look at the reasons why it is important for businesses.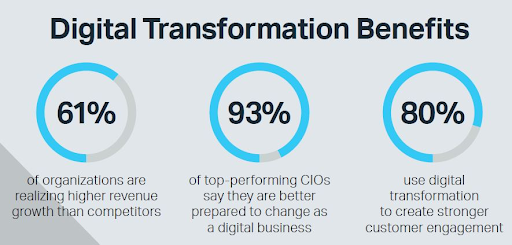 let's have a look at such stats and facts:
With these statistics, it is clear that business digitalization is important if you really want to stay ahead of the competition. To get started with digital transformation strategies, you can look for enterprise business solutions. But before you start migrating your business to an online platform, you need to know what benefits it ensures for your business.
Also Read: Custom Software Development Ideas for 2023
How Can Digital Transformation Help Your Business Grow?
Digital transformation can be a powerful tool for any business looking to grow and succeed. It can help companies become more agile, efficient, and customer-focused. With digital transformation, businesses can automate processes, integrate data and analytics, and improve customer engagement.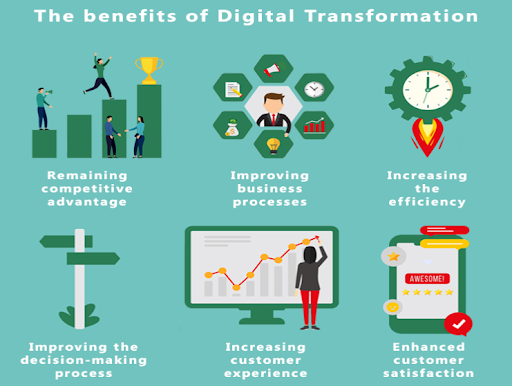 6 Benefits of Digital Transformation in Business
Here are the few major benefits of digital transformation in business:
Increased Efficiency And Productivity: Digital transformation can help businesses to streamline their processes, resulting in greater efficiency and productivity. This can help to reduce costs, increase profits and improve customer satisfaction.
Enhanced Customer Experience: Digital transformation can provide customers with an improved experience, such as faster response times, more personalized services, better security, and access to a wider range of products and services.
Greater Agility: By automating and digitizing business processes, companies can become more agile and adapt quickly to changes in the market or the needs of customers.
Improved Data Insights: With digital transformation, businesses can gain access to more comprehensive and accurate data that can be used to make better decisions. This can lead to greater innovation, improved customer service, and a competitive edge over competitors.
Cost Savings: Digital transformation can help businesses to save money by reducing operational costs associated with manual processes, reducing the need for physical infrastructure, and enabling businesses to scale up quickly when needed.
Competitive Advantage: Businesses that successfully implement digital transformation are able to stay ahead of their competition by providing better services, gaining insights into customer behavior, and providing a seamless customer experience across all channels.
Good to Read: Costly Mistakes to Avoid while Choosing a Software Development Company
5 Best Digital Transformation Strategies To Be Implemented in Businesses in 2023
Digital transformation is the process of leveraging technology to improve operational efficiency, increase customer engagement, and enable new business models. It's about leveraging data, cloud computing, artificial intelligence, analytics, and automation to become more efficient and customer-centric. To be successful, businesses must develop a strategy that leverages the right technologies and has a clear roadmap.
Call us today for a custom digital transformation solution.
There are several strategies that businesses can use to optimize their digital transformation efforts:
1. Leverage Cloud Computing: Cloud computing offers businesses an easy way to access, store, manage, and analyze data while ensuring scalability, cost-efficiency, and speed. Cloud computing also allows organizations to easily scale up or down as their needs change.
2. Take Advantage of Automation: Automating processes can free up valuable resources for other tasks, such as customer engagement or innovation. Automation can also ensure that data is collected accurately and quickly, allowing for faster decision-making and better customer experiences.
3. Prioritize Data-Driven Decisions: In the era of big data, businesses must prioritize making decisions based on accurate and up-to-date data. Data-driven decisions allow businesses to make smarter decisions faster and identify potential opportunities before they are missed.
4. Embrace Artificial Intelligence (AI): AI is essential for staying ahead of the competition in today's digital world. By using AI, businesses can gain insights into customer behavior, automate processes, and improve the accuracy of decision-making.
5. Invest in Security Measures: As businesses move towards digital transformation, they need to invest in security measures to protect their data and systems from malicious threats. Security measures should include firewalls, intrusion detection systems, secure authentication protocols, and other security solutions.
To implement these strategies, businesses can look for enterprise business services to ensure that their digital transformation efforts are successful and will enable them to stay ahead of the competition.
Contact Us for the latest software development solutions.
How Digitalization Will Influence The Business Growth in the Future?
The digital transformation of the business world is happening right now. As technology advances, it is changing how businesses operate, market their products, and engage with customers. Digital transformation is all about using digital tools to create new ways of working, optimize existing processes, and capitalize on emerging opportunities.
Digitalization is having a profound impact on business growth. Businesses are now able to access more data, automate tasks, and use insights to make better decisions. This can help them reach new markets, increase operational efficiency, and drive sales. It can also provide new opportunities for customer engagement and loyalty programs.
By taking advantage of digitalization, businesses can discover new business opportunities and create innovative products and services.
For example, businesses can use analytics to better understand their customers' needs and develop products that meet them. They can also use AI-powered tools to automate tasks and improve the customer experience.
The potential of digital transformation is enormous and it is only expected to grow in the future.
Therefore, it is safe enough to say, businesses that embrace digital transformation will be well-positioned to capitalize on opportunities, increase efficiency, and gain a competitive advantage. As technology continues to evolve, so will the possibilities for business growth.
What Are Some Digital Transformation Success Stories Of Various Companies?
Digital transformation is becoming increasingly popular among businesses looking to maximize efficiency, reduce costs, and increase revenue. A successful digital transformation can help businesses stay competitive and capitalize on new opportunities.
There are a number of companies that have implemented digital transformation strategies with great success.
One example is Amazon, which has seen tremendous growth due to its digital transformation initiatives. Amazon's use of AI-driven decision-making, customer service automation, and machine learning algorithms has helped them provide customers with better, more personalized experiences. Amazon also uses big data analytics to identify new market opportunities and adjust its supply chain accordingly.
Another company that has experienced success with digital transformation is Nike. The company has used digital technologies to create new products, improve customer service, and optimize operations. For example, they used 3D printing and automated material handling to produce new lines of footwear faster than ever before. They also used artificial intelligence and machine learning to predict customer needs and offer personalized experiences.
Walmart has also seen success with its digital transformation initiatives. The company has implemented innovative solutions such as AI-driven chatbots to assist customers, robotic process automation to streamline operations and 3D printing for product design. They have also used analytics to personalize the shopping experience for customers, resulting in improved customer satisfaction and increased sales.
These are just a few examples of companies that have implemented successful digital transformation strategies and reaped the rewards. Digital transformation is quickly becoming a necessity for businesses looking to stay competitive and capitalize on new opportunities. With the right strategy and implementation plan, any business can benefit from digital transformation.
Call us today for a FREE no-obligation quote.
Conclusion: Get Your Business Ready For Digital Transformation With Hidden Brains UK
The future of business success lies in digital transformation, and this is why Hidden Brains UK can be your go-to partner for all your digital transformation needs. They have a team of experienced professionals who are well-versed with the latest technologies and industry best practices. Their expertise ensures that your digital transformation journey is successful, cost-efficient, and secure.
By choosing enterprise business services Hidden Brains UK, you can develop new strategies and transform existing ones, integrating them with digital solutions, able to build robust applications and integrate them with enterprise systems. Furthermore, they also offer advanced analytics and reporting, data security and regulatory compliance, cloud computing, mobility and more.
So, if you're looking to get your business ready for digital transformation and make the most out of it, look no further than Hidden Brains UK. Their experts will help you unlock the potential of digital transformation and empower your business to achieve its full potential.
FAQs
What Is Digital Transformation and Why It Is Important?
Digital transformation is the process of using technology to radically transform business processes, models, and strategies. It involves the integration of digital technology into all areas of a business, resulting in fundamental changes to how businesses operate and how they deliver value to their customers. Digital transformation can help organizations become more agile, efficient, and cost-effective, as well as improve customer service and experiences. 
By taking advantage of digital technologies, businesses can streamline processes, reduce costs, gain insights into customer behavior, increase operational efficiency and enhance customer experience. Digital transformation is important for any organization that wants to remain competitive in today's fast-paced and ever-evolving digital world.
What Do You Need To Transform Your Business Digitally?
Digital transformation requires a combination of technological, operational, and organizational changes. To successfully transform your business, you need to consider the following: 
1. A comprehensive digital strategy: Start by evaluating your current digital capabilities, then develop a strategy that identifies objectives and builds a roadmap for future growth.
2. Adequate technology: Ensure that you have the right technology to enable your digital transformation. This includes the necessary hardware, software, and other tools that can be used to make the most of new opportunities.
3. Skilled personnel: It is essential to have people with the right skill sets to support your digital transformation efforts. These include tech-savvy workers with knowledge in areas such as analytics, data science, automation, and AI.
4. Processes and procedures: Implement streamlined processes and procedures to ensure that you are able to make the most of digital transformation. This should include developing clear policies and guidelines on how data is managed, ensuring compliance with regulations, and creating feedback loops for continuous improvement.
5. Measurement and evaluation: Keep track of your progress and evaluate the impact of your digital transformation initiatives. Collect data on key performance indicators such as customer acquisition rate, customer retention rate, revenue growth, etc., and use them to adjust your strategy accordingly.
By taking all these steps, you can make sure that your business is well-prepared for the digital age. With the right strategy in place and the right resources at hand, you will be able to successfully transition your business to an entirely new level of efficiency, growth and success.
How Much Does It Cost to Digitally Transform Your Business?
When it comes to investing in digital transformation for your business, the cost is an important factor. While the exact cost of a digital transformation project depends on the scope and scale of your particular project, there are some basic costs associated with most digital transformation initiatives.
First, you'll need to consider the cost of technology required to enable digital transformation. 
Next, the cost of enterprise business services will impact your budget, which can include hiring dedicated employees or contractors to lead the initiative, as well as outsourcing certain tasks to third-party vendors. Again, these costs will vary depending on the project and its scope.
In addition to these costs, it is an ongoing process as it is associated with maintaining and managing the systems and processes you implement during your digital transformation initiative.
Overall, when budgeting for digital transformation, you should expect to spend anywhere from $5,000 to $10,000+  to millions of dollars, depending on the size and complexity of your project.
Do Not Forget To Visit Our Robust and Secure Services:
Mobile App Development Company in The UK
|
iOS App Development Company In the UK
|
Android App Development Company in the UK
|
Web Application Development Agency in the UK
|
PHP Development Company in the UK
|
ASP.NET Development Company in the UK
|
Hire Developers in the UK
|
Hire Best iPhone App Developers in the UK
|
Hire Android App Developers
|
Hire Web Developer in the UK
|
Hire PHP Developers In The UK
|
Hire ASP.NET Developers in the UK