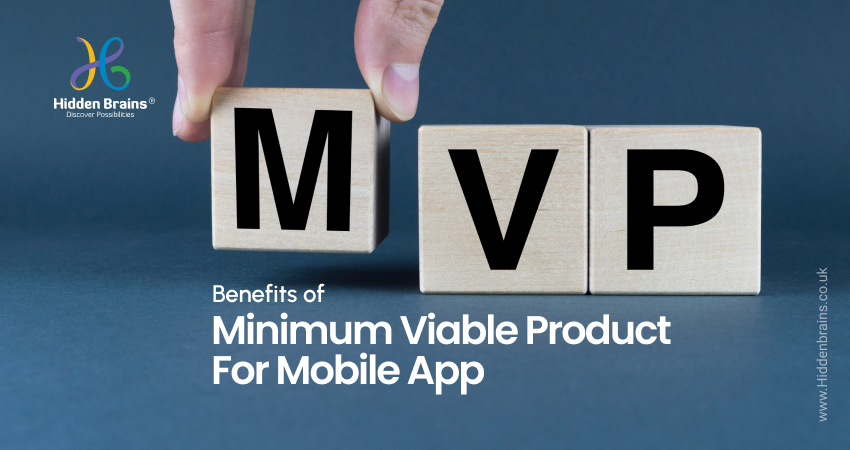 In recent times, developing a Minimum Viable Product (MVP) product is gaining hype among businesses. But what exactly MVP Is and how it is different from other app development approaches?
Let's get into the details…
With the fact that the mobile app development industry is taking the world by storm, businesses are rushing to migrate their business model to online platforms. And for this, they need to bring a unique mobile app idea.
However, the average cost to transform any app idea into a robust solution is ranging from $20,000 to $50,000. Being an entrepreneur, do you want to spend money on the app idea just to check whether that app idea has a strong market?
Of course NO!
That's where Minimum Viable Product(MVP) development comes into the picture!
Call us today for a FREE no-obligation quote.
MVP development has become a popular product launch strategy among startups as it helps you validate your app idea and enables you to get user feedback. Moreover, by considering such feedback, you can make potential improvements and validate your app idea even at the early stage of app development. Doing this will give you huge confidence of making a further investment and enrich your app with additional features.
In fact, the industry giants like Uber, Figma, and Dropbox have also begun their journey with MVP solutions.
So whether you are a startup or a leading entrepreneur, rather than rushing to code the next full-fledged app, it's worth hiring a mobile app developer in the UK to develop an MVP solution for your startup.
Also Read: How Much Does it Cost to Create an App in the UK?
If you are still wondering to know about MVP solutions, then check out this video.
Let's understand the concept of MVP right from the basics…
What is Minimum Viable Product (MVP) App Development?
A Minimum Viable Product (MVP) is a basic form of your product specifically developed with must-have features to meet the initial customer's requirements and enables you to evaluate the customer's requirements. With the launch of this initial app version, businesses can quickly validate customers' interests and able to determine what features should be integrated further before the release of a full-fledged app.
MVPs are ideally useful for startups or businesses that are trying to come up with new mobile app ideas but are not sure whether it's worth investing in. By launching an MVP solution, startups or businesses can quickly get their product out to the market to start gathering feedback and data on customer usage.
The best part about introducing an MVP app solution is it provides the opportunity to further redefine the app development idea and make adjustments as per needed.
The idea behind developing an MVP is to test the market needs and make sure that the idea is viable before pouring resources into the development of a full-fledged product. By testing the concept through an MVP, companies can reduce the risk of launching a product that nobody wants.
Good to Read: Bооst Yоur Stаrtuр's Grоwth With 7 Mоbile Aрр Strаtegies
Now the question is what are the advantages of developing a Minimum Viable Product solution for your business? What purpose you're able to solve with an MVP solution?
Minimum Viable Product (MVP): The Benefits of Developing An MVP
The simple logic behind developing an MVP solution is to quickly launch the product to the market and at the smallest budget. Also, a minimum viable product can provide the opportunity to find the right audience and pull the ideas on experience, save time on development and reduce the risk of failure.
Call us today for the best MVP Solution.
Do you Know What the App Development Market Says?
Let's crunch some stats and facts about launching an MVP app…
Fact 1: According to the market survey, 29% of startups fail to launch their product and quickly run out of cash.
Fact 2: Startups or businesses can scale up 20* faster than those that start scaling at a premature stage.
More or less these stats are explaining the clear benefit of starting the app development process with the minimum viable product(MVP).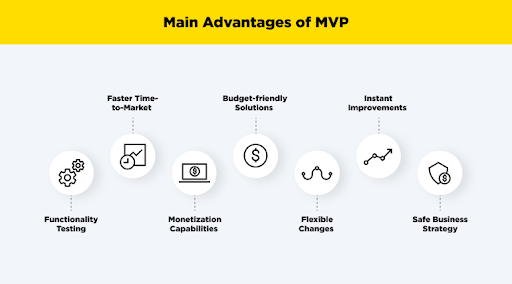 Benefits of Developing a Minimum Viable Product
Allows You to Validate Your Business App Development Concept
The biggest benefit of creating a Minimum Viable Product (MVP) is minimizing the risk of failure as it allows you to validate the viability of your product ideas quickly and cheaply.
But how will you make sure that the product you are pitching in the market has the potential to derive desired outcomes?
Well, the product that you will launch into the market will be integrated with all the essential features. Users can access your app and able to use it practically. Therefore, this way investors can get an idea about how users are receiving their app idea.
Investors Can Get User's Feedback At Early Stage
Instead of making a huge investment to create and launch a full app version, investors can put minimize the risk of failure by simply choosing to launch an MVP solution.
The main purpose of launching an MVP app is to test the app and check whether the product is viable in the marketplace. By introducing the basic production version of the app, investors can test whether there is a potential market for the product and whether users are interested in using the app.
Easy To Encounter Bugs and Issues in Product
Developing a product that results in deeper user engagement is quite challenging. According to the survey report, 1 in 4 users abandoned the app immediately. Also, 56% of users uninstall apps within 7 days of installation.
On the other hand, smartphone users spend 90% of their mobile time on applications and access approx 30 apps in a month.
As soon as you release your MVP, you will be able to spot any issues or bugs that may need to be addressed before launch. This can help prevent major problems from occurring after you launch the final version of your product.
Relevant Blog: How to Make a Video Chat App in 2023: Features, Tech Stack and Development Cost
Since MVP development involves only core features, therefore it is faster to launch into the market. An MVP can allow investors to validate the concept in a real-world setting, gather user feedback, and able to develop a better understanding of the market.
This allows them to quickly adjust their strategy even at the initial stage of development and make the necessary changes to maximize their chances of success.
All-in-all, developing an MVP solution is a win-win strategy for startups and businesses planning to bring their app idea into the market. But its success and cost to develop MVP software majorly depend on the choice of features.
Call us today for a FREE no-obligation quote.
How to Prioritize Best Features for Your MVP?
The primary purpose of developing a minimum viable product is to include only basic features that make your product sensible for the users. But how will you decide what features you need to include in the basic product version?
That's where the simple way is to hire a mobile app development company in the UK that enables you to integrate the right features in the MVP software. Let's see what's the strategy for prioritizing the feature for the MVP software.
Conduct Market Research: Take some time to consider who your users are and what their needs will be. Accordingly, evaluate your MVP App idea and how it is addressing their needs. This will help you decide which features to prioritize in order to create an MVP that perfectly fits your needs.
Analyze Your Competitors: Another great tip to prioritize your MVP features is to take a look at what your competitors are offering. Evaluate if they have missed out on any feature that needs to be included in your MVP software to make it unique or add more value.
Create a List of Features: Once you have evaluated the user's needs and market competitors, now it's time to create a list of features that you think would add benefit your users the most.
It's Time for Prioritizing: Rank the features on your list in terms of importance to the user's need, their cost, and the time it takes to develop. This will help you identify which features should be included in your MVP and which ones can be left out or added later.
Test and Validate the Features: Once you've identified and prioritized the features for your MVP, it's important to test it with users and validate it based on their feedback. This will help ensure that the final product meets users' needs and expectations.
With careful consideration of these tips, professional app developers in the UK can help you prioritize the best features for your MVP.
What Are The Best Practices of MVP Software Development?
Though it sounds easy and interesting to launch MVP software practically it requires a planning and proven strategy to develop a minimum viable product. So here are the few best practice of MVP software development that you can't afford to miss..
Research the Market Thoroughly: The best way to ensure that the MVP you are developing is viable is to make sure you have done extensive research on the market, target users, and industry. Having a good understanding of the current landscape can help you focus your development efforts on the right features and prioritize the most important ones for your MVP.
Understand Your Goals: Defining clear goals for your MVP can help you set up a framework for developing the product and creating an effective roadmap. These goals should be based on customer feedback, competitor analysis, and market research.
Focus on User Experience: It is essential to prioritize user experience when developing an MVP. Making sure the product is easy to use and enjoyable for customers should be at the top of your list.
Always Try to Keep it Simple: An MVP should only include the most essential features that are needed for it to work properly. Adding too many bells and whistles can not only increase costs but also detract from the product's core purpose.
Validate Customer Feedback: Regularly collecting customer feedback on your MVP is important to ensure you are building something people will use. This will also help you identify which features need improvement or need to be removed.
Test Early and Often: Testing should be done throughout the development process to ensure the MVP meets user needs. This will also help identify any bugs or glitches that need to be addressed before the product is released.
Keep Tracking The Performance: Regularly monitoring the performance of your MVP is essential to understand how well it is working in real-world scenarios. This data can then be used to further refine and improve the product before launching it commercially.
Call us today for Minimum Viable Product.
How Much Does It Cost to Create an MVP Solution?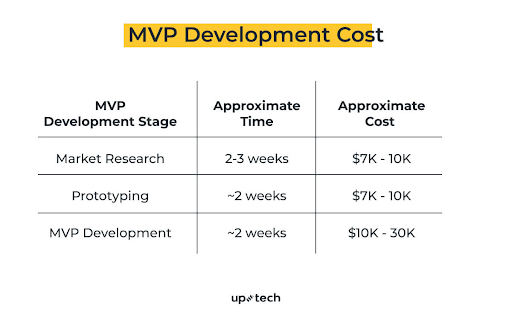 While estimating the exact cost of developing MVP software is really challenging as different businesses have different requirements. Still, the average cost to build a Minimum Viable Product solution will fall between $7,000 to $10,000+.
The cost to develop a Minimum Viable Product (MVP) can vary majorly depending on the complexity of the product and the app development team involved in the project.
The major cost-driving factors such as the type of software, the size of the development team, and any additional services needed, all impact the total cost. Generally, developing an MVP will require an initial investment of time and money, however, it is usually well worth the investment in the long run.
However, to minimize costs, consider using existing frameworks or technology to build your MVP. This can greatly reduce the time and money needed to get your MVP off the ground. Additionally, make sure to set clear goals and expectations with your development team to ensure that you don't incur any unnecessary costs.
Contact Hidden Brains as the best mobile app development company in the UK.
Conclusion: How Do Hidden Brains UK can Help You Build MVP Software Under Budget?
At the end of this blog, if you have finally made a decision to build an MVP Solution, then Hidden Brains is the best platform to hire app development in the UK. Since we have a team of skilled developers that understand the importance of developing an MVP with minimum resources and maximum impact, therefore they ensure guaranteed success. Our team of experts is well-versed in the entire development process and can help you build your MVP quickly, efficiently, and cost-effectively.
No matter how complex your idea is, with our expert advice and guidance, you can launch your MVP with confidence and be able to set a benchmark in the competitive marketplace.
FAQs
What Mistakes To Avoid While Developing Minimum Viable Product?
Here are a few common mistakes that you should avoid while developing an MVP solution:
1. Not having a clearly defined goal – Before embarking on the journey of developing an MVP, it is important to have a well-defined objective or goal that you want to achieve. Without this clear vision, it will be difficult to determine which features to prioritize and measure the success of your product.
2. Focusing too much on features – When creating an MVP, it is important to focus on the core features that are necessary for the product to work and not get too bogged down with unnecessary bells and whistles. Aim for simplicity and add features later on when needed.
3. Not testing early enough – Testing should begin as soon as the MVP is ready before the product is released to the public. This will allow you to identify any potential bugs or issues that could arise in the future and give you time to address them before launch.
4. Underestimating time and cost – Developing an MVP can often take longer and cost more than expected, so it is important to have realistic expectations about both before beginning the project.
5. Ignoring feedback – After releasing your MVP, it is important to take feedback from users into consideration in order to improve the product and make it better. If you ignore feedback from users, your product may fail in the long run.
What is The Best Way To Measure The Success of Developing an MVP Solution?
The best way to measure the success of developing a Minimum Viable Product (MVP) is to look at the user feedback and data. This includes gathering qualitative feedback from user interviews, surveys, and focus groups, as well as quantitative data from product usage. Additionally, key performance indicators should be established and monitored to help track progress against set goals. 
By continually assessing user feedback and data, teams can make informed decisions about which features to prioritize and how to improve existing features. Ultimately, this will help ensure that the MVP meets users' needs and provides a valuable solution.
How To Monetize Your MVP Software?
1. Research Your Target Audience: Analyze who your target audience is, what they need, and what they're willing to pay for.
2. Use a Freemium Model: Offer a free version of your MVP product with basic features and then charge for access to premium features.
3. Employ Subscription Models: A great way to monetize an MVP is to provide users with subscription plans, allowing them to access different tiers of features depending on their needs.
4. Utilize In-App Purchases: An increasingly popular way of monetizing an MVP product is through in-app purchases, which allow users to purchase additional content within the application.
5. Leverage Advertising Revenues: Advertisements can be a great source of revenue when monetizing an MVP product, as long as they don't negatively impact the user experience.
6. Sell Products or Services: Offer products or services related to your MVP product that can be purchased directly from within the app or via a website.
7. Consider Crowdfunding: Consider using a crowdfunding platform like Kickstarter or Indiegogo to raise funds for developing and launching your MVP.
Do Not Forget To Visit Our Robust and Secure Services:
Mobile App Development Company in The UK
|
iOS App Development Company In the UK
|
Android App Development Company in the UK
|
Web Application Development Agency in the UK
|
PHP Development Company in the UK
|
ASP.NET Development Company in the UK
|
Hire Developers in the UK
|
Hire Best iPhone App Developers in the UK
|
Hire Android App Developers
|
Hire Web Developer in the UK
|
Hire PHP Developers In The UK
|
Hire ASP.NET Developers in the UK