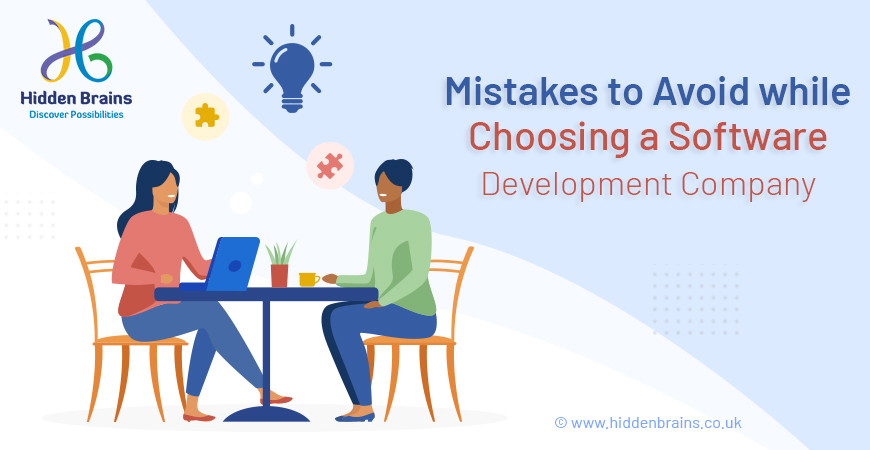 Software development is changing at a brisk pace. It is important to stay aligned with user demands. Software changes almost every month, making changes and functionality advancement of software suites a necessity. If you are looking to infuse new ideas into your existing software or avail software development services to create a product from scratch, it is important to partner with a custom software development company.
However, selecting a software development company is not an easy task and business owners make several mistakes. In this blog, we will provide common mistakes people make in the process & ways to overcome roadblocks.
Giving research a miss
Software development is not a child's play considering the complexity involved. Businesses often avail software development services to gain advantage of quick time to market and get access to highly experienced resources with domain knowledge.
Are you looking to build a secure and robust Software?
However, several companies make cost as a sole factor, often ignoring several other advantages. While cost arbitrage is an important factor in several industries looking to outsource, it is not the case when it comes to software development. In fact, if a company offers services at ridiculously low rates- it is a sign that the company is cutting corners.
In order to avoid making the mistake of selecting a low cost service provider, it is important to research and look at other factors beyond costs such as developers' expertise, resource management, logistics and more.
Research meticulously to have a good idea of your potential software development agency's background. Here are the things to research about the company:
Know the background in your industry
Check the depth of portfolio and emerging technologies used
Find out communication methods with the team
Check about the awards & accolades of the company
Know about the company's overall quality policy & certifications
Find out who will be working on the project and the level of expertise
Will the developers be working only on your project or several projects
Find about the company's track record on working on complex projects or enterprise level clients
Most of the information is available on the net through research. Read reviews from clients they have worked with in the past and study the projects in their portfolio. You will be able to get information also with one-on-one interaction with company representatives. Thorough research & conduct analysis about the company, it becomes much easier to identify whether that team can realize your project.
Keeping ambiguity in communication
Many times, business owners are in a mad rush to get the project rolling for a competitive advantage. In this rush to beat time, owners often outsource projects without a complete understanding of the project. This ultimately leads to chaos and confusion. In absence of clear communication and expectation mapping, it becomes difficult to set clear requirements for the outsourcing company. Furthermore, it is equally difficult to evaluate whether the software development process is headed in the right direction.
A few questions that can help you clarify the requirements of your project:
What is the goal of the project?
Do you have a defined work flow in place?
Is your product ubiquitous available across platforms?
Besides, before initiating collaboration, keeps expectation setting right you must discuss the milestones and the approval system as well. Rise above ambiguity and keep communication clear from onset.
Your software development partner must understand your requirements in order to find the most effective ways to implement your idea.
Ignoring Project Collaboration Methods
When you are working with a software development company, success always depends on a collaborative approach. It is important to evaluate collaboration methods of software company with clients right from the word go.
Most research projects bite dust due to poor communication leading to misunderstanding. When you are choosing a software development company, know about different aspects such as project management tools, as well as communication tools used. This will play a critical role in the software development projects connecting different cross-functional teams across different geographies.
When choosing a software development partner, pay attention to software development services with emphasis on a project's entire lifecycle aimed at faster time to market. Agile methodologies offer predictable delivery dates, better project control, transparency and a higher-quality product.
If you really want your project to turn out well, then you have to take collaboration seriously.
Overlooking Innovation
The Software development industry is overwhelmed with innovation. What's trend today, it terribly outdated in matter of few months. It is important to partner with a software development company putting you at the forefront of technology innovation. Always, give importance to technologies & tools used. If software development company is using outdated technologies, just beware. In today's era, digital transformation is changing the core of software development. There is an overlap of several emerging technologies such as artificial intelligence, and machine learning, Internet of Things in software development.
Before hiring a company, ensure that it is skilled in various aspects of software development, particularly in the right one for your project.
Not Giving Importance to a Dedicated Team
Not every software development company is equipped with a dedicated team of developers, designers, UI/UX specialists, QA engineers and business analysts. This could create a significant impact on project delivery. Before you begin your project, know about the team strength, developer's expertise level, domain knowledge and more. It is important to partner with a software development firm that can provide support across the entire SDLC.
With a dedicated team by your side, you get unparalleled expertise leading to faster project delivery. This dedicated team will help in case of emergency or when you need support during business peaks.
Finally
All the pointers mentioned above will help you avert making costly mistakes. It is important to believe in the process of research and team meetings, as well as reviewing the company information on different sources. Remember, each aspect is important and overlooking a single point can cause catastrophe.