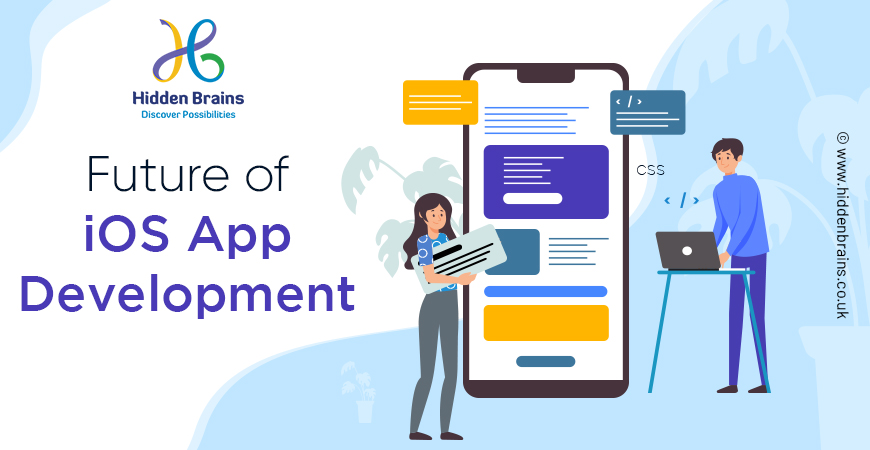 Android apps are leading in the number game, but the future of iOS Application Development is brighter as it is the clear winner in terms of revenue. iOS is a matchless platform for building secure, innovative, and smooth mobile applications.
Technological innovation has led to significant growth and advancement in mobile application development. Things have advanced to the extreme, and high-end technologies like Artificial Intelligence, AR, Machine Learning, and VR have entered the game.
Let's learn how far we have come with iOS app development and what trends will rule this industry in the future.
Looking to hire top iOS developers for your project?
Extensive use of VR and AR for in mobile application development
VR and AR technologies are no more limited to the fields of gaming and video. The technologies are now being used for IoT and mobile application development to showcase the power of real experiences and innovation. According to the estimates, ideas and features based on VR and AR technologies will be functional in iOS app development.
Through VR and AR technology use, professionals offering iOS application development services will design and deliver real-time applications and ensure an enhanced user experience. The ARKit introduced by Apple has encouraged developers to develop AR-integrated iOS application development solutions like Dance Reality and Houzz.
Internet of Things
IoT or the Internet of Things has become a crucial part of modern age devices. The blend of advanced iOS app development solutions and IoT has enabled individuals to come up with innovative devices that can take inputs from handsets for delivering customized experiences. It also works as the main communication source between the users and their smartphones. It has revolutionized the modern tech world.
Today, more and more businesses are leveraging the power of iOS apps development to connect with the internet-enabled devices that use IoT technology. Seeing the bright future of iOS Application Development, modern businesses have already started incorporating it in their business solutions to improve the engagement of end-users with the applications.
Related Article : Top iOS Development Tools and SDKs to build High-performance Apps
Improving productivity of businesses with the incorporation of ML and AI in iOS applications
Machine Learning and Artificial Intelligence are revolutionary technologies used by businesses, especially those in the e-commerce sector, to enhance the user experience of their iOS applications. The technology helps in analyzing buying preferences and behaviors of the consumers. Besides, these technological solutions offer content access to end-users as per their expectations. As a result, it leads to increased sales and revenue.
Incorporating these ML and AI in iOS applications also helps in elevating business productivity. The combination of the three contributes to high-end search suggestions, in-depth learning of customer behavior, advanced speech recognition, and improved Siri function.
Increasing productivity of iOS apps through Cloud integration
Cloud technologies are being used by companies and agencies offering iOS app development services. They provide better flexibility for collaborative work from a single platform with specialists across the globe. Experts can develop high-end solutions by using this feature.
iOS applications with cloud integration run on the cloud. As a result, the internal memory and productivity of the devices is enhanced. Plus, it also helps in collaborating with advanced mobile apps, allowing users and app developers to reap the benefits of iOS app development with cloud integration. Users can access the applications without even installing them on their devices.
Ensuring seamless experience with Chatbots in iOS application
In the modern era, customers expect excellent support from their service providers. Plus, they expect quick replies to their queries from service providers and brands out there. Impeccable customer support serves as one of the best ways to make the end-users feel essential. iOS applications with Chatbots help businesses to offer an enhanced user experience.
Use of chatbots for customer engagement and interaction allows iOS application development services providers to meet the unique requirements of businesses and their customers. Also, it enables companies to provide 24/7 support services to their customers.
Collaborative info with big data
Big data plays a crucial role in bettering the iOS app development services' accuracy. Organizations that deal with Big Data Analytics offer collaborative info after analyzing their customers' buying preferences and habits.
It helps companies to come up with unique ideas to develop customer-centric business applications. The significant benefits of Big Data in iOS applications are setting up market trends, getting data insights, improving sales conversions, and more. In short, the future of iOS application development services with Big Data is on boom.
Conclusion
The domain of iOS application development is innovating. Businesses need to provide a advanced and collaborative mobile app to gain customer attention. It should comply with the newest trends such as the ones listed above.
The customers always seek assurance of protection and safety of the operations executed using mobile apps. Plus, they should also meet their requirements in the best possible manner. Keeping that in mind, go by the finest iOS application development perspective in the light of the latest application development trends and success will be right there before you.