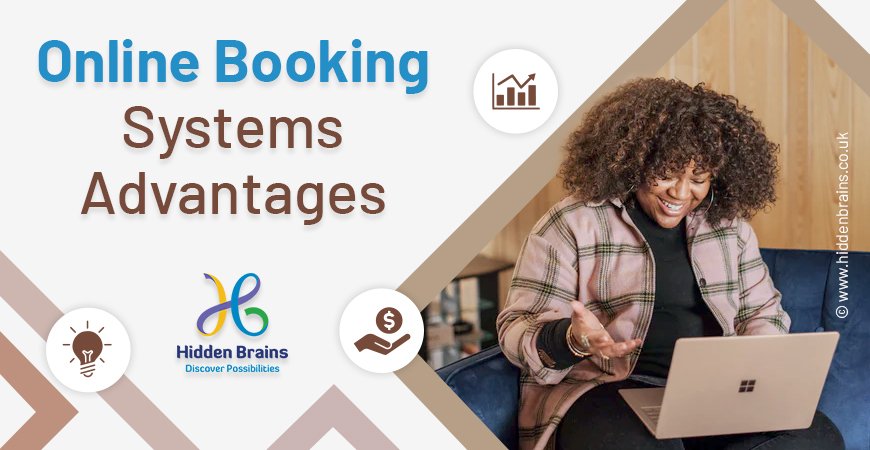 The year 2020 saw digital transformation rising at an astronomical pace. The travel industry, which witnessed the digital revolution in the past few years, saw profound changes in customer behaviour. The travel industry has seen an increase in travel e-commerce sites, review sites, and online booking apps to reserve flights, accommodation, and rental cars, allowing users to directly book through a travel company's website or an online travel agency (OTA).
On the other hand, travel review websites enable travellers to post their experience of hotels, restaurants, and different hospitality experiences online.
Recent trends in reaction to COVID-19 are implying an increasing shift to mobile and digital. Consumers and businesses have vaulted five years forward in digital adoption in a matter of around eight weeks.
Are you looking to build online reservation software?
As the pandemic has spread, customer behaviours and preferred interactions have changed significantly. These behaviours will continue to shift, but the uptick in digital services is here to stay. People will continue using digital channels even when things return to "normal.
According to Statista, Nearly 44 percent of respondents of the Statista Global Consumer Survey conducted in the United States in 2020 answered the question, "Which of these travel products have you booked online (website or app) in the past 12 months?" with "Hotels".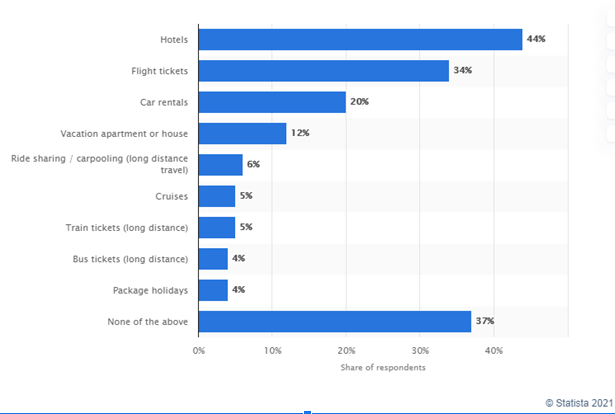 The market size of the online travel booking platform industry worldwide in 2020, with a forecast for 2027.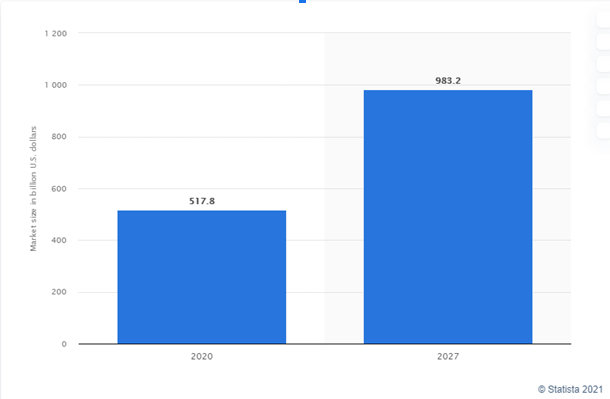 The market size of the online travel booking platform industry worldwide amounted to roughly 517.8 billion U.S. dollars in 2020. As forecast, the market size of this industry is expected to reach approximately 983 billion U.S. dollars in 2027.
Essential Features of Online Reservation System for Travel
High Quality/Resolution Images: Top online reservation system provides very high-quality images of properties, areas nearby, amenities, places of interest and even local cuisine.
Calendar: Get information about bookings available or not for the upcoming week, this month or year to streamline schedule staffing, food deliveries and a host of other details.
Multiple Languages & Currency Options: Options to make an online payment and sell in multiple languages and in various currencies.
Guest Review Management: Option for guest to submit review and rating for a service provider, hotel or vendor and more.
Online Payment Processing: Effortless payment options to make a secure online payment. Instantly approve or deny booking and get payment information always up to date and at your fingertips.
Automated Emails: Custom Online reservation system can send email reminders, provide travel tips, or direct guests to key attractions or restaurants that saves time and workforce.
Channel Management System:
Third-Party Integration: Booking system also acts as an ecosystem where you can plug in anything else you need to run your business. This enables you to bind your favourite software tools and orchestrate a common mission as data passes between them.
Cloud-Based Services: Secure 24/7 access to information from a cell phone, laptop or tablet from a remote location, giving hotels, cab service providers or tour operators much-needed flexibility. Also, ensure safer storage of information than storing on a hard drive, which leaves it vulnerable to power outages or system crashes.
Reporting: Custom travel booking engine can generate a gold mine of accurate, timely information:
Advantages of Online Reservation System for Travel
Easy access of information
Online booking system allow travellers to quickly access all necessary information and details required to make appointments or arrangements. Online booking systems eliminate the middleman involved in the transaction and enable customers to find and interact with everything they need personally.
Selling add-ons
With an online reservation system, selling add-ons is now much easier. Customers can know about the benefits of additional features of add on services in a much more appealing and pleasing manner at checkout. In addition, users get a better understanding of what's on offer with an online reservation system.
Calendar Syncing
One of the main advantages of appointment scheduling apps is that they sync with a calendar. As the world is now reopening to the possibility of international travel, travel companies are using different ways to appeal to customers. Digital transformation and revamping the conventional style of operations is a must.
Online bookings, reminders, and secure payments are steps towards increasing efficiency and improving the customer experience.
Online reservation systems should integrate with customers' calendars to integrate digital scheduling on websites and social channels to convert search traffic to sales.
Payment Processing & Reducing No Shows
It is one of the primary features of online booking software, allowing you to make secure payments. As a result, clients can make payment for services upfront, minimizing risks. Consequently, users who have made payments are more likely to show up, resulting in significantly reduced no-show times.
Integrating Different Access Points
Advance features of appointment scheduling provide clients with the options to view information and consistency across different touchpoints such as mobile applications, websites, social media tools.
Customer Insights
Get to know more about your customers. Irrespective of new technology advances, your business needs loyal customers. The modernization of businesses can help customers stay engaged and satisfied. In addition, technology solutions can offer insights into customer behavior, preferences and shopping patterns.
It gives valuable information about customers spending their money, buying preferences, and patterns about when they usually shop, how they shop, and compelling factors behind the purchase.
The Way Ahead
Online reservation systems can give Travel companies a competitive edge. Therefore, it is important to select a technology stack and software development, reducing complexity and costs in the future.