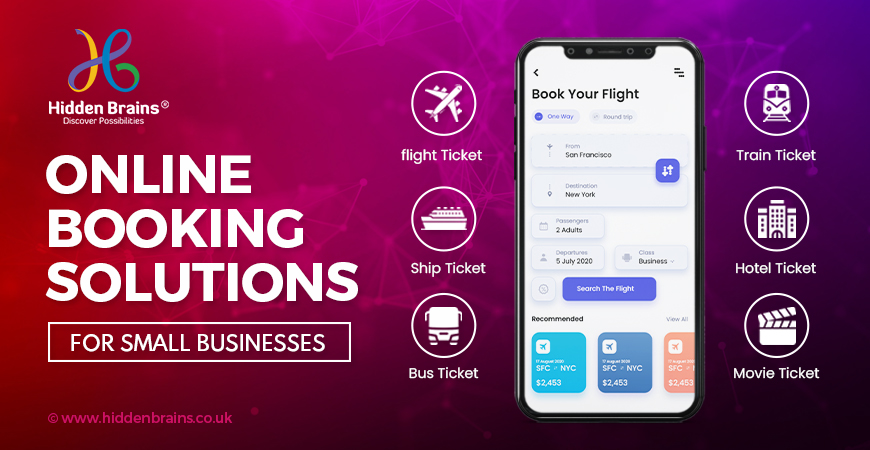 We live in an era where we are all so closely connected. People have adopted this new, tech-savvy lifestyle by using cell phones and laptops to complete tasks from just about anywhere at any time. One such example is the phenomenal rise of online booking solutions in UK – which has grown immensely popular due to its increased functionality, reliability, speed and ease-of-use. With one single interface, users can access all their data related to bookings without having to go through the tedious process of managing everything manually or going through multiple systems for management purposes.
Organizations are taking advantage of these innovations too – often opting for this simpler workflow over cumbersome processes that were necessary before making use of such tools (purchasing physical books instead). Whether you're an enterprise or just starting out, this shift towards automation is proving invaluable thanks to the added benefits it offers at both ends – enabling organizations to reap various advantages while giving individuals a helping hand with keeping things afloat!
In this blog, we have listed some of the important online booking solutions in UK by focusing on the features and installation process that helps to choose the right online booking software that fits in the business needs.
Top Online Booking Solutions in UK for Small Businesses
1. HubSpot Sales Hub
HubSpot Sales Hub is the popular and powerful CRM software. It is easy to use and also offers unique customer experiences.
Plays an important role in managing marketing, sales, content management, and customer service.
Offers advanced CRM based functionalities such as marketing automation, meeting scheduling, and many more.
Designed to align sales and marketing teams
Another major reason to opt for HubSpot Sales Hub solution is it is integrated with Cloud based technology that helps to foster sales, boost ROI, and optimize marketing strategy that allows to target the qualified leads.
Call us today for a FREE no-obligation quote.
2. Calendly
Calendly is the modern scheduling platform that allows scheduling appointments, meetings, and events. It is integrated with multiple calendars and offers a professional way to schedule meetings.
Helps to make more connections and also reduce cancellations
Automate reminders and follow-ups
End to end data protection
Offers seamless booking experiences
Intelligent routing that help to save a huge amount of time
Automatically send reminders and follow-ups to users
Meeting polls that allows to choose the better decision
Contact Hidden Brains UK for the best mobile app development services.
3. Acuity Scheduling
Acuity is cloud-based appointment scheduling software. It is considered as one of the ideal software solutions for small as well as mid size businesses.
Allows entities to set availability and preferences
Client can self schedule the appointments
Auto adjust schedules as per the time zones
Clients can easily cancel and reschedule appointments
Send automated reminders to the clients
4. Chili Piper
Chili piper is the most powerful and advanced online scheduling software. It is a popular routing platform that eliminates manual lead routing and streamline critical processes around meetings.
Companies like Twilio, Forrester, Spotify, and Gong have opted for the Chili Piper online scheduling software
Helps to reach new levels of productivity and increase customer satisfaction
Streamline critical processes around meetings
With Chili piper users can opt for the one click meeting
Advanced lead routing and Calendar integrations
Supports live calls and video conferencing
Email + text reminders
5. Thryv
Thryv is designed to offer end-to-end client experience. It is the best platform for the small businesses and allows to manage multiple job profiles.
Offers best in class support
Easy to use software
Best in class support
Allows to reach maximum customers and organize the format
Automatically generate reviews
Helps to increase social presence
Offers accurate search results
Send automated messages on constant basis
Known as award winning software
Accurate search outcomes
Call us today for the best online booking solution in the UK.
6. 10to8
10to8 is all in one appointment scheduling software. It is trusted by over 50,000 businesses worldwide. Ensures to save a huge amount of time and automate workflows.
Best software to schedule meetings and appointments
Saves time and also allows to host video calls
Easy to operate
Schedule and run virtual appointments smoothly
Supports internal staff meetings, online classes, and remote appointments
Sends emails and text message reminders before appointments
Team constantly innovates its functionalities and improves the software
Easy to use, navigate and set-up
Responsive Software
7. Vcita
It is popular as a small business online appointment scheduling software. Mostly preferred to manage business appointments and different payment processes.
Considered as one of the best software for lead generation and marketing
Offers to easily schedule appointments with clients
Allows to generate billing and invoicing
Supports automated campaigns for business
Provide full access to the cloud and its dashboard that includes different segments such as Calendar, payment, and coupon strategies
Helps to create automated campaigns for business
Offers affordable business plans
Send automated payment reminders to customers that ensures to avoid payment delays
8. GReminders
GReminders is one of the best appointment reminder apps. It sends SMS/ text, email, phone reminders, directly to the customers.
It can be integrated with Zoom, GoToMeeting, Webex, Google Meet, Microsoft Teams, Skype, and others
Design to deliver simple software
Supports automated scheduling
Customize notifications
Works with existing calendars
Also, allows customers to book meetings directly with the clients
User-friendly and intuitive based scheduling software
9. Fresha
This app is trusted by thousands of users worldwide and has been given a high rating of 5/5.
It is the only subscription-free platform for salons and spas.
It has a new SMS text blast feature.
Fresha has network reach, with over 250 million appointments booked worldwide.
POS (point of sale) integration options are there.
Its analytical protocol is highly advanced.
Fresha marketplace offers Instagram, Facebook, and Google integration.
10. Setmore
Setmore is designed to help small businesses organize, manage and take bookings with ease as its appointment manager software focuses on simply easy-to-use features.
It gives you the ability to share your booking page across different social media platforms making your classes more discoverable to new potential customers.
Create more than one calendar in one account so your staff and team members can keep track of their timetable effortlessly.
It has a five-star Google rating and it is named for best value and ease of use by Capterra.
Setmore has over 10,000 five-star reviews on the App Store.
It offers one-click video appointment options.
It has weekly projected revenue reporting options.
Setmore's free package comes with one to four staff logins.
11. Baluu
Baluu helps you to manage just about every aspect of your small business, from effortlessly taking bookings to building your branded website.
They offer a supportive team that is available to help you navigate the user-friendly software 24/7.
Along with managing schedule, with Baluu it is also possible to effectively market your business with the help of their tools.
Baluu offers Zoom integration within a virtual events room which makes running virtual and hybrid events seamless.
Managing and hosting recurring or one-off events is easy with Baluu's sophisticated scheduling tools.
With no code required, you can create a fully branded business website with Baluu.
Call us today for a FREE no-obligation quote.
12. Appointed
Appointedd is an online booking software designed to help small businesses create a simple booking experience for their customers.
Appointedd users can enjoy creating and listing unlimited bookings for their events and experiences.
They offer automated customer communication tools which means you can spend less time contacting customers and reduce the chance of customer no-shows.
With this booking software, your small business can easily take payments safely online.
There is the option of whether you'd like your customers to pay online in full, pay deposits or pay at the event.
Appointedd's calendar synchronization features mean keeping track of your schedule a simple and easy task.
13. SimplyBook.me
With Simplybook.me businesses can build their booking widget, keep an up-to-date schedule and make new clients aware of their business.
It is a versatile booking system with custom features.
There is an option for you to add features of your choice to the existing features within each plan.
It includes a client app that your customers can use to make bookings.
You can integrate SimplyBook.me with your business's social media platforms such as Facebook and Instagram and take bookings from anywhere.
Giving users the freedom to add custom features means your plan is tailored to help your small business reach its full potential.
14. Momence
Momence is a booking system that is dedicated to helping you manage your business's marketing, admin, and scheduling.
There is unlimited video content storage so that users can create a video library for their pre-recorded classes and events.
Momence has many tools which will help you host your events smoothly in case your small business offers bookable courses, retreats, trips, and challenges.
With Momence's payroll tools, you can create and manage staff accounts and explore them.
Momence offers thorough reporting tools to give you valuable insights into how each area of your business is performing.
15. Timely
This booking system makes your availability clear to your clients and customers.
Along with securely taking payments and sending automated emails, Timely gives your customers the freedom to easily book a time in your calendar that works for them.
Managing your staff is made easy with an option to add more than 20 bookable members to their team.
With several robust marketing tools, you can offer your clients discounts and loyalty schemes.
Timely has inventory tools that reduce your admin time and accurately keep track of your business's stock.
16. Timefy
This online booking solution is known to handle some big-name clients like DHL and Clarins Skin Spa to AON, INTERSPORT, and Fitness First.
It focuses on making online booking simple with features for single users and startups along with big or established businesses.
It doesn't charge any fee for COVID-19 frontline industries.
There are Windows, Mac, and tablet/mobile app options.
Google calendar sync options are also available.
17. Vagaro
This scheduling app is built for the beauty and fitness industry.
It has Google calendar sync options.
It also offers automated email marketing options.
There is a one-month free trial.
Instagram, Facebook, Yelp, Gusto, Xero, Gusto and QuickBooks integration options are available.
It is built specifically for salons, spas, and beauty and wellness businesses.
Conclusion
The demand for online booking solutions are increasing at the rapid rate. In the above blog, we have listed all the important online booking solutions in UK that small to large enterprises should know and be able to leverage its functionalities.
Apart from this, entities can also opt for customized online booking solutions in UK. Developers can build it from scratch and integrate functionalities as per business requirements. Customized online booking software helps to boost the productivity of the team and turn the process faster as well as smarter.
Do Not Forget To Visit Our Robust and Secure Services:
Mobile App Development Company in The UK | iOS App Development Company In the UK | Android App Development Company in the UK | Web Application Development Agency in the UK | PHP Development Company in the UK | ASP.NET Development Company in the UK | Hire Developers in the UK | Hire Best iPhone App Developers in the UK | Hire Android App Developers | Hire Web Developer in the UK | Hire PHP Developers In The UK | Hire ASP.NET Developers in the UK