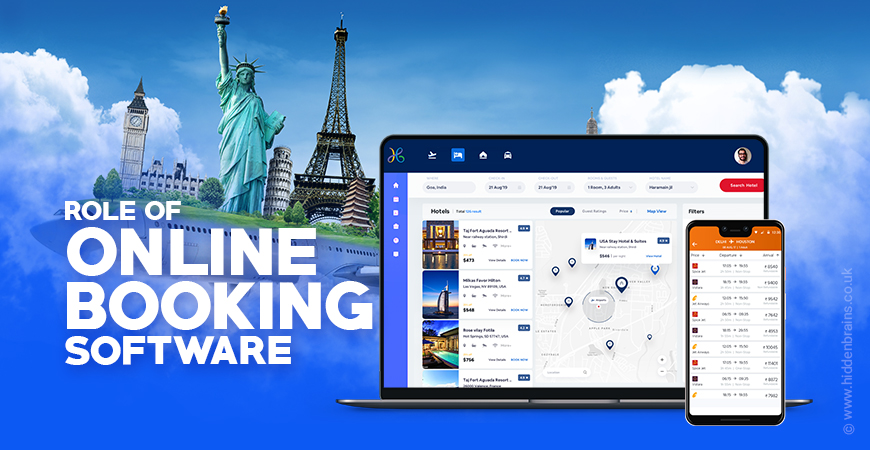 The Internet can be a complicated and intimidating sphere for business owners who have always done things in a certain way. But those who have overcome their fear will tell you that the World Wide Web offers endless opportunities to grow and improve your business. And for businesses that make reservations, one of the easiest and most effective ways to use the Internet is to use an online booking system. Explore all the benefits of online booking solutions as well as the best features of it.
Digital world has changed our preferences, and offers us an opportunity to make our lives hassle free. In the contemporary world, online booking solutions have turned as a trend. Those days are gone when people used to stand in the long lines, and used to wait for their turn to get their desirable service. Generating increased revenue, saving employee time, and reducing overhead is no longer possible in today's automated world without an online booking system.
Now, with online booking software, entities can offer an opportunity to their customers to experience the easiest way to book their services on the fingertips. However, it helps to satisfy customers and turn their process into faster and more efficient as users can preview their desirable services and have other related information. It allows them to book the services online without facing any challenges. With this innovative high tech solution, organisations can meet with the modern trends.
What is an Online Booking Software?
Online booking software has turned into a must have solution for businesses. It offers an opportunity to book the service efficiently and hassle free. Along with this, large enterprises can also streamline their processes in an accurate manner.
It is a software solution for a custom online booking service that allows guests to easily book and do the payment for various activities online, like planning tours, booking appointments or properties, etc. Some of these systems also include tour operator reporting software and other easy-to-use tools that help improve efficiency and demand more bookings.
Advanced online booking ticket system brings the whole booking process online, in which customers can book the tickets easily and have full information including date and timing, and all other details. It helps to reduce the workload and exclude the chances of the errors of manual entry.
Growth of Online Booking Solution
According to the Market Study Report, "As per credible projections, SerDes market is presumed to expand with a CAGR of 9.3% between 2020 and 2025, hence amassing USD 707.4 million by the year 2025.
Undoubtedly, the online booking software market is rapidly increasing. But here again the question arises why?
Let's know the benefits of online booking software, why mid to large enterprises should opt for this solution.
Call Us Today for the Best Online Booking Solutions.
Benefits of Online Booking Solutions

1. Overcome Geographical barriers
To book the tickets for any event or program, it is not important that a person should be based in the same region. Even now there are big events held on the international level, which people prefer to attend from different countries or cities. For them, they can book their tickets in advance rather than facing hurdles at the last moments. With online booking solutions, organisations can offer an opportunity to their customers to book the tickets online from across the globe.
However, even now different services or to target audiences are not limited. Companies can increase their reach at a wider and international level.
2. Easy Booking System
Online booking software delivers an easy booking process to the customers. It helps to overcome the traditional challenges, by delivering the secure and hassle free booking system.
However, now with only a few clicks on their smartphones, from anywhere in the world and at any time, users can have the information as well as opt for the services. With online booking software, organisations can deliver an easy to use and convenient booking process with minimal clicks.
3. Secure Payments
Users can pay for their services at the same time while booking the tickets. They can opt for different payment methods including credit, debit, and third party platform payment methods. Hence, this makes the booking payment process hassle free. Online portals that avail of the Bill Desk payment gateway are believed to provide information securely.
Bill Desk Gateway is protected with Secure Sockets Layer (SSL) encryption, ensuring that account numbers, personal information, and other data exchanged with Bill Desk are not sent over the Internet unencrypted so that those cannot be viewed by unauthorized persons. This encryption is done using 128-bit encryption which is the highest level of encryption currently available on the Internet.
4. Exclude Brokers
This is the major benefit of online booking software, it excludes the brokers and commission based agents from the process. Customers can directly and easily deal with the organisations, which helps to streamline the process without paying any extra commissions to the agents. It helps to save a huge amount of the customers also.
There are many benefits of integrating online booking solutions into the process but on the same hand, it is important to have the essential features. If there are not proper features integrated, you will not be able to leverage the benefits of the online booking system. Let's have a look at the features in online booking software that you can't afford to miss out.
5. Saves Time
By opting online booking, customers can save their huge time. With mobile app development services, entities can offer their customers an opportunity to book their services conveniently. However, with smartphones, users can book their tickets online on their fingertips. They aren't required to visit the particular destinations or wait in long lines or on calls.
6. Book at any time
With this software, customers are not bound with any time limit. They can opt for the online booking service at any time by using their smartphones. They can book tickets at any time of the day and night as per their schedule.
7. Online Payment
In our hectic lives, users prefer to opt for the secure and hassle free online payments rather than facing the complex payment process. They are required to pay with a few simple clicks on their mobile phones. Online booking platforms offer an opportunity to pay service bills in a hassle free manner with E-wallets or third party preferable payment platforms including Paypal and Amazon wallet.
8. 24*7 Services
This is one of the major benefits of online booking solutions for the entities. It offers an opportunity to provide services for 24*7 to the customers. Entities don't have to work with the clock, with advanced software, they can offer their services for day and night. One of the major benefits of online booking is the fact that your business is now open to take bookings all day, all night, and whenever it's the most convenient for her customers.
9. International Level
By integrating advanced software, you also exclude your region barriers.Enterprises can also target the customers on the international level. They are bonded with the limited geographical region. It helps them to introduce their services to the wider audiences, which helps to increase their profit.
Call us today for a FREE no-obligation quote.
10. Increase Productivity
Online software helps you to increase your employees productivity. Now, you don't have to hire resources for the daily or management purpose. With online booking advanced features, you can utilise the human power in an effective working process. It also helps to save a huge amount.
11. Advanced Management
Now this is the major benefit that attracts enterprises toward it. Advanced software acts as a human and reduces the chances of errors. It helps to manage the details of customers, avoid double bookings, and support automated E- mails.
12. Dramatically reduce your admin workload
How much time do you and your team members spend taking bookings whether over the call or the counter? It can often take half of the employees' day to manage all this work. An automated online booking system will allow your customer to do all the work themselves – they can select their seat from the available free spaces, and choose a date that suits them the best. An appointment is automatically logged into your system without you having to lift so much as a finger.
13. Grow your marketing and online presence
One of the main benefits of an online booking system is that you can grow your customer database. People remain more than happy to offer up their information while making online bookings. You can get their demographics and personal preferences from the records and develop effective marketing strategies. Not to mention! Customers love the convenience provided by online booking systems, so your online reputation will also grow.
14. Online Property Booking System:
Today, properties of all shapes and sizes find it difficult to operate economically without an online network and some sort of reservation system. Online property booking system helps you choose a reputable builder or a trustworthy real estate agent, pre-booking your home can help you make a safe and cost-effective investment decision since there is an opportunity for clients to research online to check the construction company's references, and reputation and supply records before investing their hard-earned money in a project. Also, you can take advantage of the offers the real estate agents have in their pre-sale property listings.
15. Appointment booking systems:
Take back control of your calendar with the help of custom online booking software services. This is now one of the leading online booking solutions in the UK. Today's online booking tools automate everything, but the pros aren't just for business owners but also the clients who will love the simplicity and convenience of being able to book online anytime.
The online booking system will allow you to check your reservations and availability easily using your mobile device, no matter where you are. You can stay on top of the business and can easily manage the schedule from your convenient location. Also, every booking app is different, but they all serve as an online portal where customers, students, prospects, patients, etc. can schedule meetings with you or some other team members.
These solutions allow you to set and adjust your parameters of available appointments, staff, and services regularly with your preferred process of payment.
16. Dashboards optimized for reporting and sales:
This is one of the most important benefits of the online booking system. The online booking system provides a dashboard with analytics to help grow your business. All guest bookings and client data are available to you and your team in real-time on your dashboard. The same system can also capture phone calls and spontaneous bookings, so everything is in one place for you.
No more manually updating spreadsheets, the data gets synced seamlessly. Your most popular sellers, most requested time slots, or most popular add-ons can be quickly determined by using the online booking system engine with robust insights. You benefit from knowing what your customers want most, saving you time and money on offers that don't help your business grow.
17. Maximize bookings:
Self-booking customers are more likely to come to your show because consciously choosing their dates and times gives them more time to think about reservations and no-shows, which becomes a thing of the past. Automated emails and SMS are sent to customers to remind them of their upcoming appointments. If a customer needs to cancel, the space is automatically opened online and given to another customer a chance to book.
In addition to reducing no-shows, customers can see exactly when a seat is available. That means you can get the most out of your reservation by avoiding the endless back-and-forth that is common when trying to find a phone for an open seat.
19. Allows to provide add-ons:
When it comes to the pros and cons of the online booking system, the ease with which customers can add add-ons during the booking process is a huge plus in online booking solutions in the UK.
You must be able to offer additional services to your customers. And it's up to them to decide if they need additional features. Adding perks to your customers is an easy way to increase sales for your business.
Call us Today for the Best Online Booking Solutions.
Related Post: Cost to Build Booking App
Must Have Features in the Online Booking Software
1. Calendar Integration
Integrate visual calendar into your solution it will help your users to match their availability with your event. This makes the booking process easier and faster. It helps to directly book the ticket without consuming much time. With a visual calendar, they can match the date and timings easily as per their daily schedule. However, this feature helps to plan easily for the event.
2. Minimal Click Booking
Try to design the online booking software in such a way that users can reach to the last action to book the ticket with only minimal clicks. Those days are gone, when users used to enjoy exploring different phases of online booking, now they prefer for the quick process.
3. Multiple Payment Option
Now, online payment has become more advanced and secure. There are a number of ways to pay the bills. However, now online payments are not only confined till credit and debit cards. Users can pay their bills online with different payment methods. However, there are other convenient ways such as Paypal and Amazon pay which helps to easy and securely check out.
4. Language and Currency
With an online platform, you can target countries all over the world. Design your booking software, in such a way that it should support multiple languages, users can have the related information in their preferred easy to understand language. It helps to exclude the communication. Along with this, entities have different currencies, they should be allowed to pay bills in their own currency. Accept payments in different currencies, including the option to pay bills in different currencies.
5. Email Automation
To confirm bookings and services, it is important to send confirmation mails to the customers. Opt for the Email automation feature, it will allow you to send mails automatically to the users on the same time, who have confirmed the services. It will help you to save the huge time of your business and streamline the process in an effective manner.
6. Discounts and Rewards
Engage your customers for a long run with you, by offering them different discount and reward strategies. By different strategies, you can offer rewards and discounts on the deals.
Related Post: How to Build an On-Demand Delivery App in Low Cost?
Additional Features – Can't afford to miss out!
Integrate

Customise forms

Book Button

Automated emails

Live chat

Provide Support

Integrate social media platforms

External calendar sync

Mobile friendly

Support Multiple Languages

Cancellation service

User friendly
Panel of Online Booking Software
User Panel
Registration and login

– With registration, users can register themselves with essential details.

Able to Select the time and date

– Customers can book their tickets as per their preferred time and date.

Verify with the calendar dates

– Verify the dates with the calendar, it turns the process easier for them.

Live Chat with team

– Customers can have direct contact with the team and resolve queries.

Online Payment

– They can pay online for the services.
Admin Panel
Data Management –

Admin panel manages the full data in an accurate manner.

Manage customer support –

Helps to sort out the queries of the customers.

Earnings Management –

Proper earning management and keep records also.

Ticket Management –

It manages the ticket system of several customers.

Notification to system administrators –

Send alert or reminders to the team.
These are the few major features that you need to build each app panel. But as many features you are going to add, the budget of app development will effortlessly jump on to the next level. But, one such question that you may curiously want to know is how much does it cost to build an online booking solution for your business?
How Much Does It Cost to Build An Online Business Solution?
The cost to build an online booking app can vary widely depending on several factors, including the complexity of the app, the features it offers, the development team's location, and the app's platform (iOS, Android, or both).
A basic online booking app that allows users to book appointments and make payments can cost between $15,000 to $30,000 to develop. However, if you want to build a more advanced app with additional features like real-time scheduling, automated reminders, and integration with third-party calendars, the cost can increase significantly.
Additionally, ongoing maintenance and updates to the app will also add to the cost. The cost can also vary depending on the location of the development team. Hiring a development team in North America or Europe can be more expensive than outsourcing to a team in Asia.
It's essential to work with an experienced development team that can help you identify the features you need and develop a plan that aligns with your budget. Ultimately, the cost of building an online booking app will depend on your specific needs and requirements.
Conclusion: How Do Hidden Brains UK Help You Get Started With Online Booking Solutions App?
Hidden Brains UK is a leading IT solutions provider that specializes in developing custom online booking app solutions tailored to your business needs. Our team of expert developers and designers will work with you to identify your requirements and develop a solution that meets your goals.
We understand that every business is unique, and we strive to deliver a customized solution that is both scalable and flexible. Our online booking solutions are designed to streamline your business operations, increase customer engagement, and improve overall efficiency.
Whether you're looking to build a simple booking app or a more complex solution, our team has the experience and expertise to deliver a high-quality solution that exceeds your expectations. With a proven track record of delivering successful online booking app solutions to clients across various industries, we are confident that we can help you achieve your business objectives.
If you're interested in learning more about how Hidden Brains UK can help you get started with online booking solutions app, please contact us today for a consultation. Let us help you take your business to the next level.
There is high demand for online booking solutions in the market. It helps to streamline the process as ever before. It offers several benefits to the organisations and customers both. But it is really important to have all the features in it. The above all features help to meet with user demand.
FAQs
What features should an online booking app include?
An online booking app should include essential features like appointment scheduling, payment processing, and confirmation notifications. Additional features that can enhance the user experience include automated reminders, real-time scheduling, and integration with third-party calendars.
What platforms should an online booking app be developed for?
An online booking app should ideally be developed for both iOS and Android platforms to maximize reach and accessibility for users. However, the choice of platform will depend on your target audience and business goals.
How can an online booking app help my business?
An online booking app can help your business in several ways, including reducing administrative workloads, improving customer engagement and loyalty, and increasing efficiency. It can also provide valuable data and insights that can help you make informed business decisions.
How can I ensure the security of my online booking app?
Ensuring the security of your online booking app is critical to protecting sensitive user and business data. To ensure security, you can incorporate features like secure payment processing, data encryption, and secure logins. You can also work with a trusted development team that has experience in building secure apps.
How much does it cost to develop an online booking app?
The cost of developing an online booking app can vary widely depending on the complexity of the app, the features it offers, and the development team's location. A basic app can cost between $15,000 to $30,000, while a more advanced app can cost upwards of $50,000. It's essential to work with an experienced development team that can help you identify your specific requirements and develop a plan that aligns with your budget.
Do Not Forget To Visit Our Robust and Secure Services:
Mobile App Development Company in The UK | iOS App Development Company In the UK | Android App Development Company in the UK | Web Application Development Agency in the UK | PHP Development Company in the UK | ASP.NET Development Company in the UK | Hire Developers in the UK | Hire Best iPhone App Developers in the UK | Hire Android App Developers | Hire Web Developer in the UK | Hire PHP Developers In The UK | Hire ASP.NET Developers in the UK