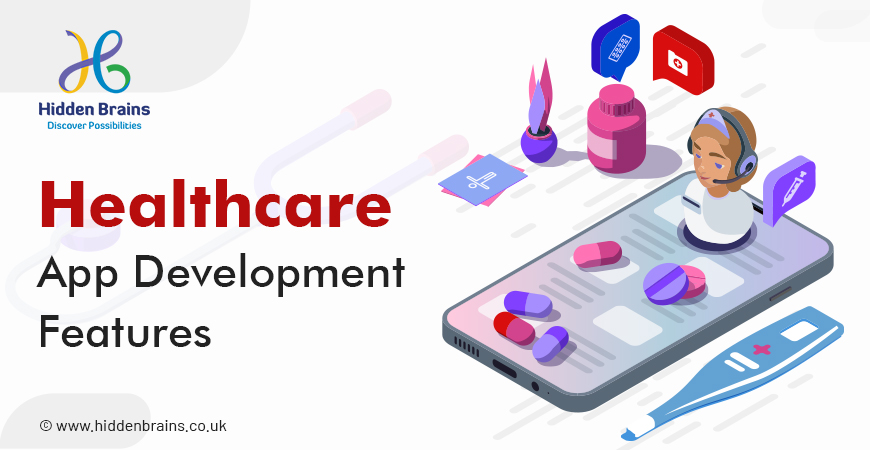 Technology has become an inevitable part of every individual's life today. The development has greatly influenced even the healthcare sector. Incredible features of Healthcare app development services has made a massive difference in people's lives and has made things easier for them.
In the age of smartphones, apps have brought a massive transformation in the world. More and more doctors and patients have started utilizing telemedicine, and the need for a mobile solution in healthcare increased drastically.
Medicine and healthcare go hand in hand. It is one of the significant reasons pharmaceutical companies focus more on online medicine sales through user-friendly apps.
Call us today for a FREE no-obligation quote.
However, to get the best out of these applications, it is crucial to ensure that the application has some basics to make things easier for both patients and doctors. Read on to learn about the significant features of a healthcare app development –
Easy login and registration
Login and registration are the significant steps to build interaction with doctors or patients. Hence, it is essential to ensure an easy registration or login process to sign up without any hassle. Plus, the users should provide their relevant information such as contact details, email ID, name, etc quickly with a few clicks. Therefore, a lesser number of steps means a seamless user experience.
Smart filter to find specialized doctors
Professionals offering healthcare app development ensure to build advanced applications featuring a Smart filter that enables easy search for doctors specialized in a particular field. Besides, the feature should allow the users to filter the results based on their consulting fee, location, specialization, reviews, experience, education, etc. Finally, the feature should support an advanced in-app communication feature so that doctors and patients can connect easily.
Quick profile modification and access
Creating a profile on the application should be handy and easy for both patients and doctors. Moreover, the app's feature should allow individuals to upload their complete info and photos they look forward to sharing.
The app should allow the doctors to share all relevant information such as their experience, speciality, practitioner license number, contact details, and clinic address. Plus, users should be able to modify and change their profiles whenever needed.
Instant booking for consultations
The app should allow the patients to find, select, and book appointments with the doctors as per their search results. After shortlisting the experts, individuals should be able to check the profile of doctors and their visiting hours, speciality, clinic location, consultation fees, etc quickly.
After making the selection, individuals should be able to book their consultations via the application. Plus, the features of the app should allow patients to know details of the prescribed medications.
Infographic : How Will Mobile Apps Changed the Healthcare Industry
Pill and care reminder feature
An efficient healthcare app development has options of setting up care plans as per the unique needs of the patients or as recommended by the doctors. The app should be integrated with the consultation fee payment option. The feature should also remind individuals of their latest appointments with a doctor right before the schedule. Additionally, there should be a pill reminder or prescription update feature in the app for an enhanced experience for the users.
Management of appointments
Healthcare applications should authorize the doctors to deny or accept consultation requests (for valid reasons) if they aren't available for consultation at the required time. The right to obtain and confirm the request should be given to doctors, while patients should be approved or notified about the status of their request.
Hassle-free maintenance of patient data
The app should follow all the standard rules and regulations of the healthcare industry. From routine maintenance to scrutiny – all the necessary measures should be taken while creating the app for optimal security of patient data. Besides, the app should feature a secure pathway for storing and transmitting data.
Also, previous medical history, medical reports, order invoices, appointments, tests, and other patient info provided in their profile should be accessible anytime, anywhere through authorization.
Call us today for a tailored healthcare app development.
Multilingual app interface
It is one of the crucial features for enhancing the use of mobile healthcare applications. A multilingual interface should allow users to operate the application in their native or desired language. In addition, it will help patients to understand the instructions and prescriptions given by doctors.
Security of patient information and record
Security of healthcare info and records is mandatory and should be given high priority. They are highly valuable not only to patients but also to healthcare professionals. Therefore, it is important to restrict unauthorized access at all costs. The security of the application should be a top priority during the app development process.
Research and investment in testing, designing and implementing application authentication should be on top of the priority list for app owners and developers. Consider adding multi-factor authentication to restrict unauthorized access.
Software libraries and toolkits
Users, be it doctors or patients, have high concerns about the app's security level. Hence, it's best to add such multiple resources to the app to improve its security level. Developers can add these resources in the form of software libraries, cross-platform toolkits, software development Kits, or any other form of tools that can come in handy for improving passwords strength, data encryption, testing interfaces, etc.
Compatibility
Permissions, API, and security features are factors that enhance the value of mobile healthcare applications. Hence, it's important to research all these features before designing the application.
Compatibility problems are common during the healthcare app development process. So the developers should work accordingly. All the requirements and expectations should be communicated to avoid conflicts in the future.
Related : Healthcare Mobile Application Development Challenges
Top Features of the Healthcare development app
The introduction of augmented reality, artificial intelligence, and other top technologies have helped in transforming the healthcare sector. Today, there are different types of applications that allow doctors and patients can consult without even stepping out of their homes and all this has been possible because of technology. Here is the list of top features of Healthcare app development that can help in getting immense popularity and success.
The virtual healthcare sector is now able to satisfy more than 70% of the patients who take it. The following are some important features that an app must have:
Easy registration service: a health app must provide hassle-free login and registration to improve the interaction between doctors or patients.
Access to specialized doctors: apps should have some features which enable the patients to filter out specialized doctors. Along with that, the app should also support advanced communication features to connect patients with their respective doctors.
On-the-spot booking: The app should allow the patients to book appointments with the doctors of their choice with a few clicks. Furthermore, the app should also show the profiles of doctors, location, fees, and visiting hours. Nearly 50% of the patients prefer immediate, virtual appointments over in-person visit
Medicine and appointment reminders: An all-rounder health app has options for setting up reminders for their bookings. It also has features that remind the patients to take their medicines on time.
Should support multiple devices: a good health app should let users use different devices without having to lose any data.
According to statistics, there are at present more than 3,20,000 mobile healthcare apps.
And the number keeps increasing as around 200 new apps are added every day.
The mobile healthcare market is also expected to generate around 111.1 billion dollars by 2025.
This is possible because even patients prefer mobile Healthcare Software Solutions over traditional ways.
It is estimated that nearly 50% of patients prefer an immediate, virtual appointment over an in-person visit. Of these, 74% of patients were satisfied with the treatment they received.
Call us today for a FREE no-obligation quote.
Live video consultation with the specialists
When it comes to health, no one wants to take a chance. Integrating live video consultation with the specialists allows the patients to consult easily with the specialists. By choosing the video consultation features, the users can interact with the specialists in real-time. The healthcare app with this feature has a high rate of success. One of the greatest advantages of live consultation is that patients do not have to wait in a clinic. Instead, one can submit the information and symptoms at any time and consult with the specialist. This gives the patients a lot of comfort.
Health tracking activity
Presenting the customers with health tracking activity helps the users monitor their health. Integrating this feature within the app provides an additional benefit to the users. The health tracking activity also provides the users with additional information. The users can track their blood pressure by inserting their daily measurements, then the app can show them the list of foods they should avoid maintaining balance. Tracking their health activity and measuring their diets help the users to keep themselves active and healthy.
Symptoms checking feature
This is an advanced feature that can be used in the healthcare app to make it more appealing to the users. By adding the symptoms of the health problem, the app could guide the users about the probable disease they are suffering from. Also, features can be added that can direct the users to the specialists they can visit for further diagnosis and treatment of their problem.
Also Read: Build a Pediatric EHR Systems: Its Features, Cost & Tips
Cloud integration
Cloud storage is almost used in all sectors and the same can be implemented for the healthcare app also. Providing cloud storage in healthcare applications will allow the patients to access their information anywhere from any device by just logging into their accounts. Implementing cloud integration in the healthcare application also allows the patients to keep an electronic record of their prescriptions, medical history, and more. Integrating cloud technology makes it easy to track data in the cloud.
Integration of AI and machine learning
The latest developments in technology are artificial intelligence and machine learning. AT and machine learning can deal with a huge amount of data to bring useful insights out of it. These insights can help in making healthcare app users aware of various health issues in advance. The healthcare apps which integrate AI and Machine learning help in diagnosing various health issues which can help the doctors to save time and achieve great accuracy in the results.
Multi-device support
At present, users use different devices for accessing their healthcare applications. The application should be made in such a way that it can support multiple devices. It should be made compatible with all the devices so that users can access the healthcare services at their convenience.
Use of Blockchain
Blockchain is a recent technology development that is used widely in the mobile app development world. The technology helps in increasing the security of the applications and at the same time also ensures that patients are provided with well-synchronized healthcare ecosystems. Blockchain technology mainly works with the cryptographic network which combines with other functionalities and makes the payment secure and protected from any cyber-attacks.
What type of health apps are in demand?
With the advancement of technology and the increasing use of digital platforms, healthcare apps are in great demand. The healthcare apps which are in high demand in the present days are
Medical training apps
Medical training apps which are used by healthcare professionals to train the interns are also popular. By integrating the potential of augmented reality and virtual reality, doctors can even teach surgeries to the newbies in the field.
On-demand doctor app
Getting online consultation and starting the basic treatment helps in saving a lot of time and exhaustion for the patients and this is becoming a new norm. The apps that allow patients and doctors to connect in real-time are high in demand.
Medicine and health checkup reminder app
Forgetting to take medicine at the right time is a problem most individuals deal with. Providing users with an application that reminds them to take medicine at the right time is of utmost help. The app which also provides information related to health check-up reminders to the users is a much-appreciated one.
Good to Read: The Future of Cloud Computing in Healthcare
Health record-keeping app
The demand for a digital record keeper for storing all health-related documents and other health pieces of information is skyrocketing. This app helps the users to keep a track of their health records and also save and monitor their health records like blood pressure, sugar level, weight, and other information related to their health.
What are the top challenges that come while a Mobile Healthcare App is Developed?
Here is a list of some of the common challenges faced by developers when developing healthcare apps to meet the needs of users and professionals in the digital marketplace.
Privacy: many a time it happens that the patient's privacy is at risk as various personal information is also stored by the apps.
Consent of patent: there is a growing concern among users that digital data is being used without their consent.
Health Insurance Portability and Accountability (HIPAA): it contains several guidelines regarding the confidentiality and security of information.
Security Threats: In 2021 only the rate of cyberattacks against healthcare centers has tripled.
Losing the trust of patients: Nearly 50 million people have faced healthcare data breaches and this has resulted in costly shutdowns and the erosion of patients' trust. It is mandatory for a healthcare app to safely store the personal data of patients.
Innumerable data management: with the increasing population, the amount of data collected is also increasing significantly. Better data collection ensures a better understanding of one's health-related issues.
Payments and Bill Management: Over 70% of patients find both the insurance explanation of benefits and their portion of the bills wholly confusing.
Staff Shortage: A recent study by the Association of American Medical Colleges has estimated that there will be a shortage of up to 104,900 physicians by 2030.
No price transparency: more than 50% of healthcare services do not maintain price transparency with their patients. Most of the time patients are kept in the dark about the bills until the last minute.
Call us today for custom healthcare solution.
Emerging New Era of Healthcare Technologies
The increasing demand for digital health services expands the availability of health apps. New technologies are emerging and as a result, it is giving people the freedom to choose the most suitable healthcare provider, and the freedom to keep track of their health. Some of these technologies are:
Sleep tracking: Many apps provide a sleep tracking feature that helps patients track their sleep cycle.
Notifications: apps notifying us about activities based on our needs like drinking water, taking a pill, taking a break, straightening our back, and others or reminders to visit a doctor.
AI assistance: since Artificial Intelligence is only getting brighter, Chatbots have become very common in most apps and they are constantly available to provide us with answers to numerous medical concerns. They can also automatically make an appointment for the patient.
Integration of IoT: The medical Internet of Things gives users many benefits including remote monitoring, better convenience, lower costs for patients and hospitals, data storage, and security.
Wearable technology: it has become very popular with various fitness tracking devices now available on the market. It helps people measure heart rate, blood pressure, breath pace, and sleep quality.
mHealth Tech Programs: one example is Telestroke which is a telemedicine program devoted to treating stroke patients. Started as a trial program and now treats more than 1500 patients annually.
Cloud Computing Technology: healthcare sector is no longer just related to the ministry of health but also the IT sector. With Healthcare IT Solutions, the risk of error has been reduced significantly as there is less paperwork to get lost.
Empowering patients with digital solutions
The healthcare sector is now able to curtain the needs of more people as it has undergone digitalization.
A huge number of options: There are 3,50000 health applications available for patients to choose from. The huge increase in the number of smartphone users has impacted Healthcare Software Development as the number of applications has increased twice in number since 2015
Easy access to information: 90% of healthcare specialists use their smartphones at work to access electronic records, collaborate with colleagues, get background info, or track their schedules.
Numerous tools: 74% of patients say that different devices and mobile health tools enable them to control and handle their health conditions.
Healthcare during the Pandemic: during the coronavirus pandemic, the healthcare sector was a boon for mankind. Providers saw a 154% increase in telehealth visits in the final week of March 2020. 30.1% of all doctor visits were conducted via telehealth between January and June 2020.
Remote patient monitoring: it comes in handy most often to manage patients with a chronic condition or to ensure that a patient is following his hospital discharge instructions and taking medications correctly.
Taking care of long-term illnesses: 70% of the annual budget of £113bn for Healthcare Software Solutions in the UK, goes to long-term health conditions. The government also plans to take care away from hospitals and give it to mHealth apps.
Immediate handling during an emergency: Healthcare app Development Solutions can save time and money by enabling instant data recording and reduction in the duplication of tasks. With the possibility of virtual meetings, it has eliminated the need to move physically to a new location.
Read Relevant Blog: Benefits of Automation Software in The Healthcare Industry
The Ultimate Guide to building a healthcare app
In light of recent events, Healthcare has become the topmost priority and with this, the dependence on healthcare has also increased. This makes the development of a healthcare app highly profitable and valuable. The following are the points that should be kept in mind while building a healthcare app:
Choose the type of app: healthcare apps can be of various types depending on the need like Doctor appointment apps, Electronic medical/health records apps, Health tracking apps, Networking apps (for doctors), Telemedicine apps, and dieting apps.
Market analysis: to make your app valuable, you will need to study your niche. It's important to know everything about your competitors starting from what their strong and weak sides are to how you can stand out.
Study the audience: it is necessary to learn about the needs of the audience so that you can provide them with the exact solution.
Define key points of your app: this step involves determining the app's database, functionality, and goal.
Design an interface: the interface should be such that most users find it easy and simple. Set up a user-friendly online patient portal offering many different payment options.
Monetize the app: with only 5.76% of apps being not free, it becomes necessary that you too do not charge for your app. Instead, there are other options for advertising or in-app purchases to make money. In the healthcare space, the most common monetization method is through subscriptions.
Build an MVP and run it: building a perfect app with the best features possible will take years to finish so the clever way is to build a Minimum Viable Product that is simple to run and then depend on the feedback of the customers to make the necessary improvements.
Abiding by the healthcare regulations: lastly abiding by the healthcare rules is very important as it is one of the most regulated sectors in the UK. Not abiding by the rules risks your app being fined or even removed from the app market permanently.
Conclusion
All of the above-listed features help in making a user-friendly user interface and design for healthcare applications. Remote medical assistance, Booking appointments, in-app consultation, and interactions are some of the significant features that can't be missed while creating the application. Thanks to technology, everything is now easier than ever. Hence, any kind of feature can be added to healthcare applications.
Do Not Forget To Visit Our Robust and Secure Services:
Mobile App Development Company in The UK | iOS App Development Company In the UK | Android App Development Company in the UK | Web Application Development Agency in the UK | PHP Development Company in the UK | ASP.NET Development Company in the UK | Hire Developers in the UK | Hire Best iPhone App Developers in the UK | Hire Android App Developers | Hire Web Developer in the UK | Hire PHP Developers In The UK | Hire ASP.NET Developers in the UK