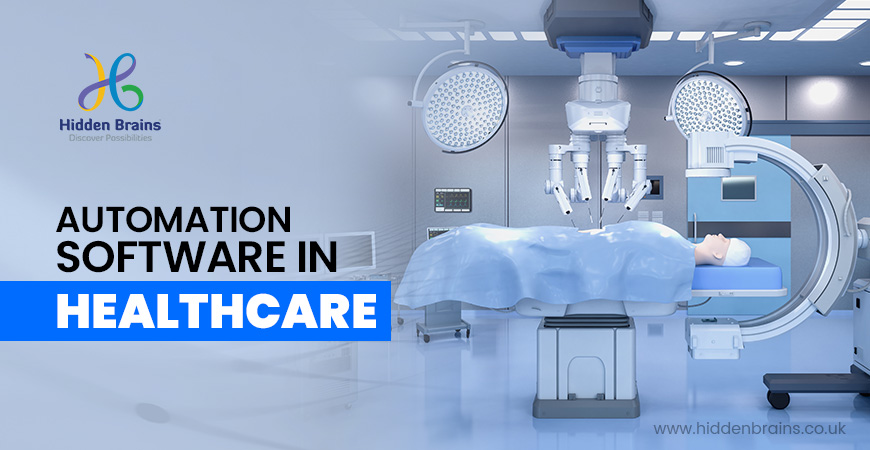 As per Accenture's recent study, AI and machine learning can help to fulfill a minimum of 20 percent of demands and reduce the need for patients to make regular hospital visits. With the COVID-19 Pandemic, many nations have been impacted and affected adversely by various healthcare systems that have reached the level of exhaustion. And that is when the automation software in healthcare industry needed.
Moreover pandemic has been an eye-opener for healthcare leaders and providers to blend Automation in the healthcare sector to reduce the burden.
Automation is the next big thing that will revolutionize various industries, including Healthcare. However, there has been quite a little progress in the healthcare industry compared to multiple other Industries.
But there is quite a huge scope of Automation that can improve patient outcomes, which makes the process quite effective and efficient by blending technological advancements.
Some common examples where Automation plays a major role are reminding and sending patients about their upcoming appointments and warning clinicians about drug interactions and contraindications.
How does Automation Improvise the Healthcare Industry?
The use of artificial Intelligence or machine learning is the next big thing that we are going to witness. We are not far from when we would see robots in every Healthcare Service provider. Automation in Healthcare can offer numerous benefits that we will discuss in the upcoming section.
Benefits of Automation Software in Healthcare Service
The advent of some modern technologies and tools is something to praise at. Such devices are now widely used for high computation and handling a huge amount of data. Technology Advancement has notably impacted several administrative and operational tasks. For example, they help us with the following.
Data Generation is quite an important part of Healthcare. Several EHR machines are now being utilized to enhance real-time data generation. This not only improvises the data extraction process but also improves patient care. Moreover, Healthcare providers have complete access to the required information whenever they want.
Fastens The Billing Process
The intervention of AI is always fruitful for some monotonous tasks. Regarding Billing in Healthcare, AI can blend with traditional software and can help us generate bills in no time. This helps save a lot of time and improves the customer experience to the next level.
The ordering process can sometimes be time-consuming and challenging. With the help of an EHR machine, it can be done in a few clicks for a single clicks. Predictive AI technologies can enhance efficiency to the next level of the complete process.
Better Equipment and Hospital Management
Every year, hospitals are being built, and their operations are getting complicated. As per the studies, it is expected soon, and the global medical equipment Industry will reach a total market value of USD 603.5 Billion. The equipment and the machines are getting more sophisticated and expensive.
To maintain such expensive machinery and operate them effectively, healthcare providers and hospitals are now using specialized software that helps the management of all the inventory stocking, operational expenses, and maintenance. With B2C Ecommerce Solution it has become quite easier to do all such tasks. A lot of companies are building such solutions that you can avail
Benefits of Automation to the Patients-
Advanced technologies in Healthcare are all about consistency and efficiency, which is what Automation is used for. It can help reshape the healthcare processes and lead to a great pathway for more advancement. Here are some areas where Automation can benefit patients.
Automation could bridge the communication between healthcare providers and patients. Several Instances happen where patients forget about their appointments and miss them. With the help of an appointment reminder, the number of missed appointments is drastically reduced. Timely notifications help patients to provide direct feedback also.
Moreover, it can help patients to Notify the healthcare Facility if in case they will not be able to attend as scheduled. Based on this, they can easily cancel or reschedule the appointment. This way, it becomes quite straightforward to keep track of all the appointment cancellations and confirmations. Patients can get care at the right time, leading to fewer complications.
Advanced and Long-Lasting Healthcare Equipment
Manual Diagnostic machines are cumbersome to use, and they are quite prone to damage and cause a lot of inconveniences. Various Lab technicians can also break delete tools like test tubes and pipettes. And the worst thing is they can also sometimes contaminate the collected patient samples.
Automated processes and advanced machines help not only to save patients time but also can prevent the breakdown of any equipment.
Automation can reduce the cost and help to treat any illness before it causes any severe damage to the patient. Automation makes the diagnosis process quite fast and accurate. Also, Healthcare providers can prescribe the correct medications on or before the time, preventing the situation from worsening. And treating diseases at a quite early phase makes it quite less costly.
Better Consumer Satisfaction
Some major points that impact customer experience and satisfaction are service quality, ease of access, and time. With the emergence of Automation in the healthcare industry, the whole process has become quite streamlined, from booking consultations and doctors to providing correct treatment.
The software and tools keep track of everything and send reminders to the healthcare professionals and the patients, which enhances the turnout percentage quite well. Patients can easily log in to the healthcare service provider's website, book, cancel or modify the appointment based on convenience. Such software plays a huge role in improving the quality of the service, where time is quite an important factor.
Reduces the number of risks
There is a complete possibility of having an error in the treatment of the patient and diagnosis, which can sometimes lead to devastating outcomes that can be quite costly for the healthcare provider and the patients. Human error is immensely caused due to the tiresome nature of the work and manual machinery.
With the help of Automation, it has become easier for patients and clinicians to provide treatment and remedies accurately and efficiently. Machines are no more a reason to cause a blunder. They provide timely services depending upon the platform and framework they use.
Automated machines provide more precise and efficient diagnosis and better clearance, reducing the chances of wrong treatments, malpractice, and misdiagnosis.
Detection of any of the diseases at quite an early phase
Advanced technologies like AI can greatly help the healthcare industry with the availability of all the past collected data. Both data and AI can be blended to provide the early signs and detection of several diseases before they become serious. Also, AI plays a major role in filtering out the several diseases available in the healthcare database to find better solutions for efficient treatment.
Reduces the chances of Miscommunication during Presentations and Disclosures
Advanced technologies like AI helps to smoothen and enhance the interactions between patients and healthcare providers. It helps to stimulate the best use case of patient tracking and the feedback to reduce the chances of any ailment worsening.
COVID-19 had completely changed the way people used to avail of medical services. From brick-and-mortar hospitals and clinics, people are now shifting to telemedicine, where they can get consultations through video calls.
With the help of telemedicine software and Automation, a new power of digital healthcare services has been merged, offering a variety of the advantages like consulting a patient who lives far off in a remote location, saving a lot of time for patients, Shortens patient queues, as online consultations are quite smaller and also offers some additional tools and features for medical prescription.
Would automation cause the Scarcity of Jobs in Healthcare?
The Myth about Automation is always robots' job replacement, but it's not true. A truly automated solution helps workers to focus more on clinically relevant tasks rather than monotonous administrative tasks which fall out of their expertise areas. Automation does not mean laying off workers in any Industry. In fact, as per the various studies done, Automation helps to improvise staff satisfaction.
Staff Training is one of the most integral parts of the deployment of any automated software. In addition, it is important to teach healthcare providers about new technologies and how they can make the patient's and staff's lives easier. Automation does not always lead to the loss of jobs but to the enactment of the overall process in any Industry.
Summary
Automation will soon be an integral part of Healthcare software solutions, although the difference between a vendor's claimed software and true Automation always remains quite important. With help of Automation in the healthcare industry, it can help to prioritize tasks and perform them in less time, which can lead to some significant benefits.
The benefits also include staff empowerment, patient satisfaction, and lower costs. Moreover, automated healthcare solutions enhance the end-to-end process without reducing staff. Also, B2C eCommerce Solutions can help healthcare providers to offer their services remotely to patients.
Do Not Forget To Visit Our Robust and Secure Services:
Mobile App Development Company in The UK | iOS App Development Company In the UK | Android App Development Company in the UK | Web Application Development Agency in the UK | PHP Development Company in the UK | ASP.NET Development Company in the UK | Hire Developers in the UK | Hire Best iPhone App Developers in the UK | Hire Android App Developers | Hire Web Developer in the UK | Hire PHP Developers In The UK | Hire ASP.NET Developers in the UK