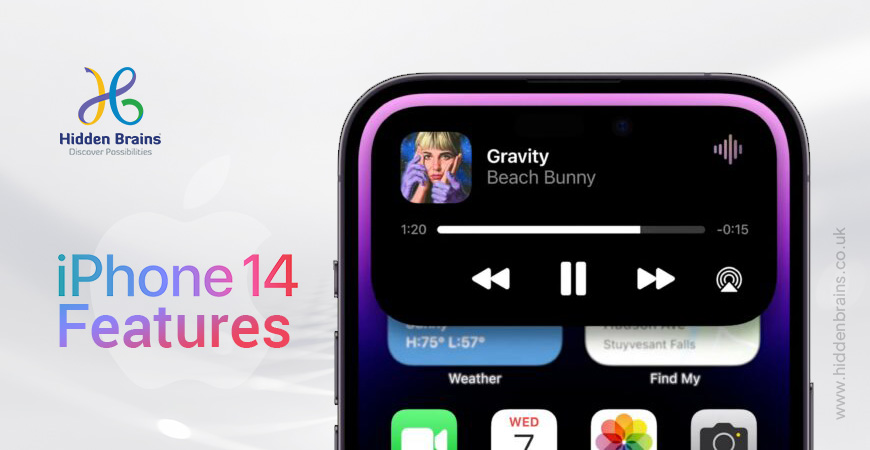 The most awaited new model of the iPhone is now released all around the world. Apple iPhone 14 and iPhone 14 Plus are the latest flagship devices launched at affordable prices, starting at USD 799. Moreover, these devices would be sold alongside high-end models, iPhone 14 Pro and iPhone 14 Pro max.
If you are a small mobile screen lover, then there is sad news for you as Apple has discontinued the release of "mini" iPhones in 2022. All the new models would have a screen size between 6.1 and 6.7 inches. The 6.7 inches iPhone is known to be iPhone 14 Plus, following how iPhone 8 and 8 Plus were built. If you want to know more about iPhone 14 features, stay tuned till the end.
What does iPhone 14 Series look like?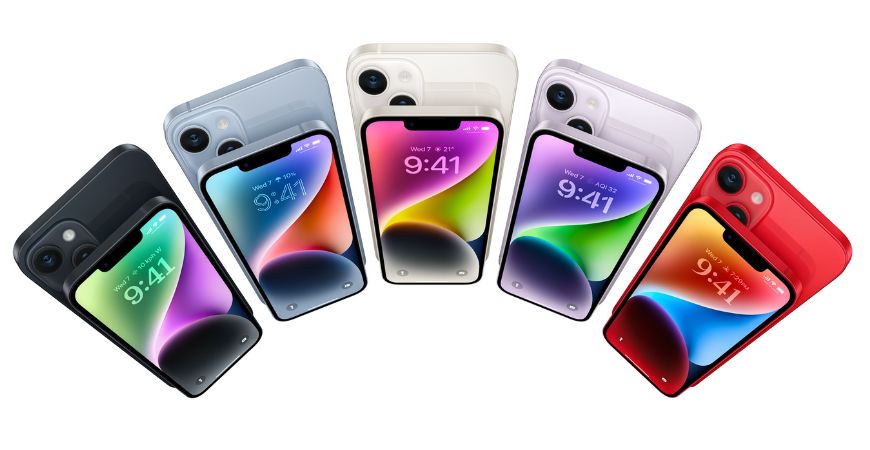 Source:apple.com
The new iPhone 14 looks quite similar to the previous models. The design is identical to iPhone 13, including the chip and the notch. It inherits the A15 Bionic Chip from the most powerful model of the iPhone 13 Series, the iPhone 13 Pro.
The valuable and costlier iPhone 14 Pro and iPhone 14 Pro max are new cool toys in the town with Dynamic Island and a powerful always-on display. Talking more about this amazing flagship, the iPhone 14 has a new camera system that delivers the all-time best low-light performance and a brighter and faster, TrueDepth Camera. There is a next-generation action mode for the front camera on the screen.
Moreover, some safety features like Emergency SOS and crash Detection are handy. If you want to decide which model you should buy, then you can read its review given below.
The iPhone series is the best mobile device among several models. But it might or might not be for you. Here is a small summary of the iPhone 14 Specs.
| | |
| --- | --- |
| Price | USD 799 +  |
| Display | 6.1 Inches (2432 * 1170 Pixels, 60 Hz) |
| CPU | A15 Bionic |
| Storage | 128 GB, 256 GB, 512 GB |
| Cameras | 12 MP wide (f/1.5), 12 MP ultrawide f/2.4) 12 MP front f/1.9 |
| Water Resistance | IP68 |
| Colors | Midnight, Starlight, Blue, Purple, product red |
| Size | 5.78 * 2.82 * 0.31 Inches |
| Weight | 6.07 ounces |
Top trending iPhone 14 Features
Apple has continued the legacy of building identical features and the same device class across several models. Hence there are no innovative features for the iPhone 14 Plus apart from the great battery life and display size.
Design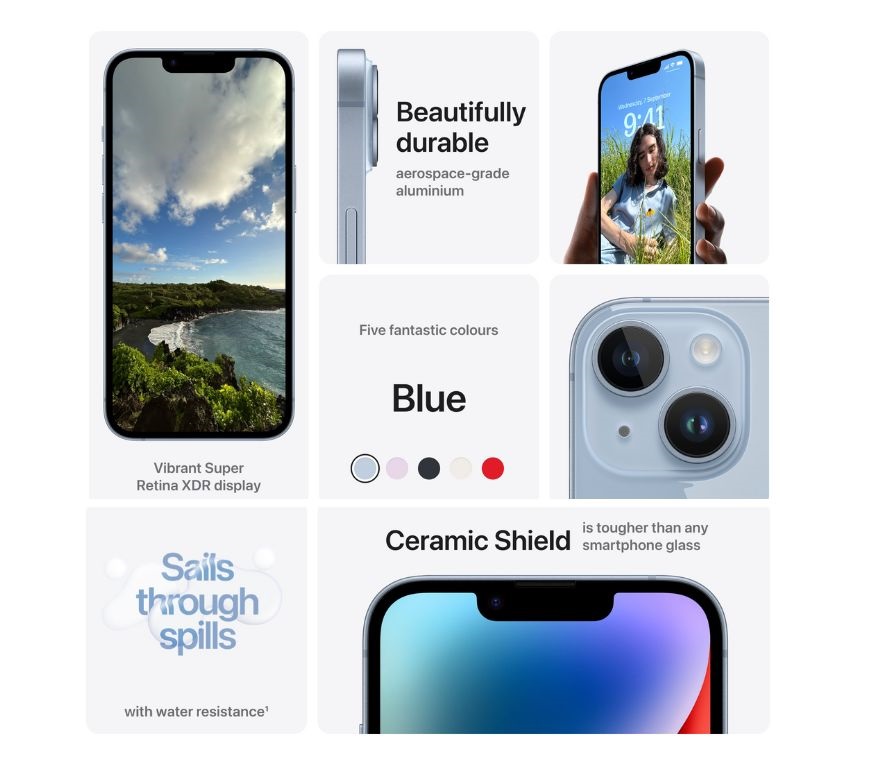 Source:apple.com
You might find some slight color changes. Also, the iPhone 14 looks quite identical to iPhone 13 it takes over. The diagonal rear camera model, aluminum chassis, and notch are similar. The mid-range 6.1-inch Super Retina XDR screen display is 460 Pi.
The bigger model of the iPhone 14 series, the iPhone 14 Plus, is quite a fresh model, but it inherits the features and aspects of the small version, including the same-sized camera bump. The screen is 6.7 inches with a Super Retina XDR display at 458 Pi.
The new addition is an alteration in the sim Card tray for US devices. Apple has decided to support e-SIM support this time, so users won't need to carry any physical SIM Card.
Camera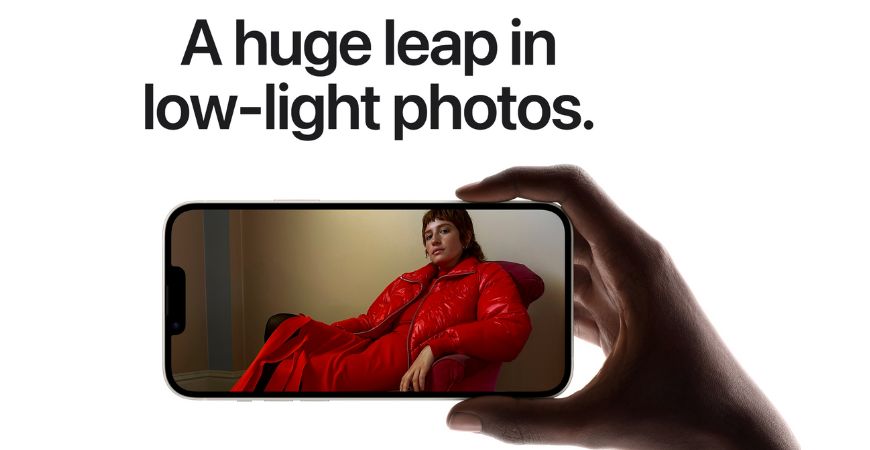 Source:apple.com
Apple has made a minor upgradation for the newly embedded Main camera, earlier known to be a wide camera with a wider f/1.5 aperture and 12 MP sensor. The camera enables users to click some high-end photographs with efficient low-light performance. As per the tech experts, there is nearly a 50 percent improvement in dim light.
Meanwhile, the Ultra Wide camera is still the same, and there hasn't been much discussion around the macro photography feature in the non-pro versions of the iPhone 14. It is quite high time that Apple should add an autofocus feature to the Ultrawide Camera.
The selfie Camera has got autofocus and an f/17 aperture. When blended with the depth sensors for FaceID, the selfie camera can take amazing pictures in no time.
Last but not least, there are some improvements on the chipset as it enables the 4K recording with Cinematic Mode. Users can now fps value of 30 or 24 to take advantage of better camera performance.
Emergency SOS through Satellite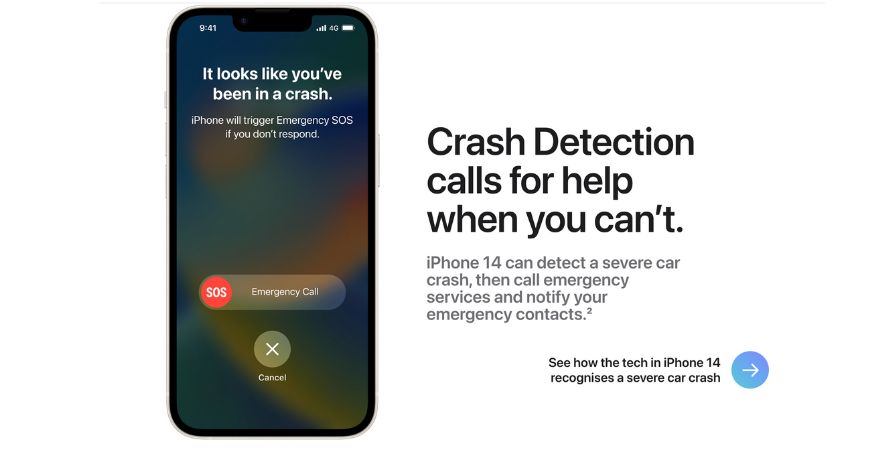 Source:apple.com
Yes, you are thinking right; this is the new feature introduced in the top-end models of the iPhone 14 Series. Apple has invested in special antennas and devices that could connect the devices with satellites without any huge antenna model. This is designed completely to cater to emergencies.
This gives quite a clear view of the sky and below light foliage. Users can enable the Emergency SOS and send a distress signal in case of any mishappening. The device would walk through the user with the prompts to ensure that communication is short and effective.
If case any user wants to send their live location to family or friends, in that situation also, this feature can be used.
Battery and Ports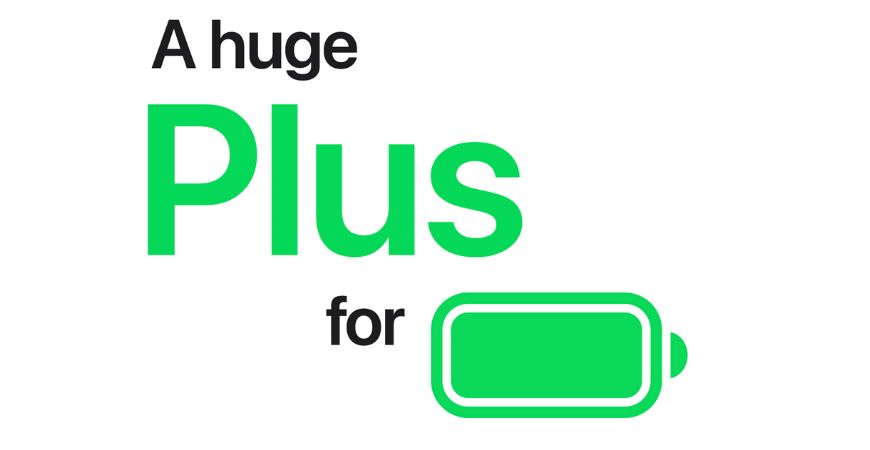 Source:apple.com
At this point, the lightning port is still a rumor, and we might see it in the next upcoming iPhone 15 in 2023. Speculations have been made that apple should move to a fast charging speed of 30 Watts from 20 Watts, but at present, it is still 20 Watts.
Though Apple claims that the battery life has majorly improved, the most basic version of the iPhone can work at least 20 hours with normal use, whereas the iPhone 14 can last up to more than a day.
The Plus and basic models facilitate the fast charging support at 20 Watts.
Wireless, biometrics, Wireless
iPhone 14 still uses the A15 Bionic chip, whereas A16 is majorly included in the iPhone 14 Pro and Pro Max. But the A15 version is used in the iPhone 13 Pro Series. It is a 5-core GPU that enables the fast processing of applications and systems.
FaceID has no major updates and is still the same as iPhone 13 models, but with the latest iOS 16 software, users can unlock their phones in landscape and portrait modes.
5G connectivity and the U1 are not yet upgraded for the iPhone 14 series, but apple has included a newer version of Bluetooth 5.3 spec. The Airpods Pro 2 uses the same Bluetooth Version.
Video
iPhone 14 Biggest upgrade till now is the Action mode for smooth and steady video recording while you are moving. It is quite easy to turn on; users can toggle the button in the camera applications. According to the earlier buyers of the iPhone 14 series, it works quite efficiently.
The videos while walking were smoother and similar to what Galaxy S22 captured. Also while watching the video in HDR mode, the recorded clip was quite vibrant and soft.
IOS 16.
iPhone Pro Max runs on iOS 16 by default; many new features and improvements are added to the software update. Users can now easily customize the lock screen with photos and widgets extra. Also, it gives you the ability unsend texts or edits them. A new replacement is made for the passwords known as the Passkeys, and a fitness app is now added along with the return of battery percentage indicator.
Soon this year, the iCloud Shared photo library will be added, making it easier for users to share images with friends and family. Also, many activities are happening from the developer's side, which will improvise Dynamic Island on the iPhone 14 Pro model. This would be quite helpful to showcase items like real-time progress of rideshare, food order or grocery order, real-time sports score, and much more.
Which iPhone 14 should you purchase?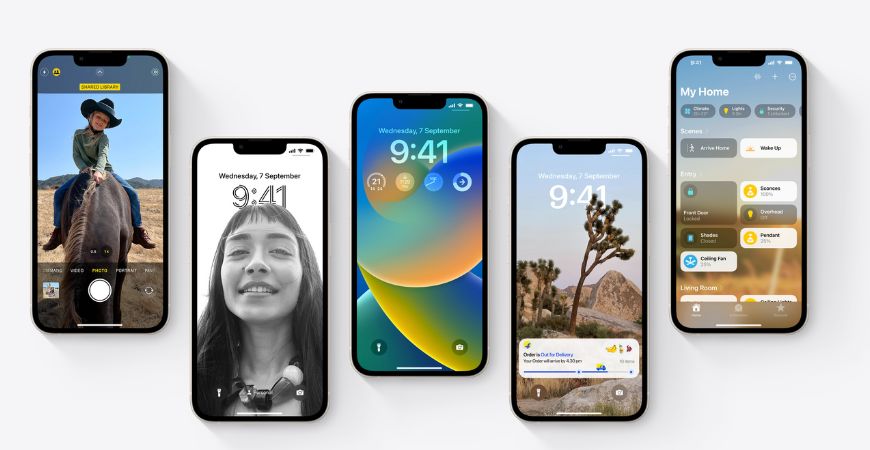 Source:apple.com
If you are looking for a top-end experience and want to flex a bit, iPhone 14 Pro or iPhone 14 Pro Max would be the best choice. It has got everything best, from some good upgrades to the front and back cameras and screen, which you would love to use.
Also, if you are using iPhone 13+, you will not buy the iPhone 14 as you will find the same experience and features. There aren't really big changes apart from satellite SOS, Improved Cameras compared to higher-end versions of iPhone 13. However, in a nutshell, iPhone 14 plus is quite a compelling device if you don't want to spend money on Pro Max, but it has got no two innovative features: always on display and Dynamic Island.
Final Verdict
Many people are giving positive reviews about the iPhone 14 as it is one of the best iPhones now. This year's biggest upgrades are the iPhone 14 Pro and iPhone 14 Pro Max, including amazing features like emergency SOS and an always-on display. All the models are amazing, but if you are looking for a basic version, the iPhone 14 would be great, whereas iPhone 14 Plus is looking for a much larger display and efficient battery performance.
Do Not Forget To Visit Our Robust and Secure Services:
Mobile App Development Company in The UK | iOS App Development Company In the UK | Android App Development Company in the UK | Web Application Development Agency in the UK | PHP Development Company in the UK | ASP.NET Development Company in the UK | Hire Developers in the UK | Hire Best iPhone App Developers in the UK | Hire Android App Developers | Hire Web Developer in the UK | Hire PHP Developers In The UK | Hire ASP.NET Developers in the UK