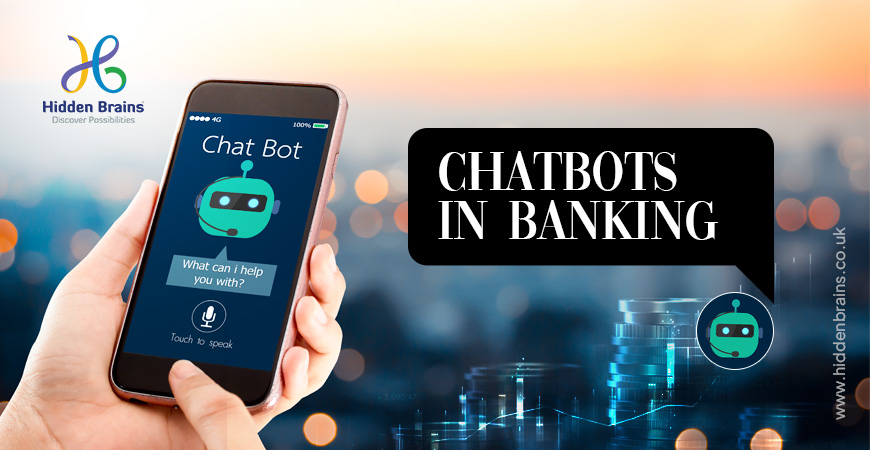 Banking Nowadays has become quite cumbersome for customers, especially for various activities like setting up bill payments, working on Account management, or maybe opening an account. However, technology is advancing rapidly, and we have a great invention called chatbots that may save you a lot of time and make things quite easier. Take advantage of technology like chatbots in banking that smoothens the operations.
Many high-end bank brands have already amalgamated chatbot technology into their website and social media accounts. Now customers can do a live chat with either a real person at the other end or a chatbot. If this seems quite interesting and you would like to know more about how impactful Chatbots could be in the Financial Ecosystem, especially at the banks, then this insight is really for you. So without talking much, let's talk more about it.
How can Chatbots help in the banking service to take a 180-degree turn?
Chatbot technology is constantly progressing; with time, the technology used behind chatbots has become quite advanced and appropriate for banking users. For example, Artificial Intelligence and Machine learning chatbots are now smart enough to know from the data feed to it, in this case, the questions that Banking customers ask; based on that, they answer some of the complex queries in any language possible.
There is a huge potential to integrate chatbots as they can respond to and perform any activity that customers ask for, like making payments, checking their balance, and much more. Here in this section, the reader will learn about different areas where chatbots play a major role.
Chatbots in banking have helped banks to save approximately 826 Million hours and soon it is projected that it will become USD 7.3 Billion Industry in the coming year.
1. Improves the Resolution time
Currently, the banking services are revamped to cater to the customers' needs, but there is still some lack regarding scalability. The current traditional system is not able to resolve all the queries at the same time. And here comes the need for the Chatbot. Chatbots have the potential to resolve all questions and issues rapidly without any disruption to the operations or the customers themselves.
If we talk about the most powerful benefit of the banking chatbot, its data, they have a great ability to improvise on the resolution time. Chatbots are always available to answer customer queries, meaning that customers would need to rely on any toll-free number or wait on calls to get real-time support.
2. It makes it more Modernized and Accessible
Digitization has taken over places and Industries; it has played a dominant role in financial industries like banks for quite a long time. With an increasing number of customers, many banks are now trying to eradicate old methods of communication like toll-free calls or in-house visits And bring in newer methods like app-based banking.
Digitization has revolutionized customer support, but the sad part is that some banks are still using old methods.
Conversational AI banking chatbots are one of the important components of any app-based banking. It allows customers to have real-time support and will enable them to integrate it with any other app browsers instantly without any Hassle.
3. Personalized Services to the customers
Lately, many articles have talked about User Experience and how personalization could play a major role in that. Traditional support like FAQs and How guides are sometimes good but not always as there could be different situations where customers would need personalized help.
If a customer is on your website and cannot find what they want, then there could be a big red flag because they might not return to your website. Hence, there is a significance behind why you should offer personalized services.
With the help of Chatbots in banking, you can segregate your audiences or customers based on their needs and train chatbots to resolve any specific questions in just a fraction of a second. If there is some problem, which is quite complex, then they can automatically bring in the customer service agent for a more in-depth resolution.
4. Helps Customers to learn about things in a Better Way
Chatbots often collect a huge amount of data based on every customer interaction they encounter. This helps them learn more about common issues and how to respond to customers positively. Also, it helps with the analytics on what the customers look forward to and the improvements to the existing problems.
This helps with providing the resources to the customers and redirecting them to services they would like to avail themselves of. This has worked well in improvising the user experience, security measures, and Application Interface.
5. Blends with any time of customer service
In today's time, Artificial Intelligence and Machine learning, like deep technologies, have progressed and advanced to a certain extent that they help chatbots self-learn and adapt to any environment. This also shows that the chatbots in banking can now understand complex queries and assist the customer executive by being a good resource to them.
6. Fastens the Process of Documents
Indeed, the account opening process has been quite difficult and time-consuming. Many documents are verified, and less bandwidth often causes human error while confirming. To make it quite easier, there is a special category of chatbots that uses advanced algorithms to verify the documents without needing any customer executive.
Capgemini did recent research claiming that customers would blend their bank visits with voice assistant applications within the next three years. With the help of Chatbot, Customers can upload all the required documents.
And further, the Bank's AI can verify those documents and process them in real-time. Also, once the process is done, the bank can send the confirmation and schedule an appointment for further processing.
7. Enhances the bank's employee productivity
Having chatbots can offer numerous benefits that we saw in the above points, but this is not only limited to the customers. Chatbots can also benefit employees and save their time by assisting them in answering customers' queries with automated responses and assistance. Generally, Employees do not burn out with monotonous and repetitive tasks. Also, it improves efficiency and makes them more productive.
Some monotonous and repetitive tasks include maintaining a complete database of payroll information, applications for leaves, updating information like contact details, access to personal information, and much more. Once the chatbots in banking automates all such tasks, the banking professionals can focus more on the important tasks. Also, they can improvise the customer experience and help them with any other assistance.
8. Offers a piece of Instantaneous information about customer finances and advisory
Everyone comes from a diversified background, from CXOs of the bank to end customers. The chatbots efficiently provide all sorts of financial information and keep everything confidential. Most of the time, chatbots can provide several insights for knowledge purposes and contextual information.
Chatbots in banking also give customers a complete advisory about their finances and help them find answers to questions like how to invest their money or save it. Machine Learning and Artificial Algorithms help to train them, which demystifies the complex terms in banking and finance to enable customers to make appropriate financial decisions.
9. Chatbots in Banking Helps with Fraud Detection
When customers open an account with a bank, they trust that the bank will keep their hard-earned money safe. So it is quite the responsibility of banks to take extra precautionary steps to keep up with the customer's trust. By Leveraging Chatbots, banks can enhance this as they can be a helping hand to send push notifications while any activity takes place.
Also, suppose any suspicious activities are happening in the bank account, like multiple withdrawals in less time and numerous attempts to make transactions. In that case, the Chatbot can freeze that account for a certain time.
10. Improvises Brand Loyalty
Certainly, there is a lot of pressure on the banks, and they always try hard to retain their customers and grow them based on the activities like cross-selling, up-selling and offering additional products and services. In recent times, the demand for innovation and convenience has certainly increased.
AI-driven chatbots can always be part of the innovation to make your brand big and increase brand loyalty by engaging the customers and helping them to make decisions.
The advancement in chatbots has reached a pace where it can be compared with friends, family, and colleagues. Also, as discussed earlier, it can help to build a personal connection with increased loyalty, retention, acquisition, and conversion.
Building a Chatbot with Banking & Finance IT Solutions: Conclusion
The idea of chatbots in Banking & Finance IT Solutions is quite revolutionary and has been phenomenal for the banks that implemented it. Chatbots in Banking are not a good solution for customers but for employees. It makes it easier for the customers to interact with several other financial services and banks in less time. Chatbots in banking sectors have completely changed the dynamics of how banks used to provide services to customers.
Generally, many banks put great effort into making customer service quite valuable. Still, it is not recognized most of the time as there is no huge customer satisfaction from it. Banks need to blend technology with their services. If you are from the banking industry and would like to implement something similar, you can at any time. Our chatbots in banking solutions can help to improve the customer experience for users.
Do Not Forget To Visit Our Robust and Secure Services:
Mobile App Development Company in The UK | iOS App Development Company In the UK | Android App Development Company in the UK | Web Application Development Agency in the UK | PHP Development Company in the UK | ASP.NET Development Company in the UK | Hire Developers in the UK | Hire Best iPhone App Developers in the UK | Hire Android App Developers | Hire Web Developer in the UK | Hire PHP Developers In The UK | Hire ASP.NET Developers in the UK