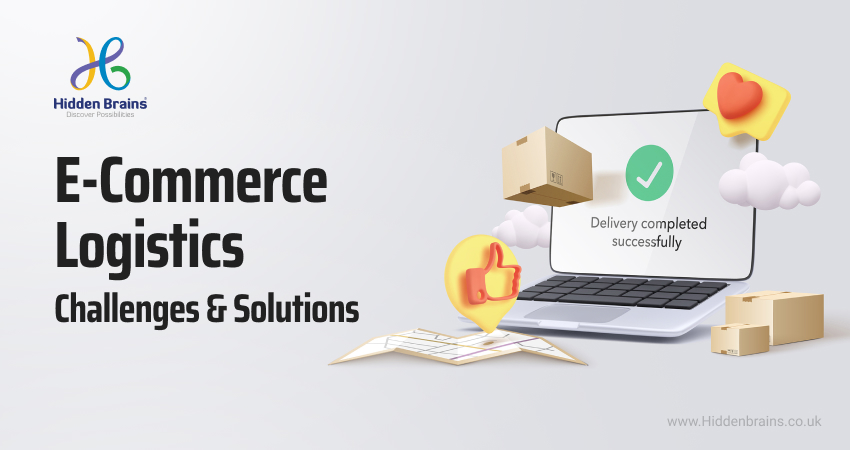 E-commerce logistics challenges- why do you need to pay attention to these issues immediately?
According to the survey, the workflow of e-commerce business majorly involves domestic transactions, linking suppliers and consumers through a digital platform. And maintaining the right balance between these three elements of e-commerce will be really challenging.
According to Statista, the revenue generated by the e-commerce market is projected to reach $166.70 billion in 2023. Also, the projected market volume will be $230 billion by 2027.
As the e-commerce industry grows, the challenges of managing and streamlining the process are also increasing at the same pace. Surely you need to look for innovative strategies and scaling procedures to meet the customers' changing needs.
In fact, after the wave of Covid-19, the E-commerce industry has surged in demand. And you don't have to believe our statement.
In the domain of Ecommerce, Amazon is King!
"Amazon is not only one of the global online retail dominators leveraging millions of active users every month but also set a bar for e-commerce logistics. Amazon ships approx 1.6 million packages per day and out of that 66 thousand orders work out in an hour and 18.5 thousand orders per second. Moreover, under normal circumstances, they have the capability to deliver products within 24 to 48 hours through their prime services."
Do you also have as smooth logistics systems as Amazon has in place?
If not, then it's time to think about the Ecommerce logistics challenges that may be causing hurdles in your business growth.
The E-commerce Logistics Challenges- How To Get Your Products Deliver To The Customers In Time?
E-commerce logistics is an important component of your business but can be hard on your team unless you have the right bandwidth to focus on it.
As online shopping and the E-commerce industry grow, online retailers sometimes don't have the option to manage inventory in store locations.
That's where things got complicated and you'll have to figure out the logistical processes behind how an order is prepared, packed, and shipped, regardless of who is ordering or where they (or the products) are located.
Call us today for a FREE no-obligation quote.
So how do you deliver the same level of quality experience to your customers when you're scaling?
Here are some best practices to refine your e-commerce logistics system and get ready for online orders coming in.
Challenge 1# Handling and Managing Customer Expectations
When it comes to running an e-commerce business, managing customer expectations is essential for success.
To ensure an excellent customer experience, you need to make sure that they are informed of any delays in their orders and that they receive their items within the time frame they expect. This can be done through clear communication with your customers and setting realistic expectations. It is important to be upfront about any potential delays in order fulfillment.
These types of unexpected delays commonly happen for various reasons.
Firstly, when you have an unclear picture of your stock management. For example, you have received multiple order requests for a particular product. But due to a lack of stock availability, your customers may need to face such shipping delays.
Secondly, if you are managing stock at multi-location warehouses and you are not sure what products are coming into the warehouse, how they are placed in the warehouse, and when and where those products have shipped. So basically with unclear data, you can never expect to manage your customer's expectations.
The Solution To This Challenge
The simple way to manage your customer expectation is to start tracking and monitoring your inventory management process. Now how will you manage your inventory?
Related Post: Hоw SааS Logistics Software Can Benefit Your Company
Here are a few pro tips:
Always strive to offer your customers realistic delivery estimates that are based on your current processes. If a customer is expecting their order to arrive within three days, but the average delivery time for your business is seven days, then set a realistic expectation of seven days. This will help ensure that you meet their expectations, while also avoiding any unnecessary customer frustration.
Invest in developing inventory management software by hiring a software development company in the UK. The inventory management systems are integrated with automatic barcode scanners and product labeling features, so you no longer have to manage manual excel sheets to maintain a record.
Access up-to-date inventory information and accordingly keep your customers informed about their order status. This will help you win their trust and provides you with an opportunity to enhance your brand value.
Call us today for e-commerce website development solutions.
Challenge# 2 Facilitating the Same-Day Delivery 
While we are talking about excellent e-commerce logistic services Amazon is the first name that usually sprung to our mind. Being backed by well-planned supply chain systems and resources, they are fastly processing the same day order deliveries. And this is what makes them a leader in the domain of e-commerce.
Several online retailers (small and large) are following Amazon's lead by offering same-day deliveries. Since online retailers have the technical means to facilitate faster logistics, they can benefit from same-day deliveries.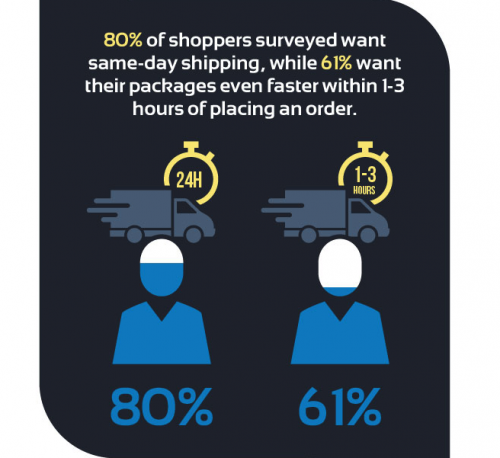 Keeping your business competitive may mean having your goods delivered the same day you receive them.
Managing millions of order requests per day may sound amazing to retailers. But processing them rightly, and making sure that they are delivered within 24 hours- is a highly challenging job. This could be frustrating if you don't have the resources to do so.
The Solution To This Challenge:
Offering same-day delivery services to your customers can be a potential opportunity for your business to generate amazing revenue. According to the survey, 53% of all business revenue has been generated from a subscription model by 2022.
Here are a few expert ways to manage same-day deliveries.
Since these apps are integrated with such features that help you track every movement of your shipments when, how, and from where they are coming and going.
This way you have an idea, about how many orders you have received, how many products are on the way to your warehouse, and from where they are coming. By having a clear idea of this process and having accurate data, you can directly schedule the shipments to different locations as per the order request.
Good to Read: Benefits of AI in E-commerce Solutions
Another way is to offer a subscription plan to the customers and allow them to leverage the same-day delivery. This way, you will get an opportunity to make some additional profit by offering same-day deliveries and being able to easily manage same-day order delivery requests.
Challenge#  3 Managing Return Order Requests
While discussing the Ecommerce logistics challenges, managing returns can be one of the most challenging tasks.
Customers expect their returns to be easy, hassle-free, and super-fast, but without proper systems and processes in place, returns can quickly become a logistical nightmare.
If you are taking your return orders casually, then you need to know that the average e-commerce return rate revolves around 20-30%. And this could be a big chunk of your business that you can't ignore.
So before you jump straight on the solutions, let's get to know the reasons behind the order returns…
Call us today for custom logistics software solutions.
Reasons Why A Customer Chooses To Return an Order After They Received It?
Well, there are multiple reasons behind sending a product back to the e-commerce company, such as:
Sometimes a product is returned because it takes longer time to deliver, and customers are no longer interested in keeping it.
Other times, customers order multiple products on a whim, then upon receiving the order, they return the products that they don't want to keep.
19% of customers order different variations of a single product(like sizes or colors), to make a choice. So finally they keep the products that suit them and return the remaining ones.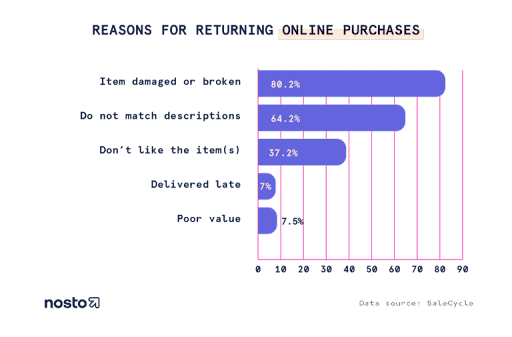 The solution to this Challenge:
The first step to effectively managing your order returns is to always provide your customers with clear information about the process.
Make sure your returns policy is clearly and precisely visible on your website and that customers know exactly how to return items and what their options are (e.g. exchange, refund, store credit).
Creating an efficient returns process to ensure that things will move out smoothly.
Make sure that all goods are scanned and tracked when they arrive back in the warehouse and that a quality control team is inspecting all returned products for any damage. This will help you identify any problems quickly and take appropriate action in real time.
To seamlessly manage your order returns, you need to maintain a good relationship with your shipping partners. Also, make sure you have negotiated competitive rates for the return shipping so that you are not handling the burden of paying too much.
It's also feasible to ensure that your partners offer reliable tracking so that you can keep an eye on where each package is at any given time.
In the end, never forget to review the entire returns process regularly and make any necessary improvements. With this practice, you can reduce costs, increase customer satisfaction, and ultimately able to grow your business.
Challenge# 4 Handling Technical Errors
Having technical errors in your e-commerce process can be one of the major e-commerce logistics challenges. Technical problems can lead to delays in order processing, causing inventory management issues, and may missed customer service opportunities.
If you are not yet serious about handling technical issues, then you might lose the potential share of your business. In fact, there is 28% of the time used to spend on manual fixing.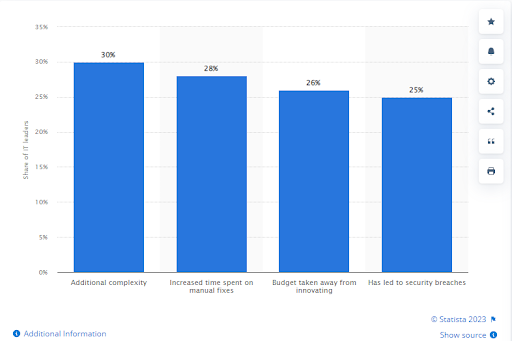 Solutions to the Challenges:
However, there are a few steps that businesses can consider to minimize the risk of having technical issues or addressing the problems much more efficiently:
The most impactful and easiest way to handle such data errors is to develop inventory management software. Having an inventory management solution developed by professional coders can be a great relief for organizations. As it is integrated with a feature that can automate the inventory management process, therefore, keeping a track of the data becomes easier.
With these custom inventory management solutions, ensure that all systems are properly integrated and systems should be connected so that data can easily be exchanged between them. This will allow for more accurate tracking of orders and inventory, reducing the risk of technical errors.
Further, make sure your business should ensure that its e-commerce platform is up-to-date with the latest software and security patches. This will help prevent system vulnerabilities and reduce the risk of data breaches.
In addition, have clear procedures in place for responding to technical errors. Every team member should understand what steps to take when a technical issue occurs and who to contact for assistance. Establishing the right communication protocol will ensure that technical issues are addressed quickly and effectively.
Challenge 5# Struggling To Find the Right Shipping Partners
One of the most terrible e-commerce logistics challenges is, being partnered with a shipping company that has a lack of professionalism or resources in place. It won't be wrong in saying that shipping partners are the real backbone of your e-commerce business.
No matter how wonderful a product catalog you have, it is a waste if you are not able to deliver to the customers when needed. Having reliable and efficient shipping partners can be a major asset for e-commerce businesses.
But when you will landed on the market, you will encounter hundreds of service providers. So how would you make sure that you are partnering with the right shipping partners?
Call us today for a FREE no-obligation quote.
The solution to the Challenge:
Here we are sharing a few tips that help you narrow down the reliable shipping partners:
So first things come first. When you are hunting for shipping partners, make sure to evaluate the cost of shipping, turnaround times, customer service, and tracking capabilities.
The second thing that you need to pay attention to is the reputation and their shipping policies. With this, you will have an idea of how expert and reliable they are.
Another thing to look into is the company's geographic coverage. Some shipping partners may only operate in certain areas, while others offer global coverage. It's important to choose a partner that can meet the needs of all your customers, no matter where they are located.
Lastly, consider any unique needs you may have, such as special packaging or delivery options. Finding a partner who can accommodate these needs is essential for ensuring customer satisfaction.
Conclusion: How Do Hidden Brains UK Can Help You Overcome E-commerce Logistics Challenges?
Whether you are starting up an e-commerce business or already an e-retailer, supply chain, and logistics can be a big part of your business. But many times it's challenging to have the right amount of resources and warehouses to ensure a smooth supply chain. That's where e-commerce logistics challenges occur and things got complicated.
The simple solution is to automate the process so that you can have a better monitoring system, track inventory, manage warehouse layout, and more without having any issues. Hidden Brains UK is one of the leading software development companies that can help you build custom inventory management and supply chain software that enables you to overcome all such logistics challenges.
So if you have any app development requirements to manage your e-commerce business then you can contact us or drop a query below.
FAQs
What Is E-commerce Logistics?
E-commerce logistics is the system that helps to organize the storage, transportation, and delivery of products that are purchased online. This includes managing the supply chain to ensure that customers receive their orders on time. E-commerce logistics also involves tracking the inventory of items in order to prevent overstocking or understocking.
The success of e-commerce businesses is largely dependent upon an effective e-commerce logistics system. Without efficient logistics processes, businesses risk losing customers due to poor delivery performance or high return rates.
How To Over E-commerce Logistics Problems?
1. Have an efficient system in place: To keep up with the ever-changing demands of customers, it is important to have an efficient logistics system in place. This can help reduce time and costs associated with shipping and handling.
2. Leverage technology: Automating the fulfillment process is key to increasing efficiency and accuracy. Utilizing the latest technologies like Artificial Intelligence and Machine Learning can help improve customer experience and provide cost savings.
3. Create a tracking system: Establishing a tracking system will help you stay up to date on shipments, packages, and inventory levels. This will allow you to identify any potential delays and quickly address them to keep customers satisfied.
4. Keep accurate records: Developing a system to record customer orders and shipment information is essential for keeping track of all your orders. This will help you identify any discrepancies and avoid costly errors.
5. Invest in strong customer service: Having a strong customer service team is essential to dealing with any logistics issues that may arise. Customers want a seamless experience, and addressing any problems quickly will help ensure customer satisfaction.
By following these tips, you can make sure that your e-commerce business runs smoothly and your customers are always happy with their purchase experience. With the right strategies, you can ensure that your business remains successful in the future.
What Are the Major Components of E-commerce Logistics?
E-commerce logistics involves the management and coordination of a variety of activities, ranging from inventory management to order processing and delivery. The major components of e-commerce logistics include:
• Inventory Management: Properly managing inventory levels is essential for efficient e-commerce operations. This requires setting accurate stock levels and keeping track of stock availability.
• Order Processing: This involves managing customer orders, ensuring that products are shipped on time, and keeping customers informed about their orders.
• Fulfillment: This refers to the physical aspects of delivering orders, such as packing, labeling, and shipping products.
• Warehousing: An effective warehousing strategy is necessary for ensuring efficient order processing and timely product delivery.
• Transportation: This involves selecting the most cost-effective and reliable way to transport products to customers.
• Returns Management: This involves developing processes for handling returns in an efficient and cost-effective manner. 
Overall, having an efficient e-commerce logistics system in place is key to success in the online retail space. By properly managing inventory, order processing, fulfillment, warehousing, transportation, and returns, retailers can ensure that they are able to deliver their products on time and provide a positive customer experience.
Why Investing in Inventory Management Software Is Beneficial?
Investing in inventory management software can provide many benefits for e-commerce businesses, especially when it comes to logistics. Here are some of the main advantages:
1. Increased Efficiency: Inventory management software can help streamline your processes and make them more efficient, reducing the amount of time it takes to complete a task. This can significantly improve customer service, as orders can be processed faster and products shipped out quicker.
2. Improved Accuracy: Inventory management software helps ensure that the right product is sent to the right customer at the right time. This reduces errors, which can save you time and money by avoiding returns and refunds.
3. Cost Savings: By utilizing inventory management software, you can eliminate manual tasks such as manually checking stock levels and reordering items. This saves time, which in turn saves money. In addition, you will be able to track inventory levels more accurately and reduce costs by not ordering too much or too little. 
4. Better Forecasting: Inventory management software provides detailed reporting which makes it easier to forecast future demand for certain products. This allows you to order and restock items in advance to meet customer demand, which keeps your customers happy and avoids stock outs. 
Overall, investing in inventory management software can help you optimize your processes and improve efficiency, accuracy, cost savings, and forecasting. All of these advantages can contribute to better customer service and increased profits for your business.
How Much Does It Cost to Build An E-commerce Logistics Management App?
Generally, app development costs start at around $10,000 to create a basic version with essential features. For a more advanced version, you may need to invest in more advanced technologies, which could increase the cost up to $50,000. Ultimately, the cost of creating an e-commerce logistics management app will depend on the specific requirements of your business.
Do Not Forget To Visit Our Robust and Secure Services:
Mobile App Development Company in The UK
|
iOS App Development Company In the UK
|
Android App Development Company in the UK
|
Web Application Development Agency in the UK
|
PHP Development Company in the UK
|
ASP.NET Development Company in the UK
|
Hire Developers in the UK
|
Hire Best iPhone App Developers in the UK
|
Hire Android App Developers
|
Hire Web Developer in the UK
|
Hire PHP Developers In The UK
|
Hire ASP.NET Developers in the UK