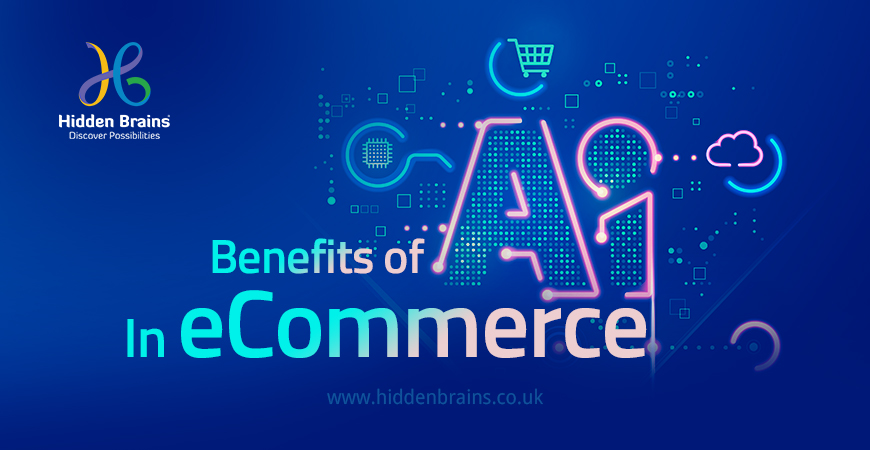 Artificial Intelligence has made huge progress in several industries, out of which eCommerce and marketing are one. Technology has impacted not only the technical side of any business but also the marketing and targeting, logistics, and order placing. So this blog "Benefits of AI in Ecommerce" can be the next move for your business growth.
It has brought some evolutionary advancements that have changed the eCommerce Industry significantly. According to recent research, approximately 99% of high-growth companies and startups invest in Artificial Intelligence to yield amazing results. This blog will discuss how AI solutions have impacted Ecommerce and some important tips to leverage AI for your online store.
AI is bringing a paradigm shift to the Ecommerce Industry
Artificial Intelligence is much more than a novel technology known for its "cool factor." Implementing an Artificial technology-based solution could impact your business functions in a positive way for your Company. To understand this better, it is important to have foundational knowledge about several important components of artificial Intelligence.
The Definition of Artificial Intelligence is widespread and consists of important concepts such as machine learning, natural language processing, and data mining.
Data mining is the process where both historical and present data are collected to make predictions.
Natural Language Processing(NLP) emphasizes human-computer interaction and how computers process human language.
Machine Learning encompasses several algorithms applied to the data collected to solve some problems. Another concept called Deep Learning involves several-minute layering algorithms that help to get better insights into the data.
In the last couple of years, AI technology has come a long way and has become one of the most powerful technologies to boost sales and make company operations efficient. Many small-scale and midscale eCommerce companies are using AI technology in different aspects.
Benefits of AI in Ecommerce Companies
One great example is Amazon. Amazon has benefited a lot from artificial technologies and several other deep technologies. It uses machine learning as an underlying technology to enhance the product selection process and improvise the overall user experience with less turnaround time for product delivery.
McKinsey and Company recently published a publication that has shed light on how businesses utilize AI. Some of the benefits of AI in Ecommerce are listed below.
Enhancement of overall Customer experience
In recent times, personalization has become a buzzword when it comes to applications and websites. As per the statistics, personalization plays an important role in customer retention. Personalized messages and one-to-one conversations help you to stand out from your competitors.
With constant advancements in AI and Machine learning algorithms, it has become possible to design content per the user's interest. Analyzing the large chunk of data related to customer interactions and purchase histories would help you to deliver the messages that customers could connect with.
Makes the Management process quite easier with Automation
Implementing Automation would help you to accomplish a task without minimal human intervention. Your team members do not need to spend much time performing monotonous tasks like scheduling emails in CRM.
Automation can help you to minimize repetitive tasks with the help of AI and give you much time to focus on some important tasks. Further, you can also use AI to automate low-level support, loyalty discounts, product recommendations, etc.
Makes Sales End to End process quite efficient
With the help of AI technology, you can make the funnel more effective for efficient sales. Based on customer activity, such as abandoned carts, you can create some automated follow-ups with the customers. This will be quite helpful for the customers as they check into the sales funnel.
You can leverage Chatbots to help customers with the answers they want.
Increased Customer Retention
Delivering what the customers want through personalized messages and advertisements can retain your customers for long. As per the Mckinsey Omnichannel personalization research, there is quite a significant potential of increasing sales by 10-15 percent with omnichannel personalization strategies.
Prevent fraud and cyber attacks
Embedding AI with eCommerce businesses would also help you to avoid threats and frauds happening in recent times for online businesses. A recent study shows that the global fraud Index has reached 45 percent in the recent few years.
However, with AI and ML, you can do wonders. With the help of Machine learning, you can make some real-time discussions and fix any vulnerabilities in your website without affecting customers. Also, this would help you to prevent any hacks.
AI use cases in E-commerce Industry
AI-enabled digital assistants can help people make grocery lists and order them in minimal steps. Also, with AI, it is quite easy to predict customer activity in advance based on their past activity. In this Section, we will discuss some of the important use cases of AI in the commerce industry.
Sentiment Analysis
The NLP algorithm can help you find the difference between fake and real product reviews, which can notify you that they can affect your business or the products negatively. To get the proper sentiments about the consumers, AI-based NLP Solutions can help you to find some great insights about customer sentiment that you can use to enhance product quality.
Demand Forecasting
Demand Forecasting algorithms and models in the eCommerce industry can be quite useful as it helps to accurately and more efficiently predict the future demand of the products. This helps you manage the correct inventory stock level of certain products. For demand forecasting, it is important to have the perfect algorithm and historical data to analyze the product's sales and demand, which may fluctuate in the future.
One commonly used algorithm is Time Series Prediction, which can predict the data for up to 2 years of future demand. Without utilizing AI technology, it is quite difficult to create a demand forecast system. Many eCommerce solutions now amalgamate AI technology that helps them anticipate the customer's needs and get an edge over their competitors.
AI-based Product Recommendation System
If you have used some eCommerce websites, you might have seen a dedicated section mentioning "Products you Might like." This Section is completely based on the AI-based recommendation model. Based on what customers like and the products they explore, the underlying AI-based Model provides the best product recommendation that could be similar to what the customer wants. This has significantly increased the conversion rate by 90 percent for several eCommerce websites.
Chatbots and Virtual Assistants
Many websites have now integrated different AI-based eCommerce chatbots, through which many customers have interacted. If your eCommerce website still doesn't have the chatbot integrated, then there are maximum chances that you may lose some of your customers.
To provide day customer support, it is essential to have chatbots that can assist your end consumers anytime. Some of the benefits of integrating chatbots in eCommerce websites are as follows.
Address the customer's requirements with complete insights.
Leverage NLP makes chats do voice-based communication with the customers.
Ability to provide customized and personalized offers to customers.
How to integrate AI with your eCommerce Website?
In the above few sections, we have seen how AI has different advantages and use cases in the Ecommerce Industry. Well, now it's time to leverage the benefits of AI in eCommerce to get smarter trends.
AI could not only help the eCommerce industry by improvising the customer experience but also by identifying the gaps in management and marketing strategies. With the help of eCommerce Website Development services in the UK, you can work on integrating AI with the already existing solution or a new solution.
Integrating AI with e-commerce websites could sometimes be tedious and difficult for business developers. Hence with such companies, you can Fast Track the process and stay ahead of your competitors.
Some of the common tips to implement AI into Ecommerce are the following.
Create a correct strategy. A strategy would help you to identify the correct path you need to follow to integrate AI
Find the use cases that you would like to include with your traditional strategies.
Consult with AI-specialized Consultants and third-party expertise. The experts would help you to build the minimum viable product.
Create a full-scale solution. Once you have the MVP, you can take that as an inspiration and build a complete end-to-end solution. This will help you to leverage some of the best benefits of AI in Ecommerce from the projects you build.
Conclusion
AI has a greater potential for eCommerce businesses to analyze and study the huge number of interactions daily and try to improve the customer experience. By leveraging AI, the sales team is now much more empowered with information that most of us have never imagined. With the help of AI, it has become quite possible to build a sales cycle through AI-based applications and engage with the right prospects at the right time.
Moreover, AI technology will enormously impact and benefit the eCommerce Industry in the upcoming decade. It will challenge the current way of doing e-commerce businesses and improve how consumers interact with the eCommerce platform.
Artificial Intelligence is constantly evolving, and in the era of social media applications like Instagram and Facebook, there is a rapid increase in AI-based platforms that are essential for eCommerce companies.