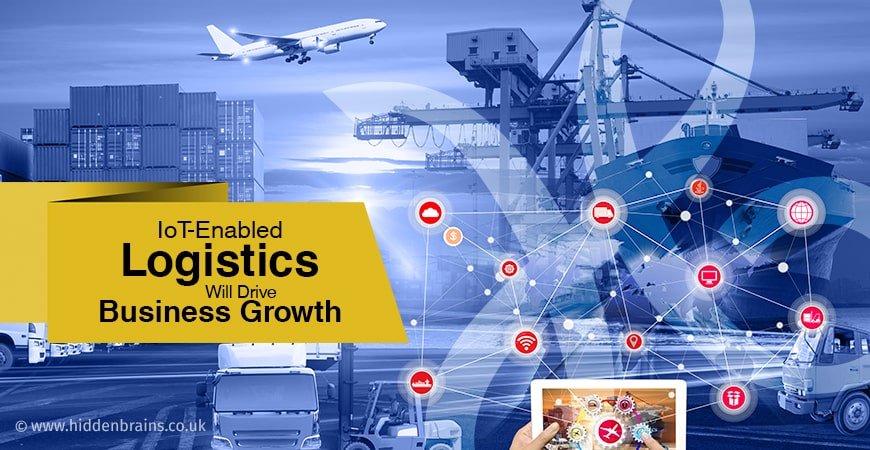 Getting used to a world where we live and breathe internet, the term or experience of 'connectivity' is usually taken for granted. We are completely dependent on these digital devices and extremely addicted to this connected world. The accelerating influence of internet of things in logistics is seen in the way we communicate with each other and entertain ourselves.
Internet of Things (IoT) has always been the much desired ecosystem where several physical devices (smart gadgets) are wirelessly connected to each other in same network. This technology has influenced our way of living drastically by integrating different technologies such as Bluetooth, RFID, Wi-Fi and Zigbee over wireless networks.
In this blog, we shall discuss the prominent role of IoT in Logistics and Transportation Industry.
As a stated in a new market report on the IoT in logistics market published by Transparency Market Research, the global Internet of Things in logistics market is projected to reach US$ 63,728.6 Mn by 2026 driven by exponential rise in IoT applications in logistics.
Internet of Things in Logistics and Its Impact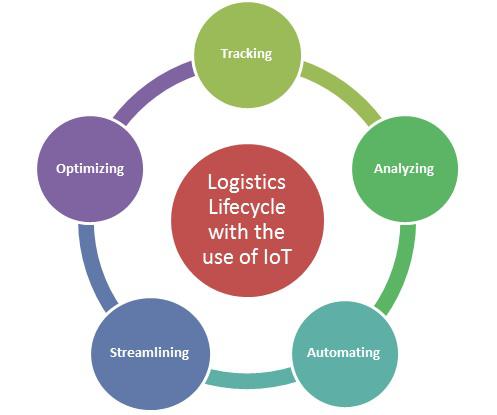 Logistics operators, business as well as end consumers are seen the bright side of IoT when implemented to complement Logistics operations. Experts identify areas in Logistics operations that can be automated with Internet of Things. Scrutinizing the processes involved in the entire logistics value chain, experts find a way out to integrate warehouse operations, Warehouse Automation, freight transportation and final delivery with the help of an integrated IoT system.
Some may argue that launching such IoT systems is expensive. However, when compared the benefits of this system with respect to safety and security of workers, their overall operational efficiency and improved customer experience, the cost at which it comes seems to be a reasonable deal.
Following pointers will give you a clear picture of impact of IoT on Logistics operations management:
Get real time updates on each operation of logistics

Check the status of assets or parcel and get accurate information about the same

Monitor and analyze how the assets are performing to improve their overall speed and cut the time to delivery

Automation several operations by programming devices to work as per a set of predefined rules in order to reduce human intervention, eliminate human error, improve quality and lower the costs.
Such real time tracking of parcels and assets helps in optimizing the overall logistics operations lifecycle.
What Drives the Need of IoT in Logistics?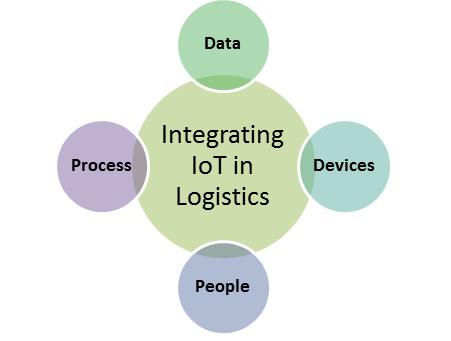 Cloud computing and Big Data have made it possible to manage large data sets and analyze it using appropriate tools. While such technologies are now easily available, logistics industry aims to make the most of IoT to gather large amounts of data that could help them in refining operations for maximum benefit.
Some obvious reasons that dictate the need of IoT in logistics industry are as stated below:
Customers expect complete transparency and integrity control throughout supply chain management project.

End consumers demand to track the shipment of their product, which is quite easy with an integrated IoT system in place.

Reduce manpower for customer support related to tracking & shipment queries by providing end users with unique tracking ID to check real time status of the shipment.
Talking about the practical implementation of  IoT)in Logistics, here is how the technology can help in maximizing the overall performance:
Operational Efficiency 
Optimum utilization of assets that are connected within an IoT network results in higher operational efficiency. 
Management of Traffic and Fleet:

Vehicles are a valuable asset of logistic firm and play a significant role when it comes to traffic and fleet management. Transportation and automotive industries are investing heavily on connected vehicles so that the entire delivery system can be paced up with IoT.

Monitoring of Energy & Resources:

IoT capabilities are used in effective monitoring of electricity, water and natural gas consumption. It is possible to implement smart grid with an integrated IoT system that prevents disasters and also reduces waste. 
Tracking Equipment
While Logistics operation requires utilization of quite a lot of equipment, it becomes mandate to keep a track and check status of each of them.
Real Time Status of Equipment:

Use audio and visual sensors on tracks to monitor vehicles and get real time updates on them. These sensors send notifications to IoT system on when and where vehicle reached from time-to-time. This reduces risks of delivery failure due to derailment delay or equipment failure.
Smart Inventory Management
IoT in Logistics help transportation to streamline process in an effective manner and improve the performance of the warehouses.
However, the 'Internet of Things' solutions help companies ranging from startups to large enterprises to avoid a lack of future products and failures.
It also plays a huge role to deliver the products on time as the whole process will be streamlined, so there will be not any chances to delay the delivery to customers.
Smart sensors can easily track inventory items and monitor their status on a daily basis.
Along with this, on the requirement IoT-based equipment and apps can automatically give orders. Smart solutions lead to not overstock the products and save space in the warehouses.
Fleet Management
Only the inventory management process is not sufficient, in transportation and logistics, Fleet management is the major challenge to maintain infrastructure.
With advanced IoT sensors, enterprises can improve the overall performance by maintaining the schedule of employees, daily monitorization of vehicles and their usage with real-time information.
In the logistics and transportation industry, it is essential to get connected and have real-time information of field and vehicle information.
Innovative Internet of Things smart solutions help to enhance communication among enterprises and carters.
With the help of IoT in Logistics Its connectivity offers a smart location management system which helps to track vehicles, increase response time to unexpected scenarios. Along with this, it also helps in managing operations such as vehicles, drivers, and staff on the field.
IoT apps and devices help to eliminate hard and soft copies from the process, with biometric easily the operations can be streamlined and it will also help to increase productivity with real and accurate data.
Daily Monitoring
The Internet of Things helps you to monitor daily activities, so it will never all you to face future challenges.
It monitors inventories, productivity and human performances, on a daily basis processing to get productive and efficient results without any errors.
Helps to Engage customers
Smart Inventory Management and Daily Monitor activities don't affect end-user.
For customer satisfaction, IoT in logistics has other benefits also, as customers can track their orders and have real-time information.
Real-time information helps to improve the customer's experiences which brings them to the service.
By robust delivery chain and real-time information and access, features help to increase customer satisfaction.
You Might Also like: Impact of Emerging Technologies on Logistics software solutions
Future of IoT in Logistics and Transportation Industries
In the coming years, IoT has a tremendous growth in the transportation and logistics industry. Internet of things in logistics will open several opportunities for different industries, in future this IoT technology will get more enhanced and offer many other features on fingertips with limited access.
It is expected that it will increase supply chain productivity, reduce cost, and human errors. Cloud-based solutions will be in high demand in the industry and sort out the minor and major challenges of the industries. This technology will improve the working condition of the resources also.
Future goals of IoT for the Logistic sector
It is expected that the future of iot in logistics is bright as experts are continuously enhancing its functionalities in the industry – 
Advanced Security – Detect theft
The major goal of the Internet of Things is to turn the warehouses more secure and provide full control to the store managers. With connected applications, business managers can have access to their warehouses. They can track the activities in the stores for 24*7, anywhere and at any time. However, IoT offers connected applications, which increase the control of the warehouses and turn the monitoring easier. Along with this, it also provides transparency to the system. 
Undoubtedly, several functionalities also offer connected infrastructure, which allows to monitor and track the assets on every step. 
Increase Human Safety
In the logistics industry, there is a high risk of getting injured with an unreliable machinery system. It leads to the losing of the lives of the staff. 
But in future one of the crucial aspects would be increasing employee protection, eliminating the role of humans in handling hazardous equipment. On the other hand, experts are trying to boost the functionalities of real time IoT sensors with the aim of quick response time, if the employee gets injured. 
Internet of Things industry experts design the future wearables in such a way in which they can improve the employee safety in a better way as compared to the traditional way. Several wearable sensors can detect the immediate errors and even automatically inform the managers or raise voice on a particular dedicated platform, where they can get help instantly. 
In future devices,  we can expect that the wearable sensors will have an ability to detect the accidents and call ambulances also. 
End to End Product Tracking
Those days are gone, when business owners worried about the product getting delivered on the doorstep. Now, with the advent of technology, the process has been simplified. Presently, business administration can track the product and know the status of the product. 
IoT experts help to increase the transparency of the delivery process and turn it more advanced and relevant. It is considered as a primary objective for the business owners and they prefer this procedure should turn into more smooth. 
In future, logistics software solutions are expected to be designed in such a way that they can automatically track the status of the order at every stage and they also deliver the status to owners and if there is any delay, so the wearable device will send an update to the concerned or tech person to sort it immediately. It will help you to avoid the future failures and you can streamline the process in an accurate manner.
In the future, all logistics and transportation based industries will opt for IoT solutions and leverage their benefits.
Related Post: Top IoT Trends 2020
Future Outlook of Logistics and Transportation Based Industries

The prominent role of Internet of Things in Logistics and transportation industry is gauged with millions of shipments that are moved each day, either through machines or people. Connecting different assets of supply chain in an organized way, IoT has proved to be a perfect match for this industry.
Data collected in the process should be analyzed overtime to derive meaningful insights on optimizing the process, people, vehicle and operations. Experts of the industry are already researching on how IoT can unlock higher levels of operational efficiency to offer dynamic and automated services to customers. IoT is surely a disruptive trend in Logistics in the coming decade.
Hidden Brains UK takes pride in serving Logistics industry enthusiasts with its next-generation IT driven solutions and amalgamation with trending technology of IoT. Know the prospects of your business requirements by requesting for a free quote today!