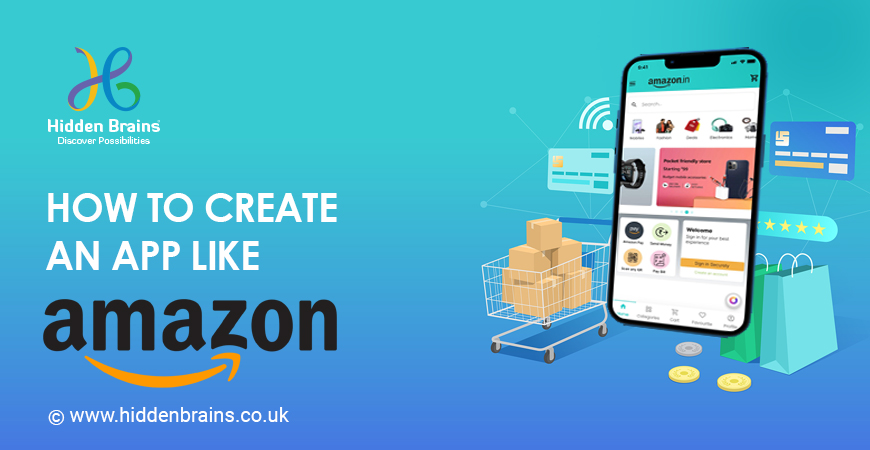 With the fact that global internet access and adoption rapidly increasing with over 5 billion internet users worldwide, the number of people doing online shopping is also growing at the same pace.
According to the Statista, retail e-commerce sales were estimated to cross approximately 5.7 trillion in 2022 and are predicted to reach new heights in the coming years.
If you are also into a retail business and still working with the brick-and-mortar model, then it's time to create a digital presence. By developing an online ecommerce app you can take your business to the next level and allow customers to buy and sell products online.
And when it comes to developing a multi-e-commerce app, Amazon is a dominating leader that is worth over $1.105 trillion in 2022. Moreover, it has over 300 million active users and ships to more than 100 countries including Cuba, Iran, North Korea, Sudan, and Syria. 
That's not all!
There are billions of people using Amazon around the world but around 100 million users are spending over $1000 on Prime membership. 
If you are wondering why Amazon is so popular then you need to check out how it exactly works…Here is a quick video to learn about Amazon and its mechanism.
After this video, surely got to know that there are several reasons why customers prefer shopping online with apps like Amazon to shopping offline.
Cost-effective
Saves time
 Endless choices for what you are looking for.
Apart from these key highlights, there is one such thing that makes it stand apart from the market competitors its "SAME DAY DELIVERY".
Amazon Prime members can get the delivery of products within 24 hours, which is not only its key selling point but also a major revenue generation strategy.
Take advantage of great discounts and EMI options on your favorite products in apps like Amazon.
Call us today for a FREE no-obligation quote.
Why is Amazon popular?
Amazon is the world's largest retailer. It has made its position among one of the top five largest companies in the UK, alongside companies such as Google, Facebook, and Microsoft.
Amazon is essentially an online marketplace that associates buyers and sellers. As an online marketplace, apps like Amazon are in great demand. The most important interactions and revenues for e-commerce come directly from mobile apps. Mobile web shopping is the top e-commerce channel and retailers creating interactive mobile websites have the opportunity to succeed and grow as m-commerce expands.
Amazon's popularity is a result of its customer-centric approach. They make whatever the customer needs. As a result, Amazon's platform is not only customer-friendly but also makes the shopping experience memorable and keeps returning customers to the app.
Hopefully, you have got an idea about how Amazon works, its popularity, and reasons for developing an ecommerce app like Amazon. But if you planning to create an ecommerce app like Amazon, then what things to keep in mind…
What Makes Amazon A Winning E-commerce App Over Others?
Amazon is such a huge app that has not been developed overnight. With each phase of its success, it has been enriched with advanced features and technologies that make it a winning combination for buyers and sellers. So if you have finally decided to create an app like Amazon, then you need to understand the key highlights of Amazon that make it a prime choice for buyers and sellers.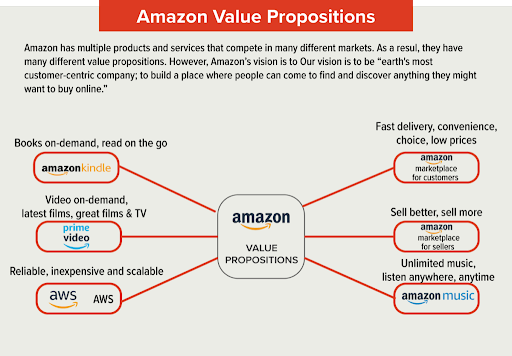 There are several technologies and features that make Amazon a winning e-commerce app:
Personal Shopping Assistance: For personal shopping recommendations, Amazon relies on the latest technologies and uses a recommendation engine that uses machine learning algorithms to suggest products based on a user's browsing and purchase history. This personalization helps users find products that they are likely to be interested in, which improves their overall experience on the app.
One-Click Purchase: There is one such feature that makes Amazon a winning choice its one-click purchase feature. It allows users to buy products with just one click without leaving the current page. This reduces friction in the purchasing process, making it easier and more convenient for users to buy products.
Reviews and ratings: The review and rating system of Amazon allows users to leave feedback on products they have purchased. This helps other users make informed decisions when buying products and also helps Amazon improve its product offerings.
Same-Day Delivery: As Amazon has heavily invested in its logistics infrastructure, therefore it offers fast and reliable delivery to customers even on the same day. This is a key differentiator for Amazon, as it allows users to receive their products quickly and reliably, and on time.
Seamless User Experience: Users are instantly drawn into Amazon's product catalog by its highly appealing and engaging user interface. Consumers can quickly narrow down their product selection by using different search filters.
Multi-Payment Methods: Whatever method of payment you choose, Amazon accepts it through a variety of channels, including credit cards, debit cards, and digital wallets like Amazon Pay. Users may easily make purchases thanks to the variety of payment alternatives.
Seamless Integration With Other Amazon Services: The ability of Amazon to be combined with other Amazon services like Prime Video, Prime Music, and Kindle is its strongest feature. Users who use different Amazon services benefit from a smooth experience as a result.
These are the few things that you need to keep in mind when planning to create an ecommerce app like Amazon. So what features do you need to pay attention to?
Features of Amazon that make it successful:
Mobile app development companies provide Amazon with a smooth mobile app with a great user experience that makes purchasing very easy for users.
By storing card data, Amazon saves customers time and encourages continued use.
The mobile website and app have the same design, so users feel familiar with and comfortable on all platforms.
A common shopping cart across all platforms makes it easy for customers to shop for multiple products.
 Intelligent product recommendations are the biggest feature that has made Amazon so successful.
There are two parties involved in the app. One is the retailer and the other is the user.
Retailer or Seller panel: Amazon offers a registered seller space on its platform. Retailers have accounts that allow them to host different products in apps like Amazon. Store owners and brands are given access to this space.
Buyer or User panel: Buyers, on the other hand, have separate accounts where all products are displayed. You can add shopping items to your cart and choose to pay now or pay later with different purchase options.
Call us today to build app like amazon.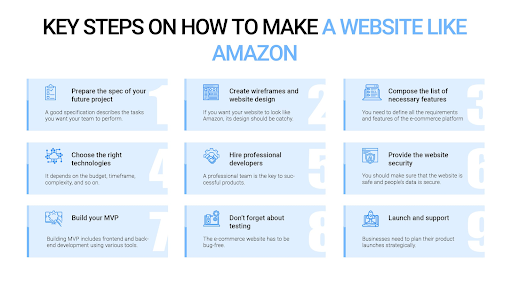 Steps to design a successful eCommerce app like Amazon for business
Clear objective for the app
From pictures to content to the user interface and finally the backend development, all materials should be designed with your business goals and end users in mind.
Before you jump into the event process, double-check that you have a clear goal for building an app like Amazon.
The more clarity you have, the better the developer will understand your needs.
Once you've decided which products you want to sell and who you want to offer your service to, the next step is to analyze the market in your particular niche.
Take a closer look at services and apps that sell similar products. That way, you'll know what features are essential for your niche, and you can keep going in the same direction without making mistakes.
The reason behind Amazon's customer satisfaction
Taking a look at an app like Amazon, questions may arise that what made apps like Amazon such as successful internet retailers. What leads the industry in sales and customer satisfaction index? The company went online as an online bookstore, had an inventory of books available for sale, and quickly became one of the most successful startups in the field.
One of the biggest factors in Amazon's appeal to customers was its easy-to-use interface. When a product is well-designed and has a user-friendly interface that customers can easily navigate, search time is reduced and users can meet their needs quickly and more efficiently. This leads to increased productivity for both users and brands.
Essential features
The faster you build an e-commerce app like Amazon, the more time it takes to advance user feedback, create valuable content, engage with customers, and market your app to support it.
Following are the essential features you need to keep in mind while instructing the mobile app development companies when you build an app like Amazon: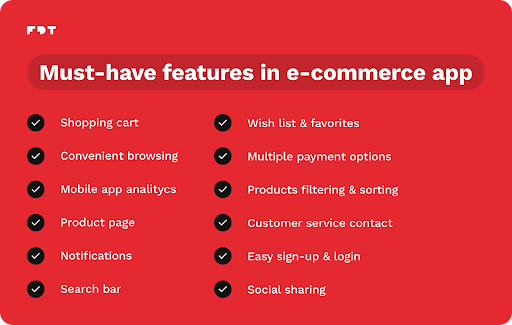 Customer reviews: Encourage users to rate the products they purchase and leave reviews. Positive reports assure potential users that they can trust your brand, product, or service. Up to 84% of customers say reviews are important to their purchasing choice.
Product Search: A retail search is an important tool for those in the business of introducing products to users and potential customers because it makes products easier to find online and easier to find and buy. Add many filters and high-quality indexes to help users find what they need in the app quickly.
Customer log-in: Allow customers to browse your shop as guests without entering a lot of personal information. At the stage of mobile app development, provide additional login options via email, Facebook, and Google.
Checkout: Checkouts need to be smooth. Customers want free shipping benefits, so shipping charges can set them off. The app's sluggishness and lack of different payment choices can also affect their decision. Show users the percentage of steps that must be completed to close the deal. Users are much more patient when they know exactly how much time they need to invest in a store. Make checkout as easy as possible. Don't confuse your customers with avoidable questions or options. Direct logged-in users to the order summary screen without verifying MasterCard and freight information.
Payment gateway: This is often the easiest and most protected as it accepts payments online. When a buyer makes a sale, the payment gateway collects and verifies her MasterCard details, sends the information to the bank, and transfers the funds to the account. This process involves delicate information, so your payment gateway must be 100% secure and trustworthy. Only use systems that are authentic and reputed, and comply with payment management standards such as PCI DSS. Don't forget to boost your sales by integrating numerous payment options like Google Pay, Paytm, Amazon Pay, PhonePe, and Apple Pay.
Shipping: One of the reasons for the accomplishment of e-commerce apps like Amazon may be its system of warehouses for quick delivery. Most buyers now expect free or cheap very fast shipping, so spend your days. There are many freight APIs that you can integrate with your e-commerce apps to enable fast and cheap shipping. To accomplish the experience as easy as possible, please indicate the delivery time and bill on the product page. Make your shipping form as user-friendly as possible. Allow various input formats and ensure that input fields are not covered by user interface elements.
Recommendation engine: Such systems range from simple algorithms that recommend products that support user preferences to highly complex implementations of AI and machine learning.
Systems like this add an exclusive touch that increases user retention, uncovers cross-selling connections, and ultimately boosts your bottom line. Recommendations are best advertised on the home screen, product page, and cart. But you can also email targeted discounts to people who browse a specific product category.
Looking to build an app like Amazon?
How to get a professional design?
Good design is a distinct powerful tool for capturing customer attention. Most users form their opinions solely from the visuals supported by the online shop. Here are some important tips for newly released apps.
Design a clear logo
This is often the first thing potential customers see before deciding on your app. You don't get a second chance to make a first impression, so don't spoil it. Make your product stand out. The user remembers 80% of what he or she sees, but only 20% of what he or she reads.
Use a white background for any images you use – make sure your images are high quality and stand out from all angles. Display large pictures to grab your audience's attention. It allows you to choose to focus seamlessly. You can also use a short video to showcase your product. This is a technique that has been shown to get more attention than the simplest photo.
Also Read: How Much Does it Cost to Develop an App like Ludo King?
Choosing the platform
iOS accessories are more popular in North America and the UK, while Android is preferred in the rest of the world. The common practice is to first build an e-commerce app like the Amazon Shopping app for iOS and then port it to Android, since from a developer's point of view, iOS development e-commerce mobile apps only need to be optimized for the two latest versions of Apple devices and operating systems, making it more convenient and less time-consuming.
Android should be optimized for larger types of devices and screen resolutions that linger on events. Of course, you can save time and capital by supporting only the most popular Android devices. If the platform's dominance is in fast-growing markets like China, it means that you should consider developing a shopping app for Android. Alternatively, the easiest way to have both worlds is with a cross-platform app.
Technologies like React Native allow android app development services and iOS app development services to reiterate up to 95% of their code between iOS e-commerce app development and Android e-commerce app development, so their native counterparts look, behave, and behave the way they do. and how it works.
Observe product growth and support
After successfully launching your developed mobile e-commerce app, it's time to improve your product. During this phase, collect user criticism, do additional analysis, and decide which features to implement in the next development cycle.
Organizing technical support
Create a clone of the app like Amazon so that if something goes wrong and you need to contact a disgruntled customer, that can help. Complaints and suggestions pages are necessary because most users prefer to share their frustrations without leaving the app or making a phone call.
We also recommend having a comprehensive FAQ, contact list, and staff available 24/7 to handle user complaints. One way she makes customer service more efficient is by creating a dedicated chatbot.
The Amazon clone app makes money
Subscription – Amazon charges sellers a fixed subscription amount for introducing their products on the platform.
Fees – Amazon collects a percentage fee for each product sale. Fees vary by product category and product price.
Logistics – The majority of your sales come from the logistics Amazon provides to ship your products. Any additional charges that Amazon imposes on the delivery of each item go directly into its funds.
Cost of making apps like Amazon
Wireframes – It helps you understand the basic mechanics of an Amazon clone app. It's a rough template where an idea is developed before it becomes a real app. It costs about $1000 to $5000.
UI/UX Design – App design i.e. the interface is the most crucial thing to appeal to and attract users. The design portion of the cost to build an Amazon-like app is around $7,000-$10,000.
Development – ​​This is the most critical part of e-commerce app development and this is where the idea turns into a real product.The cost of developing an Amazon clone app ranges from $30,000 to $80,000.
Overall, if it comes to concluding the average cost to create an ecommerce app like Amazon, then it will be ranging between $10,000 to $15,000 for a simple app version whereas the cost will go above $20,000 to $25,000+ for the complex app version. 
Conclusion
Amazon is not just an e-commerce app but it's a bigger brand. This gives you the freedom to invest heavily in shopping development and marketing. The key to apps like Amazon's is finding the right mobile app development companies that understand the dynamics of a successful e-commerce business.
FAQs
How Much Does It Cost To Build an App Like Amazon?
The cost to build an app like Amazon will depend on various factors such as the features, complexity, design, and development resources required. It could range from tens of thousands to millions of dollars. A basic version of an ecommerce app can cost around $10,000 – $50,000 while a more complex and feature-rich app can cost anywhere between $100,000 – $1,000,000 or more. It is recommended to consult with a professional app development agency to get a more accurate cost estimate based on your specific requirements.
What Technology Do You Need To Consider To Build a Powerful Backend of an E-commerce App?
To build a powerful backend for an ecommerce app, you need to consider technologies such as a robust database system, scalable cloud infrastructure, APIs for integration with payment gateways and shipping providers, server-side programming languages (such as Python, Ruby, or Node.js), and web application frameworks (such as Django or Ruby on Rails). Additionally, you should consider incorporating features such as caching, load balancing, and security measures to ensure optimal performance and protection of customer data.
How Long Does It Take To Create an E-commerce App Like Amazon?
The time it takes to create an ecommerce app like Amazon will depend on a variety of factors, such as the complexity of the app, the size of the development team, and the resources available. In general, it can take several months to a year or more to create a fully functional ecommerce app like Amazon.
How Does E-commerce App Like Amazon Help You Expand Your Retail Business?
An e-commerce app like Amazon can help you expand your retail business by providing a platform to reach a larger customer base, increase sales and revenue, and gain valuable insights into customer behavior and preferences. The app can also provide tools and resources to help manage inventory, handle transactions, and optimize pricing and promotions. Overall, an e-commerce app can offer numerous opportunities for growth and expansion in the digital age.
What Types of Products Can I Sell on the E-commerce Mobile App?
There are a variety of products that can be sold on the e-commerce app will depend on the specific app and its policies. Generally, most e-commerce apps allow for the sale of a wide variety of products, ranging from electronics and clothing to books and home goods.
How Does the E-commerce App Handle Payments And Transactions?
Amazon like Ecommerce apps typically handles payments and transactions through secure payment gateways, such as PayPal or Stripe. Customers can usually pay using a credit card, debit card, or other payment methods.
What are the Shipping Options For Orders Placed Through The E-commerce App?
The shipping options for orders placed through an e-commerce app will vary depending on the seller and their location. Generally, options include standard shipping, expedited shipping, and international shipping.
How Does the E-commerce App Handle Customer Support and Returns?
E-commerce apps typically have customer support and return policies in place to ensure that customers are satisfied with their purchases. This can include options for returns and refunds, as well as customer service channels such as email, phone, or chat support.
Can I Advertise My Products on the E-commerce App?
Yes, it is often possible to advertise products on e-commerce apps using paid advertising programs, such as sponsored product listings or display ads.
Are There Any Fees or Commissions Associated With Selling on the E-commerce App?
There may be fees or commissions associated with selling on an e-commerce app. This can vary depending on the app, the seller's subscription level, and other factors.
How Does the E-commerce App Handle Product Reviews and Ratings?
E-commerce apps typically handle product reviews and ratings through a built-in system that allows customers to leave feedback on products they have purchased.
Is it Possible to Integrate the E-commerce App With My Existing Inventory Management System?
Yes, it is possible to integrate an e-commerce app with an existing inventory management system, depending on the app and the system in question.
What Security Measures Are in Place to Protect Customer Data and Prevent Fraud?
E-commerce apps typically have security measures in place to protect customer data and prevent fraud. This can include encryption of sensitive data, two-factor authentication, and monitoring of suspicious activity.
How Many Products You Can List On Your E-commerce App?
The number of products that you can list on your e-commerce app will depend on the specific app and its policies. Some apps may have a limit on the number of products you can list, while others may allow for unlimited listings. It's best to check with the app's guidelines or support team to determine the specific product listing limit.
Do Not Forget To Visit Our Robust and Secure Services:
Mobile App Development Company in The UK | iOS App Development Company In the UK | Android App Development Company in the UK | Web Application Development Agency in the UK | PHP Development Company in the UK | ASP.NET Development Company in the UK | Hire Developers in the UK | Hire Best iPhone App Developers in the UK | Hire Android App Developers | Hire Web Developer in the UK | Hire PHP Developers In The UK | Hire ASP.NET Developers in the UK