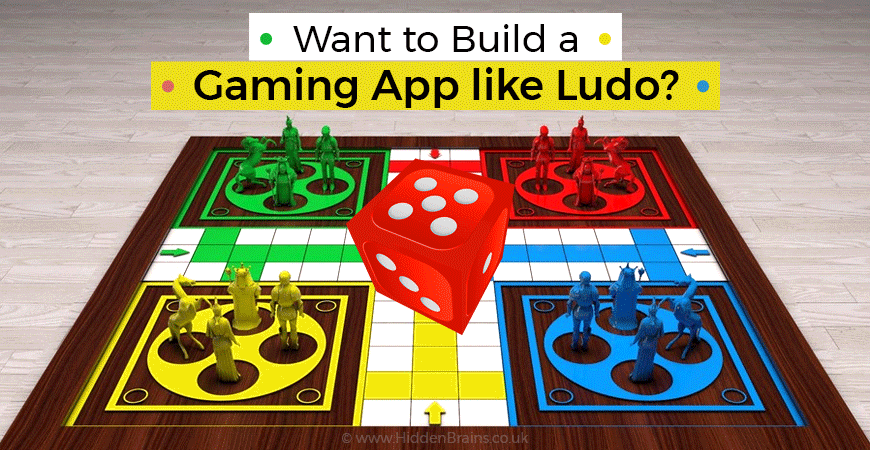 Board games are no exception to the digital revolution. What 90s kids used to play with dice and boards is now played by today's generation in mobile. 'Ludo King' is most popular board game that received overwhelming response when launched in the App Stores. Now there are a few common questions in the user's mind that how to make ludo game app? How much does it cost to develop an app like Ludo? in this post we have covered most of the points related to Ludo game app. 
Success of Ludo King Board Game
In just few months of release, Ludo app game has a successful track record of over 10million downloads and 4.5 start ratings. This multiplayer game is quite user friendly and can be played with friends, family and even kids. Great UI and UX of this game are solely responsible for the popularity of this board game.
Board Games Apps: Current Trend
Board games such as Ludo App and Snakes & Ladders have been quite famous since decades as 'family game'. While this fast paced life does not leave enough time for family to sit together and play these games, it now comes in digital format as a mobile app.
Mobile users are quite delighted to see their favorite board game that enables them to play it as and when they wish to, either with computer or other players. This game perfectly suits to today's lifestyle where parents and kids never get free time to sit and play together
Ludo King board game mobile app breaks these barriers by allowing people to connect with each other remotely. Individuals can entertain themselves in their break time by playing this board game of Ludo app.
How To make Ludo Game App?
Undoubtedly, Ludo games mobile applications are in high demand but in order to stay ahead in the market competition, it is important to integrate all the essential functionalities and know the current trends of the market. However, it is essential to deliver the unique and engaging features to the users.  To achieve that motive, it is also essential for the clients to know how to make ludo game apps for their users with the ludo game app development cost.
Desired Features & Functionalities of Ludo King Mobile Gaming App
As you are interested in developing a mobile gaming app as Ludo King, you first need to know how this game works, and how to make ludo game app? If you have played Ludo game on mobile then this should be quite clear to you. But for those who wish to develop an app like Ludo and do not know how this game is played, have a look at below pointers.
Features of Ludo Game:
Cross platform game that can be played on desktop, Android platform, iOS platform as well as online in multiplayer mode.

Play with Computer

Offline Mode

Online Mode

Play anytime, anywhere
Following is a step-by-step guide on playing Ludo board game through mobile:
Download Ludo app from Google Play Store if you are an Android user and Apple's iTunes in case you are an iOS user.

This game can be played between 2 to 4 players: either against computer, against your friends or anyone else from all over the world.

Players choose from four colors and are accordingly allotted 4 tokens each.

Players start playing the game by rolling dice and moving token ahead in clockwise direction. All tokens have to finish full turn to make an entry into the finish line.

Player needs to get 'six' on dice to bring each token out.

During the game, players get an extra turn for:

Killing opponent's token

Dice rolling out 'six'

Whosoever manages to get all token to the end at first wins the game
This is a highly addictive board game!
Developers need to understand the depth of this features and functionalities to build an app that follows these rules and runs seamlessly. Building a bug free app that is liked by mobile users and entertains them is not any layman's job.
Hiring the services of a professional company is the right approach to develop a foolproof gaming app like Ludo. Are you worried about exorbitant process charged by these firms? Let's take a look at the pricing models of hiring mobile game development services.
Estimate of overall Ludo app development cost
Though the exact figure cannot be calculated until client's requirements are not mapped against time and efforts required for the project, we can definitely gauge a range to give an idea of how much board apps like Ludo cost.
If you opt for hiring dedicated developers for game development on per hour basis, you might save on few dollars as you are solely responsible for entire management of project. This aspect is taken care of by project manager if you choose to hire services of a professional game development company.
Features of Online Ludo Game
Invite Friends to join Private Friends
With the Ludo app, users can cherish their childhood memories by playing with their friends and family on a private table. Without any hurdle, they can create the room and send the code to join their friends. Users can send the code with different social media platforms also directly from the app including Facebook and Whatsapp. With that code other users can join the table and play the game virtually from anywhere and at any time. It helps you to connect with friends and stay connected.
Play with Real Money
Players can also earn money from App, they can play the game with real money also. To turn the game into interactive and engaging, players can bet on the particular amount in their budget and continue the game. It will help them to raise their funds easily and earn more. This feature will help ludo game owners to attract players to their platform and raise their revenue also.
Offline Mode
Now here is the next major feature that developers should integrate in the ludo mobile app. Allow your users to use your app in the offline mode. They should not require internet connectivity to use the functionalities of the application. Hence, they should play with their friends without the internet.
This feature would be beneficial for the travellers. The world has become advanced, but still in some areas there is lack of network connectivity.
Daily Free Bonus
Offer an opportunity to the users to unlock the advanced level stages and even win the bonus points on the daily basis. It will help you to improve your relationship with your players and they will get attracted to your platform. By offering a daily free bonus, it will help them to have interest in your application.
However, a daily free bonus can act as a reward to the players, which helps in several ways such as unlock the new themes and different functionalities. Apart from this, it is important to collect the bonus should be easy for the players. They should easily spin the circle and get the rewards immediately.
User-Friendly Interface
The user interface based on friendly aspect helps developers to learn and use the platform quickly and efficiently respectively. In virtual gaming, it is essential for the developers to focus on delivering an immersive experience. Designers have to build an engaging and easy to use interface for the players, they should not face any hurdle or require any technical skills to use the app.
Developers should comply with different UI guidelines, utilizing the latest components. The best UI can be created with proper planning and discovering ideas. Designers have to bring advanced 3D images and high resolution to attract their users for a longer period of time and offer next-generation experience.
The best way to catch the attention is to give proper time and research well to build unique and engaging design.
Cross Functionality
Ludo game code supports cross-functionality feature. Presently, there are several operating systems and developing code for an individual operating system including Android, iOS, and web can be time-consuming and increase the prices of development.
Ludo game development code can be used with multiple OS, which helps to execute the same code on several platforms and launch the solution in a short period of time with the same functionalities.
Invite, Earn and Play with Friends
To turn the players into loyal users and engage them for the long term is essential and key to success for the gaming app. To get more users and increase your brand visibility, offer an exciting feature to your players.
Allow them to recommend the game to their friends and family and give some bonus points. Upon receiving bonus points or freebies, users will automatically recommend the links and bring new players. This feature will help to increase the number of downloads.
Single/ Multiplayer
Online Ludo games offer single and multiplayer both the options to the players. It opens the opportunity for the players to play the game with their friends and family. This is how they can cherish the memory of their childhood. In case they don't have a partner to play with, they can opt for the single-mode. Admin panel automatically searches for the partner who is available and play the game testing their skills across the globe.
Live Text & Video Chat
To engage users and add a touch of live text and video features can be integrated into the ludo solution. Users can interact among themselves and turn the game into an engaging platform. To avoid the hassles of typing, they can have a video chat with each other.
Different Modes of Ludo Game
1. Computer Mode
With computer mode, players can easily play the ludo game in a simple method. Users can simply choose their colour and opt for the 2 or 4 players.
2. Local Mode
Users can play in a local mode in a manual way. It offers them variety in terms of colour and offers preference to the players. The local mode can allow them to play the game manually on the ludo board, and the dice will only decide the winning position of the users.
3. Multiplayer Mode
Now this is the best mode and preferred by the players. With multiplayer mode,players can play with their friends and families from anywhere in the world. Even users can play online also.
4. Challenge Mode
Users can also challenge the other players and invite them to play. It will increase the excitement and will be fun for them.
Conclusion 
Hidden Brains is one such reputed game development company that helps clients in in building innovative, interactive, immersive and out-of-the-box apps. Our apps secure a high position in Play Store and App store because of outstanding featured and bug-free functioning. Take advantage of digital era and make available games in App Stores that people are already interested in to get sure shot results.