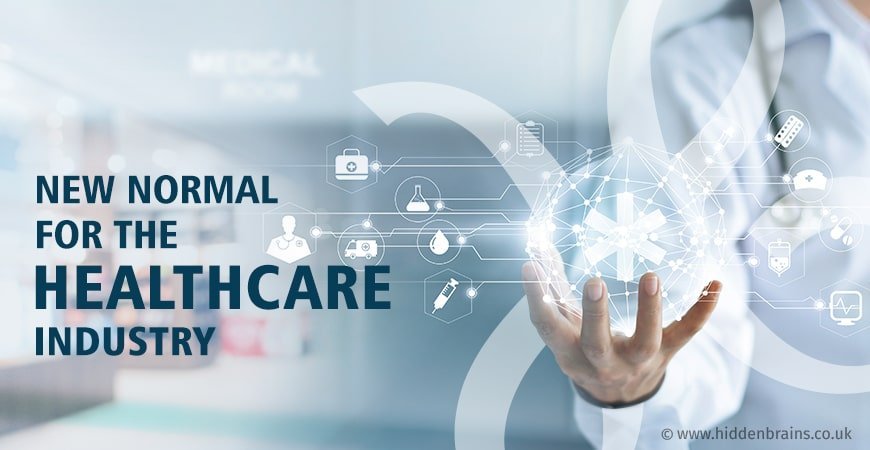 The novel Coronavirus has profoundly impacted human lives across the globe. However, to overcome this deadly virus, human beings have to opt for the essential measures such as social distancing and avoid gathering in big numbers.
Undoubtedly, this life threatening virus has transformed the lifestyle of humans, the way businesses operate and its consequences are felt on the global economy. With no medicine or vaccination available to counter this deadly virus, people are now adopting the new normal and essential safety measures to continue professional roles.
However, every industry has to transform working conditions. The healthcare industry is no exception. Several technology solutions and methods are helping patients
Now, the treatment process will change and doctors will treat their patients with different strategies including digital transformation. In order to leverage all the benefits of the healthcare industry, partner with a healthcare app development company.
In this blog, let's know how the healthcare industry will transform in post Covid 19, and what are the new strategies.
Increase usage of Telemedicines
In the coming years, people will avoid visiting crowded places. They will not prefer to visit the hospitals and clinics, until and unless it is most important or requires immediate attention. However, now the usage of telemedicine apps will increase and online hospitals will come into existence.
Telemedicine has turned into a boon for the healthcare industry as it helps the virtual hospitals. With this concept doctors and patients can be connected and have interaction on a regular basis via video conferences. It reduces the unnecessary visit of the patients to the hospitals and even doctors can pay prompt attention to serious cases.
Undoubtedly, telemedicine app development service helps the healthcare industry in several ways and excludes the risk from spreading of COVID 19. This platform introduces the remote treatment in an accurate manner.
Related Post: Challenges of Telemedicine application
Features in Telemedicine App that Help Patience and Doctors 
Allows to book appointments with doctors and physiotherapists.
Patients can easily search the best doctors on the basis of location, price, and patient reviews.
In app chat allow users to interact with each other on text and multimedia.
Patients can easily send the prescription to nearby pharmacies and get medicines at the doorsteps.
Smart Tracing
Now, there would be a smart tracing app in the people's Smartphone, as it will help them to identify the people who are suffering from this deadly virus. When people will be able to easily trace the users who are suffering from this virus, then they will automatically keep distance from them. In future, smart tracking will turn into a part of the healthcare industry as the high risk of transmission of COVID 19 is in the health sector only as compared to other sectors.
Advanced Data Management
In the post COVID 19 situation, hospitals and clinics have to manage the data in an advanced way. Data management will be the next major requirement of the hospitals. Now, it will also be used to track easily, that if any person has come across the Covid 19 patient. With a proper and organised way, they will get the proper information within seconds on the basis of name, date, and disease.
However, Big Data technology will play an advanced role and tech experts can enhance its functionalities more such as help in recording and quick retrieval, and analysis the patients profile. It will also help to understand the next phase of Covid 19.
Increased use of Robotics
Undoubtedly, in future, robots will be in high demand and it is the best way to decline the chances of reducing the transmission of the virus. In future, RPA will come as a lifesaver, as the testing procedure will become a mandatory process for overseas travellers. During this there could be a high risk of spreading virus from one person to another. But to overcome this challenge doctors don't have to come in contact with the travellers.
With AI robots can easily test the patients and the process can be fully secure and highly transparent. RPA based robotics will ensure contactless delivery of medicines and food, to people in isolation and in hospitals. It will help to minimise the human contact and bring more accuracy and transparency.
Advanced Training Process
Since the last few years, virtual reality is constantly enhancing and in trend. Before Covid 19, tech experts were improving the features of VR and were putting their efforts to enhance the surgical process. Furthermore, now virtual reality has also become a part of the training process of the medical sector, Students can learn the things virtually and clear their concepts. With virtual reality they expand the wide opportunities of the training and surgeons to practice operations easily.
Real Virtual Conferences
In future, we can expect that real virtual conferences will turn as a trend as now human beings have to come in less contact. For consultation, teams will treat patients on real virtual conferences, it will deliver interactive possibilities and VR will offer advanced functionalities such as 3D visualization and have ability to engage users with high quality of video conferencing.
Related Post: Best Health Apps And Medical Apps for Patients
Conclusion
Covid 19 has transformed our lifestyle, and there would be several changes observed in the healthcare industry. Apart from this, many new technologies will add value to the treatment and turn it more accurate and highly reliable. Technologies will be enhanced more and humans will be replaced by robots. Now, the healthcare industry is forced to adopt innovative and modern technologies.