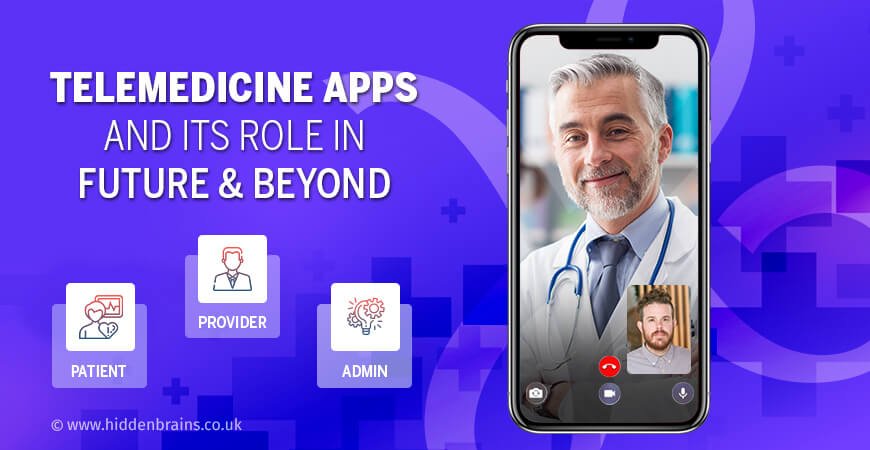 Technology plays a vital role in the health sector, it has turned as a boon for the industry. However, several innovative solutions help to overcome the major traditional challenges and turn the  treatments into easier, faster, and advanced as ever before. 
Among different solutions, Telemedicine app development for Android and iOS have gained immense popularity across the globe. Features of On- Demand doctor apps have been beneficial for both doctors and patients. Along with this, telemedicine mobile software and apps have opened several possibilities for the medical sector such as faster results, flexible process,  and reduced communication gap also. 
If you are also planning to launch your telemedicine app to streamline the process, then it is essential to integrate advanced and modern features in the app. In order to not miss any of the important features from the list,  partner with a mobile app development company.
In this blog, let's know the reasons why you should launch your own telemedicine mobile app and which features you should integrate in the mobile application to stay ahead in the market competition.
Benefits of Telemedicine App Development
Hassle Free Service
With telemedicine software apps, users can opt for the hassle free medical services. It excludes long lines from the system and offers easy and faster connectivity with the doctors. Patients can take online appointments with the doctors and can even connect live with them. They can opt for this process anytime and from anywhere. 
Medical Records
Medical record management has always been a daunting challenge for the hospitals and clinics. However, now with the traditional medium it was impossible to manage data seamlessly. With telemedicine software solutions, clinics and hospitals can manage the medical records in terms of patient details and reports effectively. 
Paperless Reports 
For patients to always carry their medical reports from one doctor to another and in the long term treatments, to manage paper based reports is a difficult task. But telemedicine mobile application turns this process paperless and patients can easily manage their reports in their smartphones. This is how patients are able to carry their reports easily and hassle free and it is very beneficial for long term treatment.
Faster Results 
Telemedicine mobile applications boost the process into faster and secure. It excludes all the extra efforts and repetitive tasks. It has an ability to perform multiple tasks and manage patients at the same time. This helps to deliver faster results such as reports and also deliver reports to the patients to their mobile phones. 
Transparency
Undoubtedly, online doctor applications have increased transparency. With traditional processes, the whole process used to be held on paper, which used to increase misconceptions due to handwriting between patients and doctors. But with online apps, now the information is clear and easy to understand. There are no higher chances of misconceptions. In the healthcare industry, there are no chances of having misconceptions as they  can lead to life loss. 
There are several more benefits of telemedicine software solutions and apps, the list is endless. To leverage all the benefits of the E-health mobile app, it is important to integrate modern and advanced features. It helps to meet with the competitive era.
Related Post: How Mobile Apps are Changing Healthcare Industry
Must Have Features in Telemedicine Mobile App
Effective User Profile 
In the online medical mobile app, there should be a user profile. In which users can manage their profiles easily. It helps to manage full information about the patients including their name, address, contact info, and treatment history. However, it allows to maintain the user profile easily for the patients. 
User Friendly Dashboard 
Users should not face any technical complexity to use the features. Telemedicine mobile app development service should be based on user friendly attributes. Users should not face any technical difficulties to leverage the features,  even they should not require any technical support or skills to use the app. The app should be designed in such a way that everyone can use it and be potential to the users. 
Multiple Payment Gateways
Users should be able to pay their bills via online telemedicine software solutions. The app or telemedicine software should be integrated with several different methods which allows them to pay the bills easily and faster with credit or debit cards, Paypal, 2CheckOut, and Stripe. 
Security 
The details of the patients should be securely managed and in a confidential manner. However, the information should be secure with data encryption and multiple-factor-authentication. However, the data should be secure with advanced and latest security techniques. 
Rating and Reviews 
Allow your customers to leave the feedback of your services. It will help you to improve your services and improve decision making of the users. A 5 star rating will help you to build your strong presence in the healthcare sector. 
Appointment Reminders
In order to streamline the process, the appointment should not be missed by the patients as well as doctors. Integrate reminders in the form of notification in the app such as SMS, text messages, and push notification feature.
Live Recorded Video Sessions
Allow users to have a live video conferencing with the doctor and they should be able to record the sessions also. It will help to offer hassle free treatments to the patients and recorded sessions can help in many ways. 
Easily accessible to records 
Doctors should be able to easily access their records on a daily, monthly and annually basis. This feature helps to streamline the process into an accurate manner and also saves a lot of time for the doctors. 
Saves Time and Cost 
Introduction of telemedicine apps excludes all the time consuming and repetitive tasks. It helps to save the efforts of humans and time.
Conclusion 
Telemedicine apps have become an essential requirement for the hospitals and clinics. It streamline the process, offers secure and reliable treatment to the patients. Apart from this, it is essential that all the features should be integrated in the app. To meet with the modern trends and offer unique experience, you can also hire a remote Mobile developer, who is proficient in app development.