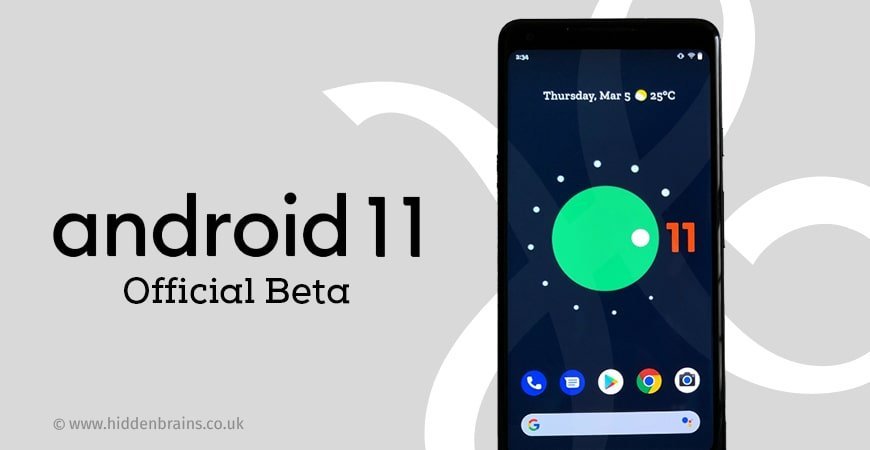 Android 11 updated Beta is out now and is creating a buzz all over the world. This Android Beta's official release was expected on 3 June, but the release was delayed due to COVID – 19. Now it is finally out. Android has reviewed the operating system and enhanced functionalities.
Android has released this data with a small note –
Editor's Note –
"The global community of Android developers has always been a powerful force in shaping the direction of the Android platform; each and every voice matters to us. We have cancelled the virtual launch event to allow people to focus on important discussions around racial justice in the United States. Instead, we are releasing the Android 11 Beta today in a much different form, via short-form videos and web pages that you can consume at your own pace when the time is right for you. Millions of developers around the world build their business with Android, and we're releasing the Beta today to continue to support these developers with the latest tools. We humbly thank those who are able to offer their feedback on this release."
In this latest beta version, improvement is categorised into three major groups- People, Controls, and Privacy. However, there are several enhancements in the functionality in this Beta version such as improved media control.
Apart from this, Android 11 Beta identifies that it will be beneficial for the Kotlin programming developers, the new version will work better with Jetpack compose toolkit and allow to build faster applications in Android Studio.
In this blog, let's know about the Android 11 Beta features. In order to leverage all the features of Android, partner with an Android app development company.
Know the updated Android 11 Beta features
People
Google said in Android 11 beta; they are turning the focus of the most popular operating system towards people. With the latest version, users will experience a new and innovative conversation. Along with this, the newest version will have the ability to recognize and prioritize the most important people in your life.
In these notifications will be divided into three different types namely.
Conversations
Alert Notification
Silent Notification
These four notifications will offer an opportunity to set their priorities and simplify their daily routine. The alert feature will provide notifications related to email, and the silent notifications feature will deliver information about different social media platforms. Users can preview anytime in the day. In the Android Beta Version, users can create a conversation shortcut on their home screen and reply to the particular person on the priority list. To boost the conversation, now users will also be able to set the reminders.
Furthermore, users will also be able to experience the same bubble feature, which is on Facebook, but now, Android is integrating it with the operating system only. It would be the first time that bubble features will not only be leveraged with the applications, but also with the operating system. This bubble feature will streamline their conversation process; users don't have to reshuffle the apps. Android developers should integrate Bubbles API as a notification to the messaging and chat apps.
Android users, who used to control their phones with voice command, they will also experience on device visual cortex, from which they will be able to understand screen content and context respectively. It will also offer an advanced consolidated keyboard, that will offer suggestions and "context-specific entities and strings." It is expected that now users will get more relevant and ideas for typing. This functionality will also work with the third-party keyboards.
Control
Now, with Android 11 Beta, users will be able to control the connected devices and media more efficiently. It will allow us to have power from one space only.
Now, when users press the power button from the side, they will also be able to visualise a new control menu on their screen. From it, they can have direct access to several options such as payment cards, smart home device controls and other settings. This is how they can control their devices more efficiently and faster than the previous versions.
According to the Android 11 Beta version, users can also have control on the media, including audio and video. Android developers can integrate this feature into their apps with the API and match the steps with the modern development process.
Privacy
Android 11 Beta version has indicated that developers have worked on the privacy feature and turn the sensitive information into more secure and faster.
Do Not Disturb
With Android 11 beta, users can have the personalized experience; if they opt for the Do Not Disturb, then also they will be able to leverage custom options. They can refine or separate the apps and some particular contacts, from which they want to interact. It allows customization based on preferences.
One time Permission
Now users don't have to give permission repeatedly to the several mobile application. During the download, they will download the app; then they can provide the permission at once. It will improve the user experience.
Screenshot Changes
Now, the advancement will be observed in the screenshot functionality. With Android 11 Beta, users will be able to use this from the menu, take screenshots and share with other users.
Related Post: Best Android tools List
Conclusion
These are the updated features, which Android users will experience in the Android 11. The updated version of Android 11 beta is available for the Pixel 2, Pixel 2 XL, Pixel 3, Pixel 3 XL, Pixel 3a, Pixel 3a XL, Pixel 4, and Pixel 4 XL. Along with this, to leverage the other functionalities or sort daily basis challenge, you can hire a remote developer for your project.