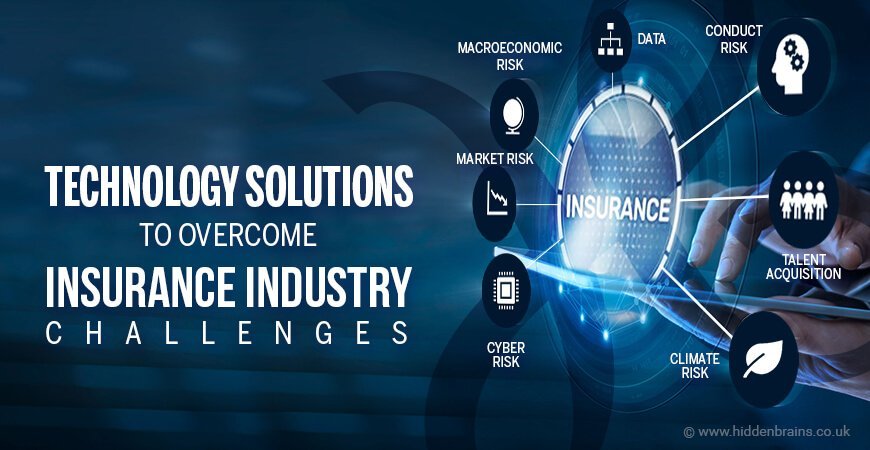 Like other industries, technology has shown its high impact on the insurance industry also. However, with the traditional medium, to sort out the modern challenges such as data management and meeting the personalized insurance expectations are next to impossible for the companies.
Tech industry offers several innovative and customized based insurance solutions, which helps them to meet their customer requirements and streamline their process. In this blog, let us know the significant challenges, opportunities,and trends. In order to leverage all the benefits of the Software solutions partner with a Software development company in the UK.
Challenges of the Insurance Industry
Call us today for a FREE no-obligation quote.
Cyber Security
This is a significant risk that not only insurance but every industry is facing. Digitalization has opened many opportunities, but it has also increased the major threats. However, in the insurance sector, it is a significant issue for large enterprises. They have a high risk of leaking sensitive information from their storage. By hacking, unauthorized people can get access, and they can have control over your data, which can be dangerous in many ways. They can know your market and future strategies, as well as your real-time data. The question on their reputation.
Large enterprises can face many issues regarding this, and it can also mark.
Legacy System
There are different rules and regulations imposed by the government on the industries, and for the insurance companies, it is essential to follow them. However, to meet with the policy administration system ( PAS), it is important to streamline the procedure in an effective manner. Companies have to maintain the data in an organized and efficient way, which includes different management such as sales to claim control, billing and collections.
Also Read: Technological Advancement in the Insurance Industry
Customer Expectations
Now, customer preferences have been changed, and they prefer to opt for hassle-free services. They used to avoid complex procedures and opted for the frictionless experience, where self-service is possible. However, no one has time to consume their lot of energy and time on the insurance processes; now, customers prefer to have full control or access on their accounts without any barriers.
Sensitive Information
For companies, it is crucial to have an effective communication process with their customers. They have to put them in real-life situations, which can be difficult for the sales department. It is essential to have a touch of emotions, but to talk about sensitive information such as loss of lives and properties can be very difficult.
Data Management
In the modern world, data has turned into a massive amount. Companies have to manage a vast amount of data appropriately, and this data should be organized and easy to maintain. For companies, to administer the data in depth is a daunting task requiring a lot of effort.
Opportunities to sort the challenges
Big Data
For large enterprises, big data has turned as a boon. It helps them in many ways, such as to manage the databases in an accurate way along with this, this technology also analyses the data for the companies to manage them efficiently.
It helps them to prevent from the different types of frauds as it is designed in such a way that, if any unwanted activity is used to detect, it helps to notify it immediately. However, if any process used to be held, against the entities rules and regulations, it sends alerts and reminders instantly.
Potential Risk Assessment
Big data helps companies to get assured clients by several processes. Before approving the loan, it conducts several different stages and in that it examines the full data of the customers, including their previous crime data records and loans. It will help you to get genuine users.
This technology also helps to personalize the offers as per the customer's demand. It customizes several offers to attract the client's attention, which allows you to improve your relationship with your customers.
Call us today for the best insurance industry solutions.
Operations with AI
Now, companies can streamline their business processes in an advanced and more accurate manner. Undoubtedly. Artificial Intelligence has changed the picture of insurance management. It helps to reduce the cost and expand market opportunities.
Offers seamless automated customer service.

Modern Chatbots help to handle customers on different social media platforms.

Reduce efforts of managing massive data

Improve the process of storing sensitive information.

This technology sorted out several functionalities such as fraud prevention, anti-money laundering, and underwriting,
Good to Read: Benefits & Features of Insurance Mobile Application Development
Customized Mobile Applications
To launch customized mobile applications for Android and iOS has turned out to be a major step for the organizations. It is the best way to be connected with them and deliver seamless services to them. With a few fingertips, they can get information about their plans and have access to their accounts. Apart from this, they can even operate their accounts virtually from anywhere in the world.
It is the best way to improve your business interaction with your clients, and even it increases the chances of grabbing new opportunities from the market.
Advanced Analytics
Now, insurance companies' predictions have turned easier and faster. With several next-generation technologies such as advanced analytics and the internet of things, entities have known the actual interest of their customers. It will help them to optimize their business strategies and target new opportunities in the market. By remembering customer preferences in advance, the risk of failure used to decrease, and companies can focus on the right strategy. 
Conclusion
In the last few years, the insurance industry has changed a lot and turned its functionalities more advanced. With time, this industry has overcome several challenges and turned its operations to the next level. Furthermore, it would be not wrong to say that insurance software solutions have extended the opportunities for the insurance sector in a wide range.
Do Not Forget To Visit Our Robust and Secure Services:
Mobile App Development Company in The UK
|
iOS App Development Company In the UK
|
Android App Development Company in the UK
|
Web Application Development Agency in the UK
|
PHP Development Company in the UK
|
ASP.NET Development Company in the UK
|
Hire Developers in the UK
|
Hire Best iPhone App Developers in the UK
|
Hire Android App Developers
|
Hire Web Developer in the UK
|
Hire PHP Developers In The UK
|
Hire ASP.NET Developers in the UK