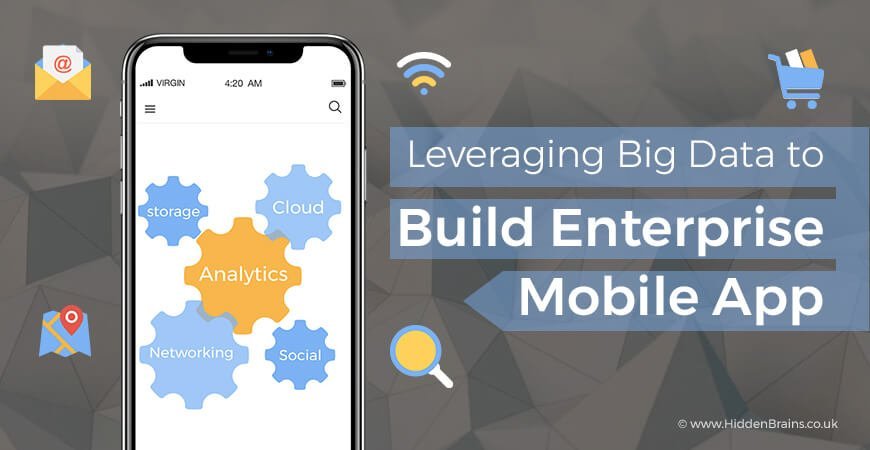 Did you know that Big Data technology can be utilized in mobile apps? In fact, several big brands such as Amazon, Uber, and Starbucks apps that use big data have experienced success in a short time. The large amount of data that customers utilize every day can be put to use for some fruitful purpose of building mobile apps using Big Data. Insights into the mobile experience of users such as how does the buyer make a purchase decision, what influences them, and how do they interact with brands in the online space helps in building future-ready mobile apps.
The competition in the marketplace of mobile Big Data apps is quite high. With billions of apps already existing in the market, there is a dire need for apps to be updated with the rapidly changing market trends and customer behavior. One cannot afford to miss out on any trend as a single mistake may pull you back in the crowd of millions of applications.
Big Data helps in gathering and managing large amounts of data and putting it to use by formulating a new mobile strategy. Big Data tools are used for deriving valuable insights on consumer navigation patterns, areas of interest, and engagement quotient.
Are You Looking To Launch Your Mobile App Based On Big Data Technology
Relates Post: Big Data Characteristics and Advantages
Here are Pointers That Indicate The Role of Big Data in Develop Mobile Apps
Developing Mobile Apps using Big Data
Big Data technology has come as a boon to the mobile apps industry. By using insights derived from Big Data tools, developers and designers could know what is liked by end-users and what is disliked. This helps in creating new apps that are more specific to the interests and preferences of the target audience.
Customer Driven Mobile Apps
To serve better, it is essential for the entities to know the preference and requirements of the customers. Big Data technology helps organizations to know about the services in which customers are interested and even they can track the real-time information and activity of the customers. 
While knowing the preference and demand companies can prepare themselves for the future. For the upcoming time, they can start planning prior and avoid future failures if they will not able to meet with demands of future expectations, it's better to start planning in advance and also to deal as per customer's preference. Organizations can know the interest of customers and serve accordingly, it will help them to earn revenue. 
Advanced Analysis
Big Data offers you an advanced and smart search analysis. It helps to offer a high-level experience to particular users and personalized smart search features including offers product suggestions to the users on the basis of product, order history, and trending products.
This technology automatically suggests the recommendations to the companies on the basis of the various last purchases. Even the top brand Amazon has also opted for predictive analysis and offers a personalized shopping experience to its customers with smart and advanced integration of Big Data integration. 
In-Memory Database
Presently, to store data is a difficult task as now the entity's data can not be stored with RAM. Even many tech giants like SAP, Oracle, Microsoft, and IBM have introduced various in-store memory database technology, which leads to very expensive. 
With the integration of Big Data, technology organizations can easily store huge data even for the long term and in an organized manner. Big data technology also helps to utilize the data in a better way. This technology helps companies to store data in a secure manner. 
Real-Time Information
For various industries, such as banking, hospitality, and real estate it has turned into a boon. This technology has excluded the system of upgrading as now automatic upgrades used to be held. Various industries can have real-time information about the system without even upgrading it. 
Helps to Build New Strategies
Big Data technology creates new and effective strategies as per the market. It develops the strategies, which are effective as per the market standards. Along with this, Big Data technology helps to stay ahead in the market competition.
Predictive Analysis
Big data helps to get a deep feedback report by scanning social media reports (including different reviews and comments) and newspaper reports. This technology helps you to prepare your products for the future by researching in the right manner. Big data research both factors such as social and economic factors in deep. 
Build a Thorough Understanding of the Target Audience
How satisfied are end-users with your mobile app? How much do they rate your app on a scale of 1 to 5? If you are suffering from a low app retention rate or high churn rate, you must start focusing on delivering an exceptional experience to target users.
To achieve this goal, it is necessary to understand their needs, preferences, choices, and interests specific to your nature of business. This requires examining insights collected from different sources, including social network channels. Big Data Analytics helps in a grouping of data as per the defined category to strategically decide the next step based on the study of data.
Performance Improvement
With Big Data analytics tools, it is possible to measure how much traffic a mobile app is generating. Further, developers can know which feature of app or page is encountering glitches and problems. By throwing light on problematic areas, Big Data helps in enhancing the performance of a mobile app. In short, apps that use Big Data can be constantly monitored for performance improvements.
App Marketing and Advertising
Mobile apps, both new and existing ones, need to stay at par with changing technology trends for wider acceptance and retention rates. Big Data tools help in deriving real-time data from apps, which can be effectively utilized in the marketing of the app.
Using real-time data, marketers can make changes in the promotion strategy even in the middle of a campaign. By delivering information critical to the business, Big Data helps in taking quick decisions to get good ROI from marketing and advertising campaigns.
Boost Mobile App Revenue
Mobile Apps using Big Data keep a constant track of end user's behavior with respect to their likes, dislikes, timings of usage, duration of usage, user's needs, expectations, the location from where the app is being used, and more. Analysis and study of these metrics help in sending of customized and personalized push notification to users.
With highly relevant push notifications, users are more likely to engage with the app. A high engagement rate directly leads to generating more revenue from mobile apps.
Conclusion
Mobile apps are at the center of business' digital marketing strategy. Improving the user experience by monitoring every aspect of their usage through Big Data helps in standing out from the crowd and getting noticed among the target audience.
Mobile apps using Big Data can increase your app visibility and bring in more users. Hidden Brains is a leading iPhone app development company that specializes in Big Data technology. With deep technology expertise and industry experience of serving multiple Big Data projects, Hidden Brains is the proven choice for building apps that use Big Data.