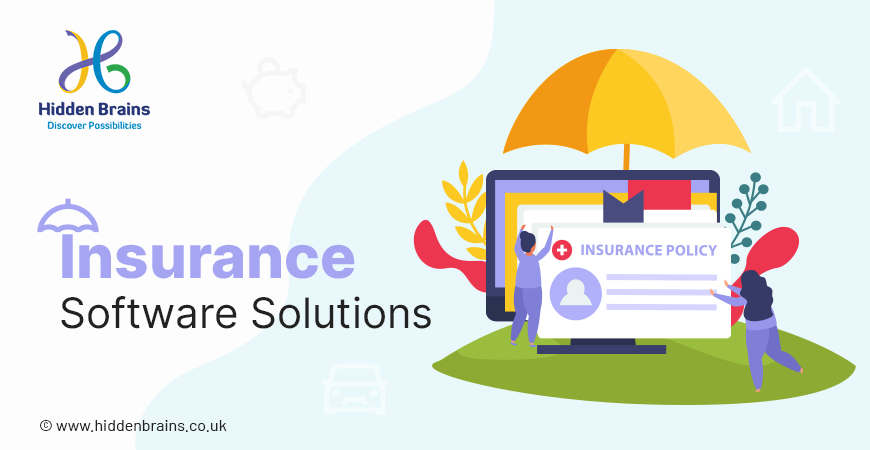 Insurance Companies have to deal with too many progressive activities continuously. Their work constantly revolves around claims and policies maintenance and issuance. In addition, the guidelines are linked to coverage periods and vary from one policy to another. Hence, a proper management system is required to manage a business so extensive. Software solutions help automate different processes, ensure transparent deals, and simplify agents' and brokers' tasks.
Insurance Software Solutions – Types
There is a wide range of insurance software selections catering to the various needs of insurers. The major ones are listed below:
Insurance Lead or CRM Management Software – It is ideal for connecting and managing the teams, centers, field sales, distribution channels, and agents for enhanced efficiency and better working.
Let's Learn More About Insurance Software Solutions in Detail.
Document Management Software – A perfect option for securing access, storage, and organization to policyholder agreements, contracts, confidential documents, etc.
Policy Management Software – It is designed to seamlessly manage, create, and administer insurance and reinsurance policies. Plus, it also helps in integrating treaties for risk handling.
Insurance Workflow Software – It is automation software for arranging, observing, controlling, and coordinating various business processes that involve lead management, HR, marketing, and sales.
Underwriting Software – The software is designed with the aim to manage and evaluate the underwriting process. Plus, it is also a perfect option for automating policies and rules execution while reducing human error. Companies may also use ERM solutions digitization.
ERP Software – This insurance software solution helps in tracking and managing customer credentials, legal data agreements while easing CRM integration.
Claim Management Software – This software does it all from streamlining claim workflow management to automating claim document process, payments management, monitoring fraudulent activities, and integrating policy administration.
Related : Insurance Industry- Tech Trends, Challenges and Opportunities
Insurance Software Solutions – Benefits
Eases data analysis process:
Insurance software solutions make it easier for the users to sort data swiftly. The software solution comes with advanced in-built features that enable users to search and organize information to be easily used for generating impactful and reliable reports.
Simplifies monitoring and management of process:
Integrating insurance management solutions in the company's existing system allows users to manage and monitor all past and current insurance-related processes. It is easy to analyze and observe user requests, manage transactions and claim calculations.
Enhances security of the infrastructure:
It is one of the significant benefits of insurance management software. The solution restricts malicious activities from entering the company's software system. Plus, it also helps in securing sensitive information from the customers.
Automates the workflow and the documentation system:
The insurance management software is perfect for creating unique and intuitive analytical reports. Additionally, it also helps in managing notifications and emails. This tool can automate the entire document creation process by collecting the data efficiently. Also, it's a scalable and robust solution to manage customer queries and requests.
Insurance Software Solution – Advance Features
Monitoring and managing insurance claim information:
The advanced features of this software are designed to manage all the information related to an insurance claim. By integrating this insurance software solution, users can easily access claim-related info, such as outstanding claim reserves, payment components, event perils and code, claim activities dates, deductibles, and much more.
Moreover, insurance companies can manage and monitor the entire process effectively and swiftly. Plus, it also helps them with detailed analysis of small details like closing and opening claim activities.
Helps in mapping the risk parameters:
Insurance software is a comprehensive tool that allows users to map the risk parameters leveraging advanced technology. Besides, it also allows the insurance companies to view the insured product like house or vehicle, house, or any other item featured in the insurance contract.
Risk analysis and calculation:
It is counted among the major features of insurance management software. The tool allows the companies to analyze and calculate risk factors related to insurance like unit insured, sum insured, system risk, reinsurance surrender, etc.
Plus, using this software, companies can also conduct profitability analyses daily while monitoring the trends in real-time. It also helps in calculating both unearned and earned calculations.
Extensive analysis of the metrics using insurance companies can determine risk cost, loss ratio, burning cost, loss frequency per policy. Plus, agencies also get extensive analysis and detailed reports of the insurance contracts.
Besides, it also serves as a useful framework for analyzing and preparing performance reports of claims managers, reinsurance managers, underwriters, marketing executives, and accountants.
Calculation of insurance claim according to the period
Policies and time periods are the two most important factors for calculating and analyzing time-based insurance activities. The software's in-built features allow accidental, financial accounting, and operational analysis. Plus, they also help in snapshot data reports and analysis and policy inception.
Detailed view of organization's working
With this feature, companies can quickly analyze hierarchical chains changes. Plus, it also helps in the analysis of distribution channel sales. The software gives an in-depth view of the company's structure and performance. The report can be used for making the necessary changes in the work to make the entire process more transparent and efficient.
Multicurrency conversions and calculations
This is an advanced solution that comes with a multi-currency info mechanism that helps in indexing report adjustments. The feature also covers the crucial aspects of multiple currency conversion as per territorial index standards for preparing claim statistics.
Evaluation of lapse and renewal of insurance policies
Companies with auto-renewal premiums require an efficient solution for policy identification for multiple clients. Exploring different channels is highly time-consuming, hefty, and tiring. The software's features allow users to market their product and provide excellent sales support to their customers.
Concluding Word
The insurance software solution has become an integral part of all major insurance agencies. From tracking the policies to managing the entire insurance claim process, the software can handle almost every aspect of the business. Also, Automation of some complex tasks has made things much easier for insurance companies. In a nutshell, it also helps in leveraging advanced technologies like machine learning and artificial intelligence.