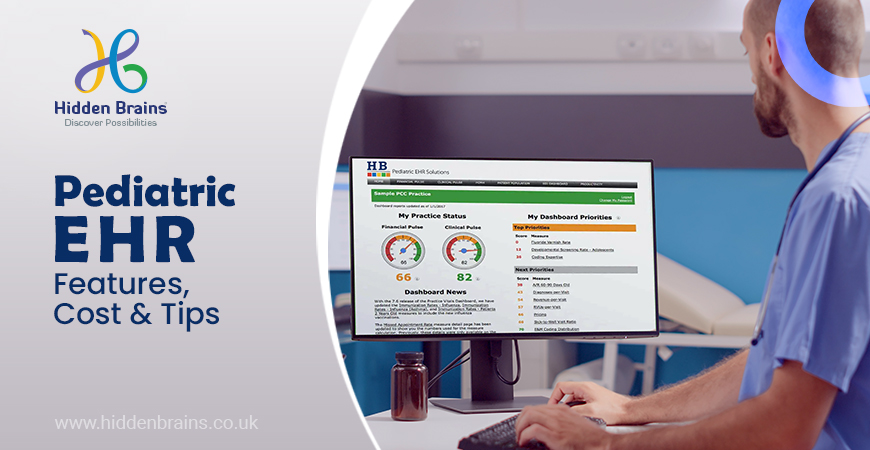 In recent years, the demand for pediatric EHR solutions has been growing rapidly. As healthcare organizations are looking for ways to improve their patient care and streamline their administrative processes, electronic health records (EHRs) for children have become more popular.
With EHRs, medical providers can quickly access patient records, make informed decisions, and track important information. The use of pediatric EHRs is also beneficial to parents and guardians, as they can be kept informed of their child's health status with greater ease. The increasing demand for pediatric EHR systems is driven by a number of factors.
So if you are also curious to know more about Pediatric EHR solution development, then here are the details shared in this blog:
Let's get into the details of these points for better understanding…
Call us today for a FREE no-obligation quote.
What is Pediatric EHR System?
A Pediatric Electronic Health Record (EHR) system is an integrated system for managing the medical and healthcare data of children, from infancy to young adulthood. It is a comprehensive information system specifically designed to provide the best possible patient care.
The prime role of the pediatric EHR system is to provide healthcare with the ability to securely store and access patient medical records electronically.
The well-planned EHR system has many features including patient records, appointment scheduling, billing, prescription management, and other administrative tasks.
With its sophisticated interface, it allows practitioners to quickly and accurately assess a child's health status, monitor their treatment progress over time, provide tailored care plans and facilitate communication between different healthcare providers. By hiring a healthcare app development company in the UK, you can easily customize the pediatric solution.
The EHR system provides a secure platform where healthcare providers can manage and share patient data in a centralized and organized manner. It also allows patients to have access to their medical records and makes it easier for healthcare professionals to share information.
Additionally, it provides the ability to generate reports and analytics that enable providers to make informed decisions about the quality of care they are providing.
Also Read: Benefits of Automation Software in The Healthcare Industry
Why Now Is The Right Time to Invest in Pediatric EHR Solution?
In today's digital age, the use of Electronic Health Records (EHR) is growing rapidly. This is especially true for pediatric healthcare, which has seen an increase in demand for EHR systems due to their ability to provide improved patient care.
According to the survey report, the market opportunity for pediatric healthcare apps continues to increase in near future. The market value of telemedicine apps will jump from $10 billion in 2020 to $34 billion in 2025.
One of the top pediatric telemedicine apps like KiddieRX has adopted an innovative approach to healthcare along with robust and streamlined features and is expected to grow exceptionally to reach $25 billion by 2025.
Surely these statistics are encouraging you to replace the traditional approach of record keeping and get straight into the process of developing a pediatric EHR solution.
Call us today for the best pediatric EHR solution.
But, before that, you should know the reasons why Pediatric Electronic Health Record Solution is catching the hype…
Here are the major reasons why pediatrics should invest in EHR solutions:
EHR systems can help to streamline processes, reduce costs, and improve patient outcomes by providing healthcare with a single system to store and access patient records.
It allows for easy share data across providers, improved decision-making, and delivers better quality of care.
The pediatric EHR systems are specifically designed by healthcare app development companies in the UK to meet the needs of young patients.
They typically include features such as specialized documentation templates, age-specific growth charts, medication tracking, immunization tracking, and other features specific to children.
Overall, the increasing demand for pediatric EHR systems is driven by the need to improve access to quality healthcare and the desire to improve patient care outcomes. As such, more and more healthcare providers are investing in these systems in order to provide better care for their young patients.
Good To Read: Health & Fitness App Development Cost & Best Features of Gym Apps
If you have also planned to create a pediatric EHR system for your clinic, then it is important to understand what features you need to include in the app.
What Are The Must-Have Pediatric EHR Software Features?
While there are hundreds of EHR systems available on the market, the success of the app majorly depends upon the logic you add to the software development process. So if you want to make pediatric software that also works as an EHR system, then let's check out the core features of market competitors.
Here is an infographic of features that the most popular pediatric software already has.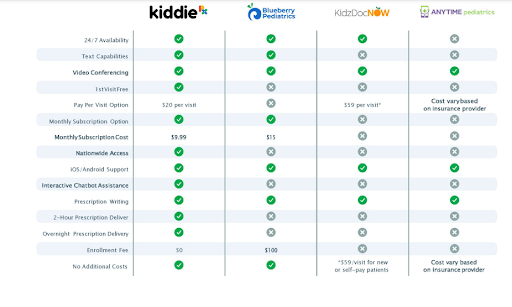 So the above-mentioned features are good to refer to in the case of developing a healthcare app. Apart, when it comes to building a pediatric EHR system, there are certain features and integrations that are must-haves for a successful product.
Here are some key features and integrations that can provide new parents with an easy-to-use and comprehensive EHR system for their pediatric healthcare needs:
Data Security: A comprehensive pediatric EHR system must include a robust data security protocol. This is especially important for medical records as it ensures that patient information is kept confidential and safe. Data security should include encryption, two-factor authentication, and other features that protect the system from malicious activities.
Patient Management System: The patient management system should include features such as patient registration, appointment scheduling, and billing. It should also have a feature that allows parents to easily update their child's medical records and view past records.
Clinical Documentation: The clinical documentation feature should be able to accurately document the diagnosis, treatments, and other relevant information related to each patient visit. It should also include templates for common pediatric illnesses and diseases.
Clinical Decision Support System: This system should be able to analyze patient data in order to make informed decisions about treatment options. It should be able to present evidence-based recommendations based on the patient's medical history.
Communication & Collaboration: Pediatric EHRs should also have a feature for communication and collaboration between healthcare providers. This would enable healthcare providers to work together more efficiently and provide better care for patients.
Electronic Prescribing: This feature would allow healthcare providers to securely send prescriptions electronically to pharmacies, making it easier for patients to fill their prescriptions quickly and safely.
Mobile Accessibility: The pediatric EHR system should be accessible from mobile devices so that healthcare providers can access patient records anytime and anywhere. This will help them stay up-to-date on their patient's health and provide better care.
Appointment Management: Appointment scheduling should be straightforward, with the ability to book appointments via an online patient portal or by phone. It should also include customizable reminders to ensure that appointments are not missed. Additionally, it should be easy to reschedule appointments and track no-shows. Furthermore, the system should be able to easily generate reports on wait times, cancellations, and rebookings.
Apart from these features, you can also check for important pediatric EHR integrations.
Looking for custom pediatric solution?
Common Pediatric EHR Integrations to Consider
A Pediatric EHR system should be designed to meet the specific needs of pediatric providers, allowing for streamlined patient care, efficient communication between providers and specialists, and secure storage of patient data. To ensure that a Pediatric EHR meets all of these needs, it should include features like:
Integrated Practice Management: Integrated practice management (IPM) can be a great way to improve the effectiveness of your pediatric EHR system. IPM provides physicians and other medical staff with the ability to manage their schedules, create billing codes, and ensure that patient records are organized and up to date. With IPM, your pediatric EHR system can easily track referrals and share data with other providers, streamlining the processes of managing your pediatric practice.
Billing and Claim Management Integration: Integrating billing and claims management into a pediatric EHR system is essential for a smooth functioning practice. This allows for easy, accurate, and timely submission of claims to third-party payers. It also helps streamline the office workflows and maximize reimbursements.
Electronic Prescription Integration: Integrating an e-prescription system is another important aspect of a pediatric EHR system. This enables providers to send prescriptions directly to the pharmacy, cutting out the time and hassle of manual entry and waiting on paper prescriptions to be filled.
Appointment Scheduling Integration: A pediatric EHR system should include appointment scheduling capabilities, such as automatic appointment reminders, patient check-in features, and electronic waitlist management. This helps keep practices organized, reduce missed appointments, and ensure efficient patient flow.
Patient Portal Integration: Having an integrated patient portal can greatly improve patient engagement with their healthcare provider. This can allow patients to access their own health records, securely message providers, and submit refill requests. All of these features can help create a better experience for patients and foster better communication between provider and patient.
Lab Results Integration: Integrating lab results into a pediatric EHR system can reduce turn-around times for tests, increase accuracy in lab results, and improve accuracy in documenting patient care. This can help providers make more informed decisions regarding treatment and help save time in the long run.
Analytics integrations within pediatric EHR systems: It can help providers understand key performance metrics, including financial performance, patient satisfaction ratings, or average length of visits. This can provide valuable insights into a practice's performance and help providers adjust their practices accordingly.
Also Read: Major Features of Healthcare App Development
The Tech-Stack and Team Requirement For Pediatric EHR Software Development?
When it comes to developing a pediatric Electronic Health Records (EHR) system, there are many technology solutions that can be used to ensure the system is secure, efficient, and effective. Depending on the desired features and complexity of the system, the tech stack for pediatric EHR software development may include:
Database Management System: A database management system is needed to store patient information securely and accurately, as well as allow for easy access to medical records when needed. The most popular database management systems used in healthcare include Oracle, MongoDB, and Microsoft SQL Server.
Software Development Kit (SDK): SDKs provide the necessary tools for software developers to create and modify pediatric EHR software. Common SDKs used for healthcare include Java, JavaScript, Python, and C++.
Cloud Computing: Cloud computing services can help provide scalability and cost-efficiency to any pediatric EHR system. These services are typically provided by Amazon Web Services (AWS), Google Cloud Platform (GCP), or Microsoft Azure.
Application Programming Interfaces (APIs): APIs provide a way for healthcare providers to securely share patient data with other healthcare systems. Common APIs used in healthcare include FHIR, HL7, and ICD-10.
By selecting the right combination of technology solutions, healthcare app development companies in the UK can ensure they are developing an effective and secure pediatric EHR system.
However, to create successful pediatric healthcare solutions, you need to hire a dedicated app development team that must include a business analyst, project manager, frontend/backend developer, UI/UX designer, and quality assurance engineer.
But the central question is how much does it cost to outsource a healthcare app development company in the UK? Let's learn it in the next section.
Call us today for a FREE no-obligation quote.
How Much Does It Cost To Develop a Pediatric Solution?
Building a pediatric Electronic Health Record (EHR) system can be expensive, but the long-term benefits of having an effective, reliable system in place can make it worthwhile. Before starting a pediatric EHR project, it is important to understand the various cost components and how they will affect the overall cost.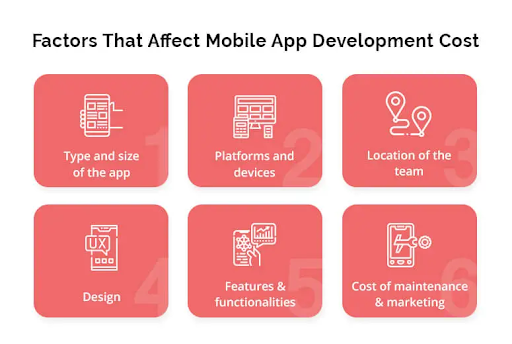 The most significant cost component of building a pediatric EHR system is the development process. The development cost for a pediatric EHR system can vary depending on the complexity of the system. A simple pediatric EHR may require less development time and resources than a more complex system. Additionally, if customization is needed, the development cost will increase significantly.
Next, the cost of hardware, software, and databases must be taken into consideration. The hardware and software necessary to run a pediatric EHR system can vary widely depending on the size of the practice and its needs. Additionally, the cost of databases such as an Oracle or Microsoft SQL Server can also add to the cost of building a pediatric EHR system.
Finally, there are costs associated with ongoing maintenance and support of the system. It is important to ensure that the system is regularly updated and supported to ensure that it runs properly and efficiently. This can add additional costs to the overall cost of the project.
Overall, the cost of building a pediatric EHR system can vary greatly depending on the complexity of the system and its intended use. However, when done correctly, investing in a quality pediatric EHR system can provide numerous long-term benefits and cost savings.
Conclusion: How Can Hidden Brains UK Help You Build Pediatric EHR Solution?
When it comes to developing a pediatric Electronic Health Record (EHR) system, the process is complicated and time-consuming. You need the right team with experience and expertise to help you build the perfect pediatric EHR system that meets your needs.
That's where Hidden Brains UK can help. We have a dedicated team of experts that specialize in developing pediatric EHR systems. Our team of healthcare professionals is skilled in understanding the nuances of healthcare IT. We understand how to use technology to ensure that patient information is secure and easily accessible. Our team will work closely with you to develop the perfect pediatric EHR system for your practice or organization.
At Hidden Brains UK, we strive to help you build the perfect pediatric EHR system that will make your practice or organization more efficient and effective. Contact us today to discuss how we can help you build the perfect pediatric EHR solution!
FAQs
What Are the Different Types of EHR Systems?
Electronic health records (EHRs) come in a variety of shapes and sizes, and each type offers different benefits. EHRs can be divided into four main types: stand-alone systems, integrated systems, cloud-based systems, and mobile solutions.
> Stand-alone systems are those which operate independently and serve as the sole source for medical record storage. They usually include a single computer or terminal and may be either on-site or remote. Stand-alone systems provide a basic level of functionality and are typically used by small practices and solo practitioners.
> Integrated systems provide a much more comprehensive suite of features than stand-alone solutions. These systems are designed to connect multiple departments within a hospital or healthcare organization, allowing them to share information and resources. Integrated systems typically include an EHR, practice management software, financial management software, and other applications tailored to the needs of the organization.
> Cloud-based systems are those that are hosted remotely on the Internet. These solutions are often used by large organizations with complex systems that require a high level of scalability. They provide a secure platform for storing and accessing data, while also offering additional features such as analytics and reporting tools.
> Finally, mobile solutions are becoming increasingly popular among healthcare providers. These solutions make it possible to access medical records anywhere and anytime via a smartphone, tablet, or another mobile device. Mobile solutions often include a variety of features such as appointment scheduling, telemedicine, patient portal access, and more.
No matter what type of system is used, it's important to consider the needs of the organization when selecting an EHR system. While some may only require basic features, larger organizations with more complex needs may need an integrated or cloud-based system. In any case, it's important to ensure that the system meets the requirements of the organization and its staff.
What Are The Crucial Tips To Choose Pediatric Software For Your Clinic?
Here are the few major tips that you need to keep in mind while planning to create a healthcare pediatric EHR solution:
1. Choose a System That Meets Your Practice's Needs: Before selecting a pediatric EHR system, it's essential to evaluate your practice's needs and select the best system that meets those needs. Consider what type of care you provide, the specialty areas you have, and the tools you need to be successful.
2. Check For Certification: When selecting a pediatric EHR system, make sure it is certified by the Office of the National Coordinator for Health Information Technology (ONC). This certification helps ensure the system is safe and secure, as well as capable of meeting HIPAA and other regulations.
3. Ensure Security & Accessibility: It's important to choose a system that provides secure access to patient data while meeting security and privacy regulations. Ask the vendor about encryption, authentication, and other measures used to protect sensitive information.
4. Look for User-Friendly Software: Pediatric EHR software should be user-friendly and easy to navigate so that healthcare providers can quickly access the information they need without wasting time trying to figure out how to use the software.
5. Consider Implementation & Training: Make sure the pediatric EHR system you select is compatible with existing hardware and software, and also consider whether or not the vendor provides training on how to use the system properly.
6. Compare Costs & Pricing Models: Consider the cost of implementation, training, support, and upgrades when evaluating the cost of a pediatric EHR system. Additionally, ask about their pricing models to determine if it meets your budget requirements.
7. Get a Demonstration: Most vendors will offer a free demo or trial period, so take advantage of this to try out the system before making a purchase decision. This will help you get a better idea of how the system works and how it will fit into your workflow.
By following these tips, you can ensure that you select a pediatric EHR system that meets your practice's needs and allows you to provide high-quality care to your patients.
Do Not Forget To Visit Our Robust and Secure Services:
Mobile App Development Company in The UK
|
iOS App Development Company In the UK
|
Android App Development Company in the UK
|
Web Application Development Agency in the UK
|
PHP Development Company in the UK
|
ASP.NET Development Company in the UK
|
Hire Developers in the UK
|
Hire Best iPhone App Developers in the UK
|
Hire Android App Developers
|
Hire Web Developer in the UK
|
Hire PHP Developers In The UK
|
Hire ASP.NET Developers in the UK