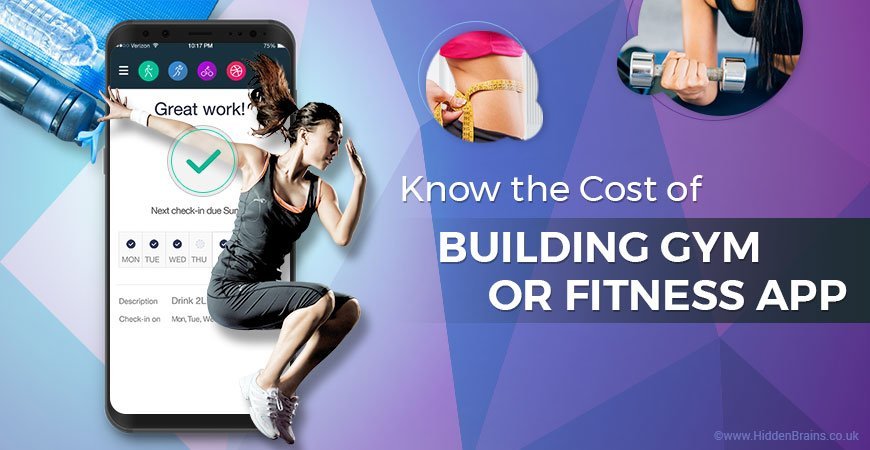 Cost and Features Explain By Fitness App Development Company
The fever of mobile apps is a subset of the digital revolution that has dramatically changed industries. Digitization has brought in a rapid change in consumer behavior, which is clearly evident in the ways they procure information and digest it. Health and fitness is one such industry where users prefer to access their personal health-related information on a mobile app rather than browsing websites.
Healthcare app development has become the most convenient and preferable mode of accessing services and information. With this trend on rise, Android application development services have expanded to provide integration with wearables, VR headsets, and AR technology.
To take the advantage of trend of mobile app in health and fitness category, gyms and yoga centres are on the outlook for gym app development services.  The first concern that comes to mind while procuring fitness application development is the cost associated with such service. Let's know about the fitness app development cost and factors that affect that cost including type of app, its complexity and number of features.
Different Types of Health, Gym, and Fitness App Development
If you wish to go for healthcare app development to build a robust fitness app, the first thing you need to finalize is its category and need to finalize android app development service provider from a top gym app development company. The most common and popularly used health and fitness app are as mentioned below:
Workout and Fitness App
When it comes to the fitness app category, the workout apps are the main in this list. It mainly focuses on the workouts with targets to showcase users' recommended exercises and explain proper ways to do them. If we search, we can find several examples related to the workout apps with peculiar features in each one of them. Workout apps in healthcare app development are categorized broadly into four categories:
Personal Trainer App
Logbook App
Fitness Tracking Apps that Integrate with Wearables
Home workout apps
Personal Trainer App
Apps belonging to this category allow connecting users with their personal trainers. Workout details can be shared or uploaded on these apps in different formats such as video, illustrations, 3D models, or simple text. The demand for personal trainer fitness apps is on rising with more people visiting gyms these days. Hiring a personal trainer may be out of budget for many; this is where personal trainer apps come into the picture.
Logbook App
These apps are a kind of workout calendar that allows users to specify their exercise routines precisely. For example, users may want to undertake leg exercises on Monday, cardio ones on Tuesday, and so on. Logbook apps record these activities to remind users and keep a track of their daily exercise routine. These are simple to use and basic apps with minimal design elements whose core functionality is to record exercise routines.
Fitness Tracking Apps that Integrate with Wearables
With more people now using wearables, the demand for fitness tracking apps that synchronize with wearables has surged to a great extent. While wearables count each step the user takes, the app calculates the remaining steps to accomplishing daily exercise goals. These apps provide a detailed outlook on workout activity by fetching relevant data from wearables.
Home Workout Apps
Healthcare app development for home workout apps includes easy solutions for people who do not go to a gym or any sports or fitness center. The main aim of such apps is to offer a proper routine of exercises and help users get accustomed to it. Also, such apps can be made in sync with the fitness wearables and offer complete customized recommendations for the workout.
Nutrition & Diet App
Mobile apps that track daily calorie intake, manage diet, and give food-related suggestions fall under the category of 'nutrition and diet'. This app requires high-level interactivity where users continuously update their food and beverages intake as and when they have water, coffee, tea, sandwich, or any other food. These healthcare mobile apps are the favorite of many health freak people who find it difficult to stick to a regular diet plan.
Fitness Activity Tracking App
When we talk about fitness activity tracking apps, it covers even the people who are not regular with a gym or play any sports, but they still do some kind of workout. These types of applications count a total number of steps and calories burnt. Also with the help of geolocation, the total distance they walked is measured. The added feature of interest is the sleep quality estimation and smart alarm clocks which are used to wake up the person when in the REM sleep phase. Such activity tracking apps are usually paired with the wearables even if they don't have a smartphone.
Management of Gym Equipment
In Android app development services of the important fitness apps are applications that are used for 'Management of gym equipment'. The main motive behind such apps is to provide users a well-tuned workout experience in their gym. Here the gym equipment can be synchronized with the user's preferences through IoT. For instance, the treadmill can be synchronized as per the preference of the user. Individuals can have customized workout experiences. Such apps go well with almost all gym equipment through the use of IoT technology. Its working involves loading users' data and likewise setting the gym equipment before starting the fitness session.
Desirable Features of Health & Fitness Apps
When building a fitness app, it is necessary to decide on features that should be included for the maximum use of the app. Let's take a look at desirable features of health and fitness app:
1. Monitor Daily Exercises
The app should enable users to calculate the distance covered during walking or jogging. Further, the fitness app should be such that it covers tracking of all types of exercises, even the gym workout ones.
2. Count Daily Steps
Fitness mobile app should be well integrated with wearables to keep a constant track of the number of steps per day. When the number of steps walked is compared with a targeted number of steps, users get a clear idea of whether he/she is on the right track.
3. Set Goals
The main aim of the health app is to allow the user to set their fitness goal and work towards achieving it. Apps should allow users to set daily, weekly or monthly goals. As per received information of user's age, height, weight, and gender, the app should suggest exercise and workout activities for the user to achieve the target.
4. Reminder for Pending Daily Exercise:
Fitness mobile apps should remind users through push notifications about their pending exercise so that it always stays at the back of their minds. Such reminders help users in managing their daily schedule and spare the proper amount of time for exercise.
5. Motivate Users from time to time:
Fitness apps that track daily exercise, steps, and count the number of calories burnt should be displayed to users such that it motivates them to continue the good work. In addition to that, users should be provided an option to opt for daily motivational quotes that inspire them to move ahead with healthy living.
6. Connect with Friends through App
Fitness mobile apps should allow users to connect with their friends and build a community where they share workout details and health goals. It is observed that users that join and stay connected to a community are more likely to stick around their fitness goals.
7. Live Streaming
This is an advanced feature that enables users to record workout exercises and share them with personal trainers for a better training process. Though a heavy feature, such unique and useful functionalities increase the popularity of the app among the target audience. 
Fitness App Development Cost
Cost of fitness app development completely depends on number of features you wish to include, its complexity, time taken for mobile app development, design requirement, and finally the rates of the development team you hire. To get an idea of where you would be required to invest money for building a fitness app, consider the following points:
Design

Development

Testing

Project Management

Documentation & Specification
There are two approaches to getting your app built – outsource it to a reliable iOS or Android app development company or hire a dedicated team that works on this project as per your requirements. When going for the first option, your fitness app development cost can depend on features. However, if hiring a dedicated development–design team or independent resources, costs may vary depending on their hourly rates.
Related : How Much Does it Cost to Create an App?
Conclusion
Having a mobile app for your gym business or any other fitness center is advantageous in terms of reaching out to the target audience and promoting services among them. Hidden Brains is a reputed mobile application development company that builds feature-rich and fully functional apps as per client's requirements at the best prices. Our android app developers  have extensive experience in developing health and fitness apps for several clients and can help you in leveraging new technologies to make your app noticed in the App Store.