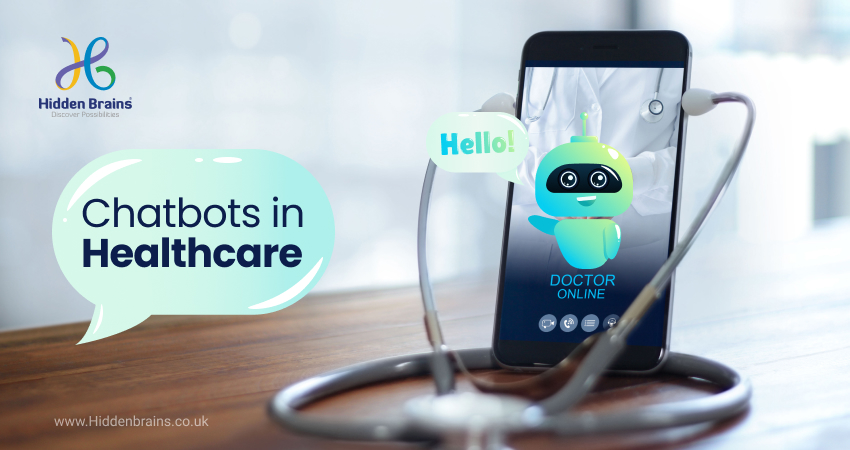 Chatbots in the healthcare are fastly transforming the medical industry. With the implementation of AI chatbots, healthcare providers can offer a real-time solutions, and personalized assistance to patients dealing with chronic issues and provide immediate support in case of emergencies.
And the real importance of having AI chatbots in healthcare sectors has been recognized during the Covid-19 outbreak.
And why not!
Take a moment and just sink into that!
What if there was a huge spike in patient intake and healthcare practitioners were not enough, in that case, healthcare service providers were battling with another major issue – Patient Anxiety!
The panic situation of patients will make them curious and drag them into the need of getting immediate and accurate information to deal with their health issues. That's where Chatbots played a crucial role in seamlessly managing patients' queries, offering in-time information and solution, and keeping panic patients at the bay.
Call us today for a FREE no-obligation quote.
According to the survey report, with chatbots, the WHO has reached more than 12 million people via WhatsApp in its first month of operation and has reached 4.2 billion people by the end of 2020.
In addition, the use of chatbots in healthcare has raised revenue of $36.5 million in 2018 which will quickly jump to $498.1 million by the end of 2029.
With these statistics, it is clear that AI chatbot technology is boldly paving its way in the field of the healthcare sector and facilitating better healthcare options.
But how do chatbots are changing the medical sphere? Let's check out the video for a better understanding…
So, if you are also in the healthcare industry and looking for ways to cater better care to your patients, then now is the alarming time to integrate chatbots in healthcare.
To get started with the AI chatbot, you can look for healthcare software solutions in the UK. But before you make a huge investment in developing on-demand healthcare apps integrated with AI chatbots, you must be curious to understand how chatbots in healthcare are empowering and why it has become important.
What Are The Upsides Of Using AI Chatbots in the Healthcare Industry?
Using AI-Chatbots in healthcare has brought a proven boom in the industry in many ways. If you're seriously impressed with AI technology and wanted to integrate it into the healthcare solution, but are not sure how it will empower your business then here are the reasons why chatbot trends in healthcare are on the rise…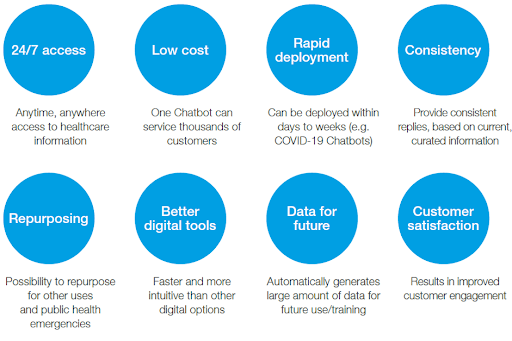 Here are a few advantages of using AI Chatbots in the Healthcare Sector:
1. Ensuring More Accuracy in Medical Diagnosis
Providing accurate and accessible diagnoses to healthcare providers is a basic need. Did you know in the US alone, 5% of outpatients got the wrong diagnosis annually in primary care?
Moreover, of patients with severe medical conditions, 20% of those are misdiagnosed by an initial care physician. And the treatment started with the wrong diagnoses, therefore 1/3 of them end up with harmful treatments.
On a global scale, the concern for accurate diagnoses has become an urgent need for healthcare providers.
Also Read: The Future of Cloud Computing in Healthcare
That's where using AI-based chatbots in the healthcare industry can be a helpful tool in offering more accurate information about any healthcare issues.
Integrating AI chatbots into your healthcare solution will provide the ability for the patients to instantly chat with the bots and able to get instant information about any medical issues.
Call us today to know benefits of Chatbots in the Healthcare.
According to the studies, soon patients will be consulting Dr.Bot for a second opinion!
But now the question is how AI can help you provide reliable information.
The simple workflow of Chatbot is like they ask questions and gather information from patients and simultaneously make a record of everything so that it will serve the information as a normal human doctor.
Since bots are based on AI algorithms and the prime role of this technology is to gather information, therefore, it also accesses medical records and databases to offer more accurate information to doctors.
2. Extend the Capability Of Handling Large Amounts of Patient Enquiries
According to the studies, resource limitations can deeply impact care delivery. And this had proven so true during Covid-19 when practitioners failed to handle the massive amount of Covid queries.
Having a healthcare chatbot can be a great way to deal with a large volume of inquiries. Instead of using the traditional pattern of putting inquiries to the hospitals, patients can simply click on the chat popup and right away start communicating with the AI bots.
Medical chatbots allow patients to ask any question and make an informed decision about their healthcare without any delay. When every second counts, the chatbot delivers a prompt reply.
For example, during the outbreak of covid-19, people went crazy with the symptoms. Since it was all together a new issue to everyone, so there was a panic wave among doctors as well.
That's where AI chatbots helped in gathering heaps of data based on analyzing the type of queries commonly being asked by the patients. This way, the moment you initiate your query, the healthcare chatbot will immediately answer the question and increase the capability of handling a large number of queries within less time.
Good to Read: Benefits of Automation Software in The Healthcare Industry
3. Enhanced Patient Satisfaction
According to the survey report, employee satisfaction increases after implementing chat assistance.
If you are wondering how a bot can offer humanized care to patients, then you need to understand that there are many advancements have been made in AI technology that enables these bot to answer queries in an impressive way.
Since healthcare chatbots are becoming more sophisticated with an impressive capability to understand patients' needs, they offer reliable information.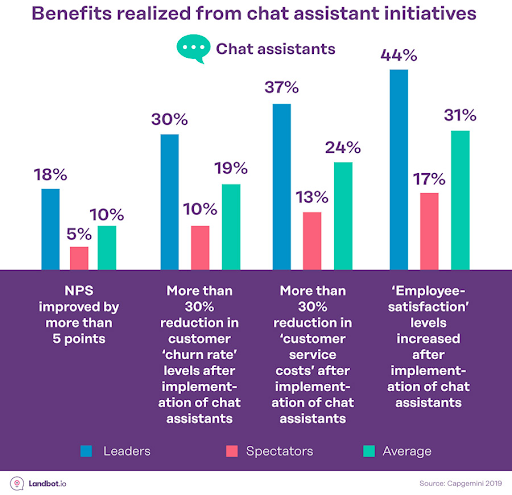 4. 24/7 Availability
Unlike humans, medical chatbots are designed to work round the clock and manage medical emergencies in real-time. No matter whether it's normal business hours or a week off, medical chatbots keep working on your healthcare app or website.
Moreover, chatbots can eliminate the issues of waiting a long time or scheduling appointments that may not even fit your busy schedules. With 24/7 accessibility, patients have instant access to expert medical assistance whenever they needed.
How Healthcare Chatbots Are Turning Up The Medical Sector?
Have you ever thought of communicating with bots? So far, now it has become the reality of today.
From automating the doctor's appointment booking process to managing prescriptions, and communicating with doctors to ordering your medicines, chatbots can do everything.
Not only it helps on saving human resources but also empowers you to deliver instant support to your users or patients. Ultimately this translates into improved healthcare services.
With so many advancements and innovations in the medical sector, AI chatbots have become one of the most popular healthcare trends that are fastly revolutionizing the healthcare industry.
So if you are also wondering how chatbot trends in healthcare are working and what are the use cases of chatbots then here's what you need to know.
1. Automating the Manual Appointment Scheduling Process
Gone are those days when people keep calling to book an appointment with the doctors and kept waiting over the call. In the fast-paced life, people are looking for smart solutions that can help them to book an appointment with a doctor while on the go.
That's where on-demand healthcare IT solutions integrated with AI-driven chatbots come into the role. It helps you replace all the traditional appointment scheduling procedures with an advanced procedures. Using chatbots, patients can book an appointment with their choice of doctor or medical professionals at their time.
Now how does it work?
Modern healthcare IT solutions use to come with chatbots. Before booking an appointment, chatbots will ask you a series of questions to gather information about the purpose of visiting the doctor, your medical concerns, and your availability for visits.
After analyzing your query, it will provide you with a list of doctors and use the information to schedule an appointment. Overall it will save the time of both medical professionals by eliminating the risk of no-shows as it sends reminders to the patients.
For example, during Covid-19, this feature greatly reminds people of their second vaccine shot and minimizes the risk of skipping the vaccine.
2. Keep A Track of Medical Notes and Feedback
Without conducting medical surveys, bringing an improvement in healthcare services seems to be an impossible task. To improve anything in healthcare, you need to understand what exactly has to be improved.
For this, you simply need to conduct a survey or get user feedback.
Unlike filling up traditional survey forms, healthcare chatbots can ask several questions more naturally, making it easier to gather information from patients.
Chatbots are quickly revolutionizing the way medical professionals gather information from their patients and keep a record of it. Automating the process of recording patient feedback, it becomes an easier and faster way to collect reliable information about patients for medical professionals.
Call us today for a FREE no-obligation quote.
3. Examining The Healthcare Symptoms
Did you ever imagine that bots will help you examine the Patient's symptoms? Being a medical professional, having an employing chatbot to check symptoms and accordingly provide an accurate response to the patients can be the biggest achievement in healthcare.
All you need is to look for healthcare IT solutions in the UK that can help you develop NLP-based chatbots. Natural Language Processing (NPL) can help interpret a patient's request regardless of what type of health concerns they have.
The chatbots can use the information while evaluating the symptoms and assist the patients in identifying the exact problem for their symptoms. Further, it will suggest the solution and care procedure. It completely depends on patients what level of therapies and medications they would like to seek further.
4. Track The Status of Claims and Insurance Coverage
You can consider developing the chatbots in a way that helps patients with their insurance claim policies. It's really hard to employ a team that will manually explain the medical insurance policy to every single person.
By integrating the Chatbots, you can automate the process and healthcare chatbots to offer an easy way to obtain critical information including details of policy, maximum coverage, claim file processing, file processing charge, the status of the claim, and more.
Adding this functionality to your healthcare solution will make it very convenient for patients and pre-authorized billing staff to understand medical claims.
5. Instant Yet Accurate Response To FAQs
There are certain questions that are often asked by patients. And at times answering repeated questions can make your staff feel irritated. These questions may include:
What are the working hours of the clinic or medical institution?
What will be the room rent for a day?
Will it be covered under the insurance policy?
What documents do we have to submit for the medical claim?
What Treatments are available at your medical institute?
What are the rates of medical treatments?
Using chatbots for regular questions and answers can be an easy deal. A healthcare chatbot can spontaneously answer questions without any stops.
6. Offering Medical Assistance
Patients dealing with mental illnesses like depression, anxiety, autistic, and more can seek highly valuable information instantly using chatbots.
You can train chatbots to offer Cognitive Behavioral Therapy (CBT) to such patients and make them learn how to become more social and crack job interviews. In fact, chatbots allow users to communicate freely via text or microphones.
Will AI Healthcare Chatbots Continue To Rise in the Future?
Though it is true that healthcare chatbots have become a buzzword in the healthcare industry and have revolutionized the way people look for medical assistance and healthcare.
Right from providing immediate assistance to responding to FAQs, and automating the appointment scheduling processes to ensuring 24*7 availability, healthcare chatbots have successfully changed various things. But still, these are the basic things of health care sectors. There are many more complex use cases that still need to be revolutionized.
Therefore, it won't be wrong to say that Healthcare chatbots are at the beginning stage and has a long way to go. According to various market surveys, here are the few areas in that medical bots will live up in the coming years.
Let's have a look over market statistics portraying the progressive picture of healthcare chatbots: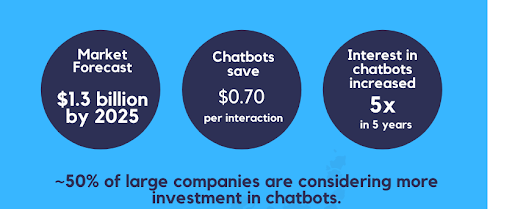 It is predicted that the USA, India, Germany, UK, and Brazil are the top 5 countries using chatbots.
The market forecast for healthcare chatbots is expected to make $1.3 billion by 2025.
In addition, it has been observed that chatbots can save $0.70 per interaction.
The business interest in investing in chatbots has increased to 5X in 5 years.
Now next, here are a few expectations that you can expect to accomplish with healthcare chatbots:
Enables you to manage chronic health issues, mental health problems, and behavioral and psychological disorders by offering consistent advice.
Actively evaluate symptoms, identify healthcare problems, and keep a track of medical history.
Helping patients to identify health issues at the early stage.
Since AI algorithms are becoming improvised with each passing year and helping medical professionals to handle complex issues, therefore, it is safe enough to say that healthcare chatbots have a long way to go.
Call us today to know usage of Chatbots in the Healthcare Industry.
Conclusion: How Do Hidden Brains UK Can Help You Build Healthcare IT Solutions With Chatbot?
With this blog, hopefully, you have got an idea about the healthcare industry is working and why Chatbots are important. If you are still working with all that old and tiered ways of managing patients, then now is the time to look for healthcare IT solutions integrated with Chatbot.
With such advanced solutions, you can offer improved patient care, minimize costs, and streamline the entire process. All you need is to look for a reputed healthcare software development company in the UK that can help you build a solution that caters to your needs. And Hidden Brains UK is one of the leading software development companies in the UK, backed by expert coders and designers skilled in crafting healthcare solutions by using advanced technologies.
If you have any app development requirements or doubts in mind, then you can contact us or drop your query below.
FAQs
What is Healthcare Chatbot Development?
Healthcare chatbot development is a complex process of creating a module that requires expertise in various areas. The healthcare chatbot development involves a unique understanding of how people communicate with each other about their health issues through text, pictures, speech, and video. By using NPL and Artificial Intelligence, it becomes easier to collect all the information and allows chatbots to understand the query, and enables them to provide an instant reply.
What Are the Features of Healthcare Chatbot That Make It Worthy?
There are many features of medical bots that make them a must-have and an exceptional technology tool for healthcare professionals:
1. Keeping data secure and letting the patients feel comfortable about accurately sharing their information. 
2. Healthcare chatbots can help you track, analyze, and inform users about 
any physical and mental illness.
3. It helps you generate more accurate reports customized and personalized communications.
How Much Does It Cost To Build An AI Healthcare Chatbot?
Developing a healthcare IT solution with Chatbot is one of the challenging tasks, so the average cost to build an app is ranging from $15,000 to $20,000 and more. It will be greatly depending upon the complexity of the app idea and requirements.
How Long Does It Take To Build a Healthcare Chatbot Solution?
The average time is ranging from 3 months to 6 months of development, but it can be low or high depending on the complexity of the app. For accurate cost and time, it is worth consulting the experts.
Do Not Forget To Visit Our Robust and Secure Services:
Mobile App Development Company in The UK
|
iOS App Development Company In the UK
|
Android App Development Company in the UK
|
Web Application Development Agency in the UK
|
PHP Development Company in the UK
|
ASP.NET Development Company in the UK
|
Hire Developers in the UK
|
Hire Best iPhone App Developers in the UK
|
Hire Android App Developers
|
Hire Web Developer in the UK
|
Hire PHP Developers In The UK
|
Hire ASP.NET Developers in the UK