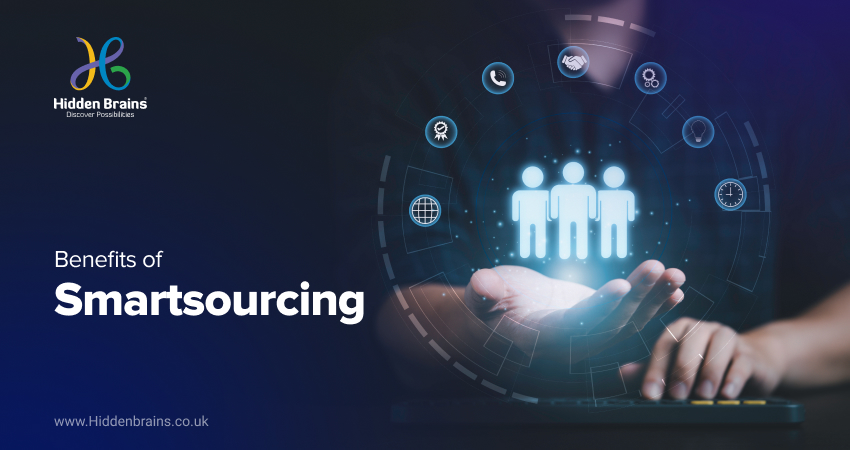 Are you trying hard to make out the best from your business investments, but still find yourself far away from the market competition?
If yes, then Smart-sourcing is your optimum solution!
Every year, various new technology terms and business strategies are emerging into the business world to simplify the process and increase work efficiencies.
In recent years one such business strategy that has stolen the stage and comes into popular use is 'Smartsourcing'. It has started to play a key role in the business world, seeking more effective and innovative methods of outsourcing.
But for many businesses, Smart-sourcing could be a new term. So what exactly is Smartsourcing and how it is different from traditional outsourcing?
Call us today for a FREE no-obligation quote.
If put in simple terms, Smart sourcing is a strategic approach of outsourcing that combines the strengths of onshore and offshore talent to create a customized, cost-effective solution for businesses. This advanced approach of outsourcing provides the flexibility to use external resources with the expertise needed to meet business objectives.
Let's understand the concept of Smartsourcing in-depth…
What is SmartSourcing and Why It Is So Smart?
SmartSourcing is a form of intelligent outsourcing with a comprehensive approach to outsourcing experts and allows organizations to adopt the best strategies for their businesses. Unlike traditional outsourcing, it combines the advantages of offshore, nearshore, and onshore outsourcing, and empowers businesses to benefit from the best of all three strategies.
Also Read Benefits of Hiring Offshore Android Developers: Everything You Need to Know
No matter whether you are a startup or an established firm, the primary purpose of outsourcing the project is always to maximize efficiency, lower business risk, minimize business operational costs, and accelerate the development process.
And that's where Smart sourcing brings you an innovative and improved expert hiring model that improves decision-making and offers a new way of outsourcing. The simple goal of Smart-Sourcing is to leverage the expertise of multiple experts while also reducing costs, increasing quality, and enhancing performance.
Let's check out this video to learn how Smart-sourcing work in order management…
How Does SmartSourcing Work?
Before you hire developers in the UK, many of you are wondering why using Smartsourcing and how they work.
Well, the concept of Smartsourcing closely resembles outsourcing but it promises deep expertise, and consistent effectiveness and identifies the scope of improvements in the existing process.
As far as its working is concerned, the process starts by identifying and understanding the core and non-core requirements of the organization.
Call us today to levarage advantages of smarsourcing.
The non-core requirements are including security, reliability, performance, maintainability, scalability, and usability of the resources. Usually, these operations of the project consume the biggest chunk of assets whether it's time or resources. In fact, these activities usually create a pressing environment for the experts and may distract their productivity.
So that's where the actual process of Smart sourcing begins and where experts and organizations collaborate on these activities. In addition, the Smart sourcing will enhance existing business procedures, implement innovations, and optimize the hiring process of businesses. With this practice, organizations can not only enhance their effectiveness but also reduces operational cost.
So this is how Smartsourcing works. But before you get straight into the process of hiring a mobile app developer in the UK, you must have a doubt that how Smartsourcing is different from traditional outsourcing…
How Does SmartSourcing Different From Traditional Outsourcing?
Smartsourcing and outsourcing are related terms, but they are different in some ways. But the way you use the external resources to manage your project requirements makes a big difference in both terms.
Good to Read: An Ultimаte Guide to Hire WоrdPress Develорers
Let's discuss the core difference between Outsourcing and Smart sourcing …
The prime difference between outsourcing and Smart-sourcing is one option is chosen to reduce the cost and speed up the project delivery process, whereas another option adds innovation along with cost-cutting.
Outsourcing assures you five major elements that may include – reducing cost, speeding up the process, enhancing effectiveness, improving consistency, and minimizing the business risk. On the other hand, Smart souricng is the deeper version of outsourcing. With Smartsourcing, companies can expect exceptional team skills such as innovativeness, professionalism, high-end usage of technology, and more.
Here is a complete infographic of the difference between Smart souricng and Outsourcing.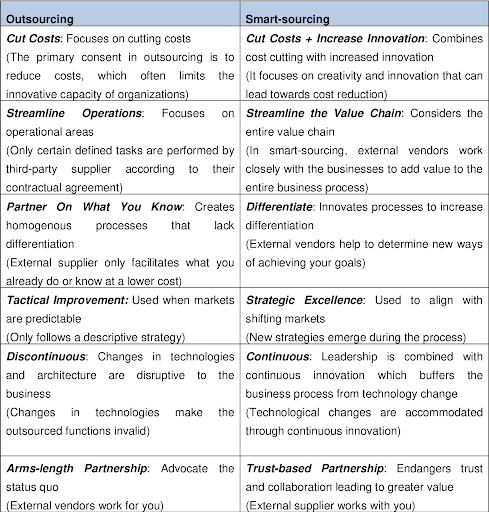 Call us today for a FREE no-obligation quote.
Conclusion: How Can Hidden Brains UK be Your Smartsourcing Partner?
With the changing scenario of the business domain, many business setups are moving from the historical term of outsourcing to Smart sourcing. It provides a simple way to select and prioritize the service providers that can go beyond your expectations and enables you to achieve complex IT needs. Since it's all about building and nurturing a lasting relationship with the service providers that can help businesses to achieve goals. With that in mind, businesses are rushing towards Smart sourcing, but the question is to whom you should partner with and how would they work.
Hidden Brains UK is one of the leading software development companies taking Smart sourcing to another by offering specialized IT services to all sizes of businesses. No matter how complex your project requirements are, being your Smart sourcing partner we will empower you with a development team that ensures optimum results.
FAQs
What Is Smartsourcing?
Smartsourcing is a business strategy that combines the best of both in-house and outsourced services to create a more efficient, cost-effective, and agile way of working. It involves using a mix of internal and external resources to provide the services required while using the most suitable expertise and resources to maximize value. 
Smartsourcing enables organizations to quickly adapt to changing customer demands and access the specialized skills they need without needing to hire full-time staff. As a result, it can reduce operational costs, improve the quality of services and enhance customer satisfaction.
What Are the Common Challenges of Smartsourcing?
Smartsourcing is a way of managing and utilizing external resources to create a competitive advantage in the marketplace. However, like with any business strategy, there are certain challenges associated with it. Here are some of the common challenges of smartsourcing:
• Cost: Smartsourcing can be expensive, and you need to be aware of the costs associated with finding, contracting and managing vendors. Additionally, you must factor in the cost of training personnel on how to use their services.
• Time: Smartsourcing requires a considerable amount of time for research, sourcing and management. If you're short on time, you may not have the capacity to handle all of the necessary tasks.
• Quality: The quality of service you receive depends heavily on the vendor you choose. Poor quality results from inadequate research or a lack of industry knowledge.
• Legal Issues: Contracts and legal documents must be carefully reviewed to ensure that all parties understand their obligations. Any contractual conflicts should be addressed immediately.
• Risk Management: When dealing with multiple vendors, it's important to identify and mitigate any potential risks. You need to consider issues such as data security, intellectual property rights and financial stability.
What Are The Benefits of Smartsourcing Over Outsourcing?
1. Cost savings – Smartsourcing can help businesses reduce the cost of hiring and managing employees, freeing up resources to invest in other areas of your business.
2. Access to better talent – Smartsourcing allows you to access a larger pool of talent from around the world, giving you access to more specialized skill sets than may be available locally.
3. Increased flexibility – Smartsourcing gives you the flexibility to scale up or down quickly, depending on your business needs.
4. Improved productivity – By using smartsourcing, you can ensure that tasks are handled quickly and efficiently, helping to improve productivity and efficiency.
5. Faster turnaround times – Smartsourcing can help speed up the process of completing tasks, giving you faster turnaround times for projects.
6. Reduced risk – Smartsourcing certain tasks can reduce the risk of delays, errors, and other unforeseen problems that can arise from having employees manage those tasks.
7. Increased scalability – Smartsourcing can help you scale your operations up or down quickly, depending on your needs.
8. Greater control over resources – Smartsourcing allows businesses to better manage their resources, ensuring they're used efficiently and effectively.
How to Implement Smartsourcing in Your Business?
Smartsourcing can be a great way to increase the efficiency of your business and boost profits. The key is to establish clear goals, identify the right partners, and develop an effective strategy for implementation.
Start by understanding your current operations, resources, and skillsets. Then, create a plan to determine how you can outsource certain tasks while maintaining control over the quality of work and processes. 
Once you've identified the right partner, put a contract in place to ensure the best possible outcome. 
Finally, consider investing in technology and tools that allow you to stay connected with your smartsourcing team and track progress. With these steps, you'll be well on your way to effectively leveraging smartsourcing in your business.
Do Not Forget To Visit Our Robust and Secure Services:
Mobile App Development Company in The UK
|
iOS App Development Company In the UK
|
Android App Development Company in the UK
|
Web Application Development Agency in the UK
|
PHP Development Company in the UK
|
ASP.NET Development Company in the UK
|
Hire Developers in the UK
|
Hire Best iPhone App Developers in the UK
|
Hire Android App Developers
|
Hire Web Developer in the UK
|
Hire PHP Developers In The UK
|
Hire ASP.NET Developers in the UK