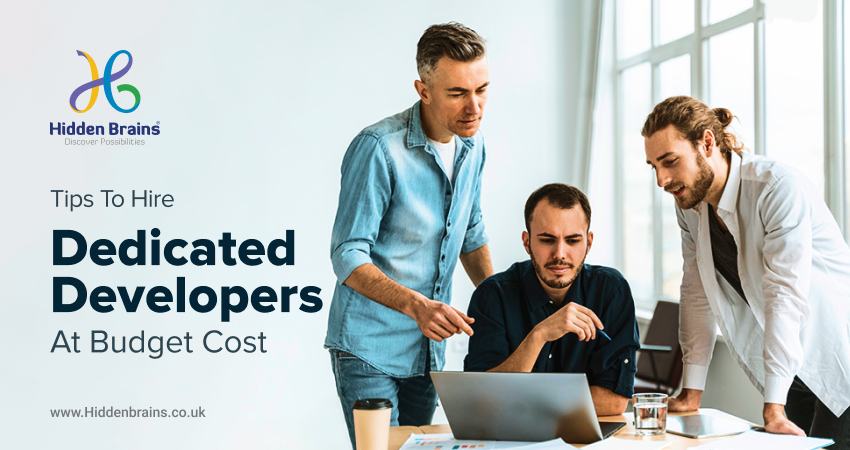 Hire dedicated developers for your projects? If yes, then how would you decide whether you are making the right decision or on the right track of hiring a coders team?
Well, to get a perfect answer to this question, you need to evaluate various factors and get into the details of this blog!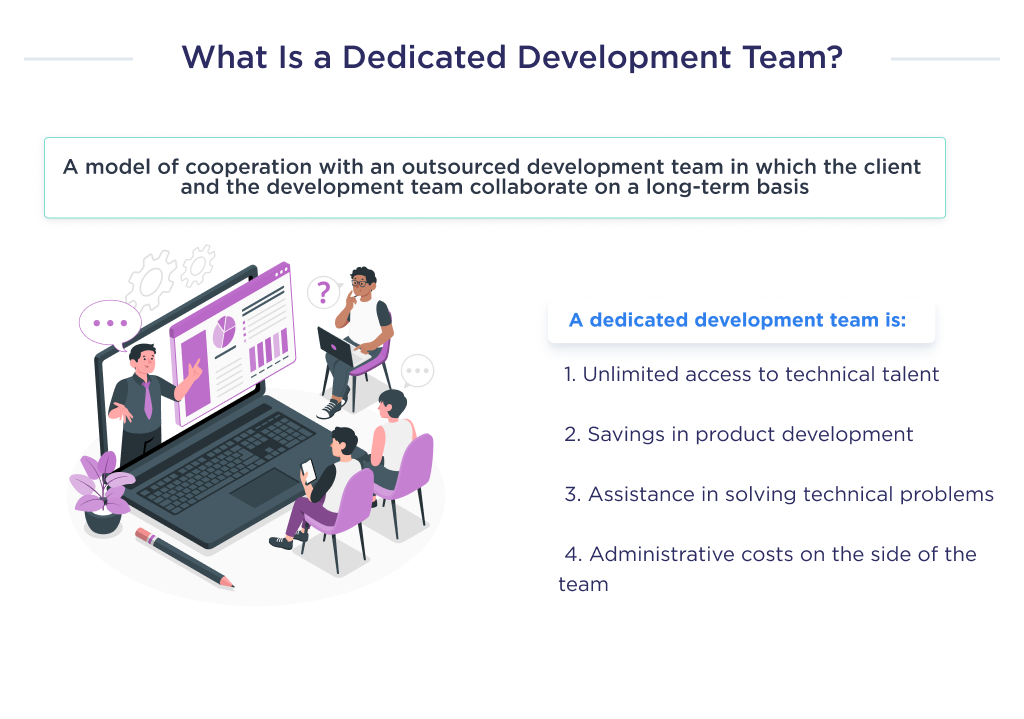 Image Source: spdload.com
We should have agreed with the fact that businesses are fastly moving to digital platforms and looking for great mobile app development ideas to establish their benchmark. But they often forget the fact that the mobile app development idea alone can't bring them success…
To become a part of this lucrative mobile app development industry, you need to hire mobile app developers in the UK that add a competitive edge to your business.
Now many of have a question in mind, that, while there is a vast choice of developers available in the UK market, then why there's a need of equipping yourself with the technical tips to hire a dedicated app development team?
Well, no matter how brilliant an app idea you have, the success of the business app majorly depends on the skills and expertise that your app developers pour into the project.
All-in-all, you need to hire the best-dedicated development team to achieve success!
So how would you decide where to hire the best app developers, what's the ideal cost of hiring dedicated developers, what skills and expertise suits your project, and more….
Before we jump straight on the practical tips to hire dedicated developers in the UK, let's take a quick sneak peek at the facts that why there is a booming demand to hire mobile app developers in the UK.
Why The Demand for Hiring Dedicated Developers Is Surging?
With the rapidly changing technologies, the trend of hiring in-house app developers is slowly vanishing and the demand for hiring dedicated developers is booming.
The projection is that the global software development market size will reach $602.69 billion by 2025, the market of global outsourcing software developers has already reached $524.44 billion in 2022 (as per Statista Reports).
In fact, as per Deloittee's global outsourcing survey report, approx 72% of companies prefer hiring developers instead of recruiting a full-time developer.

Image Source: mobilunity.com
But the central question is why?
Here is the few most potential reason to hire software developers in the UK over employing app developers:
Provides access to an entire team of skilled developers including business analysts, backend/frontend developers, Quality assurance testers, and UI/UX designers.
Availability to hire dedicated app developers on flexible pricing models based on hourly, part-time, or fixed billing.
Dedicated developers can easily cope with digital transformations.
Understands the changing needs of the mobile app development market.
Hiring dedicated developers provides access to a broader talent pool and allows businesses to bridge the skills gap effectively.
Hiring dedicated developers can be a cost-effective approach compared to hiring full-time employees.
Ensuring flexibility to scale up or down the development team based on project requirements.
Improve turn-around times and add a competitive edge.
These are the few factors that make hiring dedicated developers an optimum choice among businesses over hiring an in-house development team. So if you are all set to hire an Android app developer in the UK or a dedicated developer for your project, you need to consider these top factors to get the best talents.
10 Factors To Keep In Mind While Hiring Dedicated Developers
When hiring dedicated app developers for your project, it's crucial to consider several factors to ensure you find the right talent. Here are some tips to help you through the process: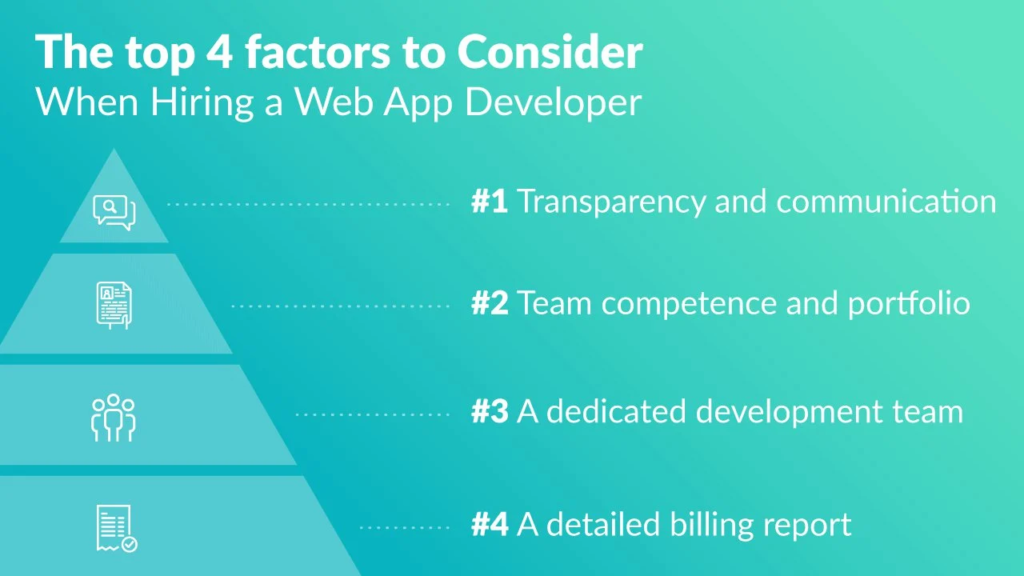 Image Source: stxnext.com
1. Market Research Is The Key To Find Best Talents
Before hiring dedicated app developers, conduct thorough market research to identify the best talents available. Analyze the reputation, expertise, and track record of various development companies or individual developers. This will help you make an informed decision and find developers who align with your project requirements.
According to a study by Clutch, 29% of businesses prioritize market research when choosing a mobile app development company.
Conducting market research allows you to assess the capabilities and competitiveness of different developers in the market.
2. Shortlisting Mobile App Development Companies Based on Criteria
Define specific criteria based on your project requirements and shortlist app development companies accordingly. Consider factors such as industry experience, technical expertise, client reviews, portfolio, and company culture. This will help you narrow down your options and select the most suitable development companies for your project.
3. Technology Expertise and Knowledge of the Latest Development Trends
Assess the technology expertise of the dedicated app developers. Since Android and iOS are the two major dominants in the app market, so look forward to hiring dedicated developers in the UK that have experience in the platforms (iOS, Android, etc.).
As per Statista report, React Native, Flutter, Xamarin, and Node.JS are the few most popular technologies and frameworks that are trusted by industry giants like Facebook, Instagram, Snapchat, Netflix, and Amazon.
Make sure they also stay updated with the latest development trends and best practices, ensuring they can provide innovative solutions.
Read More to learn how you can make money from your app. Here are the top monetize mobile app monetizing strategies. 
4. Ask For a Portfolio To Understand Their Nature of Work
Request a portfolio from the dedicated app developers to assess the quality and nature of their previous work. Evaluate their design aesthetics, user experience, functionality, and diversity of projects. This will give you insights into their capabilities and help you determine if their work aligns with your expectations.
5. Check Customer Satisfaction With Reviews and Ratings:
Review customer testimonials, ratings, and reviews of the dedicated app developers you are considering. Look for feedback regarding project management, communication, timeliness, and overall satisfaction. This will provide you with insights into their ability to meet client expectations and deliver successful projects.
According to a survey by BrightLocal, 85% of consumers trust online reviews as much as personal recommendations.
Customer reviews and ratings are essential sources of information to assess the reputation and satisfaction level of app developers.
6. Support of Their Team During and Post Project Deployment:
Evaluate the level of support the app development company or developers offer during and after project deployment. They should be responsive, provide timely updates, and offer post-launch maintenance and support services. A leading software development company in the UK "Hidden Brains" offer strong support to ensure a smooth development process and post-launch maintenance support to make your app run seamlessly in the long run.
7. Project Security Measures And Signing NDAs
Discuss security measures before you hire dedicated developers that how they will protect your intellectual property and sensitive data. Ensure they follow secure coding practices, have measures in place for data encryption and storage, and are willing to sign Non-Disclosure Agreements (NDAs) to protect your confidential information.
8. Team Communication and Project Progress Updates
Effective communication is crucial for project success. Make sure before you hire dedicated developers, you will check whether they assess different communication channels including calls, email, Skype, and more. In addition, make sure they always keep the client in the loop and keep you updated with the project progress report by sharing it weekly.
Also, they should provide regular progress updates, promptly respond to queries and concerns, and be accessible for meetings and discussions.
9. Evaluate Risk Handling Capabilities
Evaluate the app development company's or developers' risk management capabilities. Inquire about their strategies for identifying and mitigating risks that may arise during the development process. A proactive approach to risk management ensures the project stays on track and avoids potential pitfalls.
10. Balance Between Price and Quality
Consider the balance between price and quality when selecting dedicated app developers. While cost is a factor, prioritize quality, expertise, and experience over choosing the cheapest option. Evaluate the value and return on investment (ROI) you can expect from the app development services provided.
Hopefully, these points will help you shortlist the best app developers, but how much does it cost to hire dedicated app developers?
How Much Does It Cost To Hire Dedicated Developers?
When it comes to hiring dedicated developers, the cost can vary depending on several factors. Here are the key factors influencing the cost of hiring a dedicated developer.
Expertise and Experience: The level of expertise and experience of the dedicated developers significantly affects the hourly cost to hire dedicated app developers. Coders with more skills, knowledge, and years of experience generally have expensive hourly rates.
Location: Since different geographical locations have different costs of living there the cost to a dedicated development team is vary in different locations. Developers from regions with a higher cost of living or a strong tech industry presence tend to charge higher rates compared to developers from regions with lower costs.
Let's check out the infographic below to get an idea about the hourly cost of developers in various locations.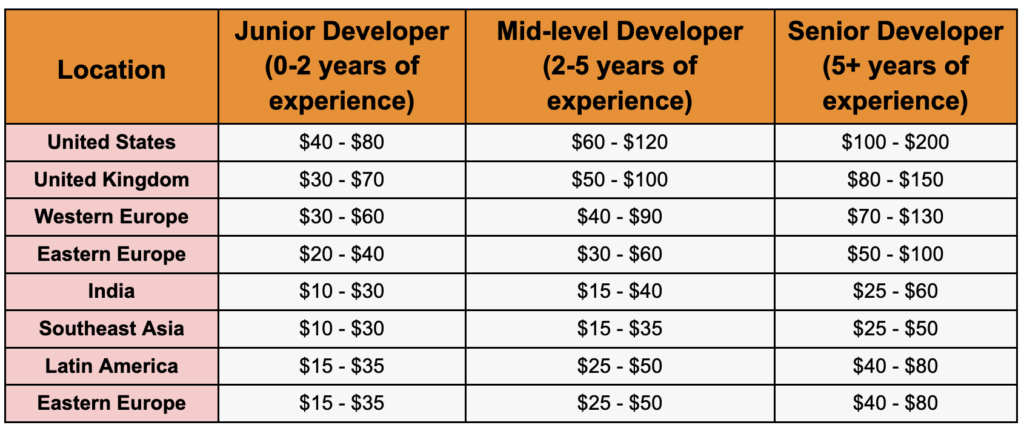 Image Source: hiddenbrains.co.uk
Technology Stack:
The complexity of the technology stack required for your project can impact the cost. If your project involves using niche or in-demand technologies, it may require developers with specialized skills, which can lead to higher rates.
Project Duration and Scope:
The duration and scope of your project also impact the cost. Longer-term projects or projects with extensive requirements may incur higher costs as they require a longer commitment and more resources from dedicated developers.
Level of Support and Services:
Additional services such as ongoing support, maintenance, or post-launch updates can influence the cost. If you require dedicated developers to provide comprehensive support beyond development, it may result in higher pricing.
Overall, there is no standard cost for hiring a dedicated developer as there are various factors affecting the hourly cost. However, you can book a free consultation slot with our experts to discuss your project details and get an estimation.
Conclusion:
Hidden Brains Is a Trusted Platform for Hire Dedicated Developers In the UK
Hopefully, this blog has guided you through all the major practical tips to hire the best-dedicated app development team for your project. However, if you are still confused about where to start your search and how to narrow down your options, then landing on Hidden Brains to hire mobile app developers in the UK can be a sensible decision.
With a track record of developing business-centric solutions that gained millions of app downloads, Hidden Brains UK has established its name as a leading software development company in the UK. You can schedule a consultation slot to discuss your project details directly with the top industry experts and get a solution that adds an edge to your business. So contact us now for estimations.
FAQs
Should I hire dedicated app developers locally or from offshore/nearshore locations?
The decision depends on your specific requirements and budget. Local developers offer easier communication and potential cultural alignment, but they are generally more expensive. Offshore or nearshore developers can provide cost savings, but time zone differences and language barriers may need to be considered.
How can I ensure effective communication with dedicated app developers?
To ensure effective communication with dedicated app developers, establish clear channels of communication, use project management tools, schedule regular meetings, provide detailed project requirements, and maintain an open and transparent communication culture.
What is the typical engagement model for hiring dedicated app developers?
The typical engagement models include fixed-price contracts, time and materials contracts, and dedicated team models. The choice depends on the project scope, budget, and desired level of control and flexibility.
What post-development support can I expect from dedicated app developers?
Post-development support can include bug fixes, updates, maintenance, and ongoing technical support. Clarify the terms and duration of post-development support in the contract before hiring dedicated app developers.
Do Not Forget To Visit Our Robust and Secure Services:
Mobile App Development Company in The UK | iOS App Development Company In the UK | Android App Development Company in the UK | Web Application Development Agency in the UK | PHP Development Company in the UK | ASP.NET Development Company in the UK | Hire Developers in the UK | Hire Best iPhone App Developers in the UK | Hire Android App Developers | Hire Web Developer in the UK | Hire PHP Developers In The UK | Hire ASP.NET Developers in the UK