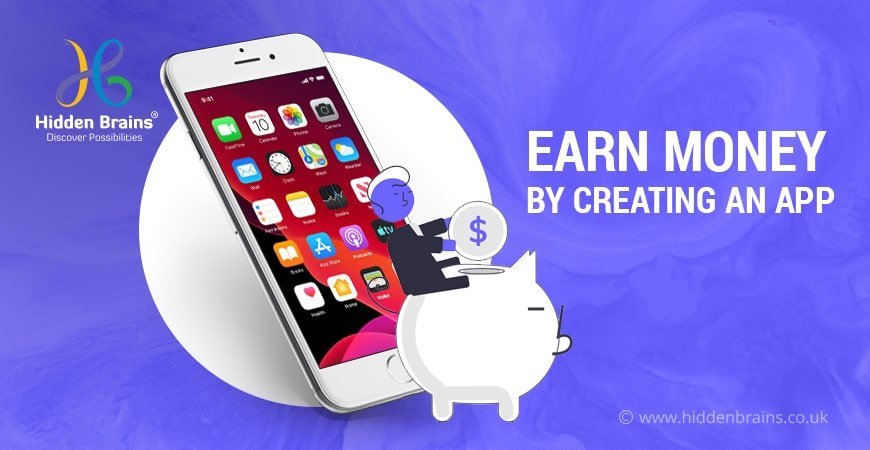 How Do Apps Make Money?
Fast penetrating into the digital era, people are constantly looking for ways to benefit from online channels and different mediums. The concept of apps to earn money UK is gaining traction. People are investing in custom iPhone app development services with an aim to get good monthly returns. Let's know the secret behind earning real cash from mobile apps.
'Earn from downloads of paid apps' is NOT the secret! Most of the top-grossing apps are available for free download on the App Store – some of them being Netflix, Hulu, HBO NOW, Clash of Cans and YouTube TV.
App revenue hit $28.9 billion in Q3 2020, an 80% increase year-on-year.
Apple's iOS dominates revenue generation, despite having less than 15% global market share. It generated $18.6 billion in Q3 2020, to Google Play's $10.3 billion.
Netflix held the top spot for gross revenue until it pulled subscription services off iOS and Android at the end of 2018 (The Verge). At the time, it was generating over $1 billion in iOS and Android subscriptions (9to5mac), taking approximately $100 to $220 million away from Apple and GooglePlay store.
Major Differences between Free and Paid Apps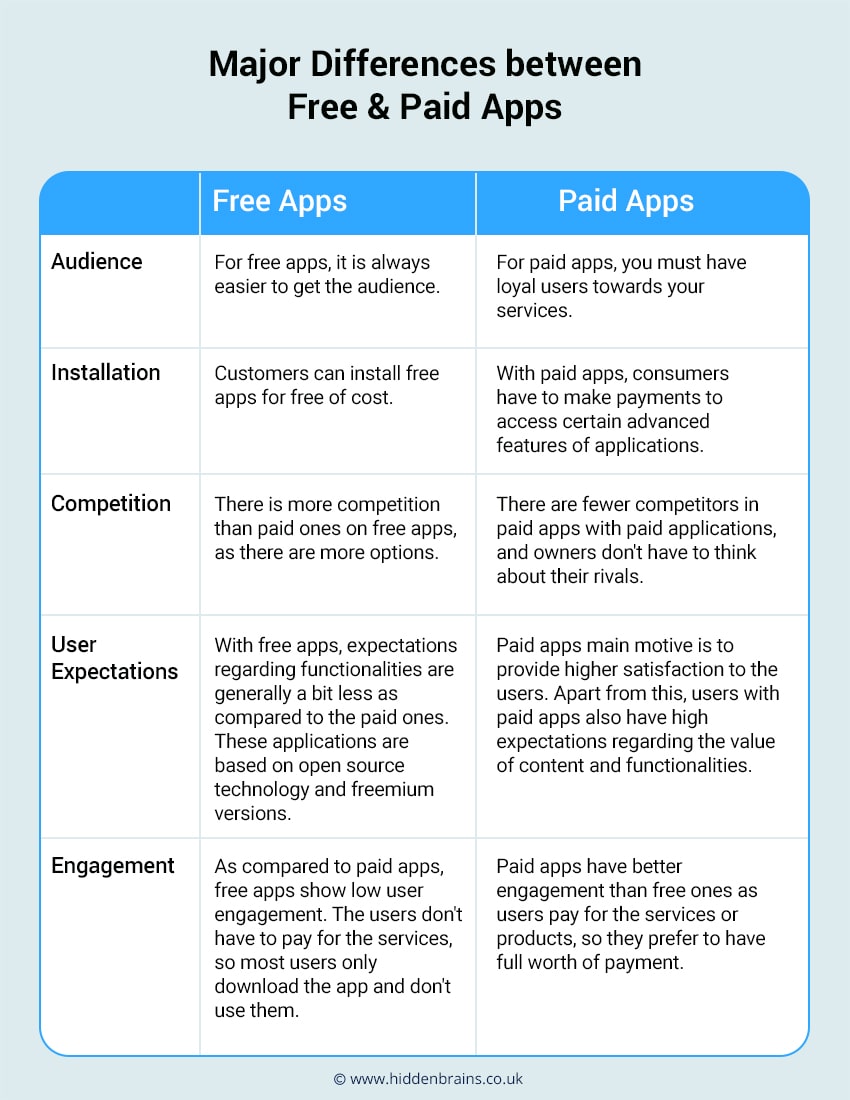 Do you Want to Making Money from Apps
Other Apps to Make Money UK?
Freemium Apps
Though your mobile app is available as free to download in the App Store, why not gather a loyal user base to earn from in-app purchases?
For example, consider you opted for Custom iPhone Application Development and launched a fitness app in the Apple App Store. It is quite possible that your brand isn't popularly recognized and people may not prefer to download its paid version.
However, if the same app is visible in 'fitness' category and 'available for free' in iTunes, you can expect to have a set of loyal users in a few months. Once users have downloaded your app, the entire game depends on the performance of the app. If users find the app impressive, they are likely to make in-app purchases to access additional features.
Freemium apps that include additional, optional and paid features are quite common in gaming category that allure users for making purchases to unlock new levels, buy extra lives and accessories. These apps also find popularity in the music category, health & fitness, dating and other similar categories.
One of the largest grossing apps named Tinder is available for free download, however, charges a monthly fee of $9.99 for Tinder Plus subscription and $14.99 for Tinder Gold subscription. These plans allow people to make unlimited swipes for finding the perfect partner for dating.
The possibility of making money from the apps (The  Freemium Apps) completely depends on the following factors:
How useful is your app to the target audience?
How much dependency do users have on your app?
What advanced features does it offer through in-app purchases? How do these paid features add value to the current usage of the app?
These pointers when considered in combination with appealing UI-UX and robust performance altogether contribute to earning money from the mobile app.
In-App Advertising
This form of advertising is quite similar to the traditional model where advertisers pay depending on the size, position, timing and placement of an ad in the app. Payment is decided based on different criteria such as a number of impressions, type of audience displayed with the ad (location-wise), click-through rate and format of ad (text, image or video).
Static advertisements have lower engagement ratio when compared to video-based ads. Revenue is calculated through advertising networks that offer a variety of models and formats through in-app advertising strategy and define specific metrics to keep track of how the ads are performing.
One app that is earning large revenue from in-app advertising is Sleep Easily Meditations. This app is free to download for all iOS users but making money from apps by running non-intrusive advertisements for as long as the app is in use. Being a renowned app, it receives hundreds of downloads every day and is quite frequently used by people.
One thing to keep in mind is that this monetization model yields effective results only if your app has good brand value and demands prolonged usage. Lesser-known apps with a limited number of download and occasional usage may not earn good revenue.
App owners need to be cautious in selecting in-app advertisements, its frequency and timing. The advertisements should not come as a major barrier in navigation through the app. Monetization perspective should not interfere with the core purpose and functionality of the mobile app. It advertisements come abruptly while the user is accessing the app, he/she may feel irritated and end up in deleting it from the mobile phone.
The best practices to implement the in-app advertising model are as discussed below:
Use advertisements at places where a user's navigation is not interrupted
Do not flash advertisements randomly or frequently
Position the advertisements in a strategic manner such that it catches user's attention, but does not disturb him/her in any way.
Taking the help of a professional iPhone app development company helps in the building of intuitive and feature-rich apps. App development experts can even guide you on how to place advertisements for maximum benefit.
Monetization Strategies Making Money From Apps
The Free and Paid App Versions
It is considered one of the best monetisation strategies for your app. In this, developers include some essential functionalities and some advanced. With this approach, programmers provide some functionalities in the app development process and offer users experience only basic functionalities in the app. This is how they encourage users to opt for in-app paid features. It has two benefits – it provides a free feature option module and a paid subscription app experience.
The Free App With in-App Purchases Model
Now, this is the next strategy that you should know to make money from the app. This strategy mainly works with gaming applications. Apart from that, you can also leverage the benefits of certain premium features with the dating app and enter the play to play mode.
The Partnership Model
Suppose your platform is popular among a particular niche. In that case, companies can approach the partnership or subscription models to promote other companies and businesses and enhance their visibility.
On a Concluding Note
Making money from an app is not just a statement; it is practically possible if done under professional guidance and in the right way. Both the iOS and Android platform offers a host of opportunities for app owners from making money from apps with innovative methods and strategic marketing techniques.