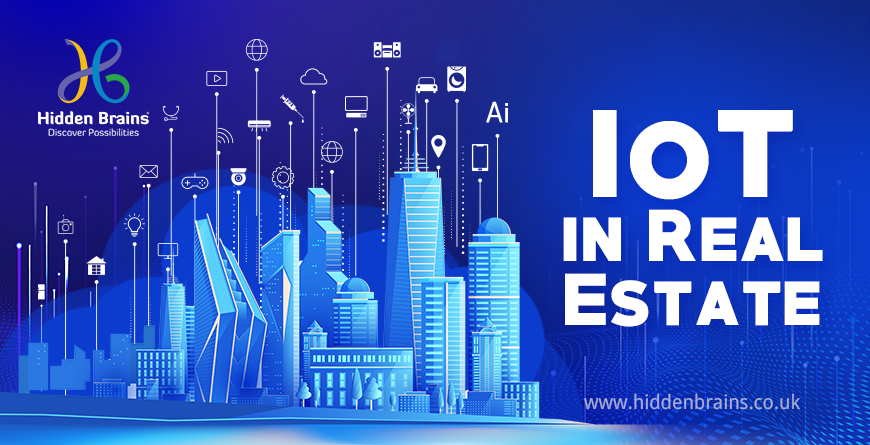 What is IoT?
To understand the role of IoT in real estate, it is important to understand the concept of IoT first. This term was first coined by Kevin Ashton, an innovator, and consumer sensor expert, to describe the network which connects objects in the physical world with the internet. So basically IoT is the practice of taking individual wireless devices and connecting them which gives a result that is more than the result given by the sum of the individual systems.
All of these physical devices collect and share data through the internet. The main aim of an IoT system is to make human life more convenient by providing efficient and proactive maintenance without any human-to-human or human-to-computer interaction.
IoT is increasingly becoming more significant in all types of industries and organizations. A variety of industries are using IoT because it helps to operate more efficiently, better understand customers to deliver enhanced customer service, improve decision-making and increase the value of the business.
Likewise, the real estate industry has also included IoT and this has changed the way the real estate industry works and functions.
There are various ways by which the real estate industry is benefiting from IoT technology.
The Internet of Things helps to get quick access to everything by offering fast connectivity. It also enables maximum automation of various operations in real estate.
Smart technology based on IoT improves the quality of business with more efficient building management and maintenance.
IoT in real estate provides real estate agents some extra time and saves effort as they can work with multiple locations at the same time.
Using IoT is energy-efficient as the agents will travel less and thus cut down greenhouse gasses generated by the vehicles.
Smart real estate with IoT technology results in easy real estate management and avoids unnecessary delays and outrages.
Implementing smart IoT devices in real estate increases the resale value of properties.
Call Us Today for a Real Estate App Development.
Development of Real Estate based apps
The people of this generation depend on the internet to do almost everything. Thus even when it comes to buying a property, they don't prefer to book agents and visit each plot individually. They rather go for an easier path, and that is by getting help through the internet or with the help of a real estate-based app. This is why it is becoming increasingly common for most real estate agents and companies to create apps for their businesses.
Real estate mobile apps help to filter out the perfect property that you are looking for based on your choice. There are various real estate app development companies in the UK that help to build the app of your choice containing all the features which a real estate app must have. With the application of IoT, these apps are becoming more and more user specific and packed with high-performing features. Here are some of the features that a real estate mobile app development company must include on its app to make it successful
Plot booking: the app should let the buyers book their most liked properties based on location, price range, the number of rooms, property type, etc.
Plot renting: Rental properties are the biggest market scope for any real estate company. Thus the app must-have features which include smooth and hassle-free renting solutions for their customers.
Virtual view of property: these days most real estate apps also provide a feature of a 360-degree view of their property along with the room dimensions, floor area, locality, etc. It makes property buying a very immersive experience altogether.
Property listing: it is the most basic feature of any real estate app. It shows the list of all the available properties along with the necessary information regarding the same. Also, you will have to make sure that the database is flexible to support scaling up as the property list will keep on increasing and so will the number of users.
Filtering of properties: it is very necessary to provide the option to filter out the properties according to one's choice and needs. This makes the whole process of searching for a property, whether for renting or buying, far more easy and fast.
Inclusion of maps: Integrating a map onto a real estate app is a must. A map helps the users to identify a particular location in the real world. A map can also include additional information regarding the localities like nearby markets, schools, crime rates, etc.
Push notifications: is a feature that helps the company to attract more buyers by staying at the top of their minds. Such notifications can include alerts regarding the addition of new properties or price changes.
Also Read: Real Estate Technology Trends & Solutions for New Opportunities
Impact of IoT in Real Estate
With the ever-increasing number of technological gadgets and appliances, the scope of IoT to make advancements in our lives is also increasing. Owning a house of your own is the lifelong dream of most individuals but it is a Herculean task to fulfill this dream. The whole process of house hunting, selection of house shifting and all the other acts that come in between can be pretty complicated and here IoT plays the role of making these processes easier.
The Internet of Things is shedding its light on the real estate market to make it a simpler and easier process. It is helping improve the lives of its customers and make the real estate industry more profitable, thereby improving the standard of living. There are various practical ways in which IoT is impacting the real estate industry. Some of them are as follows:
Improving the house hunting experience: Various Bluetooth device technologies like Beacon Technology transmit data of a plot starting from its square footage photos to complete 360-degree virtual tours of homes to prospective buyers. With the help of IoT, the whole experience becomes very smooth as it can be controlled right from your smartphone screen.
Quick decision making: IoT devices provide all the necessary information regarding an estate. It helps the agents to build confidence in their prospective buyers. Thus instead of wasting any valuable time by viewing the property multiple times to become sure, buyers can use these accessible, informed analytics to make a quick decision.
The convenience of creating energy-efficient spaces: With the help of IoT sensors it is now possible to create a more energy-efficient place in accordance with the owner's choice. Various smart devices help the owners to adjust the lights, water, room temperature, etc. It ultimately helps to reduce the usage of electricity and also cuts down costs.
Predict problems before their occurrence: IoT-empowered sensors and energy monitoring keep track of energy consumption and predict the maintenance schedule. These sensors also track abnormalities and send alert signals to the owners beforehand. Thus with IoT, it is possible to tackle problems even before they arise.
Safety and security: IoT helps to notify the users about the anticipated danger at the real estate location and helps in resolving it immediately. Be it at the construction site or after moving in, staying safe and secure is always the priority of any real estate industry. IoT in real estate can keep the track of the workforce at the building site and thereby send the necessary emergency signals, in case it anticipates any impending danger, to the users thus avoiding hazardous incidents.
Higher resale value: When a property is enabled with IoT-based technologies, naturally its resale value also increases. Additionally, smart technology will be more appealing, especially to the younger tech-savvy generation.
Maintenance of property: IoT is perfect for the extraction and analysis of crucial data and insights about the whole building or its parts. The most popular IoT-based Real Estate Software Solutions include sensors for leak detection, sensors detecting anomalous activity, temperature and humidity detectors, and equipment monitors.
Improved building conditions: An IoT-powered real estate app can get information from security sensors and thus helps to keep a building well-maintained, clean and safe. IoT-based Real estate apps also make it easier to control the cleanliness of the building, schedule and organize cleaning and maintenance works, replace malfunctioning equipment or take care of issues reported by tenants.
Optimized use of Space: IoT also helps to transform your office space into a more convenient and comfortable space. Some of the common IoT-based solutions which most people like to include in their office spaces are Swipe Entry Cards, which help to check out how many people entered or left the building during the day, Smart Meeting Room Systems which help to book a room for a meeting, Intelligent Lighting, Smart environment monitoring, etc.
Call us today for a FREE no-obligation quote.
Trendy IoT-Based Real Estate App Ideas
Almost all real estate businesses these days use a huge array of digital tools starting with industry-specific sophisticated systems and ending with various property management solutions for tenants and landlords.
However, these tools are not enough in 2022. The smartest way to shine apart from others is to create an app that is backed by IoT. Here are some of the most interesting types of IoT-based real estate app development ideas.
Apps for house hunting: With IoT-powered real estate mobile apps, house hunting is no longer a challenge for buyers. It is also beneficial for the agents. For example, by installing a smart lock and having a real estate app, house owners can provide access to their property remotely.
The mobile app also can have a wide database of available houses, offices, and apartments and an option for booking smart self-tours to such real estate properties. Such a solution is very secure because there is a procedure for viewer identity verification. So property managers and house owners will be sure that they are dealing with potential clients and are not wasting their time.
Intelligent home: Developing a smart home building app is a very wise decision as this particular area has immense scopes of technological advancements. Adding IoT-based solutions onto your property help not only to make the property more energy efficient and convenient but also to increase the value of such property. This is a good enough reason to consider installing smart devices on your property and providing a real estate app for controlling and managing them. The most widely used smart technologies include smart locks, alarms, motion sensors, and smart HVAC systems to control lighting, heating, or entertainment solutions.
Apps for Decision making: All Cloud based real estate app development companies strive to increase their sales numbers by offering easy and efficient decision-making to their clients. So to achieve better results and use data related to clients and properties effectively it is important to have a proper phone app that gives valuable information to its clients. These can include data related to the location, nearby places, availability of transportation, criminal records, etc.
Conclusion
The whole concept of the Internet of Things can be overwhelming as there is no end to its application. It is changing the various industries at a fast pace including the real estate industry. It is enabling the buyers by providing them with tons of cool features which make their lives easier to the next level along with making them feel safe and secure.
The inclusion of IoT is also making the business more profitable for the agents as well.
But it's one thing to talk about developing IoT-based apps, and another to get from knowing what you want to incorporate within your app structure. So the best solution is to study the market thoroughly and then decide on the features which you would want to incorporate based on the demand and need.
Do Not Forget To Visit Our Robust and Secure Services:
Mobile App Development Company in The UK | iOS App Development Company In the UK | Android App Development Company in the UK | Web Application Development Agency in the UK | PHP Development Company in the UK | ASP.NET Development Company in the UK | Hire Developers in the UK | Hire Best iPhone App Developers in the UK | Hire Android App Developers | Hire Web Developer in the UK | Hire PHP Developers In The UK | Hire ASP.NET Developers in the UK
FAQs
What Are The Basics of IoT?
The Internet of Things (IoT) is the network of physical devices, sensors, and software that enable the exchange of data between them. This technology allows us to connect everyday objects to the internet, allowing them to communicate with each other and with us. In real estate, IoT can help businesses optimize their operations, save costs, and increase profitability. 
IoT works by connecting sensors and devices to the internet that can then collect data, monitor conditions, and send out alerts. This data can be used to better understand customer behavior, create targeted marketing campaigns, automate processes, and identify potential problems before they become major issues. Additionally, IoT can help reduce energy consumption and improve safety for occupants in residential and commercial properties.
How Does IoT Works in Real Estate?
The Internet of Things (IoT) is rapidly transforming the real estate industry, enabling businesses to generate greater profits and gain an edge over their competitors. IoT technology provides a wide range of benefits, from remote monitoring to automation, that enables real estate businesses to streamline processes and increase efficiency.
At its core, IoT technology allows connected devices to interact and share data with each other. In real estate, this means that sensors and other smart devices can be connected to the internet in order to monitor a property's condition, detect any problems or risks, and provide real-time information that can help inform decisions. IoT devices can also be used to automate certain processes, such as controlling lights, locks, and heating/cooling systems, which saves both time and money.
IoT technology also makes it easier for businesses to track and manage their properties remotely. For example, remote management applications allow managers to quickly access data on the condition of their buildings and make necessary repairs or adjustments without having to physically visit the property. This can save a lot of time and money, while still ensuring that all properties are properly maintained.
Overall, IoT technology can help real estate businesses reduce costs, improve safety, and increase efficiency. It can help businesses manage their properties remotely and automate various tasks to save time. By leveraging IoT technology, real estate businesses can gain a competitive advantage in their market and maximize their profits.
What Are The Benefits of Implementing IoT in Real Estate?
The benefits of using IoT technology in real estate are significant. With IoT, real estate professionals can improve their efficiency and profitability. Here are some of the benefits: 
1. Increased Efficiency: By incorporating smart technologies into real estate operations, professionals can automate manual tasks and monitor their properties remotely. This allows them to respond quickly to changes and take action when needed.
2. Enhanced Customer Experience: With IoT, customers can receive real-time updates on their home's temperature and lighting, as well as access other key information. This makes the experience more convenient and efficient.
3. Improved Security: IoT devices can detect movements and sound inside a home, making it easier to detect suspicious activity and keep intruders out.
4. Cost Savings: IoT technology can reduce energy consumption and other costs associated with managing a property. In addition, real estate professionals can streamline their processes, leading to increased savings.
5. More Accurate Data: By gathering data from sensors installed in homes, real estate professionals can gain valuable insights into their customers' preferences and needs. This allows them to better tailor their services and improve customer satisfaction. 
In summary, by implementing IoT in real estate, businesses can boost efficiency, increase customer satisfaction, and save money. This makes investing in this technology a wise decision for any real estate professional looking to stay ahead of the competition.
How Much Does It Cost To Build a Real-Estate App?
Building a real-estate app can vary in cost depending on the complexity of the design and development. A simple real-estate app can range from $10,000 to $50,000 while more complex apps can range up to $100,000 or more. It is important to take into account the features that you want in your app, the cost of labor, and any other expenses when estimating how much it will cost to build your real-estate app.