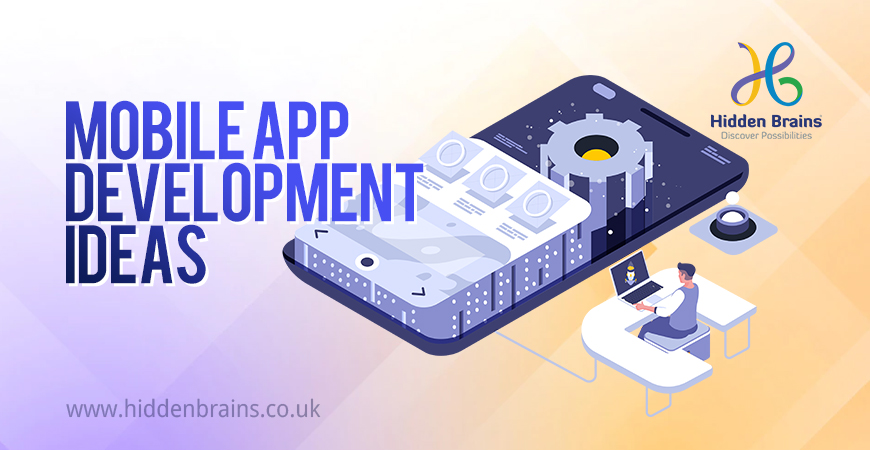 We are in an era where mobile applications have become an integral part of our lives. Every hour there is a new app being developed and made publicly available. According to the statistics, there are approximately 5.6 Million mobile applications on various platforms like iOS, Windows, and Android. And It is expected that this number will double or triple in upcoming years. Keep your app updated with the following and latest mobile app development ideas for 2023.
There is so much competition among companies and startups looking forward to building mobile applications by bringing their ideas to reality and providing unique solutions to the application users. In today's time, there is no industry where mobile application is not being developed.
And this article will discuss some of the best possible areas where you could build applications by an android app development company in the UK. Following in the next section, we have covered some of the best mobile app development ideas on which you can work. Most of these mobile app development ideas are shortlisted based on their current demand in the market. If you want to start your entrepreneurial journey in the tech industry, this article might be a good read for you.
Some of the best mobile app development ideas for 2023. Let's discuss the ideas briefly.
In this section, we will discuss some important mobile app development trends in 2023 and mobile app development ideas.
1. On-Demand Fuel Delivery Application
The world is constantly progressing, and the rise in the need for damned services is quite an extravaganza. As an outcome, many startups or small-scale businesses are now working towards the idea of building an application that caters to the users' needs by bringing on-demand services and products. One of the mobile app development ideas for 2023 is Demand Fuel Delivery Application.
A Demand Fuel Delivery Application would make it easier for users to refuel their vehicles without worrying about going to the fuel station. Customers can easily use the application and schedule the delivery, after which the delivery person would put fuel into your vehicle.
In several countries, this on-demand application has become quite famous, and there is great space for newcomers. Some top on-demand Fuel Delivery Applications are Booster, Cafu, Gaston, Yoshi, et al.
2. Freelancer Marketplace Application
After the covid, the gig-based working culture has seen great adoption. Many try to adopt a freelancing career as their primary job and side hustle. Developing a Freelance Marketplace Platform where people can find work or hire freelancers would be the best solution. According to the report, there are approximately 1 billion freelancers worldwide, and the total workforce is around 3.5 billion.
Building a Freelancing application would be a great source of revenue for you. Some of the best freelancing Platforms are FlexJobs and Freelancer.com. Upwork, Toptal, Fiverr, and many more.
3. Video and Photo Editing Application
Social Media has become a billion-dollar industry, with millions of people using it daily. Everyone is competing to raise followers and offer social media platforms the best and most creative content. Many social media creators have now adopted a new style and layout for managing their feeds. Hence, video and photo editing applications play a major role nowadays.
Many social media and wannabe influencers use photo and video editing solutions through their mobile application to enhance or create videos and photos before posting them on social media. Building a unique application with an easy-to-use interface and many features would help you stand ahead of the competitors. Some popular photo and video editing applications are Premiere Rush, Quick, Luma Fusion, Kinemaster, and FilmoraGo.
4. E-learning platforms
The education industry has taken a 90-degree turn after the pandemic outbreak. Many educational institutions and schools have adopted an online mode of education where people can take classes from anywhere around the corner.
As a result, a lot of people now look for educational websites where they can host the courses and students can access them.
If you are an entrepreneur and have a knack for teaching someone, then the educational application would be a great choice to enter into tech entrepreneurship. Some on-demand learning applications are Udemy, Udacity, Lynda, Skillshare, and Coursera.
5. Defi Lending platform
Cryptocurrencies and blockchain technology have seen massive growth in the recent few years. As per the statistics, the Defi Platform market has reached billion dollar market cap in 2020 and 2021.
Many applications have been launched in the recent few years that help people earn some passive income or conduct activities like lending and borrowing. It would be quite a great choice to enter into the Cryptocurrencies Industry and build a Defi lending platform.
Defi Lending Platform would serve as a medium for the users to lend or borrow their cryptocurrencies at an attractive rate of Interest.
6. AI and Machine Learning Astrology App
For humans, predicting the future has always been intriguing. Since ancient times and now in the digital age, the charm of astrology hasn't changed in different cultures and eras. A lot of tech-savvy people are working on building a mobile application that leverages AI and machine learning technology to make accurate future predictions.
Astrosage is one application that helps you connect with astrologers and leverage their AI-based platform to know about your future. In recent years, Astrology Apps have become quite demanding and bring a lot of revenue.
7. Cloud Meeting Application
Many companies have adopted the remote work culture in the last two years. As a result, the demand for online meeting applications has significantly Increased. If we look at one of the most popular cloud Meeting applications, Zoom, they have generated a total revenue worth 2.6 Billion US Dollars in 2021.
The demand for such applications is day by day increasing and evolving. If you want to make massive profits, cloud meeting application development would be the best choice.
8. Find a Cofounder
It is difficult to make a company as a single founder. To cater to the needs of people and work in a competitive environment, it is quite necessary to have a business partner. However, finding the right business partner is always a difficult task who resonates with the same values as yours.
Building an app that helps people find the cofounder would be great. Such mobile applications would help people easily find people who want to build their businesses.
9. EV charging Station Finder Application
Recently; ly, the demand for electric vehicles has increased drastically. Hence there is a lot of demand for EV charging stations also. You might find many EV cars on the road, but it is difficult to find EV charging stations.
Building such applications would help people to find information about electric charging stations nearby, such as the availability of the charging slots, charging costs, electric car compatibility, and photos. Also, you can integrate a payment gateway with the EV charging application, making it easier for users to make payment upfront and reserve a charging slot.
10. NFT Marketplace Development
In the past year, NFTs have been adopted in different industries, including music and art. So the damnd of NFT marketplace is also increased. NFT Marketplaces are platforms where people can list their NFTs and sell them to anyone worldwide.
If you are enthusiastic about the NFTs and Metaverse space, NFT marketplace development is an excellent choice for you to showcase your creative collectibles and intellectual property while promoting them.
One of the best examples is the OpenSea marketplace. It is one the largest NFT platforms with an annual transaction volume of approximately 11k Million US dollars. If you create a platform similar to Opensea, you can potentially make it a billion-dollar application.
11. Blockchain-Based Payment Application
Ever wondered what could be the next revolution in Payment Applications?
With the rise of cryptocurrencies, there is a dire need for a digital payment system, so all the transactions can be conducted in a peer-to-peer format without any centralized authorities. With technological advancements, making an online payment is not a big task. However, security is a major concern, And to make a secure application, Blockchain is one deep technology that solves the problem of building a highly secured blockchain.
Unlike traditional payment applications, blockchain-based mobile applications facilitate the direct transfer of money through a direct and secure transaction between the sender and the receiver. To be at the forefront of innovation, you should try developing a blockchain-based mobile application.
12. VR-based Virtual Mobile Application for the Tourism
While we were going through a lockdown, what we missed the most was traveling to different places. With the continuous evolution in Virtual Reality, it has become quite a reality to experience any tourist place from a mobile application without visiting. The VR travel and tourism mobile application is quite useful and helps you to explore real-world locations without leaving the comfort of your home.
As per a recent survey, the total market value of VR travel and tourism is expected to reach 300 Million USD in the upcoming years.
13. On-Demand Car Wash Applications
The on-demand services for the Car wash have recently become popular in the market. This is quite a new idea because washing a car takes a lot of time and regularly needs cleaning. Most of the time, if users want to avail of the car washing services at the service center, they stand in a long queue and wait for their turn.
So instead of going on their own, if car owners have an application that brings a car washing facility to their location, it would be quite useful. Some of the demanding car washing applications are DinoWash, Qeex, Spiffy, Wype, and Washoe.
14. Packers and Movers Application
You must have heard about on-demand taxi services and on-demand clearing services. What do you think of the on-demand Packers and movers service? Packers and mover services are a good fit for the market. Every day a lot of people migrate from one place to another. Hence they also go through a hectic and stressful relocation process, so building an application might help people during the shifting process.
There is consistent growth in the packers and movers industry, and now many opportunities exist. If you would like to set up your packers and movers business, then developing such an application would be a great way to start your company.
15. Vehicle Tracking Application
There is a great advancement made in mobile tracking systems. Many applications like Whatsapp Messenger and Maps help people track someone's location quickly. You can also use similar technology to track the moving fleet of vehicles, which could be a great USP for your company. And this is quite easy to build with the GPS vehicle tracking systems available today.
Vehicle tracking system simplifies the process of several transport management systems. Although there are a lot of cases of location tracking applications, most of them could help automotive business owners to manage their expenses and track the maintenance issues of the vehicles to improve the overall driving and service experience.
Such devices could be easily installed on vehicles and accessed through a mobile application. Many businesses have started investing in GPS tracking applications to manage their logistics and visualize them in real-time. This could be a great application build if you are interested in entering the automotive industry. Some vehicle tracking applications in demand are Bouncie, MOTOSafety GPS Tracker, Vyncs GPS tracker, Syptec STI GL300 GPS tracker, and many more.
Once you have decided on the niche and the mobile application, it is time to create an MVP.
How to create an MVP for your mobile application?
MVP is a minimum viable product that you can use to experiment with the audience and attract investors to join you. The following are important things to consider while building the MVP.
Discover your target Market
After you have found an India, it is important to know which segment of users would be fit for using your application. Will it cater to their needs? How to onboard them to your application. It is quite essential to address all these questions and needs.
Design a Prototype for your mobile application
A prototype does not mean you must have all the features in one go. You can also simply create a wireframe or minimal design. This will be a visual representation of the applications. You can further use it as a base to design your complete application. Some of the tools you can use to build prototypes are Figma and Canva.
Experiment with your prototype and reach out to potential users
After you have tested your prototype with the potential users, you can identify the potholes in your application and get feedback from the early users on what needs to be enhanced or added. After you have completely experimented with your application, you will get complete information about the changes that you need to make to your application.
Mobile Application Development Cost: How much does it cost to build a mobile application?
There are a lot of applications you can build, and the cost of building those features highly depends on their complexity and the time needed to build them. The following are some of the important factors on which mobile application cost depends.
The features included in your mobile application would greatly impact the development cost. Quite a few years back, many SaaS companies offered a mobile application template that could be used to build a new application. Even though these were quite easy to use and cost only a few dollars, they only offered limited features.
The features you add to your application heavily impact the development cost. Apps that include augmented reality, GPS tracking, AI, and Cryptocurrencies are quite expensive to build.
Another important factor is the platform and technology you use to build a mobile application. Native applications are quite expensive to build from hybrid applications. And hybrid applications are expensive to build from web applications. Hybrid applications are quite more expensive than web applications because they require a platform-specific building approach.
The cost of developing an application depends on the features you want to include. For example, a feature-reach application on the Android Platform is quite expensive than a feature-rich application on the iOS platform because both differ in the building approach.
If you hire an in-house development team, it might significantly increase the cost of building the application. You can outsource the application development to the freelancer or the mobile application development company in the UK.
Further, the development cost could vary based on the developers you hire. For example, hiring a team for iOS development would be quite expensive than hiring a beginners level iOS developer from an iOS app development company in the UK.
Moreover, suppose you want to add complex features to the application, like real-time audio and video processing. In that case, the Android platform is quite expensive than adding them onto the iOS application because you need expertise.
How to keep the cost of mobile application development Minimal?
The best way of reducing the overall mobile application development cost is to break down the projects into different milestones. Further, you can work with the developers to design a work schedule detailing the timeline for building each feature.
This will reduce the total cost of development of the application as you can also use negotiation skills to bring the cost down.
Moreover, it is important to be realistic about the features you want to implement in your application. If you want to add many features to your mobile applications, you need to spend a lot of money. But in a nutshell, it is quite important to alight the development cost and the number of features you want for your mobile application.
Summary
We hope that till now you might have got some interesting ideas for your next mobile application. You don't have to build an application from scratch. Instead, you can also make an improvised version of your application by integrating some new features.
Discussing the cost of mobile application development, you need to consider many factors to get the total estimation. Out of all factors, one such complex factor is the complexity and the number of features you want to include in your website. It is essential to have as many features as possible, but the application should be easy to use.
Have a fantastic mobile App Development Journey! Cheers!
Frequently Asked Questions.
How much time does it take to build the mobile application?
Ans: Turning your app development ideas into reality takes time, depending on the complexity of the application. Before you initiate the development process, you should get a rough idea of how much time you want to spend on application development. As an iOS app development company in the UK, we ensure that the application is developed within 6-7 months.
What is the cost of building the mobile application?
Ans: It depends on the application you want to build and the platform. If you want to build an iOS application, the cost might vary based on the application's design, coding, development, and testing. Various mobile app development trends in 2023 and app development ideas follow different costing.
How often should I update the application?
Ans: It highly varies with the projects. There is no fixed duration, but in case of the discovery of any bug, then it is important to update the application as soon as possible. There is a lot of Android app development company in the UK that regularly updates the application every few weeks.
How would the application help the customers?
Ans: Before you decide on the domain for your mobile application, you should clearly understand the problems you want to solve and the people who would use your applications. There are a lot of mobile app development ideas for 2023 that will cater to the needs of a generic audience.
Should I have the wireframe ready?
Ans: If you are going to outsource your project, then it is not necessary to have the wireframe because a mobile application development company in the UK would do it for you. They will take care of every step of mobile application development.