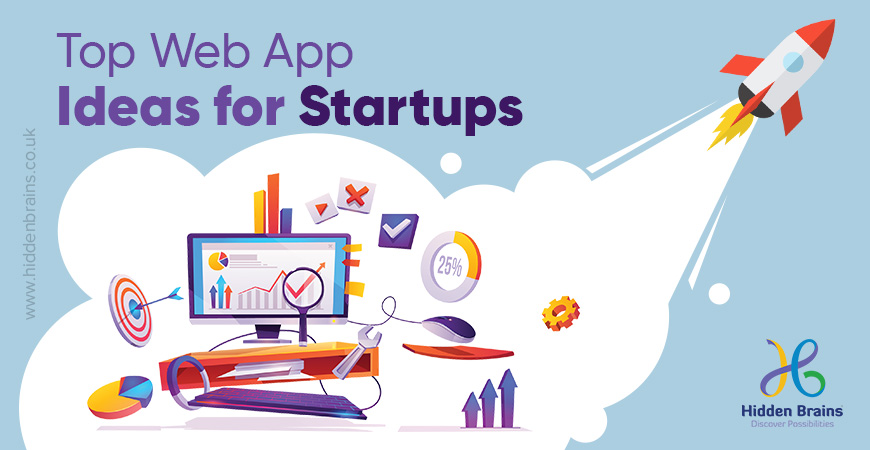 In the present time, having a web app in the digital era has indeed become a basic necessity for all businesses. But to stand out in the market and stay ahead of the competition, you need to look for the best web app ideas for startups in 2023. If you are thinking of launching a new startup in 2023, then web app development could be one of the best options that you can keep in mind. Unlike the mobile web, web apps will be available online and are not limited to only mobiles.
Today, web app development plays an integral part in our lives. So, it is no surprise why all startups and entrepreneurs want to enter the market and connect to the audience with web apps. At the first step toward launching your web app, you will need to have an idea in your mind and make sure that the idea is unique and valuable enough to attract people. However, with thousands of apps released daily in the market, how do you stand out?
'According to a survey, global consumer spend on mobile apps Q2 2022 is around 33bn USD.'
Finding the top web app ideas for startups in 2023 is quite a challenging task. So, if you are thinking of which web app to launch in 2023, just dive in and find out.
Explore Best Web App Ideas for Startups in 2023:
1. On-demand food delivery app
If you are looking to launch a web app in 2023, you can consider developing an on-demand food delivery app. With the covid 19 pandemic, the demand for online food deliveries has risen significantly. There is no better time than this to release a food delivery app where you can help people get their desired food products right at their doorsteps.
2. Cloud meeting app
As technology is getting advanced and digitization is taking over the world, the demand for web apps where people can connect virtually from all across the globe is also on the rise. Introducing a cloud meeting app will be a great initiation to tap and enter this market.
By allowing people to connect and attend virtual meetings, the cloud meeting web app can become popular with people easily. Additionally, a cloud meeting app should be made on a scalable platform so that new features can be added to it as per the demands of the customers. You can hire a web developer in the UK to build your meeting app and add all the necessary features to cater to the needs of your customers.
3. AI-based shopping apps
In today's era, where most of us remain engrossed in the web and reliant on the internet, it is not a surprise that the popularity of shopping apps is on a rise. And what's more interesting is the fact that these shopping apps can be powered by Artificial intelligence. The AI-based shopping apps will be able to recommend the best clothing products to the customers with the help of technologies like machine learning and face recognition. Using this technology, you can surely take your clothing business to a new level.
4. IoT-based health-tracking apps
More and more people are into healthy living in the present time. However, with our busy schedules, it becomes quite difficult to keep a track of all the necessary factors that we need to stay healthy and fit. That's why you can introduce IoT-based health-tracking web apps which would allow users to track their fitness goals and dietary intake. These apps will also be able to track your sleep cycle. Additionally, with the integration of IoT technologies with wearable devices, individuals can get real-time feedback on their progress. If you are looking to develop an app related to healthcare, an IoT-based health-tracking app is the best option for 2023.
5. Virtual reality-based travel apps
One web app that is surely going to leap in the future is the virtual reality-based travel app. The implementation of virtual reality into travel apps will allow users to explore various destinations from all across the world without even leaving their homes. This app would be a perfect solution for those who remain short on time and money. This app will also be helpful for those individuals who would like to take a sneak peek at the location before actually traveling to that location. These apps will also be great for people with motion sickness as they would be able to travel to different places without feeling nauseous.
6. Augmented reality-based online shopping app
The advancement of technology is taking place at a rapid pace and the use of augmented reality (AR) is also getting popular. AR-based online shopping app is an idea that is taking the e-commerce market by storm. With this technology, users can get a realistic view of what they are purchasing. You can hire a web application development agency in the UK to develop a new-age shopping app for you. If you are looking to launch an app in 2023, you can consider this idea. Having this AR-based shopping app will help you to reduce returns and increase customer satisfaction as the users can look for the products in a real way.
7. On-demand medical consultation app
A lot of people are putting off their plans to go to the doctor as they cannot get an appointment that works with their schedule. Even when people succeed in getting the appointment, the duration is only a brief one and leaves the patients with more questions and queries.
Having an on-demand medical consultation app will be of great help to people. Doctors could connect to their patients via video call and patients can book appointments at their convenience. The patients can also enjoy the privilege of consulting with the doctor right from their homes. This would be a great way of helping people and also generating money at the same time.
8. On-demand restaurant booking apps
Who loves to go to a restaurant and wait for their turn while staying hungry? None!!! There is nothing worse than being hungry. We have all been there – visiting a restaurant, standing in queues, and finding a place to eat but everything is crowded. Have you thought how convenient it would have been if there was an app that can take care of all these? That's why you can introduce an on-demand restaurant booking app as your startup business in 2023.
With this app, you will allow your users to search for different restaurants by cuisine or city. Using this app, the users will also be able to pre-book their seats at their favorite restaurant at a specific time. This app will also give real-time updates to the users and give notifications when it's time to leave so that you never remain hungry when you reach for your favorite food place.
9. Online dating app
Starting a business on an online dating platform can be quite profitable. With more and more people looking for love online, there is certainly no shortage of potential customers. Thus, developing an online dating web app is one of the most simple ideas that you can opt for. In this busy world where it has become quite difficult to meet new people, online dating apps can act as a lifesaver for many. Not only this app will allow people to find their potential partners but it will also become a safe space for people to connect.
10. Virtual gaming app.
Are you into gaming and love to play video games? If you love it then you should surely consider developing a virtual gaming app. A virtual gaming web app can provide gamers with a feeling of gaming in real-time and in real space. With metaverse getting popular you can certainly add this feature to the gaming app and give a real-time gaming experience to your users.
11. Blockchain Based financial web app
With the increase in popularity of Bitcoin and other cryptocurrencies, there has been an increase in demand for blockchain-based financial web apps. These apps allow the users to send and receive money digitally and also keep a track of their investments and more. Blockchain technology is sure to become more popular in the upcoming years. If you are looking for web app ideas for startups in 2023, you can consider this area. Make sure that your app follows all the necessary financial regulations and that you are ready to get into the business.
In conclusion
If you are looking for ideas for the top web app ideas for startups in 2023, surely this blog has given you some brilliant ideas. Give it a thought and select the best web app at your convenience.
Do Not Forget To Visit Our Robust and Secure Services:
Mobile App Development Services in The UK | iOS App Development Services In the UK | Android App Development Services in the UK | Web Application Development Services in the UK | PHP Development Services in the UK | ASP.NET Development Services in the UK | Hire Developers in the UK | Hire Best iPhone App Developers in the UK | Hire Android App Developers | Hire Web Developer in the UK | Hire PHP Developers In The UK | Hire ASP.NET Developers in the UK