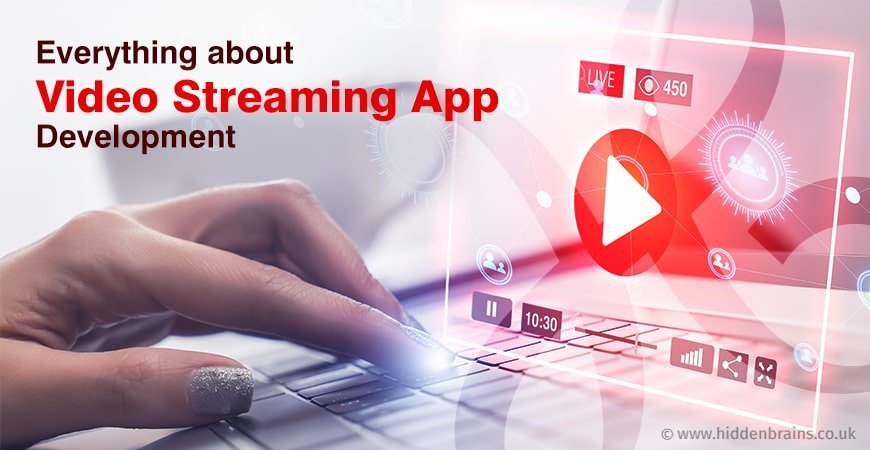 In Covid -19 pandemic, we all have to follow the major guidelines of the World Health Organisation which focuses majorly on social distancing. We all have moved to the new era, where we have to avoid the crowd and contact less with people. Around this tough time video streaming app development like Netflix is in a demand. 
During this tough time, where people have less mode of entertainment, meanwhile video streaming mobile apps have come into existence. Undoubtedly,  it is a  new way to witness modern technologies. Video streaming solutions and Video Streaming App Development have turned as a trend and recently the graph has rapidly increased to the huge number of users. It is considered as a perfect melange of entertainment as it offers  web series based on different niches, movies, and documentaries. 
Furthermore, video streaming apps Android and iOS offer you an opportunity to reach a maximum number of people and bring your content in the market. 
If you are also planning to launch your video streaming app like Netflix, then it is important for you to know its market size, major benefits and features which should be integrated in the app.
Market of Video Streaming App 
According to Statista, " 70 percent of time spent on leading video streaming apps worldwide was spent on Youtube. Alongside Youtube, the top video streaming apps include Tencent News, Tencent Video, IQIYI, and Xigua Video."
As per Forbes, 's Jon Markman Article Hulu revealed that 70% of its 82 million monthly viewers choose its ad-supported plan.
As per Forbes writer Mark Beech, total internet hits have surged by between 50% and 70%, according to preliminary statistics. Streaming has also jumped by at least 12%, estimates show.
Benefits of Video Streaming App like Netflix 
1. Wider Options 
Video streaming applications offer a wide range of options to the users and it is a major reason that forces people to choose video streaming apps over traditional medium. However, with traditional mode, users are confined with some particular channels but with online streaming mode, users can opt for the wide options including numerous movies and series of any decade. In this pandemic situation, it has turned as a boon for the people as they can choose their favorite shows or movies and watch it again and pass the time off. 
2. Device Compatibility
Now, this would be a next major benefit, which increases the opportunities of growing the Video streaming sector. It supports several devices such as Android, iOS, and web. Users don't have to opt for the particular devices to continue with the series or leverage the benefits of the video streaming app. They can simply download the app in their Smartphone and continue with their preferred streaming services. 
3. Affordable 
To leverage the benefits of the video streaming service, you don't have to invest the higher amount.  Users can use the app as per their requirements,  and opt for the basic and premium version. It offers them an opportunity to choose basic videos and if they prefer to experience some advanced content or latest in the market, so for them they can choose for the premium plans. Even those premium plans are not so expensive, they are affordable. 
The above mentioned are the benefits of the Video streaming mobile application but to offer next generation and hassle free experience to your users, it is important to integrate the must have features in your video streaming application. 
Related Post: How to develop a Video Streaming App like Netflix
Must Have Features in Video Streaming Application
1. Video Sharing
To reach out the maximum number of people, integrate video sharing feature to your video streaming app, don't skip this feature in your mobile app development development process. It will help you to get more viewers as if people will like your video, so they will prefer to share with their friends and family. However, to simplify this processing integrate this feature as a sharing below the video along with this, allow users to share with different modes. 
2. Social Media Integration 
Different social media platforms such as Facebook and Twitter are in high trend. Opt for social media integration service for your video streaming mobile app. It will allow you to share content with a huge number of users. This is how you can target a wider audience with a particular platform. With social media platforms, users can easily and hassle free reach to a huge number of users. It is the only way which offers you an opportunity to reach a maximum number of audience. 
3. Live Video Streaming 
Live video streaming feature helps you to connect with your users and it offers you a next level and advanced experience. By going live, you can have a direct interaction with your audience and know their preferences better. This is how it would change into fun, creative and you will be connected with your audience. It will also help you to stay long run in the market competition. 
 4.

Push Notifications
It is a next way to connect with your audiences and helps you to build relationships with your audience. This functionality helps you to send reminders and alerts to your users on their mobile devices. It is the most prefered feature in the perspective of the business owners. Push notification helps to reach out the wide audience and here you can attract them with the different offers. Apart from this, you can also send updates and alert users for the next series or sessions. 
Related Post: video streaming app Features and Cost
Opportunities to create money with Video Streaming App 
Classify your app into three categories- 
Top Video Streaming Apps
Netflix.

Amazon Prime Video.

Hulu.

Disney Plus.

YouTube TV.

dsafHBO Now and HBO Go.
Conclusion 
Video streaming apps are in high demand and there is a high demand for the streaming services. Here, we have listed all the benefits and to stay ahead in the market, it is essential to integrate these features into the app, it will help you to offer a unique and seamless experience to your users.