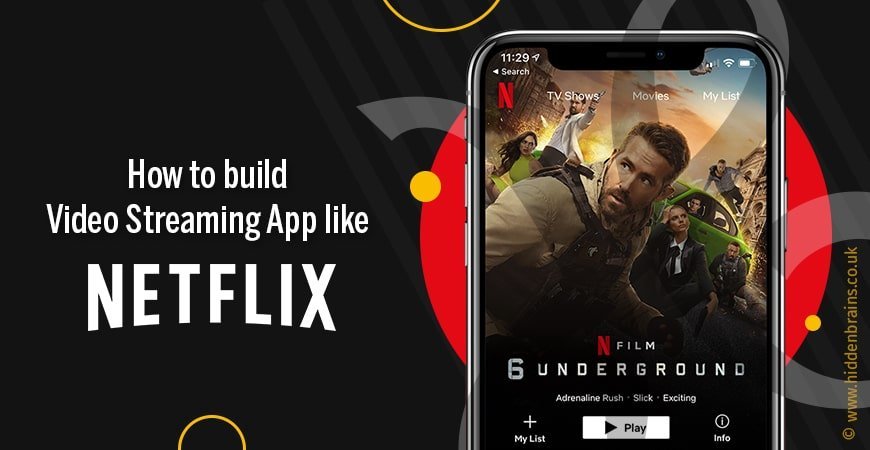 The demand of high-quality videos is increasing constantly, which leads to expanding the usage of video streaming applications globally. According to the Grand View Research Press Release, "The global video streaming market size is expected to reach USD 184.27 billion by 2027".
Netflix and Amazon Prime are the top leaders of the online video streaming industry. However, the integration of advanced technologies such as AI and blockchain helps to improve the video quality and offers next-generation experience to the users. With video streaming applications, it is important to deliver the engaging content to the audience. In order to leverage all the benefits of the video streaming app development service, this  industry is opting for the advanced and modern latest trends including cloud to turn the processings into more easily accessible and easy manageable.
If you are planning to launch your own video streaming platform, then it is important to know the detailed step by step  guide of its development process. In this let us know the different processes that are essential to launch your video streaming application in the market. 
Step by Step Guide to launch your Video Streaming Application
Find your Niche 
The foremost step to launch your powerful video streaming app is to finalise the content on which your videos will be based. Hence, you have to decide your target  audience and particular niche in which you have to deal in. 
Here are some ideas for you, the below mentioned niches are pre dominant and turned as a profitable industry in the market. You can target particular audience by launching the subject based streaming videos to it-
Entertainment
Netflix and  HBO are the best examples of the  entertainment streaming services as they are highly trending and profitable. For entertainment purposes, there are huge number of audiences. In this it offers you to deal in wide variety of ranges including thriller and sports.
Fitness 
Fitness can be the other attribute which can be targeted to launch to bring your streaming videos in the market. Presently, in this hectic schedule to maintain the fitness is a daunting tasks and due to Covid 19, people can't go to gym and other public places. It increases the high demand of the fitness videos. Fitness videos are the most trending and people are searching for them, and it is has been witnessed that they are also highly interested to even get subscription for high quality fitness related videos, which are effective for their health purpose.
Apart from this, you can also deal in different categories – 
Different Categories of Fitness Video Streaming Videos 
1)  Exercise 
2) Yoga 
3) Dance
4) Healty diet and recipes 
Education
Undoubtedly, virtual classrooms are highly popular and in trend. Technologies have turned as the boon for the education sector, with E-learning platforms students can connect easily increase their knowledge and attend classes from anywhere of the world. Students high prefer to watch tutorials and instructions online. Launch your video streaming platform with advanced functionalities such as sub niches, magic tricks, and many more. Turn the learning process into more easier but here again you have to target specific audience, who are interested in your subject.  
Right Strategy 
After deciding the several attributes, plan you strategy in an accurate manner. You should have your step by step place from app development to monetization process. It will help you to launch the powerful and effective app without any delays and failures. This will help you to save a huge amount of time and efforts. 
Content Availability 
Now, here you have to take the most important decision for your business. There are two different modules, through which you can launch your online video streaming application. 
You will take the videos from different distributors
You will create your own videos. 
Both the modules are profitable, but only consistencty required in it. But if you want to take videos from different distributors, then you require a licencse to launch their content.
Decide the Platforms 
To increase the popularity, it is important that your video streaming application should support multiple platforms, which includes desktops, Smartphones, Smart TV's, and tablets. 
But according to your business module and target audience, it on you that which audience you prefer to target. Even you can also launch your app on a particular platform Android and iOS individually also. 
Choose the Monitization Model 
For monitization process, it offers three different menthods 
Pay Per View

– it is considered as a direct source of income, with this module, you will get the revenue as per the user watch them. 
Advertising –

With this, you can promote other brands from your video and increase revenue. 
Subscription –

You can also offer premium different plans to your users. With different plans you can attract your users and maintain your relationship with them for a long period of time. 
These are the major factors on which you have to focus but there are other attributes also, which plays an important role in the mobile app development sector and you have to highly focus on them. 
Other essential factors to focus on that can't avoid – 
Build your Team 

Opt for the Cloud Streaming Service 

Design the Mobile UPI 

Strong Network Connectivity

Add Basic Functionalities  

Robust Security 

Payment Gateway 

Test, Deploy, and Launch 
Conclusion
Video Streaming platforms are in high demand and to launch successful application, you can also hire a remote mobile app developer, but make sure a app developers UK should be proficient with the latest trends and technologies. Apart from this, it is also important that he should meet with your project requirements. However, to stay a head in the market, it is also essential to integrate advanced functionalities, which will help to offer unique experiences to the users and attract them towards your platform. Along with interesting content, allow them to take benefits of different features such provide them access in offline mode and many more.