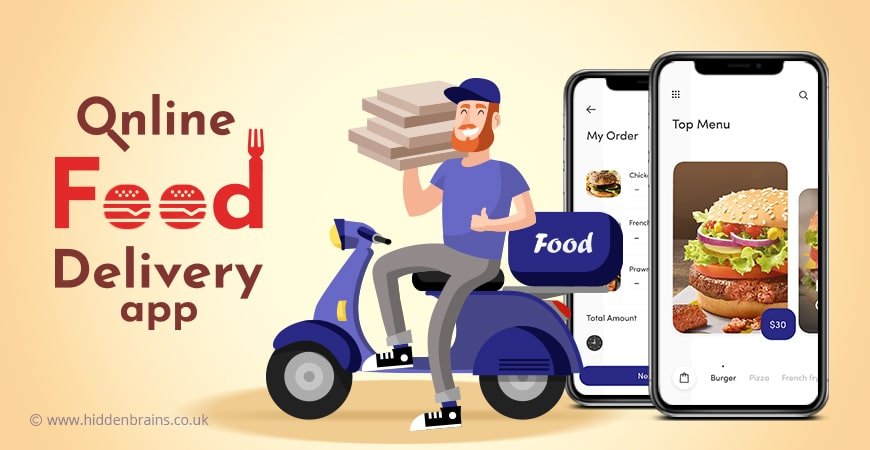 On demand, food delivery apps development are growing exponentially with user's preference for ease and convenience. In this fast-paced world, the focus is now shifting towards ease and allowing customers to order from different restaurants with a single tap of their mobile phone. This level of ease is courtesy, mobile app revolution. Consumers are used to shopping online through apps or websites due to ease and transparency. It is all about increasingly expecting consistent experience when it comes to ordering dinner.
The business and economics behind restaurants delivering meals or food items to the home are witnessing rapid changes. Several new online platforms continue its race to gain market traction in terms of customers across the Americas, Asia, Europe, and the Middle East.
How Much Does it Cost of Food Delivery App Development ?
Well, the on demand food delivery app development cost mostly depends on the food delivery app type, its functionality you want to implement in your food delivery app. 
The food delivery app development cost depends on multiple features for users at the same time. If you want to build on demand food delivery app, it is important to hire a team of experts comprising Mobile App Developer, UI/UX Designer, and Quality Analyst only for the android version of the food delivery app.
But if you need iOS version as well, then you also need to hire an iOS Developer. To ensure seamless performance in application, it is important to partner with a mobile app development services company.  
On-demand Food Delivery App Development in UK: Growth Story & Key Players 
ince a long time, takeaways have been a popular form of dining in Britain. Whether it is ordering a pizza, Chinese or other cuisine, takeaways have often equated with eating out in a restaurant. It is often considered a leisure activity. With the emergence of mobile app development agency and technology-driven solutions, companies dedicated to restaurant delivery are seeing a new era of change. Thanks to growing online delivery concepts, on-demand food apps are now at the cusp of evolution.
Here are Statistics that Show the Dominance of the Industry
Revenue in the Online Food Delivery App  segment amounts to US$4,869 Million in 2019.
Revenue is expected to show an annual growth rate (CAGR 2019-2024) of 7.5%, resulting in a market volume of US$6,976m by 2024.
The market's largest segment is Restaurant-to-Consumer Delivery with a market volume of US$3,39 Million in 2019.
In global comparison, most revenue is generated in China (US$40,239 Million in 2019).
Related Post:-  On Demand App Builder
Top Food Delivery Apps in the UK
Just Eat

Food Hub

Deliveroo

Hungry House

Uber Eats
Here are Different Types of on Demand Food Delivery Apps
Online Food Delivery app comprises services that deliver prepared meals and food that was ordered online for direct consumption.
1. The Restaurant-to-Consumer Delivery segment
This is the conventional category with a significant market share, and most of those orders are placed by phone, website, or mobile app. It includes the delivery of meals carried out directly by the restaurants. The order can be made via platforms (e.g., Delivery Hero, Just Eat) or directly through a restaurant website (e.g., Domino's).
2. The Platform-to-Consumer Delivery market segment
Focuses on online delivery services that provide customers with meals from partner restaurants that do not necessarily have to offer food delivery themselves.
Here are the features of Food Delivery App Development
1. Login Option
User login via social media integration of Facebook, Gmail, or by just a single OTP confirmation on the user's mobile number. Depending on the stakeholders involved, it is possible to create an application consisting of three different logins such as Consumer Interface, Restaurant Owners, as Delivery Interface managing pickup/drop-off of orders.
2. Search Restaurant
Upon registration, users should be redirected to search restaurant page, where they can browse different restaurants using filters like cuisine, location, and ratings.
3. Advanced or Refine Search

 
This option allows an option for filtering on different aspects such as delivery time, offers, reviews, and sorts the list by user's preference of ascending and descending in terms of price.
4. Location
Based on the user's location, the list of restaurants is shown with all intricate details. There is an option for users to browse the map to select their preferred sites.
5. Menu 
This is a key feature of on-demand food aggregator mobile apps, providing all the details of the list, such as pricing, items and description, and more.
6. Option to Select Location on App
App recognizes your exact location once you enable GPS or start typing address. Alternatively, there is the option to set your pickup location on the map.
7. Order Details & Order History 
This feature allows users to manage order, get details of orders, managing order requests before making the payment, increase or decrease the food count. The total cost of food items purchased, along with delivery charges and applicable taxes, can be updated and change dynamically with the changes in the quantity of the cart.
8. Payment
Once the food item is selected, the user will be taken to the payment page to confirm the order and make payment via different payment gateways available. One can also keep the option of cash on delivery for making it more flexible.
9. Reviews Screen
The App developer can include user reviews and comment sections in each restaurant detail.
10. Past Order
This section is for keeping track of the concerned users' previous orders to make re-ordering easier.
11. Offers and Discounts
Feature where restaurant owners can update users about the new offers and discounts of his/her favorite restaurants via push notifications.
12. Track Location 
Get the exact location of the delivery boy, as well as push-notifications, arrival time, and one-tap calling button.
Conclusion 
The spur in on demand food delivery app is acting as a catalyst for growth dining in a restaurant. With new delivery, consumers can dine at home with quality food to enjoy at a fine restaurant.