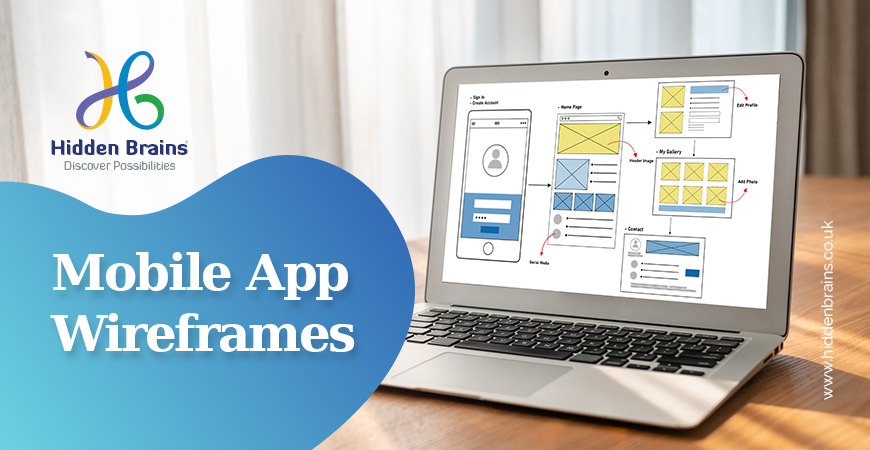 Wireframing is the first step in developing a mobile or web application. It is the process where developers and designers come together to build the product's basic architecture and design layout. Whether your company is big or small, wireframing is an essential step if you are creating an application. We will discuss some crucial tips and ways to build wireframes for mobile Apps in no time.
What are Mobile Applications Wireframes?
The idea of developing a mobile Application wireframe came from web design. If you read the official definition on Wikipedia, it says
A website Application wireframe is a schematic diagram or the blueprint of the application which defines how the design would look like.
This definition also applies to mobile applications as the idea is quite simple for initiating the development of any application. Also, wireframing is quite an initial step after you get an idea to develop the application, but the actual development hasn't been initiated.
Some of the Important Reasons to create mobile Application Wireframes are the following-
It helps you to tell the audience what the application would look like. : Your prospective customers would easily understand the features they would use in your mobile application.
You can portray every step in the User's Journey and discover some pitfalls if any. : An excellent chance to get feedback about your idea and process of building the feature: if customers want additional features, you can easily incorporate them before launching them.
You get a better idea for evenly allocating different elements like content, navigation, and buttons on every page. : It is pretty tricky to get a complete idea of what your application would look like. If some extra elements or some enhancement are required, you can remove them or enhance them further before you do the actual mobile application development.
It helps your team to get a better understanding of the UI of the Application. : You can share the initial layout with your team and coders as it will allow them to work on the exact components needed for your mobile application.
Essential elements to include for mobile app wireframes-
There are a lot of different approaches followed by the designers to create a wireframe. Based on the strategies, the wireframe could be categorized into high-fidelity and low-fidelity wireframes. The only difference between them is the illustrations and the level of precision in the design. Like the standards for developing a mobile application, there are some essential standards for designing a mobile app wireframe irrespective of the time of wireframe you want to create.
As the minimum requirement, here are some essential elements you should include in your wireframe design.
Mobile App user actions and user stories.
Proper space Utilization.
Different mobile application features
Content hierarchy
And Transition between different pages.
Based on such elements, anyone should be able to know about the features integrated into the mobile Application.
How to create Wireframes for your mobile Application?
As discussed earlier, Wireframe is the foundation for any Application after you discover the idea of building it. It requires long-term consistency and a strategy that helps people understand what you want to develop.
To be more precise, a wireframe is designed with other product development straps such as writing user stores, different use cases, UX, and UI development. Talking about the duration, every mobile Application wireframe can take up to 100 hours. If you hire mobile app developers, you can multiply their hourly rates to get the cost estimation.
Coming to the basic steps to design Mobile app wireframes, here are four significant steps that would help you to create Wireframes for Mobile applications.
Step 1: Discover the basics of your Application.
More, the Mobile App development company in the UK recommends thinking about the project idea and discovering the basics. Before initiating the blueprint development, Write down a proper plan and finalize what you will be working on. Also, there are some basic questions that you need to find the answer to.
Who will be the audience using your Application? Is it easy to find customers?
Whom should you go to to get the initial testing?
What kind of features would your customers like you to iterate, and what all problems would you be solving.
Would the MVP or the Minimum viable Product cover all the features?
Is your idea complex?
What all functions do you need to integrate with your application? and many more …
Step 2: Write all the specifics in the Spread Sheet.
Once you have a clear idea of what you will build, try to find ways to achieve your goals. While you design a Wireframe, UX experts can create a spreadsheet and jot down features and functionality to be implemented. There are many reasons why this is needed.
It ensures you don't miss anything vital before you draw your mobile application wireframe.
You can arrange the features and content pieces based on the priority. This would help you build a seamless user experience and bring down some essential elements as early as possible.
If you are working on your own, the following key points will help to cover all the necessary things to be jot down in a spreadsheet.
You should write down all the features with a short description and small content pieces.
Analyze the list, and prioritize the essential features needed. Also, ensure that there are no duplicate features written.
If you find a lot of content, you can remove the low priority once and keep only the essential ones.
This would also help you get a complete understanding of the logical structure of your product, and you could explain your team quickly.
Step 3: Design a basic Wireframe on a piece of paper or a tablet.
After you list all the features, you can begin designing a basic wireframe. It needs not be complex. But it should have specific blocks and content that would appear on each screen. The key reason for this step is to discover the layout and decide how elements would be placed on different screens.
A visual Hierarchy defines the element's arrangement in the designer-defined order that will be processed based on the user interaction.
Also, during this step, you should be able to zone out the unnecessary elements that might be ruining the screen's layout and filling up excessive space. After you do this, you can finalize the design and begin working on the more complex features and improvising them.
Step 4: Detailed Mobile App Wireframes.
During this step, as we discussed, you can complete designing the basic wireframe and make it much cleaner. Also, you can specify the zones for various elements like icons, placeholders for multimedia such as videos, text boxes, space, and buttons. Some tips to be followed while designing a UX are the following.
Don't spend too much time putting up the actual video previews or images. In the case of videos, you can put some dummy boxes to mark their pace along with the play button.
Set up the priority of the content by making them bold or italics. You can also change its size or position on the screen. Further, you can use the remaining space to put the necessary content.
Two Basic tools that you can use to create Mobile App wireframes-
After answering the question, how to create Wireframes for Mobile Apps let's discuss some of the essential tools that will help you design it without much effort.
Figma
Figma is one of the most famous tools used by several big companies and small startups. It allows designers to work collaboratively on the design and review work of each other. Designers can share a common workspace with each other. It comes with a premium version that offers some compelling features.
Adobe XD
It is a tool offered by Adobe. It comes with a lot of easy-to-use features to design wireframes for any kind of application. This is recommended if you are a beginner-level designer as it offers an easy-to-use User Interface and Dashboard with different features.
The Final Words
With the help of the steps and some necessary details, we have tried to answer all the questions people have before building a wireframe. In conclusion, wireframing is a foundation and needs to be quite strong as you will be making the complete Application on top of it. Here is a compilation of some essential points the mobile application development company recommends in the UK.
Present your wireframe to the prospective customers and your company's stakeholders. Gather the feedback and comments from them to improvise further.
Omit or remove all the unnecessary elements taking excess space on the screen.
To finalize the design, it would be difficult to many any significant changes after the wireframe structure.
If you hire a mobile app developer, you should correctly estimate the total costs.
For any guidance or consultation, you can contact the mobile app wireframe experts to get all your queries answered and get complete direction.
Do Not Forget To Visit Our Robust and Secure Services:
Mobile App Development Company in The UK | iOS App Development Company In the UK | Android App Development Company in the UK | Web Application Development Agency in the UK | PHP Development Company in the UK | ASP.NET Development Company in the UK | Hire Developers in the UK | Hire Best iPhone App Developers in the UK | Hire Android App Developers | Hire Web Developer in the UK | Hire PHP Developers In The UK | Hire ASP.NET Developers in the UK