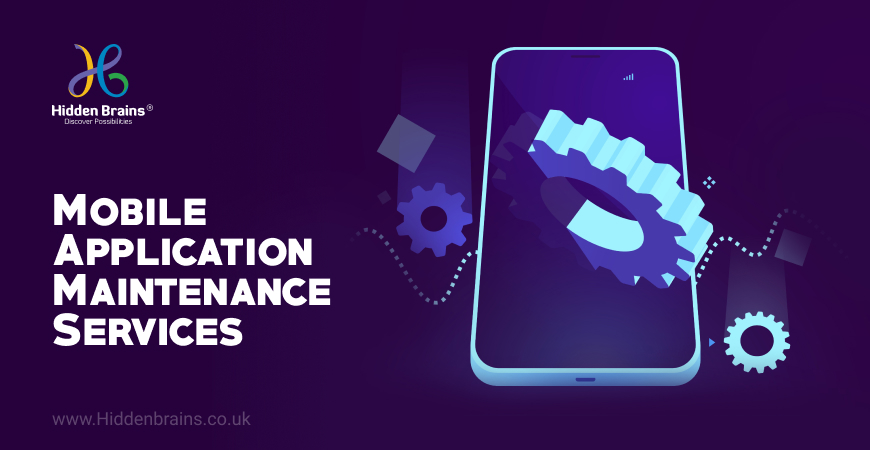 The mobile application development process has undergone phenomenal transformation. In order to meet different business needs, several new frameworks and tools are introduced to streamline the development process as well as overcome complex challenges. Constant changes in building robust applications have a direct impact on mobile app maintenance cost & services.
On the other hand, along with focusing on the development cycle smart business owners strategically use mobile app maintenance services to ensure seamless performance and user experience. End-to-end mobile app maintenance services allows enterprises to maintain and monitor performance, detect and fix bugs on an instant basis, as well as update with the new innovations.
Mobile application maintenance services offer a wide range of benefits such as keeping mobile applications updated according to the latest version upgrades and renewing different third-party licenses on a timely basis. It helps to increase the user experience and reduce the number of uninstalls.
In this blog, let's discuss mobile application maintenance with its key advantages and its cost that helps in your business continuity.
What is Mobile App Maintenance?
Mobile application maintenance is the process of constantly updating and modifying Android and iOS based apps with the latest trends and technologies. This helps you to fix the faults and add advanced functionalities that lead to improved performance as well as enhance user engagement.
Why Is Mobile App Maintenance Important?
Upgrade User Interface
Designing plays a crucial part and one of the crucial aspects to grab user attention in the highly competitive app world. With mobile application maintenance service, designers can transform the layout and look of the application as per trends related to UI. Presently, nude colors, 3D typography design, and bold backgrounds are in trend.
It helps you to make the user interface more interactive and engaging as well as connect with your customers. User interface upgrades will help you to meet the needs of your target audience and meet with varying styles as well as dramatic shift in usage habits
Constant Updates
After releasing your Android and iOS applications on specific platforms, it is important to constantly innovate & update.
Every year to meet the user's expectations, Apple and Google introduce new innovations and latest versions that make app functionalities outdated or incompatible.
In the initial stage only, it is important to identify and fix the errors instantly. With app maintenance services, entities can maintain the quality of the application for a seamless experience.
App maintenance services allow businesses to monitor performance, as well as manage important issues related to loading times, lags, and responsiveness.
Bug Fixing
With mobile application maintenance service, developers can identify and fix technical bugs, as well as improve overall performance to avoid future failures.
Mobile applications involve several parts such as coding, designing, and third party integration services. There can be several reasons such as coding error, incompatibility of functionality, or virus attack that can lead to the failure of the application.
With app maintenance services, developer's constantly keep track of the coding structure and extensive range of functionalities to fix the issues on the initial level.
Update Security Techniques
With the growing number of mobile applications, hackers have also found new ways to steal confidential data. Companies have to secure data and information from different cyberthreats. Tech experts are constantly finding new ways to secure the data with the latest security protocols.
With secure mobile app maintenance services, developers allow enterprises to update apps with the latest security protocols. It reduces the risk of data security breaches and protects sensitive information with latest technological techniques.
Meet customer expectations
Mobile app maintenance services allow companies to be very agile to user feedback and make changes to improve engagement level. Frequent updates to applications helps to address complaints related to app performance or compatibility issues with different mobile devices.
How much does it cost for a mobile application maintenance service?
Finding the exact mobile application maintenance cost is very difficult. It depends on the several attributes –
Hiring model (Freelancers, full time, and part-time)
Features that you want to add to your application
App Hosting and Security
Application user interface
Platforms and devices
App developer's location
Factors to consider for Mobile app development and maintenance cost –
Scheduled System Maintenance
Companies should opt for scheduled system maintenance services to keep applications updated at regular time intervals and provide seamless interactions. Scheduled app maintenance prevents system downtime or minimizes unexpected failures.
Hire an experienced app maintenance team
The most important decision you have to make is to partner with the best app maintenance team. It is important to conduct in-depth research and obtain full understanding of current clients.
The team should have experience in managing different types of projects as well as the ability to strategize your project according to your business needs.
License cost renewal
Most of the features are integrated on the basis of licenses via third party platforms. It is important to renew licenses on a timely basis for continued access to advanced functionalities. Moreover, with the constant renewal of licenses, companies can continue to evolve significant updates and latest innovations.
Why Hidden Brains for Mobile App Maintenance Costs & Services
Hidden Brains is known as the best mobile app development company. We are delivering innovative IT solutions for 18+years. With our experts, we have delivered end to end application development services right from app consultation, development, testing to maintenance. Our mobile app developers keep themselves updated with the latest technological advancements and expertise in different tools as well as frameworks to evaluate your mobile app maintenance process.
Our motive is to update your mobile applications with the highest levels of security and industry standards that ensures you stay ahead in the competitive market. Apart from this, with proper analysis, we strategize your mobile app maintenance services to increase ROI.
Conclusion
Only launching the solutions on the GooglePlay and App store is not sufficient. It is important to maintain apps on a constant basis to improve performance, incorporate latest functionalities, and many more. We hope this blog has provided insights into mobile app maintenance costs & services to make important business decisions.
Related : Next-Gen Solutions with Application Maintenance Services