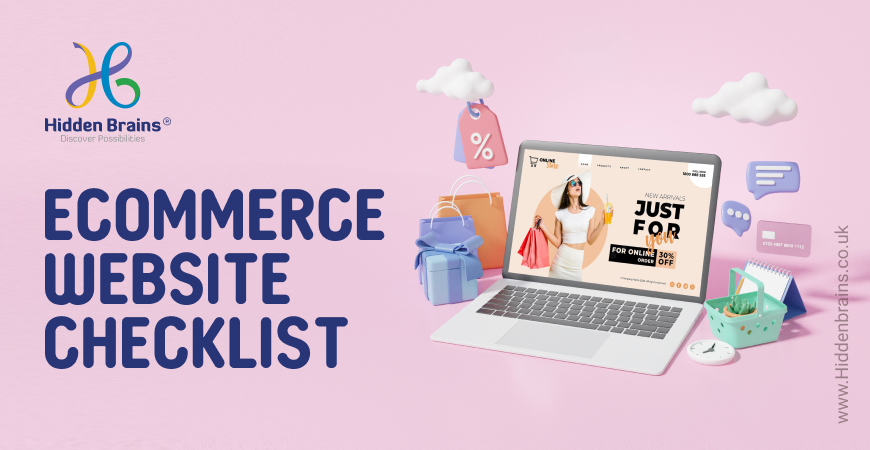 If you have completed eCommerce website development and are looking forward to launching it, then there are quite a few things that you need to consider and prepare a checklist for ecommerce website. The excitement level of launching an eCommerce website is always overwhelming. Hence, by this blog, your work has been made quite easy as there is a complete list prepared that would help you to do a seamless launch. Just like a brick and mortar store requires you to have tremendous effort, similarly, the eCommerce website launch needs some effort.
Top 10 important things to complete the checklist for eCommerce website
1. Always add the analytics tool
Analytics tools would make it easier for you to track all the details such as the traffic and conversions to your website. One of the best tools that you can use is Google Analytics. To add this tool to your website, you need to go to the google analytics website and insert the code snippet as per their guide. A lot of blogs and tutorials are there that would help you to set up google analytics for your eCommerce website.
2. Build a social media brand
As per different statistics, most of the crowd or the population spend their time on social media. Hence you can leverage this to build a great brand by building up some social media collaterals and pages after which you can market them. This is one of the important steps towards the pre-launch because it will allow you to aggressively promote the site and gain some followers. To build a great eCommerce page, you need to design the profile photos and covers as per your brand design so it aligns with it.
3. Always take a Website Backup
Once you are ready to launch the website, just take the complete backup of all the data and design that you have on the website. If you don't take backup at regular intervals then it would become quite difficult to get all the data back, in case it gets lost. Hence it is quite important to include while you create an eCommerce website checklist. If you are using any eCommerce platform such as BigCommerce or WordPress, then you should install some features to backup your eCommerce website regularly.
4. Offer different shipping choices.
For any online eCommerce website, the shipping options are quite important. You must have proper resources to fulfil your orders. A great choice could be to integrate a third-party tool such as the Shiprocket that you can deploy with your website. You can use its features and API to sync it with your websites made using Magento, WooCommerrce and Shopify.
5. Do a complete quality check of the links and various features
Before launching a website, you can hire eCommerce Developers who can do quality checks for your website. This is quite essential since a lot of people would be using your application. Hence having an error would make it difficult to retain people or visitors back to your website. While you prepare a checklist for the eCommerce website ensure that you write the following points.
Links should be working
Product prices should be correct.
Product Description should be well written
the contact information be correct.
6. Announce it on different Social Media platforms
This is quite an important point in the checklist for eCommerce websites. If you are ready to launch or have launched your website, then you should announce it on social media and put some attractive offers on social media for the first few customers, this would help you to get some attraction. For example, most of the stores offer a welcome discount of 20% to attract people. You can follow a similar strategy.
7. Communicate quite well with the customers
Your social media handlers are quite the best medium to communicate with customers. Hence you should always keep on interacting with your followers or the community members. This way it will build some trust and help you to do customer retention. Also, there are some other mediums by which you can interact with your customers such as newsletters, emails or even messenger applications like WhatsApp or Facebook.
8. Optimize all the information
If you hire Shopify developers or Magento developers, they would add this to your checklist for eCommerce websites. This is quite a technical thing where you need to optimize your content such as images, because if your images would be of quite a huge size then it would be quite difficult to decrease the loading time of your website, and most of the time people would just leave your website.
9. Double-check if payment methods are working correctly
If any of your payments goes wrong then it would be quite difficult to reach back to the customers and get their money back. Hence, this is the most crucial requirement for an eCommerce website to check all the payment gateways if they are working correctly or not.
10. Proofread all the content
Content plays an important role for any website, it makes the search engine optimization work well that helps to get your website indexed. While you write website content, ensure that it is quite descriptive and gives the proper insight to the customers or the website visitors. You need to consider a few points while you prepare an eCommerce launch checklist such as checking all the grammatical errors, spellings and various other errors.
Final Verdict
Launching an eCommerce website could be quite crucial and sometimes it might give you sleepless nights, hence through this blog, you can avoid that by making a complete list of all the requirements for an eCommerce website. All the points have been written after discussing with some of the eCommerce stores about their experiences and problems they faced. Hence All the points are quite important.
Invest your time to review all the points that we covered and then prepare a complete checklist for eCommerce website to launch an eCommerce store without any bugs or errors. Also, there is no hurry, you can take your time and after you are fully satisfied, you can launch your eCommerce website.
Related Blog : Why is it important to have your eCommerce store?