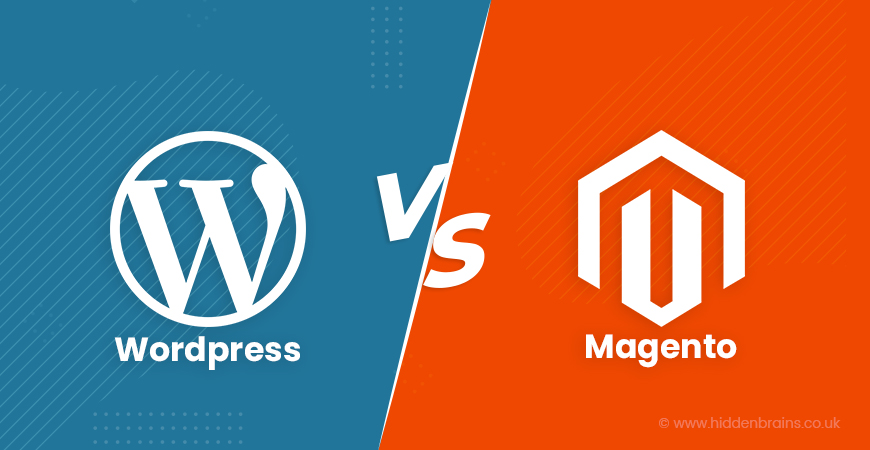 Ecommerce is expected to be a trillion-dollar company in the coming few years. If you are running a brick or mortar store or want to step into an entrepreneurial journey, then you should try exploring the eCommerce space. But there are some things that you need to know before you ask eCommerce developers to develop your eCommerce website and even if you are a developer.
There are a lot of eCommerce platforms that you can leverage to build your online stores such as Joomla, Shopify, Magento, and WordPress. The most popular are Magento and WordPress, but they have their own unique features that allow you to hire Magento developers in India or that of Magento based on the use case. In this blog, we will help you to find appropriate e-commerce platforms among Magento and WordPress.
Before we deep dive into some of the differences, let's discuss what they are and its features. Most of them do have similar features but with some differences and use cases.
What is WordPress?
Talking about WordPress, it is one of the most used and popular CMS or content management software. It is open-source built using PHP programming language. WordPress was initially a blogging platform that allowed users to build the website. As it grew, it introduced a lot many features and plugins to build any kind of application like eCommerce. WordPress allows you to integrate the WordPress plugin known as WoCommerce that you can use to build an eCommerce functionality in your website. Also if you want to add a blog to your eCommerce solution you can do so.
What is Magento?
Just analogous to WordPress, it is also a content management software that is specifically built for building eCommerce websites. It offers a variety of features such as scalability, flexibility, and various plugins or extensions. It is a one-stop solution for you to build from medium scale to large scale eCommerce websites. If you want to build your application in Magento then you need to hire an expert who has experience with building applications using Magento. On comparing it with other platforms, it is quite complex.
The Top Differences between Magento and WordPress
1. Magento vs WordPress plugin
WordPress vs Magento, which has the best plugin? If we talk about the plugins and App, WordPress allows developers to do more integration and add plugins whereas Magento is a complete eCommerce solution. Magento allows you to host a WordPress blog on top of the eCommerce solution. But the plugins of Magento and WordPress are quite more intensive and easy to use since it is plug-and-play sort of tools.
2. Magento vs WordPress themes
WordPress has a good collection of themes when compared with Magento since Magento is more like a one-stop solution for eCommerce websites. Both of them have a good number of libraries that allow you to make an attractive design for your online store. If we talk about the main key difference among the Magento vs WordPress themes, the Magento has more powerful and quality themes but less in number. Most of the Magento themes are quite costly that range around USD 10k sometimes.
3. Magento vs WordPress Help and Support
WordPress has a big community forum and Magento too. They offer huge support to the developers with a lot of tutorials and guides. Also, many other developers keep on posting about different concepts and how-to tutorials to understand the developing process quickly.
4. Magento vs WordPress Integration
Magento comes with a lot of features but something which it lacks is Integrations tools, unlike WordPress. WordPress allows you to integrate different tools to your websites such as SEO tools and plugins for different use cases. Talking about Magento vs WordPress Integration there is not much difference but, Magento has less number of integrations than WordPress because Magento is quite difficult to use and it only allows trustworthy integrations to be made instead of third party.
Who uses Magento vs WordPress?
There are quite a few factors that developers consider while choosing a platform among WordPress or Magento. Talking about WordPress, it is quite useful for people who are not much experienced and want to build some small applications. This is because WordPress is quite easy to use and user-friendly when compared with Magento, also it allows developers to use various free tools, plugins, and themes. But if a developer is quite experienced and wants to build an eCommerce application at the enterprise level then Magento is the best choice. This is because Magento is natively designed for developing the eCommerce store and it is quite more secure to use.
So in short the answer to who uses Magento vs WordPress depends on the use-case and the developer experience.
Can Magento vs WordPress be used together?
If you want to build an eCommerce Application using both the tools and platforms then yes, you can use them. For example, if you want to add a blog website to your Magento Ecommerce Store you can integrate WordPress and design a blog about the products that you want to sell. Some third-party tools like FishPig allow you to do so.
Using it you can add Magento or WordPress themes to your eCommerce application. A basic use case could be you can write blogs on WordPress, where every product of your blog could be linked with the Magento cart.
The Final Verdict
Both WordPress and Magento are considered to be the best solutions for building an eCommerce website. The choice of a solution completely depends on the use case that you are trying to build. Magento is highly used for enterprise-level applications and WordPress is mostly used for content-level marketing of the product. Both of them have an equal number of add-ons and plugins that cover up the drawbacks of platforms. Based on your use case choose any platform. If you are looking to hire WordPress developers in India or a Magento developer, then you should try to understand if the candidate is aware of such loopholes and advantages.
Related : Magento vs WooCommerce: Quick Comparison