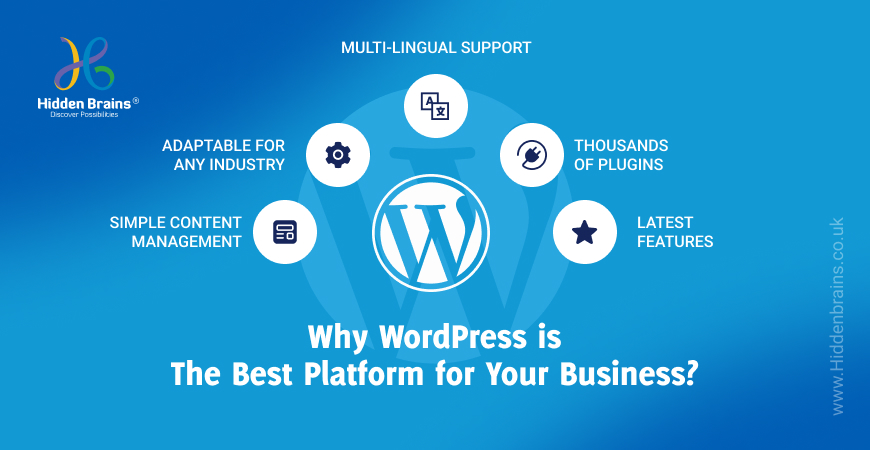 The Internet has made all of our lives easy. People now can search for anything and everything on the internet, find the needed information, and communicate with people from all across the world. Oh, wait!! There is more. People can now do online shopping, book their favorite dinner places, and whatnot on the internet. For that, just read our article to understand the best usage of wordpress platform.
As reported by DataReportal, there are around 5.07 billion internet users as of January 2022. The covid 19 pandemic has also increased the craze for the internet manyfold. As more and more people are going online, introducing your startup in the digital world and having a website for your business has become a must.
And this is where the website developers and content management systems enter!!!
But are you new in the field and wondering which content management can you use to build your startup? If you ask any reputable e-commerce development company, you will be recommended by "WordPress". WordPress platform is helping thousands of startup businesses to achieve exponential growth.
Read this article to know the reasons why you should choose WordPress platform and why it is the best platform to build your business.
What is WordPress Platform?
It is one of the most popular content management systems which is backed with a backend and frontend. At present, WordPress powers about 41.5% of the internet. It has emerged as one of the most powerful open-source content management systems.
In its initial days, WordPress platform was developed as a blogging platform but eventually with its popularity, it emerged as a full-fledged website development system. It is an SEO-based CMS. Anyone can use this platform for building their websites – blogs, e-commerce, business, membership websites, and portfolio websites.
It is easy, quick, and has multiple features which makes it a go-to platform for website builders and startup owners. Being a startup owner you can hire a WordPress development company in the UK to maximize your website's performance and security and stand out from your competitors.
If you are still not convinced and wondering why you should prefer WordPress platform, then read on to know more about its features. This blog has highlighted 9 strong reasons why you should opt for this platform.
Call us today for the best WordPress website.
Reasons for choosing WordPress Platform for a business or startup website
Open source and free:
WordPress is an open platform that does not charge any fee once you install its app. This makes WordPress very easily accessible to many new businesses.
You might want to know why WordPress's service is free of cost. The company which is responsible for WordPress called Automattic has licensed the platform under the GNU General Public License. This permits WordPress to allow thousands of volunteers from around the world to work on it to make things easier and better for the customers.
Even though the entry fee is nil for WordPress, when you are developing a business website using the platform, you will need to pay for web hosting. And this charge has got not linked with WordPress as it would have been charged by you regardless of whether you had selected a different platform or web designing, or building team.
Reliable platform:
WordPress is one of the most reliable platforms when it comes to content management. Apart from offering tons of sophisticated features, WordPress is very fast as well. The fast speed of a website enhances the user's experience. Also, various providers offer specialized web hosting for WordPress so that the performance of your website reaches the optimum level. For example, some companies like Hostinger provides users with a feature that just needs a single click to install the features. This further speeds up the process so that you can get to your business of building the websites on WordPress right away.
User-friendly:
WordPress has a very easy-to-use interface. The WordPress API integration offers a simple yet feature-rich dashboard. Many web providers also provide a 1-click installation facility for setting up WordPress. The dashboard might be overwhelming for a new learner but since WordPress is a highly well-known platform, it's very easy to find tutorial videos that can help you learn the features very quickly.
There is a backend dashboard as well which allows you to use everything be it creating new pages and posts, to changing the comment rules.
SEO and mobile friendly:
SEO stands for Search Engine Optimization and is a technique by which a website's technical configuration and content relevance are optimized making it more easily findable. WordPress is an SEO-friendly platform. This platform manages a huge amount of the search engine optimization function. There are plugins as well (like Yoast SEO) that help the customers' websites to be SEO-friendly, on the front-end side of things.
Thus WordPress does its share of work to make our website popular but if your page is still lacking visitors, there might be a lack of actions from your end.
Highly scalable:
WordPress allows its customers to grow their businesses without any mess or chaos to look after. It does not matter what type of business you run or how you use the app, whether it is a blog website, food business website, e-commerce website, forum, or a membership site, with the enterprise WordPress development services, it makes sure that all you focus on is the growth of your business and there is no need to worry about scalability. This is because there is no hidden extra charge no matter how big your business has grown.
It stays free from the first day when you have very limited visitors to the time when you have more than thousands of visitors per month. All the features available on the WordPress platform are free and there are no special features available that one might need to unlock using money. Regardless of your business domain, the scalability potential of WordPress remains unchanged.
Although there is a tiny thing that one needs to worry about and it's the web hosting package one chooses. When you select a good provider it allows you to change your package following your needs. This might charge a little extra to cover the new plan but this has nothing to do with WordPress.
Customizable:
Customizability is one thing that you should seek as a startup owner. WordPress has thousands of themes and plugins from which you can choose. WordPress theme development will allow you to give a new edge to your website and make it different from your competitors.
If you are a nontech-savvy owner, WordPress will be more fun for you as you can customize your website without any technical knowledge. WordPress is written in PHP which makes it dynamic. This feature allows the users to modify and customize their website as per the demand of their business. This feature is unique and wanted by most startup owners as they can make changes whenever they want.
Secure:
Security is one of the major factors which is wanted by customers. Cyber security is also one of the hot topics amongst business owners. It is a must for Entrepreneurs to secure their business data and make their websites well-protected. In this case, WordPress should be your go-to option.
It is one of the safest platforms which keeps hackers away. The supporting team members of the website keep on updating their software regularly. They keep a check on their security measures and provide instant responses to any security issues detected and fix them.
Easy Migration of Websites:
Migrating a website to a new hosting provider or web server can be scary for many users. This happens mainly to websites that are not maintained properly and are poorly executed. When such sites are migrated to a new provider, data are lost sometimes. But with WordPress Migration Services, migrating a WordPress site to another web hosting is not that complex.
The manual method is there but apart from it, there are many more tools like Plugin, CPanel, duplicator, etc available to make your work easier. These tools make the whole process automated and also ensure that all our data is safely migrated without any glitches.
Connect To Social Media:
WordPress helps users to integrate their social media accounts into websites very smoothly. When you post something onto your WordPress platform there is no need to repost the same to your various social media accounts as WordPress takes care of it. All you need to do is at the very beginning fill out the details of your social media accounts and the whole process becomes automated.
Conclusion
Whether you run a startup or a successful business, WordPress platform offers a complete solution to create a wholesome website of any kind. It is very reliable and does not consume much of your time or resources to create a unique website. All you need to do is select a suitable web hosting platform, select the domain name and install WordPress, and voila.
Your website is all set. It is extremely flexible, and highly versatile, thus giving its users total control over the themes or designs and functionalities of their websites along with promoting them. Thus if you want to make an attractive website quickly and easily, the WordPress platform is the best choice.
Related Blogs:
1. How to Find the Ideal Omnichannel Payment Provider?
2. Infographics: Importance and Benefits of WordPress in 2022
3. Why Should You Switch to WordPress Development for Creating Your Websites?
4. Top 10 Advantages of Custom WordPress Development Services
Do Not Forget To Visit Our Robust and Secure Services:
Mobile App Development Company in The UK | iOS App Development Company In the UK | Android App Development Company in the UK | Web Application Development Agency in the UK | PHP Development Company in the UK | ASP.NET Development Company in the UK | Hire Developers in the UK | Hire Best iPhone App Developers in the UK | Hire Android App Developers | Hire Web Developer in the UK | Hire PHP Developers In The UK | Hire ASP.NET Developers in the UK