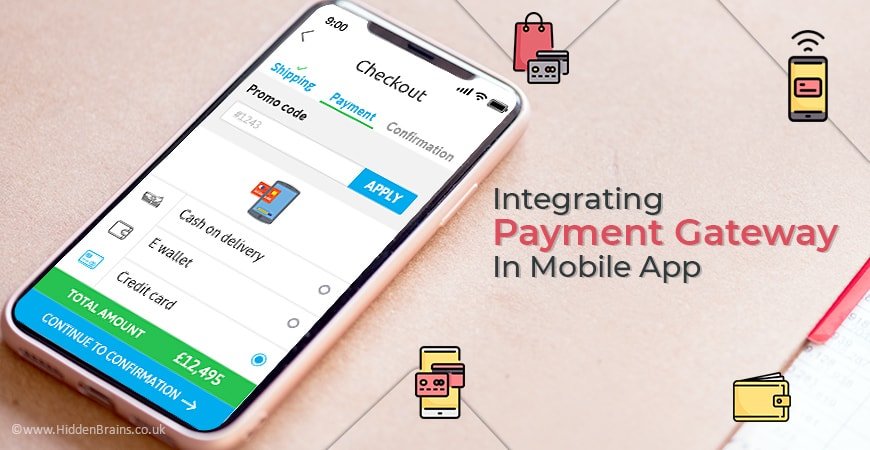 How many eCommerce or retail shop owners emphasize on integrating a secured payment module in the app? Almost all of them, isn't it? Let's understand why secured payment gateway is such an important element of mobile app.
Converting Window Shopping Visitors to Buyers
What is the first thing that comes to your mind when you come across any ecommerce app in the App Store? Is it trusted? Does it have a secured payment module to protect my sensitive data? Every customer is possessive about his/her personal bank account details or credit/debit card credentials.
Cyber threats are not unknown to people who opt to purchase goods and services through mobile app. Impressing visitors with your unique collection is just one of the many aspects that contribute to converting visitors to buyers.
Unlike traditional retail stores where salesmanship of the person selling the item and features of the product are accountable for purchase, sales through mobile app requires paying attention to lot of other details as follows:
Design of app
User-friendly navigation
Easy to use
Secured payment gateway
Customer's reviews
What's Trending in Payment Gateway? Bitcoin & Other Cryptocurrencies 
Blockchain technology has brought about a drastic revolution in the finance industry by introducing an additional layer of security to transactions. Under the light of Blockchain technology and boost of digital payment system, several cryptocurrencies have emerged off lately – Bitcoin and Ripple being much talked about ones. Mobile app development companies are receiving demands for building new bitcoin wallet app as well some of them demand for integrating bitcoin as a payment options in their app.
What is Bitcoin Wallet App?
Bitcoin wallet app is a secured place to store, send and receive bitcoins. This wallet stores public as well as private keys and interacts different blockchain network for sending and receiving digital currency. Similar to bitcoins, wallets can be built for other cryptocurrencies too.
Though blockchain technology is trending, businesses are still in confusion regarding some matters:
How can blockchain technology help businesses in boosting sales of business?
Why should businesses integrate bitcoin payment option in their business?
Why should one consider building a bitcoin wallet?
Integrating Bitcoin as a Payment Option
Cryptocurrency named bitcoin is now accepted as payment and legitimate source of fund at many places. Amazon, Zappos, WordPress, OkCupid, and Expedia are some of the companies offering bitcoin as a payment option.
This integration of bitcoin as a payment option is going beyond a mere trend to one of the important factors in increasing overall sales. This could be a major step for ecommerce companies that rely on online sales and payment for the survival of business.
Payment Service Providers can help companies to accept payment in Bitcoin and instantly exchange them for a flat currency without holding it with them. For such transactions, Payment Service Providers set up company's account in their currency. Thereafter if any customer pays in bitcoin, the PSP will transfer the currency to the merchant's traditional bank account.
Following are few popular and successful ways to payment gateway integration in your mobile app:
1. Payment Gateway Integration through Gateway API
In this method, processing of your debit or credit card information is done through APIs. This is the simplest solution for payment gateway integration into mobile app, especially for those who do not require implementing advanced payment solution and simply need a secured mechanism in place.
2. PCI Certification
Getting a badge of PCI compliance generates a trust factor among customers that their money is being processed in a secured manner. Though this process of getting PCI (Payment Card Industry) compliance is time-consuming, it is a necessity to accept credit card payments.
As you become PCI-DSS complaint, there is no space of error once the sensitive information is passed on to payment system's servers.
3. Mobile Payment Widgets
Several gateways eliminate the overhead of accepting payment in mobile app by offering their own payment UI components. Mobile-specific libraries of such gateways enable drag and drop implementation of payment gateway, with major work being handled by its own UI.
One drawback of this gateway is that you do not have major control over the UI/UX experience of checkout as it is managed by the widget itself.
To Conclude…
Based on the nature of your business and level of security required for carrying out transactions, industry expert mobile app developers suggest you appropriate options for integrating payment gateway modules. Choose the one that could give your customers a secured environment for carrying out financial transactions and ensures a smooth payment experience.
Have a successful and secured online business!!!